Trader Joe's MEAL HACK : just 4 ingredients from Trader Joe's and you can make these delicious ITALIAN GNOCCHI QUESADILLAS in no time! Perfect lunch/dinner for busy days/nights and super delish!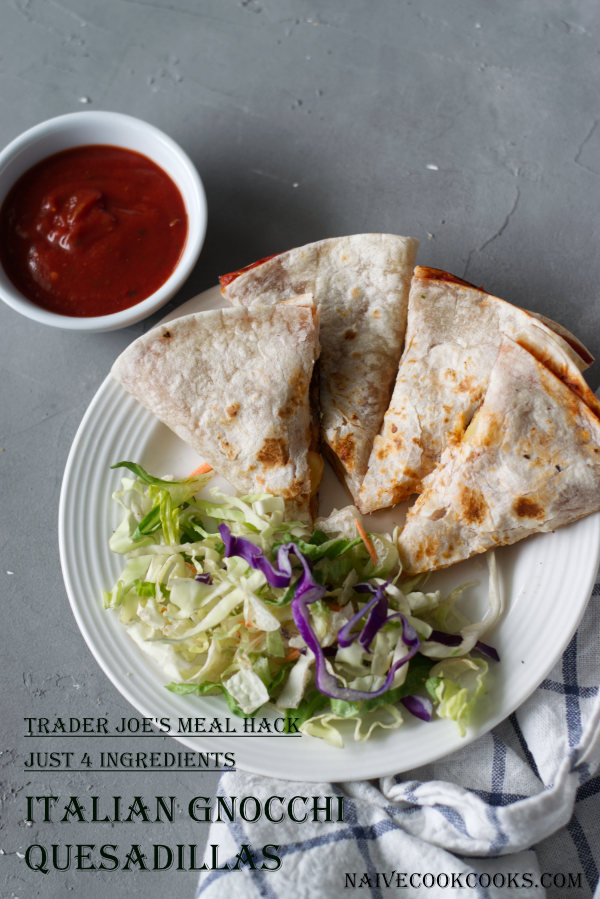 I have always loved Trader Joe's . Let me tell that it is NOT A SPONSORED POST by any means. I have bought everything by my own money. But I genuinely love Trader Joes though I have never really tried much of their frozen foods! Recently we came across their Gnocchi and since I have heard so many people talk about their cauliflower gnocchi, I had made my mind that day that I was going to try all kinds of Gnocchi they carry. I know crazy right?!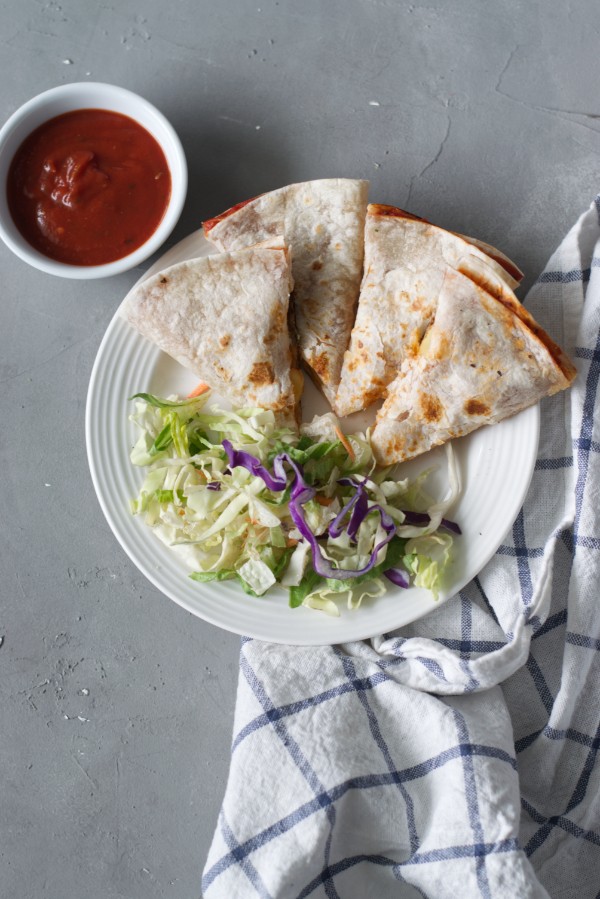 But glad I did because we absolutely loved their Gorgonzola Gnocchi which was super flavorful on its own. Even though my Indian taste buds want to add serranos or spice in everything, this we actually enjoyed & loved the way it came! No doctoring it up needed. 
We were looking for something more filling so we decided to try them stuffed inside a tortilla and guys it turned out so good that I made a second trip to Trader Joe's so I can buy another packet of Gorgonzola Gnocchi so I can make these again and share here because everyone should make this recipe!
It's super simple but so delish! Oh and a perfect thing to make when you are super busy with no time or intention to cook but still looking for something slightly homemade. 
WHAT IF I DON'T HAVE ACCESS TO TRADER JOE'S? Just use whatever tortilla, gnocchi, parmesan cheese and sauce you have on hands or buy your favorites from your choice of store!
CAN I ADD OTHER STUFF AS WELL? Yes you can customize them BUT THAT BEING SAID, THE BEAUTY OF THIS RECIPE IS IN USING JUST 4 THINGS AND MAKING A DELICIOUS MEAL THAT EVERYONE WILL EAT! But you do you!
I hope you make it and share it with your loved ones!
So go ahead and make these ITALIAN GNOCCHI QUESADILLAS! If you make this, remember to tag us on social media by using #naivecookcooks . We will feature your pics on our SOCIAL MEDIA CHANNELS!
If  you enjoyed this recipe, don't forget to FOLLOW me on  INSTAGRAM ||FACEBOOK||PINTEREST ||TWITTER ||GOOGLE+ || BLOGLOVIN || YouTube 
I have a SHOP PAGE on AMAZON STOREFRONT where you can find tons of items from KITCHEN, FOOD ITEMS, KIDS/BABY TO HOME STUFF I absolutely love and use on regular basis! Hope you check it out and find it useful 🙂
Trader Joe's Meal Hack : Italian Gnocchi Quesadillas
Recipe type:
Trader Joe's MEAL HACKS
Ingredients
4 tortillas ( I used Trader Joe's flour tortillas)
Parmesan cheese shredded ( I used block of Trader Joe's Grana Padano Parmesan)
1 packet Gorgonzola Gnocchi ( I used Trader Joe's Gnocchi al Gorgonzola)
Tomato sauce ( I used a can of Trader Joe's Organic Tomato Sauce)
Instructions
Heat Gnocchi as package directions.
Heat up tomato sauce. I like to sometimes doctor up the sauce by adding some italian seasoning, salt and black pepper in it but it's totally optional.
Take one tortilla. Spread tomato sauce liberally all over it. Then spread gnocchi on half of the tortilla. Shred some parmesan over it and close it into half moon shape.
Transfer it on a heated skillet and cook until both the sides are cooked, crisp and nicely golden.
Serve immediately!
SOME MORE SIMPLE DINNER IDEAS ->>