Best & easiest ladoos – Besan Badam Ladoo (Chickpea Flour Almond Ghee Balls) are addicting traditional Indian dessert. I can gobble up few of them in one sitting! Great sweet treat which is made with good for you ingredients!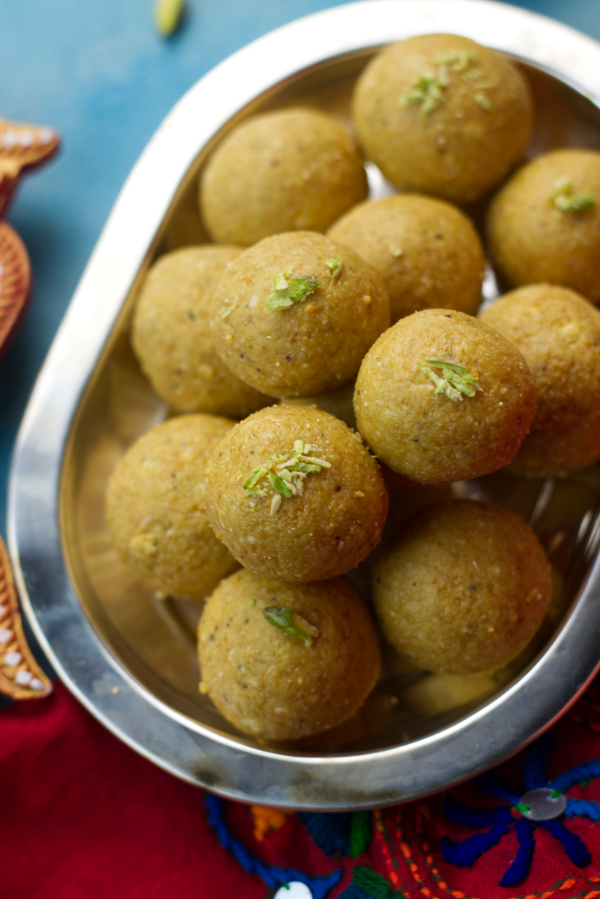 My mom still makes a big batch of ladoos especially these are among the few we almost always have in our house just because my papa loves them! Everyday one ladoo after lunch/dinner is a ritual which he has no problem in remembering since we all have a big sweet tooth!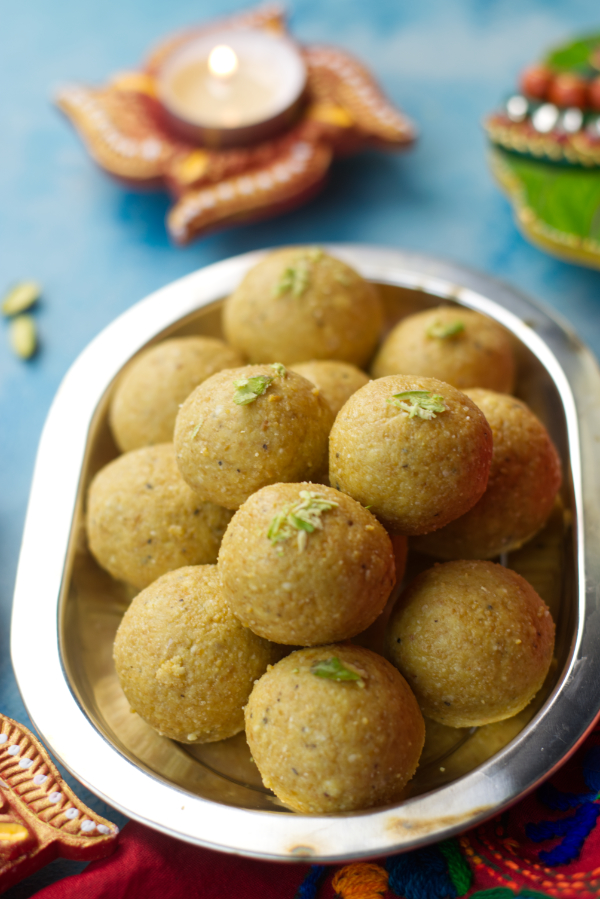 Growing up I was not as much into besan ladoos as much as I was into other sweets such as Bengali sweets , sonpapdi! Ohh how much I miss Home in India and all that delicious food! So this diwali I learnt how to make these and then gave my slight twist by adding badam ( almond flour) into it as well. It's a great way to sneak in little extra protein without anyone knowing!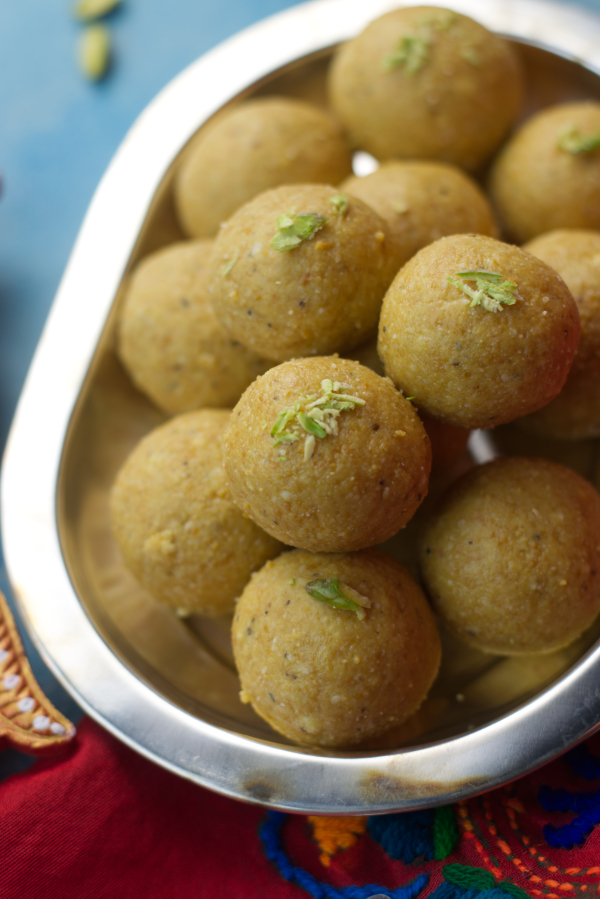 I hope you follow this recipe which I have made atleast 4 times to perfect for you all. 
If you are not familiar to ladoos or Indian sweets in general, ladoos are basically ghee balls as I like to call them as mostly ghee is an integral part of making ladoos. For making these classic Besan Badam Ladoos all you need is Besan ( chickpea flour), Badam ( almond flour), Ghee, cardamom powder and sugar. Easy peasy right?!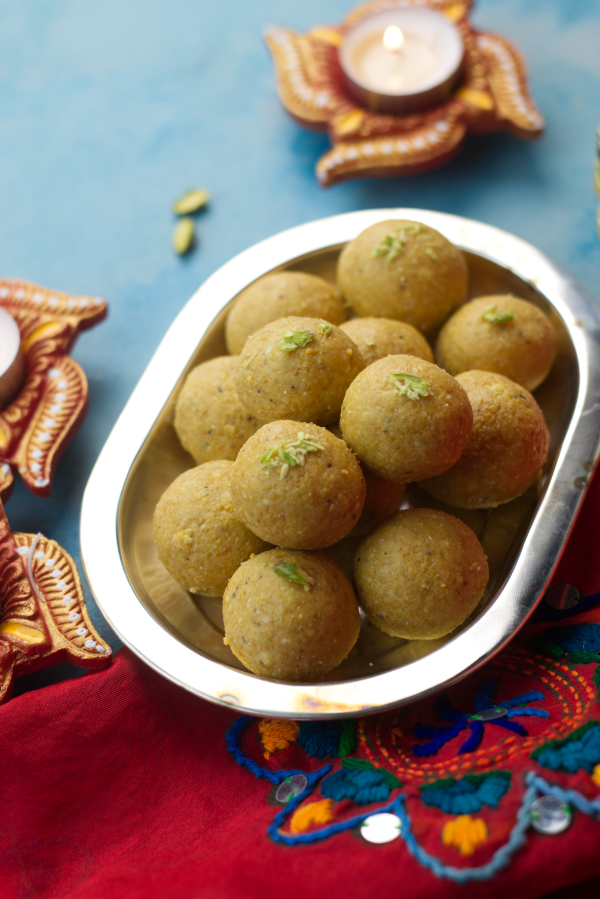 Other great part about this kind of Indian sweet is that they stay fresh for long upto few months – if you make a big batch, keep the extras in fridge  otherwise totally ok to keep out in airtight container in colder months.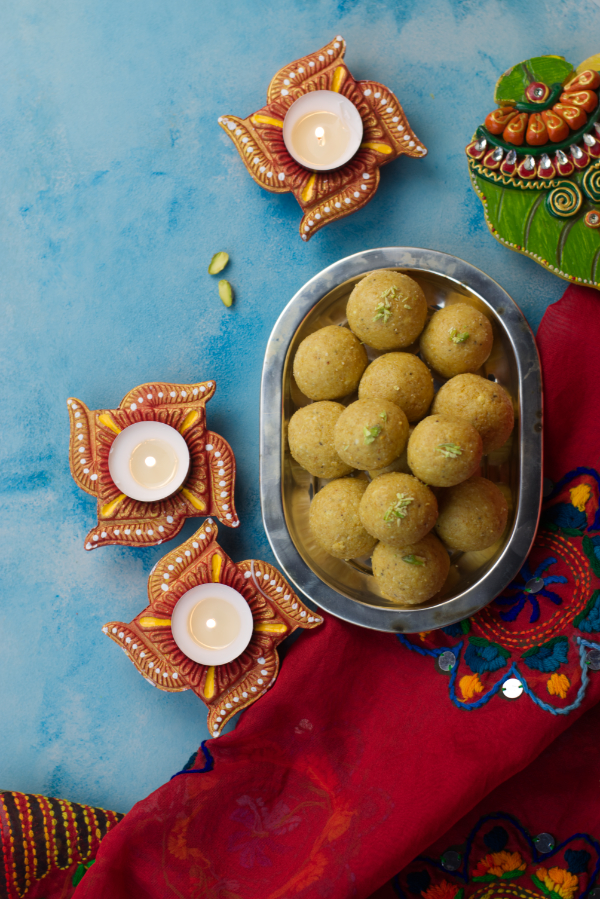 I hope you make it and share it with your loved ones!
So go ahead and make these Besan Badam Ladoo! If you make this, remember to tag us on social media by using #naivecookcooks . We will feature your pics on our SOCIAL MEDIA CHANNELS!
If  you enjoyed this recipe, don't forget to FOLLOW me on  INSTAGRAM ||FACEBOOK||PINTEREST ||TWITTER ||GOOGLE+ || BLOGLOVIN || YouTube 
I have a SHOP PAGE on AMAZON STOREFRONT where you can find tons of items from KITCHEN, FOOD ITEMS, KIDS/BABY TO HOME STUFF I absolutely love and use on regular basis! Hope you check it out and find it useful 🙂
Besan Badam Ladoo ( Chickpea Flour Almond Ghee Balls)
Recipe type:
Sweets, Desserts
Ingredients
1 cup (5 oz) (142gms) Coarse Besan Flour ( Coarse Chickpea flour) ( You can find it in Indian stores sold by ladoo besan name or by coarse besan name)
¼ cup (0.8oz) (24gms) Badam flour ( Almond flour)
¼ cup (53gms) (1.9 oz) ghee
Cardamom powder from seeds of 4 green cardamoms (OR about ½-1 tsp)
½ cup sugar (I prefer taking small puja sugar balls and grinding them) ( Powdered sugar if other not available)
Instructions
**FOR DETAILED STEP BY STEP RECIPE GO TO NAIVECOOKCOOKS INSTAGRAM ACCOUNT AND IT'S SAVED IN HIGHLIGHTS BY NAME BESAN LADOO**
Heat a heavy bottom wide pan on low to medium low heat. Add besan and badam flour and start dry roasting by stirring constantly. DO NOT INCREASE THE HEAT TO FASTEN THE PROCESS. TRUST ME IT WILL RUIN THE DOUGH.
Keep stirring and roasting for about 15 minutes on low to slightly med-low heat. You will start to see color change and smell the amazing aroma of roasting besan.
Now start adding ghee 1 tbsp at a time and keep stirring and mixing ghee in the flour. By around 20 minutes mark, have all the ghee mixed into the flour. Now add the cardamom powder. You will notice that the flour mixed with ghee is in sort of a liquid stage as it's oozing out ghee. Keep mixing on low flame for another 3-4 minutes.
Transfer it to a plate and let it cool to room temperature.
DO NOT ADD SUGAR IN HOT MIX OR IT WILL MELT.
Once cool, add sugar powder and mix evenly using hands.
Then roll into tight golf size balls or as per your preference.
Store in an airtight conatiner!
VOILA!! You made traditional Indian dessert! now go enjoy them 🙂