One of my favorite risotto recipes is this super simple, easy CREAMY SHIITAKE MUSHROOM & GORGONZOLA RISOTTO recipe. Makes for a a super easy yet totally elegant dinner!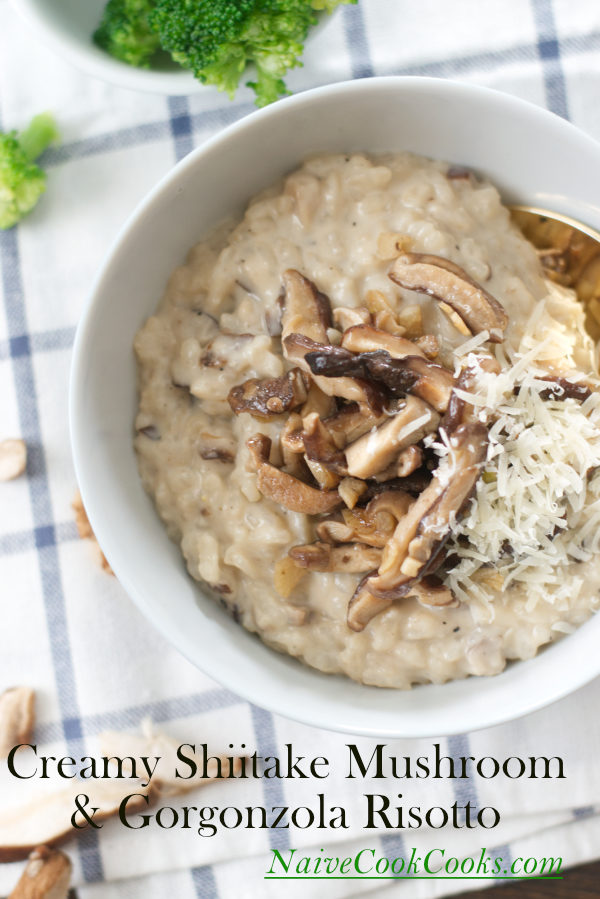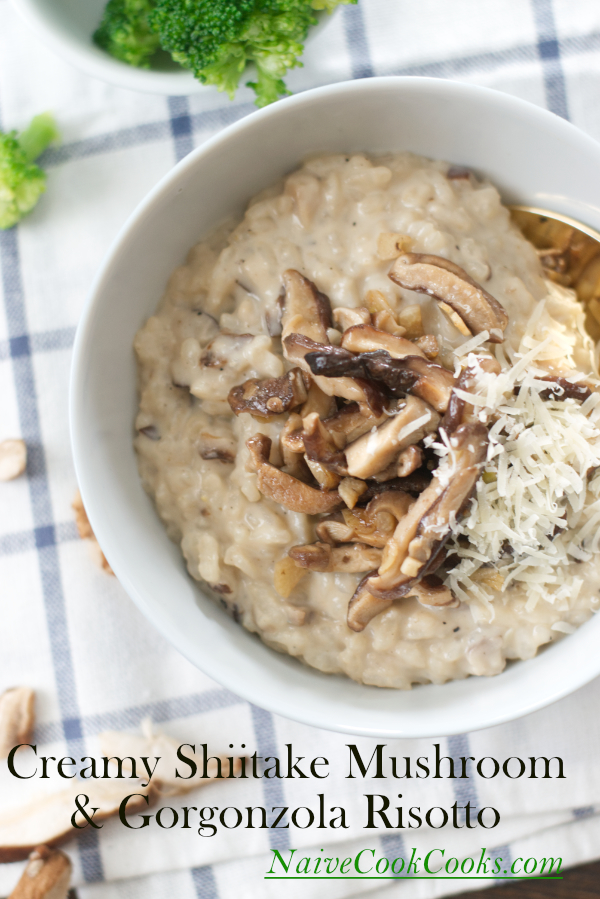 One of our favorite Italian restaurants in STL has this risotto on their menu and you better believe me when I say that no matter what we order this is one item I always make sure to order. It's that good and as fancy as this dish looks, its super simple to make – requires just few ingredients and since most of us are practicing social distancing these days, make sure to grab the ingredients next time you go for groceries.  Since we can't go out to eat these days, it feels like eating restaurant dish at home with this dish.
Over time I have realised that risotto dishes are fairly simple to cook. This BUTTERNUT SQUASH & KALE RISOTTO from the blog has been a reader favorite for long!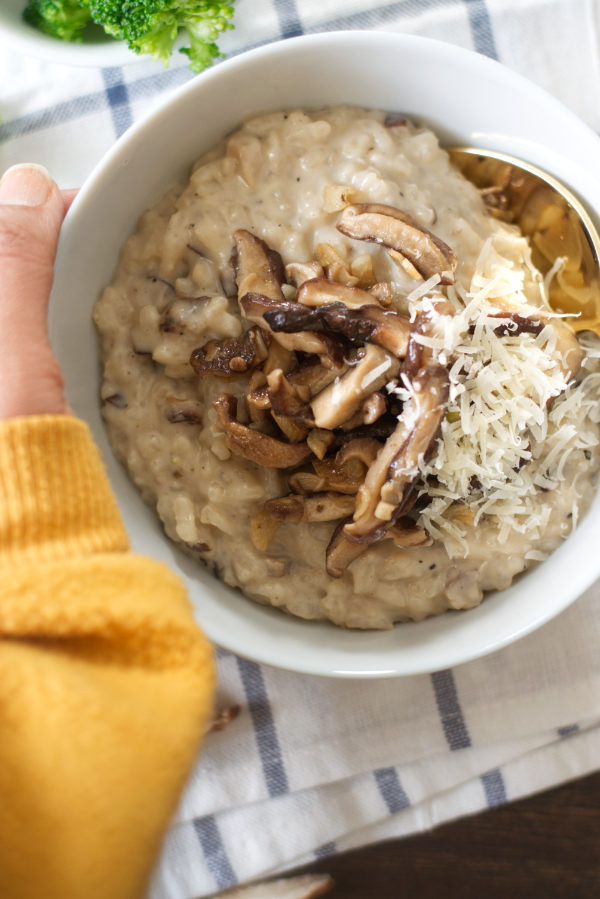 The flavors go well so beautifully- all you need is good stock or like me you can make at home with shiitake mushroom stems ( instead of discarding the stems, add them to a pot with water and simmer for few minutes. You got yourself delicious healthy NO SODIUM stock which will enhance flavors of risotto much more.
Along with good stock you will need butter/oil, garlic, onions, arborio rice, shiitake mushrooms, salt, pepper, gorgonzola and parmesan cheese. That's it but YOU GUYS MUST TRY THIS DISH. I know gorgonzola is a strong cheese so if you don't like flavors of this cheese at all, then this dish won't be for you or you can substitute another cheese in place of gorgonzola cheese.
So go ahead and give this a try! If you make these or any other recipe from our blog, do tag us by using #naivecookcooks on social media channels.
If you enjoyed this recipe, don't forget to FOLLOW me on INSTAGRAM||FACEBOOK||PINTEREST||TWITTER ||GOOGLE+ || BLOGLOVIN || YouTube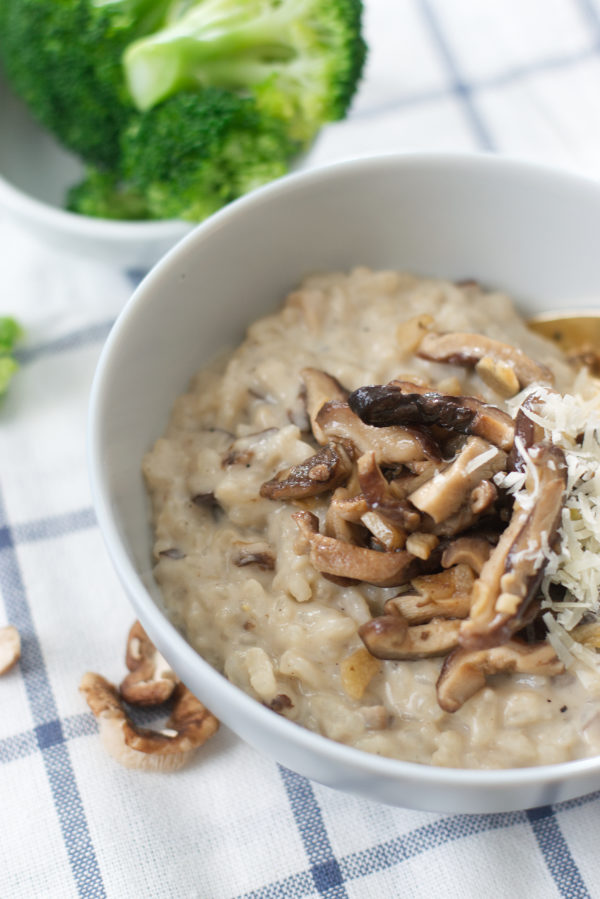 Let's see how to MAKE THIS DISH ->>
I had previously frozen shiitake stems which I used now to make broth. If you are buying shiitake mushrooms few days ahead , an easy way to increase their life is to remove them stems and place in ziplock bag and seal tight. Freeze them and use those stems anytime you need shiitake mushroom flavored broth. For mushroom part, I slice them and tightly wrap them inside paper towel and then keep them in ziplock bag. They last easily 7-10 days in veggie drawer in fridge.
Melt butter in a heavy bottom pan.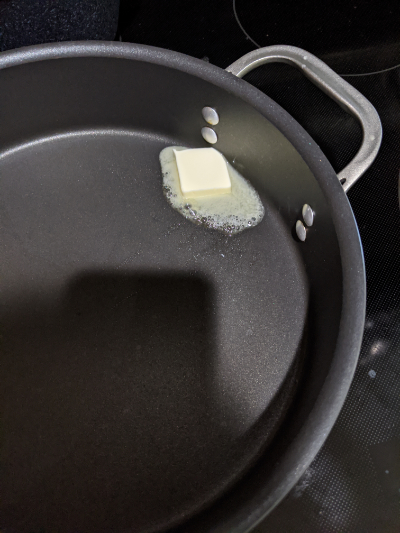 To it add chopped garlic and sliced shiitake and cook on medium low heat until cooked. Keep them aside.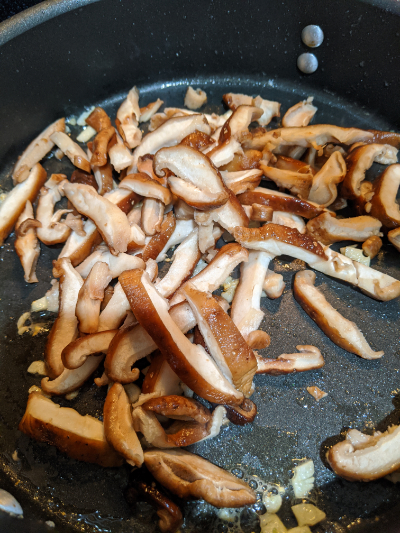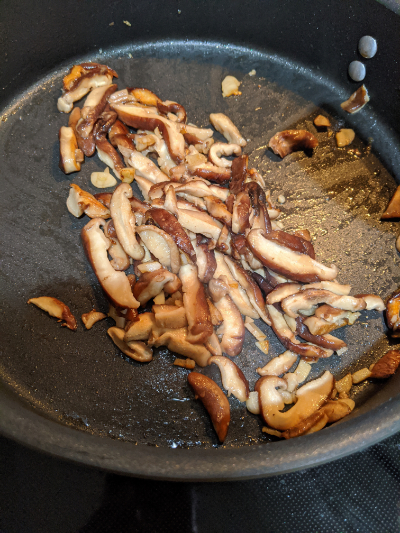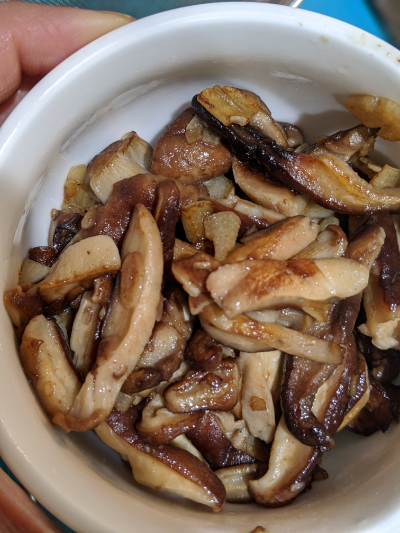 Again melt some more butter in the same pan.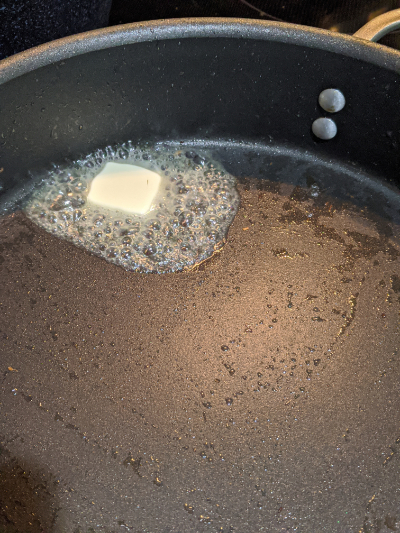 To it add chopped onions and cook until translucent.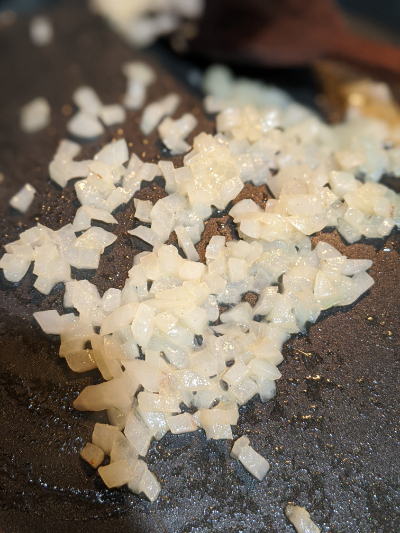 Add chopped mushrooms and cook until shrinked.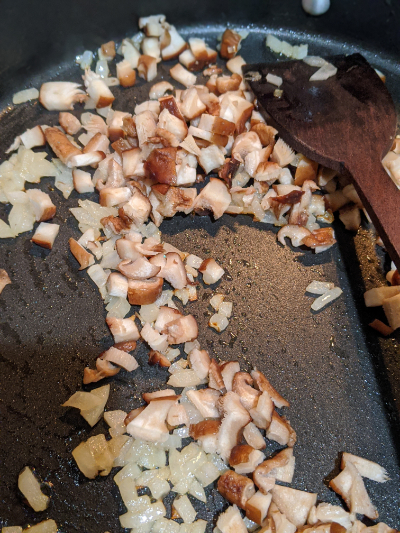 Add arborio rice.
Mix.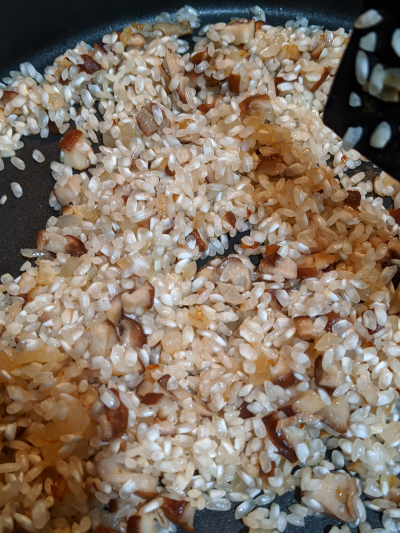 Add store bought or homemade broth to it few laddles at a time.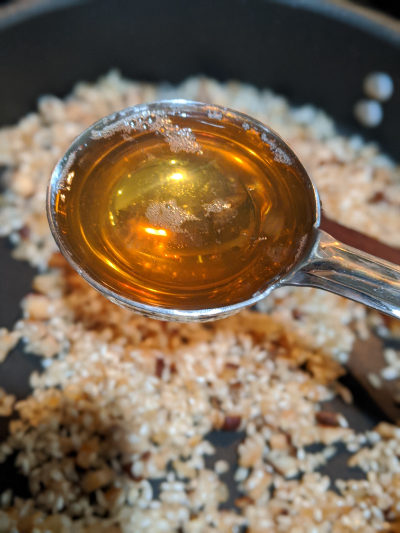 Mix and keep cooking by letting rice absorb the broth, then adding few more laddles , stirring and repeating the process until rice is fully cooked.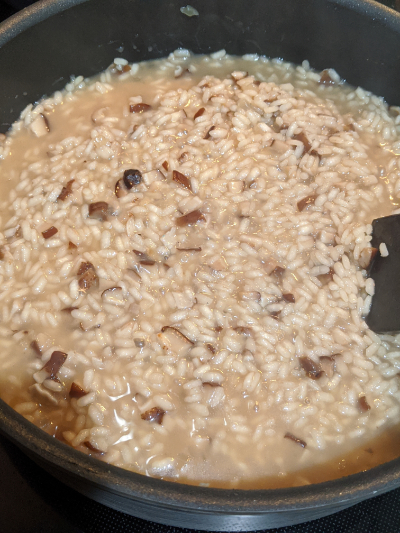 Add parmesan and gorgonzola.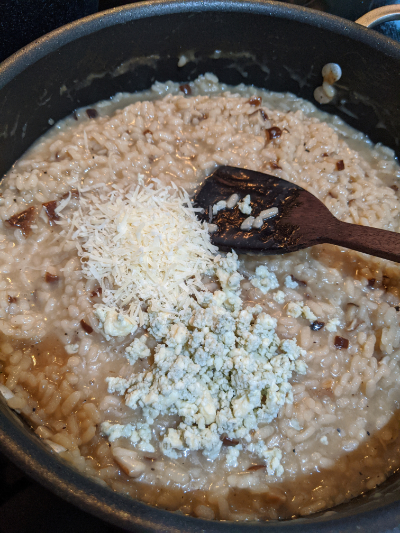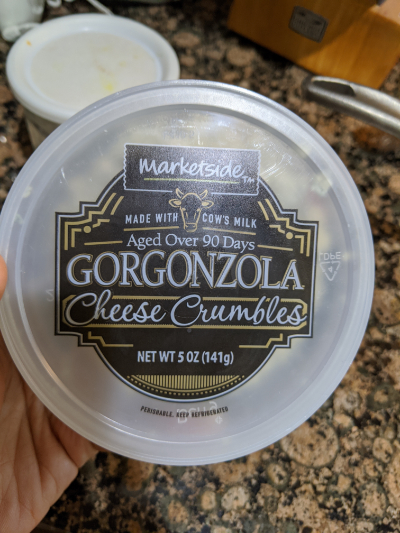 Mix and taste for salt and black pepper. Serve garnished with those garlicky mushrooms we kept aside earlier.
Creamy Shiitake Mushroom & Gorgonzola Risotto
Ingredients
For BROTH ->>
6 cups WATER
2 cups SHIITAKE MUSHROOM STEMS
For RISOTTO ->>
½ tbsp BUTTER
4 GARLIC CLOVES, chopped
2 cups sliced & washed SHIITAKE MUSHROOMS
½ tbsp BUTTER
⅓ cup ONIONS, finely chopped
1 cup SHIITAKE MUSHROOMS, washed and chopped
1 cup ARBORIO RICE
½ cup + 2 tbsp GORGONZOLA CHEESE
4 tbsp parmesan + extra for garnishing
Salt and black pepper to taste
Instructions
BROTH ->> You can use store bought broth. If making broth at home , you can make it any way with any veggies or meat you like or have on hand. I made stock with the stems of shiitake mushrooms as I had them on hand and I knew shiitake broth will go very nicely with shiitake gorgonzola risotto.
In a deep pot I added about 6-8 cups water and shiitake mushroom stems. Let it simmer for 8-10 mins and then keep the broth warm.
RISOTTO ->>
Melt butter in a pot. To it add garlic and saute. Add mushrooms sliced and saute with pinch of salt and pepper. Once mushrooms are cooked still retaining some shape, take them out and keep them aside. We will use these cooked mushrooms for garnishing.
In the same pot , melt some more butter and add chopped onions to it. Cook and then add chopped mushrooms and cook them until they release all water. To it add arborio rice and stir. Now add few 2-3 ladles of warm broth over top and mix risotto.
Once the water is all absorbed, add some more broth and keep continuing - adding broth, keep stirring and mixing. If you run out of broth, you can always add warm water.
Once rice is fully cooked, add both gorgonzola and parmesan cheese and stir along with salt and black pepper.
Taste and serve garnished with those cooked sliced garlicky mushrooms and more parmesan,