Love oatmeal? Then try this Savory Comforting Spiced turmeric Yogurt Oatmeal bowls for an easy yet totally elevated oatmeal experience. A take on Gujarat's beloved Vagharela bhaat ( Tempered rice), this dish will for sure become your favorite way to enjoy oats!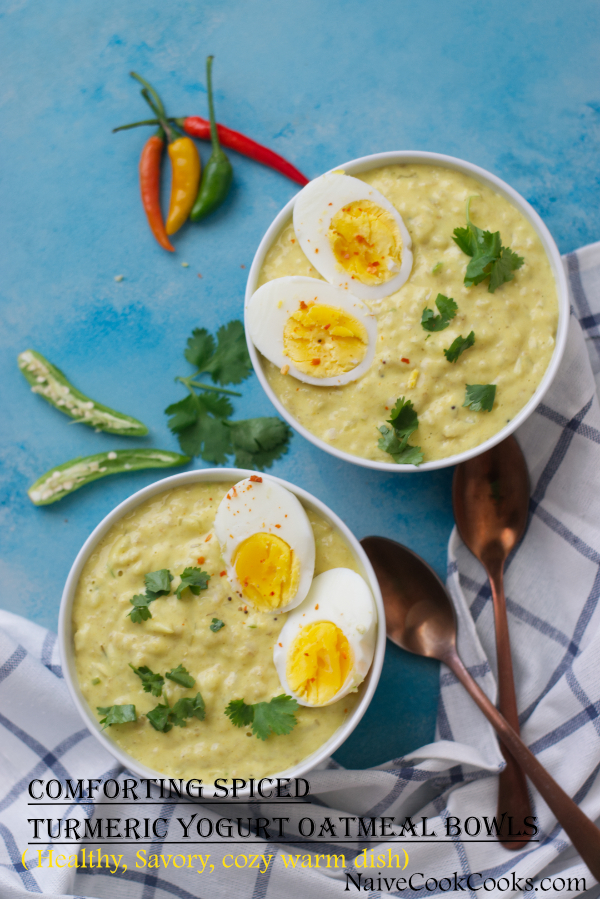 I have always enjoyed eating rice so much so that I can eat it daily and I love it even more when it is tempered with some oil, cumin seeds and spices but Oats not so much? So when I started feeding my little one a savory yogurt oatmeal version, I realised I can totally make it for adult taste buds too and it turned out soo delicious!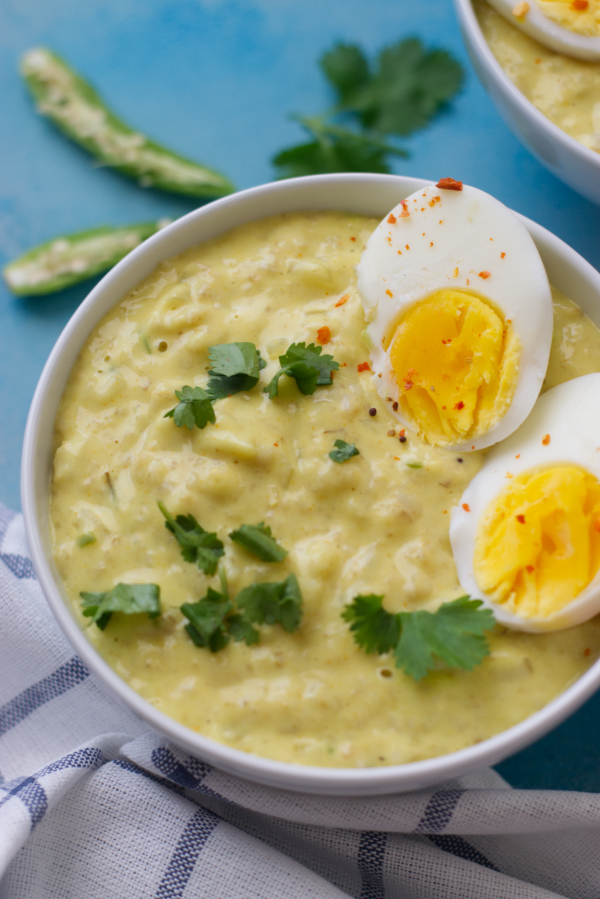 I love eating Gujarat's version of tempered rice aka Vagharela bhaat which is basically day old rice cooked with onions, loads of garlic, green chilies and then cooked in thinned out yogurt! So good, it's like eating a cozy bowl on a cold day. I can eat this version of oats anytime anyday.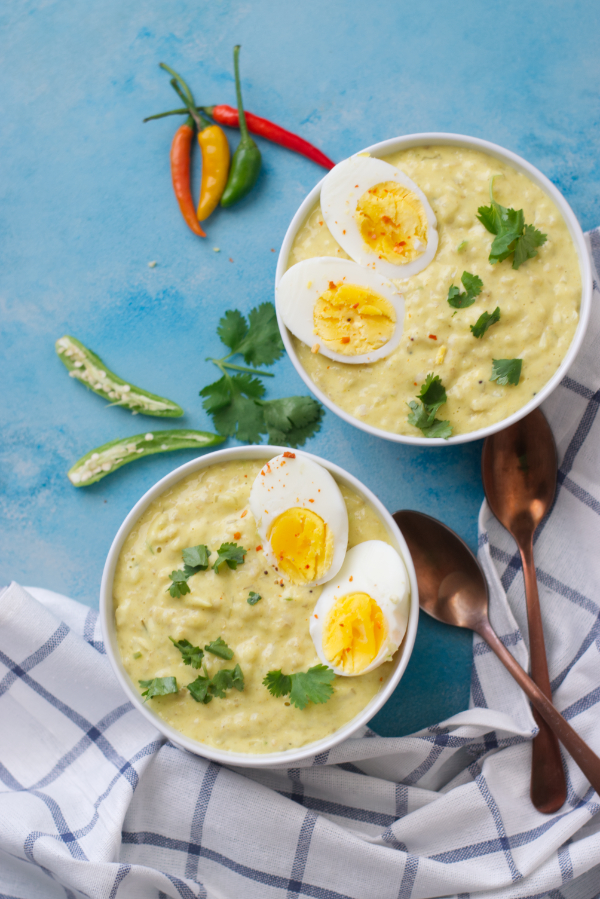 WHY SAVORY, YOU ASK? Well to be honest there are already tons of sweet versions of eating oatmeal but not many savory and days when you really don't want anything sweet, this SAVORY VERSION will totally satisfy your oatmeal cravings!
Is it kid friendly? Well yes! Just skip green chilies and in no time you will see them gulping this down. To this day, this is Aria's favorite breakfast and the most requested.
Can I make it VEGAN? Yes! Just use vegan yogurt in place of regular yogurt!
Can I MAKE IT AHEAD? Yes totally! I have always made a batch extra and after a day or two, I heat it up nicely in microwave or stove top. You will need to add a little bit water/ yogurt to thin it out. Just taste & enjoy!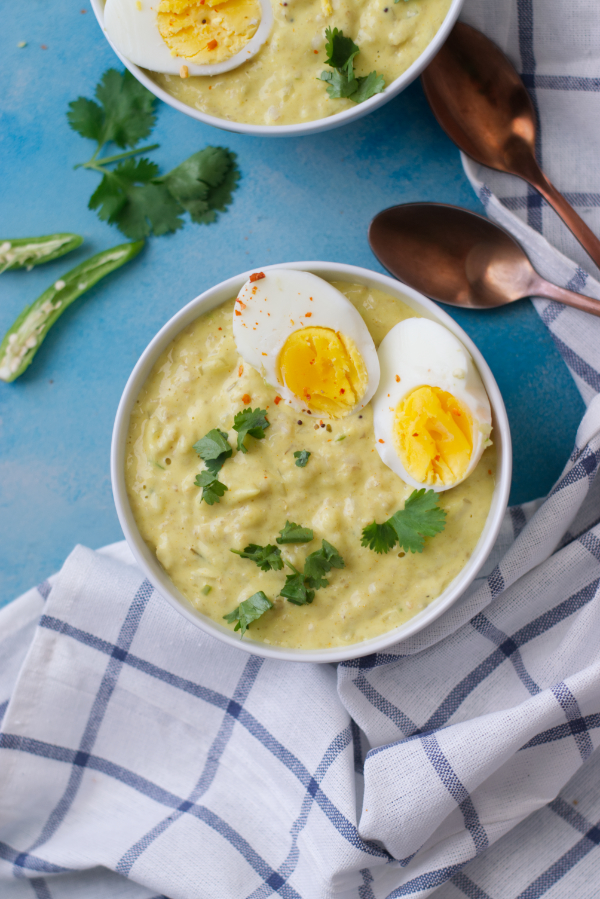 So go ahead & give this a try! If you make these or any other recipe from our blog, do tag us by using #naivecookcooks on Instagram.
If  you enjoyed this recipe, don't forget to FOLLOW me on  INSTAGRAM ||FACEBOOK||PINTEREST ||TWITTER ||GOOGLE+ || BLOGLOVIN || YouTube
I have a SHOP PAGE on AMAZON STOREFRONT where you can find tons of items from KITCHEN, FOOD ITEMS, KIDS/BABY TO HOME STUFF I absolutely love and use on regular basis! Hope you check it out and find it useful 🙂
Comforting Spiced Turmeric Yogurt Oatmeal Bowls
Ingredients
1.5 cup oats ( cook them in water until completely cooked)
1 tbsp oil
½ tsp mustard seeds
½ cup onion, finely chopped
4-6 garlic cloves, finely chopped or paste
Green chili paste, as per taste
Salt to taste
1 tsp turmeric
1 cup yogurt
1.5 cups water
Instructions
Cook oats as per package directions.
In a deep pot/pan, add oil.
Once hot add mustard seeds. When they start to pop, add onions and saute until translucent.
Then add garlic, green chilies, salt and turmeric. Add cooked oatmeal and mix on low heat. In a bowl take yogurt and add water to it. Using a whisk, mix so no lumps are there.
On lowest heat setting, pour yogurt-water mix to oatmeal. Mix immediately and let it cook on slow heat with constant mixing. Taste and adjust salt, green chili or garlic. If you like little on the tangy side, add little lime juice.
Enjoy hot with some totally optional soft boiled eggs (but great!) or as is.