Trader Joe's Meal Hack : Italian Gnocchi Quesadillas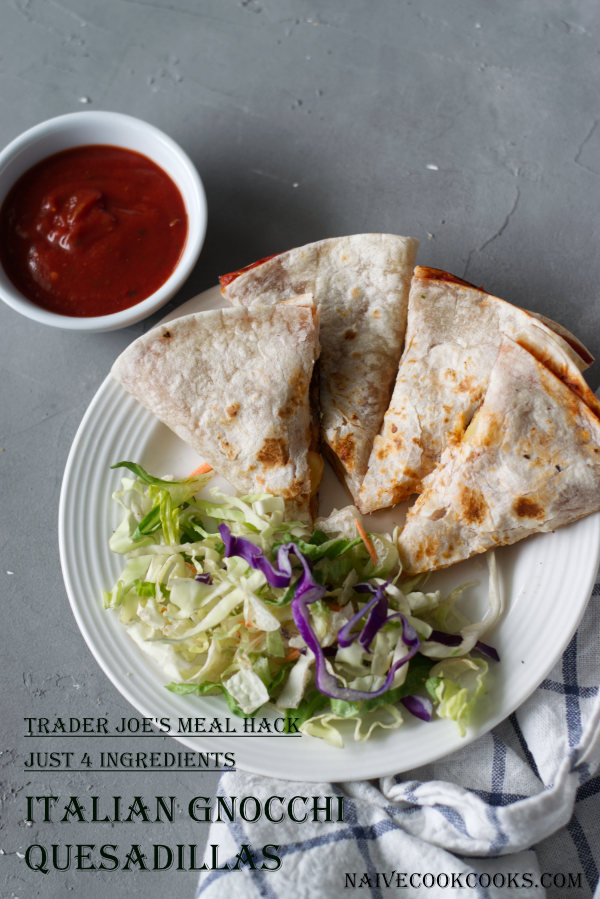 Recipe type:
Trader Joe's MEAL HACKS
4 tortillas ( I used Trader Joe's flour tortillas)
Parmesan cheese shredded ( I used block of Trader Joe's Grana Padano Parmesan)
1 packet Gorgonzola Gnocchi ( I used Trader Joe's Gnocchi al Gorgonzola)
Tomato sauce ( I used a can of Trader Joe's Organic Tomato Sauce)
Heat Gnocchi as package directions.
Heat up tomato sauce. I like to sometimes doctor up the sauce by adding some italian seasoning, salt and black pepper in it but it's totally optional.
Take one tortilla. Spread tomato sauce liberally all over it. Then spread gnocchi on half of the tortilla. Shred some parmesan over it and close it into half moon shape.
Transfer it on a heated skillet and cook until both the sides are cooked, crisp and nicely golden.
Serve immediately!
Recipe by
Naive Cook Cooks
at https://www.naivecookcooks.com/trader-joes-meal-hack-italian-gnocchi-quesadillas/