Easy Dinner with Cheesy Peri Peri Chicken Quesadilla Pizza! Dinner can't get simpler than this!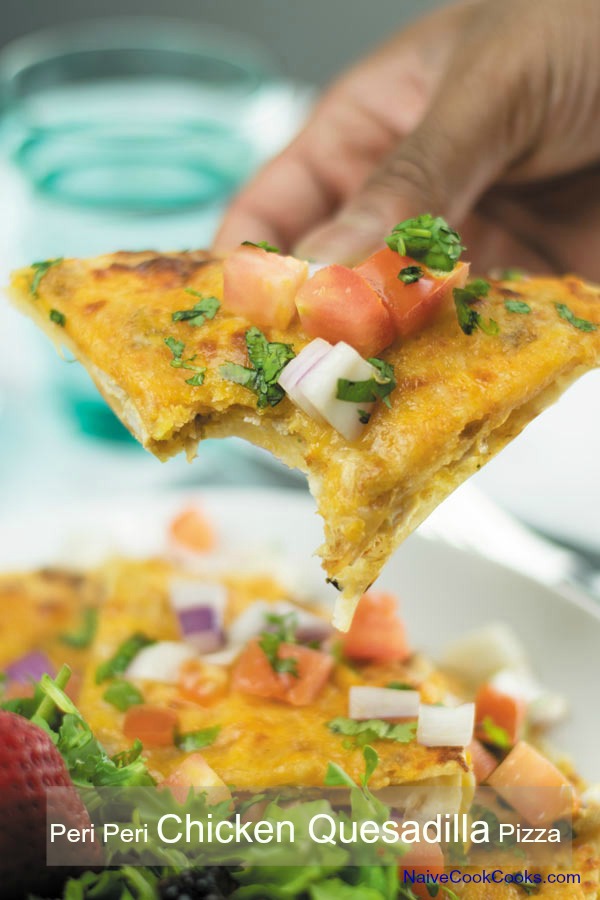 Love Chicken Dinners?
Love Dinners that are Easy & don't need much thinking after a long day at work?
Then this is FOR YOU! These stupidly easy Peri Peri Chicken Quesadilla Pizza needs just 30 mins to cook and it's the easiest cheesiest dinner for those nights when you want something really good but don't want to put too much effort into cooking!
These Quesadillas, my friends, are our new Dinner favorite and they are already in our weekly menu plan.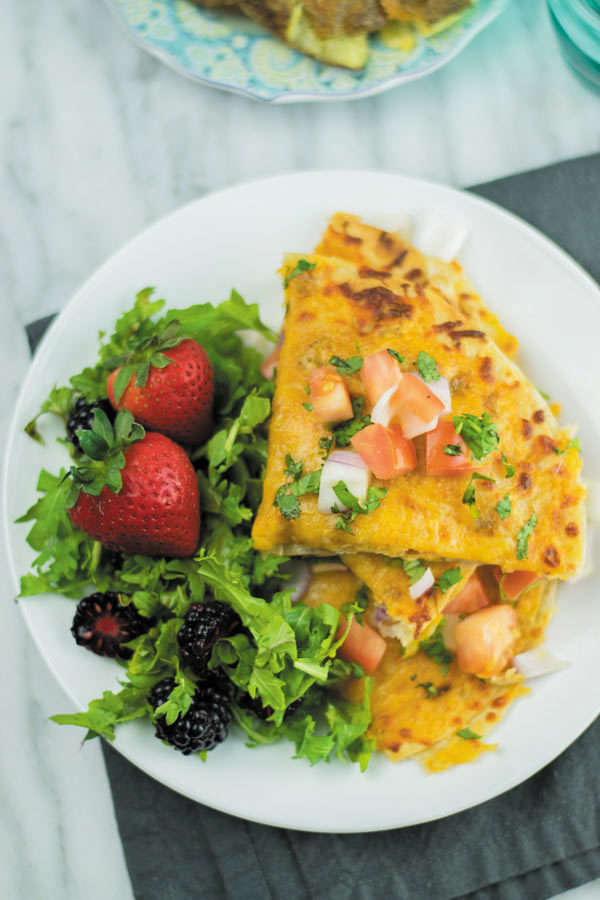 Instead of doing the usual cheese inside quesadillas, we decided to add little cheese in between the tortillas but cover the whole quesadilla top with lots of shredded cheese. Then towards the end throw everything in oven for the cheese to melt! It smelled so good as soon as I opened the oven door and the taste : DIVINE!
These quesadilla pizza's are filling, super flavorful, cheesy & a perfect weeknight/weekend meal option that takes start to finish just 30 minutes!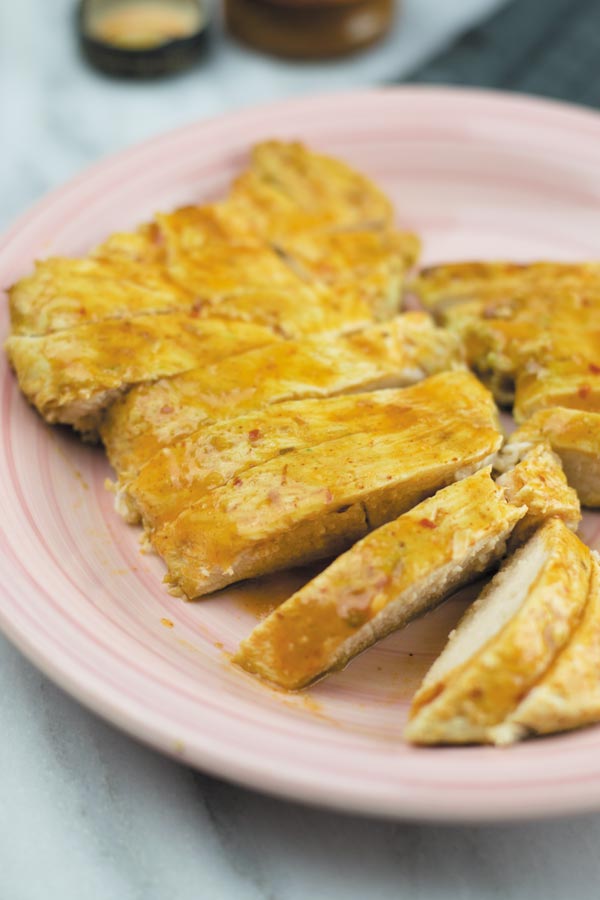 It starts by marinating your chicken breasts overnight in delicious Peri Peri sauce or in case you don't have Peri Peri sauce use any other flavorful sauce! Just throw chicken along with good amount of sauce in a ziplock and move it around to coat chicken with sauce. Close the ziplock and let it marinate overnight in fridge.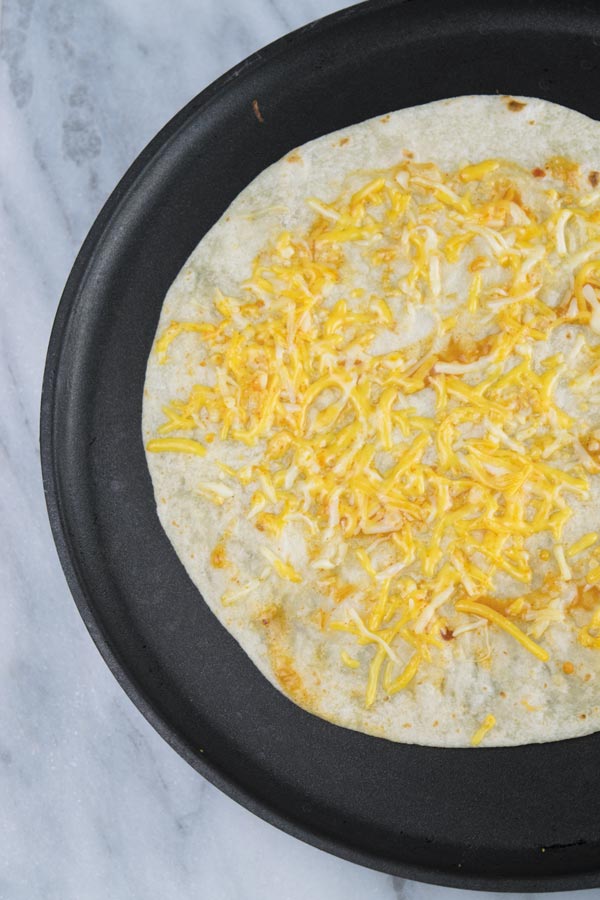 When ready to eat, cook marinated chicken on a skillet. Once cooked let it cool and then slice in pieces. Lay one flour tortilla on a hot skillet and cover it with cheese.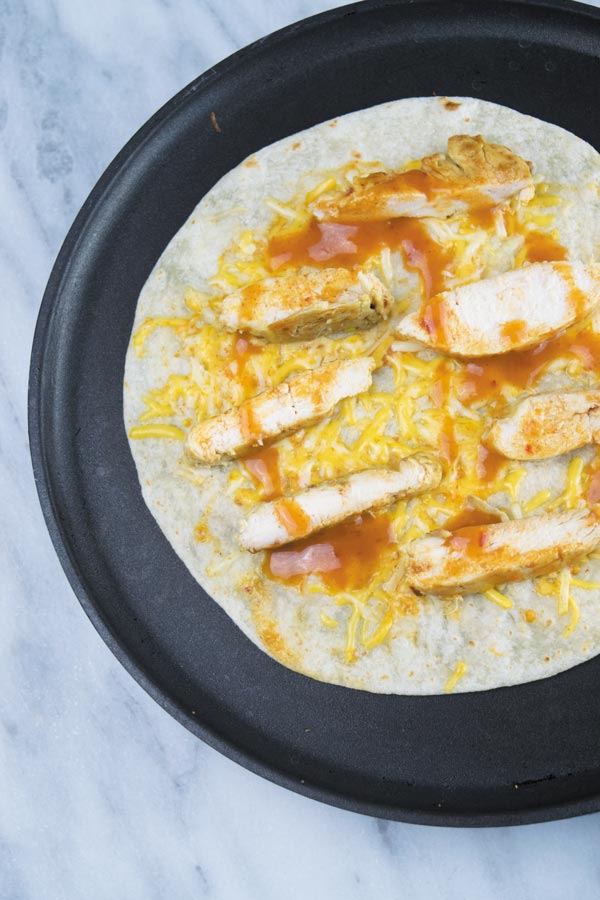 Add the chicken pieces along with some more sauce and then cover it with the second flour tortilla. Cook and flip. Cook the other side. Cover the top tortilla with a good amount of shredded cheese and pop it in preheated oven for 5 minutes until cheese is melted!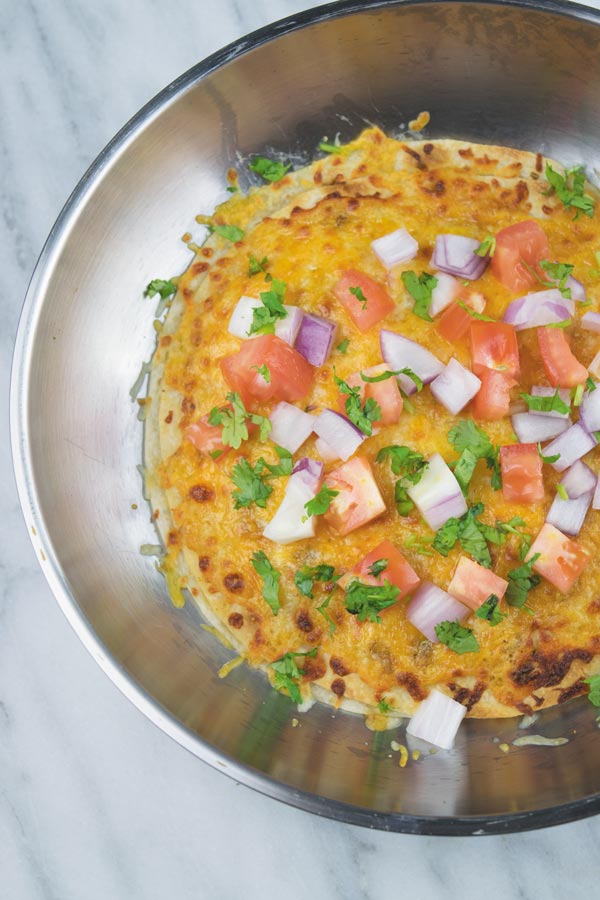 Garnish with some chopped onions, tomatoes and cilantro. Cut in triangles.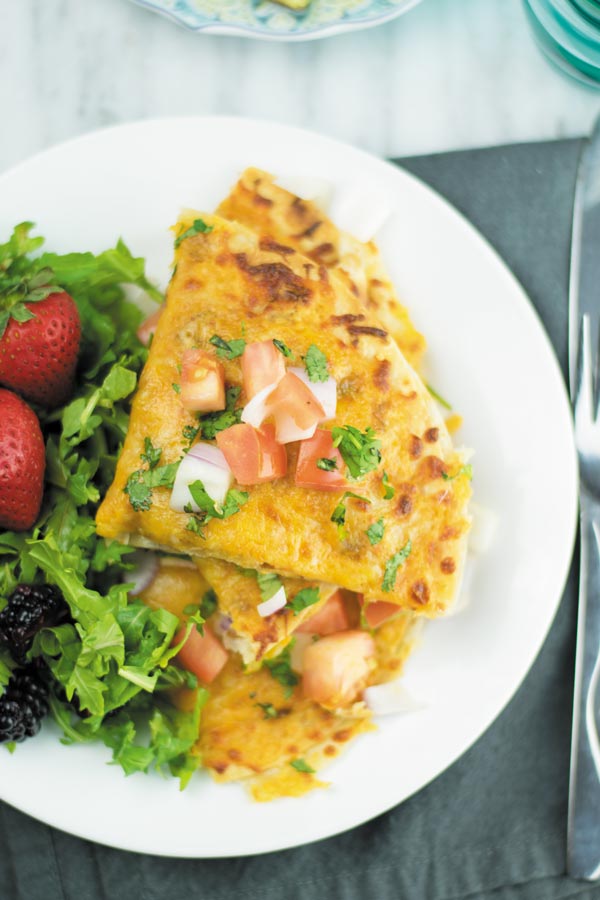 Serve with a salad & chilled beer!
If you enjoyed this recipe, don't forget to FOLLOW me on  INSTAGRAM ||FACEBOOK||PINTEREST ||TWITTER ||GOOGLE+ || BLOGLOVIN || YouTube
Peri Peri Chicken Quesadilla Pizza
Ingredients
1 chicken breast (For VEGETARIAN option, see below)
4-6 tbsp Peri Peri sauce ( I use THIS ONE ) + extra
4 flour tortillas, large burrito size ones
2 cups shredded cheddar cheese or mexican cheese
Chopped onion, tomato and cilantro for garnishing
1 tbsp oil to cook chicken.
Instructions
Marinate chicken breasts in a ziplock bag with 4-6 tbsp of sauce. Make sure chicken breast is nicely coated with this sauce. Close ziplock bag and let it sit in fridge overnight or until ready to eat.
When ready to eat, heat a oven safe skillet. Add oil and cook chicken breast on both sides until fully cooked through. Keep it aside and let it cool. Once cool enough to handle, chop it into pieces.
I like to slice it first and then chop it into small pieces for my quesadilla pizza.
Wipe the same oven safe skillet with a paper towel and then place one flour tortilla on a hot skillet. Spread a light layer of cheese and then spread the cooked peri peri chicken pieces. Drizzle with some more sauce and place another tortilla on top. Gently flip the whole thing once the bottom tortilla is cooked and crispy. Now cover the top of this quesadilla with good amount of shredded cheese and place this skillet in pre heated oven for 5-10 minutes or until cheese is melted through.
Serve with a salad and enjoy this cheesy quesadilla pizza with a chilled beer!
Notes
Ami says :
If you want a VEGETARIAN option, you can marinate Paneer (Indian Cheese), Tofu or your choice of vegetables such as cauliflower, potatoes and use them in the same way!
 Some more EASY CHICKEN DINNERS ->>