Learn to make bakery style Easy Homemade Whole Wheat Croissant at home with few basic ingredients!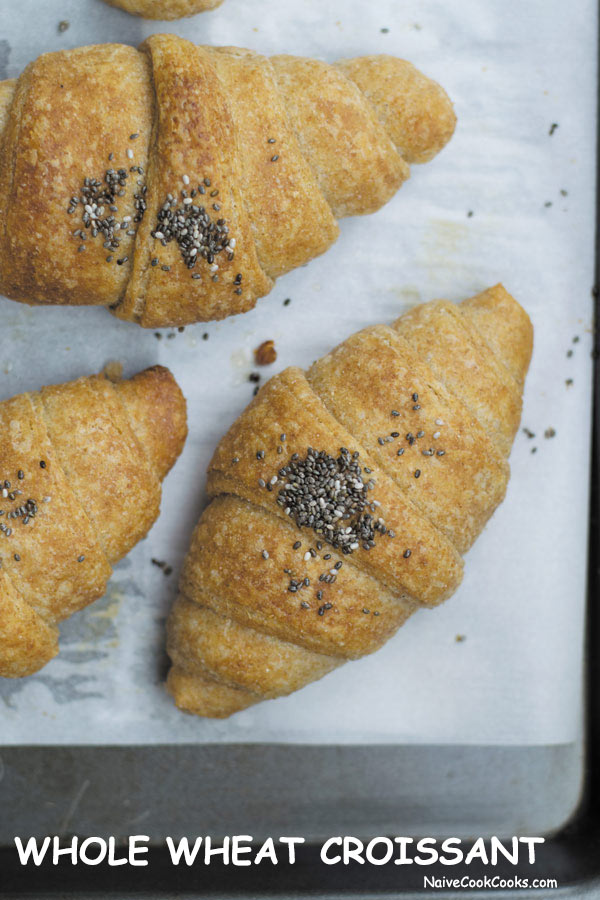 Hump day or basically a day where I don't really care about my diet and since I have these gorgeous buttery beauties sitting in my fridge, my resistance level is 0 right now. I mean seriously I have already toasted one and slathered with my butter and my favorite hot green sauce but I am still eyeing them! Is it bad that I can make my own croissants at home?! But I do feel a wee bit better eating these as these are whole wheat with only very little all purpose flour involved which makes them more fiber rich and since I started making these at home, I don't like the big box of croissants I used to buy at Sam's club anymore!
We are back from our trip and I am so relieved to get back to normal routine! Know that feeling where you can't wait for the vacation to start but once it does and you are near the end of it, you can't wait to go back home and lie in your very own bed and wear those old comfy clothes! That's me for sure.
Ok so let's get going. Don't be sacred with all the steps as making croissants is seriously simple. Just make sure to follow the step by step procedure and you will have bakery style croissant ready for weekend brunch!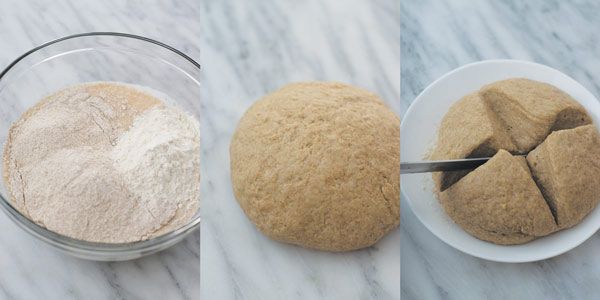 First mix the dough ingredients and make it into a soft supple dough. Transfer it to a floured plate and cut a X shape into the dough. Let it chill in fridge.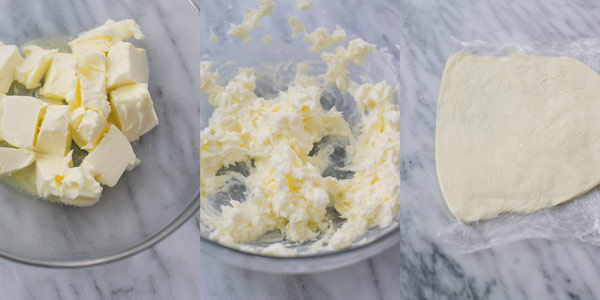 Now take butter and beat it until its creamy. Place it in between a large piece of plastic wrap. Taking a rolling pin, roll on top of the butter which is covered with plastic wrap. Place it in fridge also.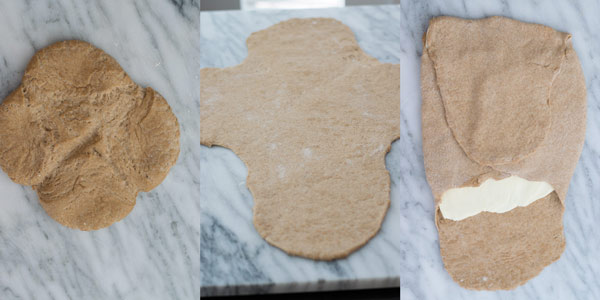 Now after sometime take out the dough and using your palms flatten it out on all 4 sides. Place the chilled butter in the center and cover it like an envelope.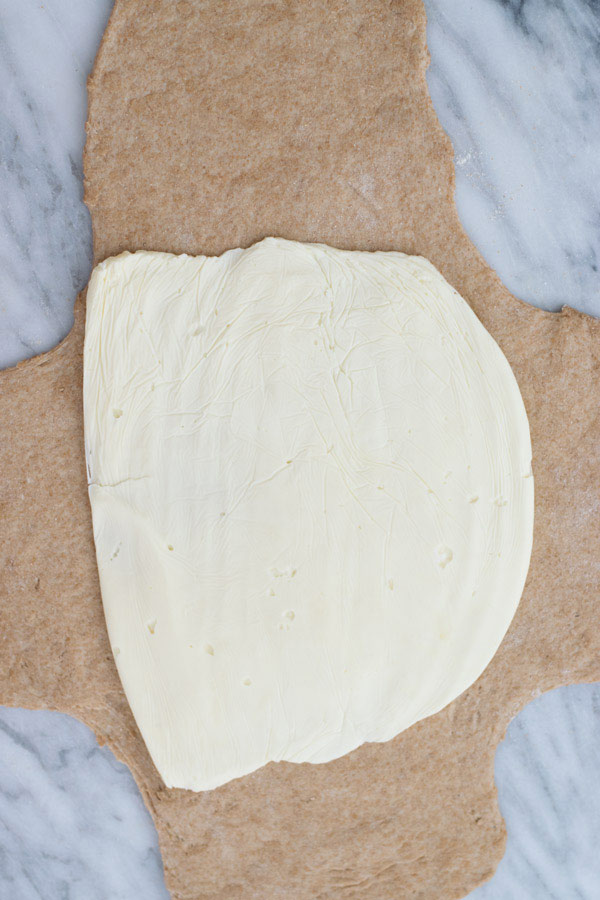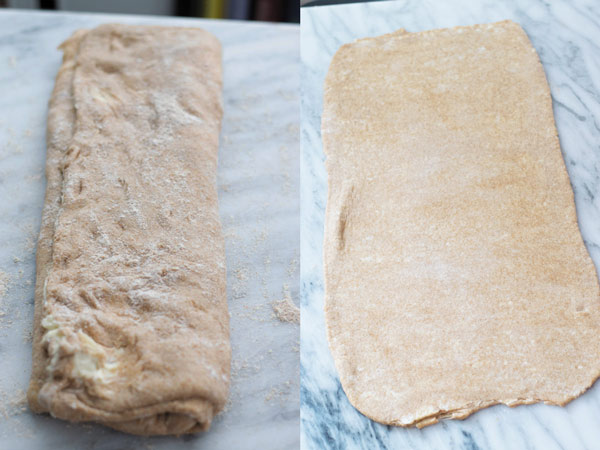 Once you cover it like and envelope, roll it onto a rectangle and then roll 1/3 of the left on to the center and then the right 1/3rd on the center and place for 30 min in fridge. After this roll again and repeat. Continue this for total of 3 times.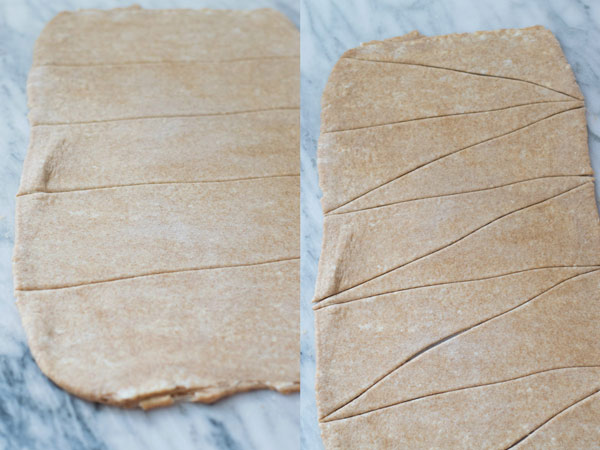 Then let it sit in fridge for overnight or 6-8 hours and then roll. Using a knife or pizza cutter, divide into rectangle parts and then into triangular sections. Starting from the base roll towards the tip of the triangle. Transfer them to a parchment paper lined baking sheet and let them rise for another 2-4 hours.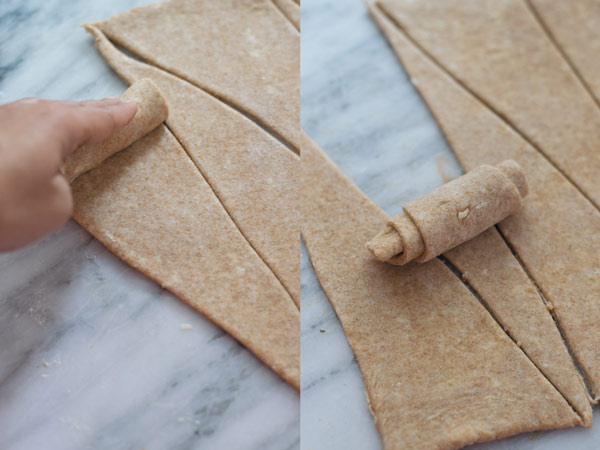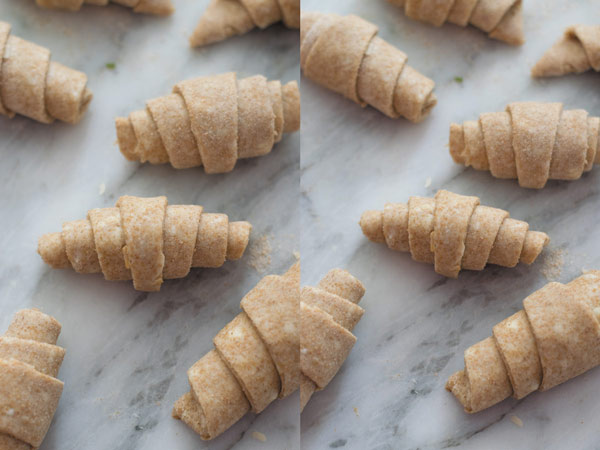 Using a brush rub eggwash or butter on top and sprinkle with chia seeds or flax seeds if you want and bake!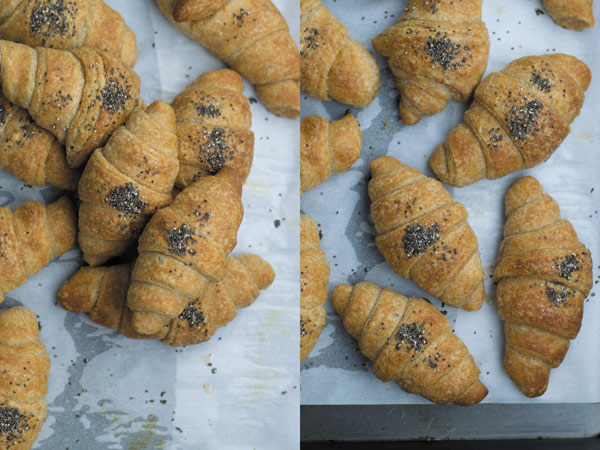 Tada!! There you just made your very own from scratch croissants at home with basic ingredients – that are WHOLE WHEAT but are NOT dense at all!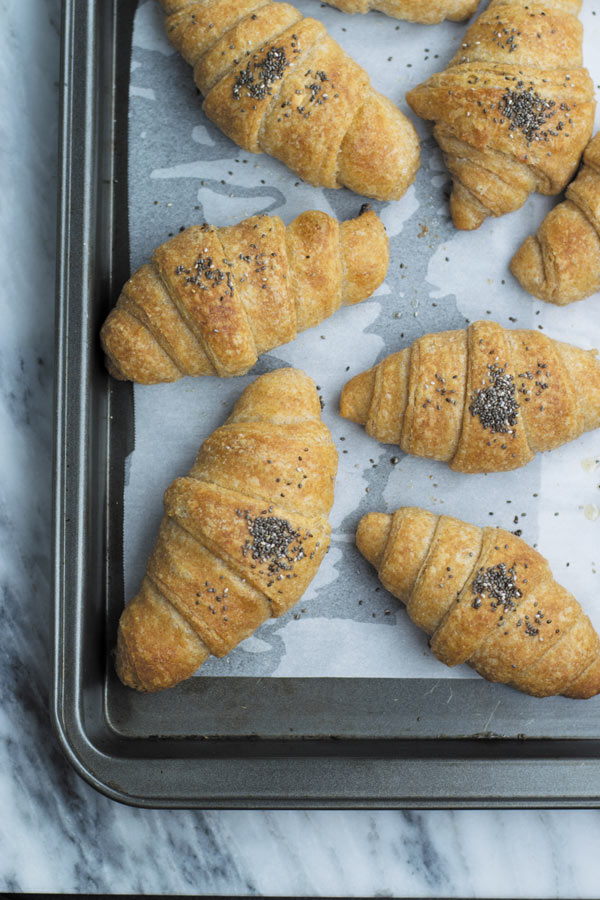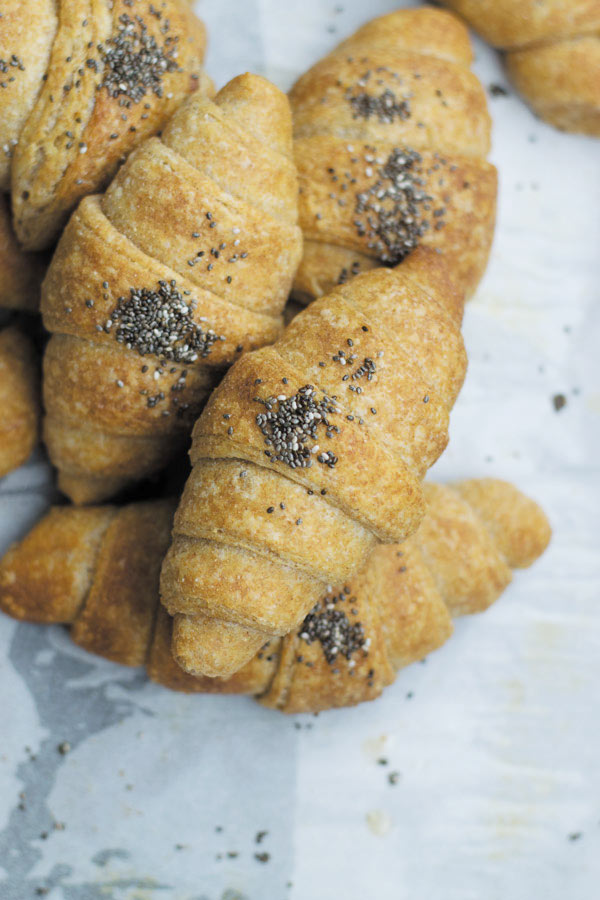 If you enjoyed this recipe, don't forget to FOLLOW me on  INSTAGRAM ||FACEBOOK||PINTEREST ||TWITTER ||GOOGLE+ || BLOGLOVIN || YouTube 
Easy Homemade Whole Wheat Croissant
Ingredients
For the dough
2½ teaspoons active dry yeast
¼ cup + ¾ cups milk
¼ cup sugar
1.5 cups + 3 Tbsp whole wheat flour
½ cup + 1 Tbsp all purpose flour
1.5 teaspoon fine sea salt
For butter
1 cup cold butter
2 tablespoons all-purpose flour
Melted butter for rubbing on croissant
.
Instructions
INSTRUCTIONS
In a bowl, add ¼ cup warmed up milk and to it add yeast. Stir it together and wait 5-7 minutes until it foams up or in other words yeast gets activated. Then add the sugar and rest of the milk (which should be cold) and mix.
Add 1.5 cups of whole wheat flour, ½ cup all purpose flour and salt to it and stir. To it add 3 tbsp whole wheat flour and 1 tbsp all purpose flour until the dough becomes soft but sticky. If your dough is still super sticky & watery then add few more tbsp but for me this gave the right stickiness I needed.
Transfer it onto a floured surface and knead for a good 1-2 minutes until dough becomes soft and turn it into a ball that flattens slightly as it stands. Transfer it to a plate covered with flour.
Cut a deep cross into the dough and let it sit in the refrigerator for upto an hour.
Now lets move on to the most important ingredient for croissants. BUTTER! Make sure butter is only slightly softened. You still want it to be pretty hard so you can shape it. In a bowl, add the butter and beat it until it is smooth. I usually do it in kitchen aid mixer but you can easily do it by hand though it might take more time. To it add flour and beat until smooth. Transfer it to a large plastic wrap and fold the other half of wrap over it. Now using a rolling pin, roll it into a large around 10*4 inch rectangle. Chill it with the dough.
Now take out the dough and transfer it to a floured surface. Roll the dough making 4 wings (It's best done using the heels of your hand). Basically roll each quadrant and you will end up into 4 giant wing shaped dough.
In the center place that chilled butter.
Fold the bottom wing onto the butter. Then the top one, then the one on the right and then the one on the left. Using a rolling pin, hit it a bit so butter gets evenly distributed between the layers. Roll it into a 17*9 inch rectangle.
Remember what we are trying to achieve here is have layers of dough and layers of butter one after other. We don't want butter to go inside the dough as this will ruin the layers.
Cut few mm of dough from the sides to see butter. If you don't see butter, cut little more until you see butter. Make sure you don't put the cut dough back into the main dough as this will ruin the lamination and you won't get croissants with tons of flaky layers.
After that fold the left thirds of the dough towards the centre and then the right thirds towards the centre. You will end up with a rectangle around 6*9 inch high. Hit it again with a rolling pin and cover and chill in the refrigerator for half an hour.
Roll the dough again into an 17*9 inch rectangle and repeat the fold. Make sure after rolling, you cut away some dough from the sides to reveal butter. Chill for half an hour and repeat this process one - two more time.
This time compress the layers a bit and wrap in plastic wrap. Chill the dough overnight. You will find the dough rises a bit. Roll the dough to 9 inch high to as wide as possible.
Cut it into triangles using a pizza cutter or knife. I find pizza cutter to do the job in a very easy manner.
Take one triangle at a time and starting from the base of triangle, gently roll it them upto the tip. Repeat with all the triangles.
Transfer the rolled out croissants to a lined baking sheet and brush them with melted butter.
Let them sit for few hours 2-4 hours until they double up. Repeat brushing with more melted butter and bake in a 375F pre heated oven for 15-25 minutes or until they are golden brown.
Let them cool a bit before serving
 More delicious BREAD recipes ->>