Amazingly delicious one pot chicken chili gets done in under an hour. Can be easily made vegetarian by simply skipping the chicken!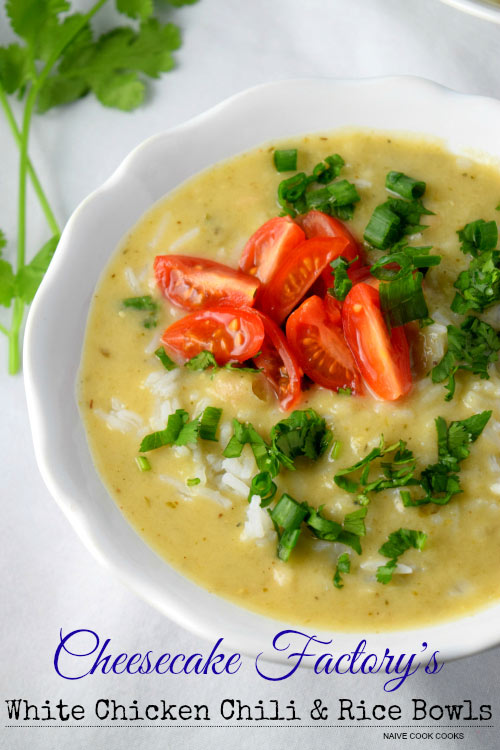 It's going to be spring in almost two weeks and it's still freezing cold here! I am still in denial that it's going to be spring soon but I am making sure I make these last few days of snowy days worth it by keeping our belly full with lots of delicious warm comfort foods and yes that totally means baking chocolate chip cookies at midnight!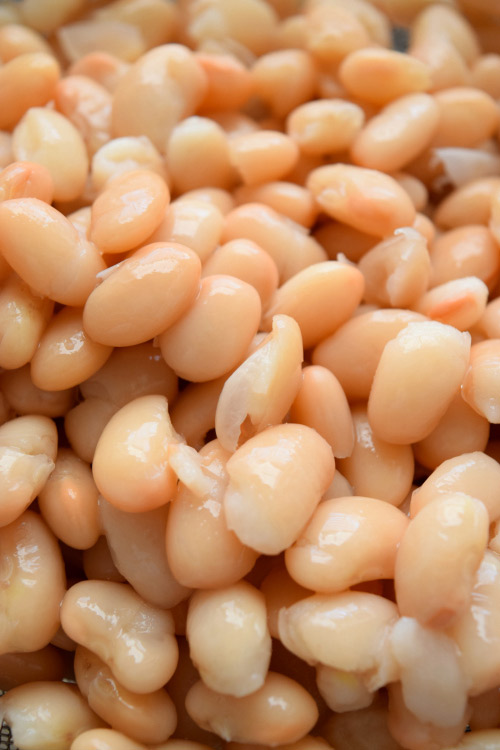 This chili guys!! It's no where like the regular chili we all are used to eating. Remember this THREE BEAN ANCHO CHILI and me telling you how I was all over it?! Well I think I have found a new chili love. Not that I am not going to go back to my all time favorite chili but this chili, you guys! Its packed with white beans, salsa verde (lots of it!), poblanos for some heat, chipotle tabasco sauce and perfectly seasoned chicken.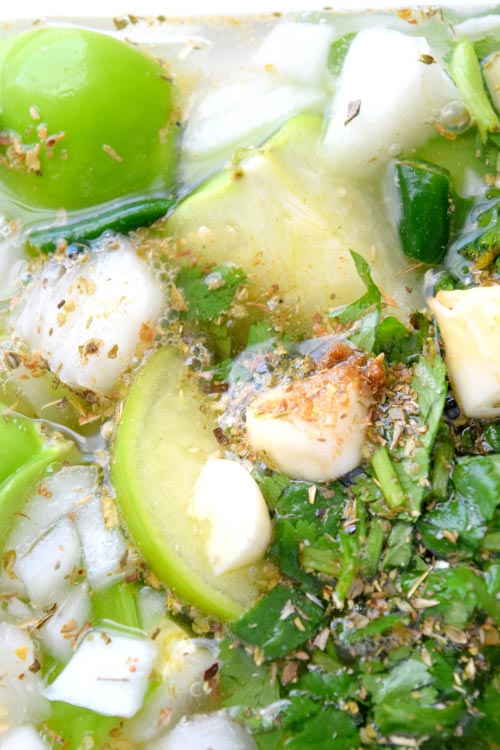 Have you ever heard of chipotle tabasco before?! Ok may be I am living in my own world but seriously I eat tabasco on almost EVERYTHING and when I was trying out this recipe from cheesecake factory website, it called for chipotle tabasco. For a moment I was in shock! How could I not know about this tabasco?!
I feel I am like their biggest customer as everytime I go grocery shopping, a bottle of tabasco just *accidentaly* falls in my cart.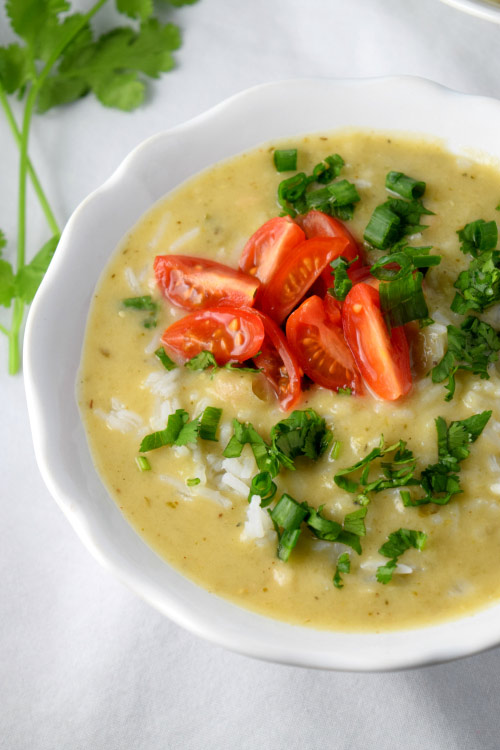 This tabasco has kind of a smoky flavour and I suppose that was the reason Jerry never suggested me this flavor. He knows me! But here in this recipe it just works beautifully. Just few simple ingredients, it will take you one trip to grocery store but then you will be eating this tangy, spicy, comforting bowl of chili & rice for days! Atleast that's what I did.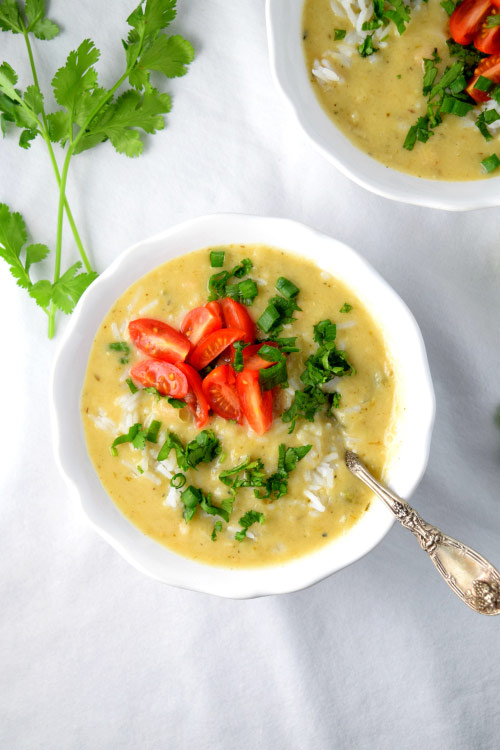 Everything cooks in ONE POT and dishes like these are a winner in my kitchen as I hate doing dishes. I mean, seriously.
This is perfect to make for a cozy weeknight dinner and leftovers work great for lunch. You can even freeze the leftovers. Before eating, simply warm it really well and if it feels too thick which it will get on sitting, just add little water and adjust the seasonings.
Oh and VEGETARIANS rejoice! As this dish works great even without chicken. I served it to non meat eating family without chicken and they loved it. So win-win.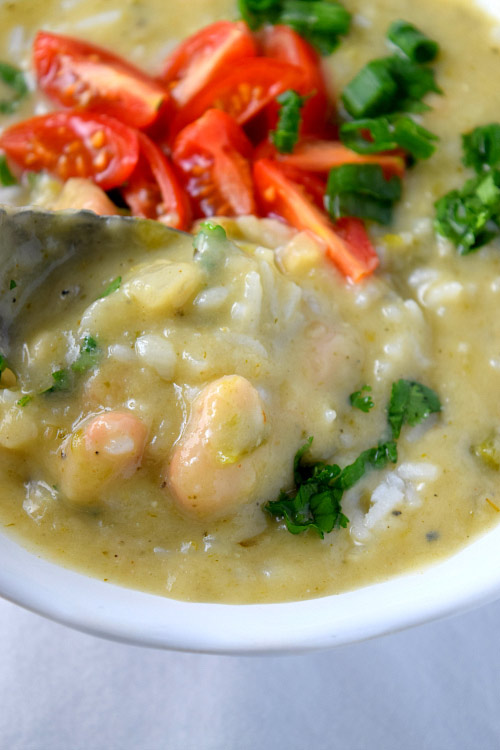 Sharing is Caring, remember those wise words?!! 
Follow along for lot more delicious treats and life happenings on INSTAGRAM || FACEBOOK || PINTEREST 

Cheesecake Factory White Chicken Chili & Rice Bowls
Amazingly delicious one pot chicken chili gets done in under an hour. Can be easily made vegetarian by simply skipping the chicken!
Ingredients
Chicken rub
1 chicken breast (depending on how much chicken you want, you can even double the quantity of chicken breast)
½ tsp cumin powder
¾ tsp red chili powder
½ tsp salt
¼ tsp black pepper
2 tsp olive oil
Chili
2½ cups cooked white beans (I used great northern beans)
1 tbsp olive oil
1 cup chopped yellow or white onion
1 poblano chili, roasted, peeled and diced into small pieces
1 fat garlic clove, chopped fine
½ cup all purpose flour
4 cups water + 1 vegetarian or chicken bouillon cube OR (use 4 cups vegetable or chicken broth)
1.5 tsp chipotle tabasco sauce (adjust as per your taste)
2 tsp oregano powder
1 tsp brown sugar
Salt as per taste
½ tsp cumin powder
2 cups salsa verde (Recipe down under)
2 tbsp sour cream
Chopped tomatoes, chopped green onions for serving (optional but necessary!)
Salsa verde
3 tomatillos, peeled, cleaned and chopped
¼ cup chopped onion
2 tbsp chopped fresh cilantro
2 garlic cloves
1 tsp oregano
¾ tsp cumin powder
Salt to taste
1 cup water
Rice for serving
Instructions
Clean the chicken and cut in small cubes. Transfer it to a bowl and to it add all the chicken spice mix except oil. Coat the chicken well with all the spices.
Heat a deep heavy bottomed pot. Add 2 tsp olive oil and add the the chicken pieces. Cook them on medium heat for few minutes until almost cooked. Flip and repeat. Once you feel chicken is ¾ th done, take it out and transfer it to a plate. Keep it aside for now.
Now to the same pot, add 1 tbsp olive oil. To it add chopped onions and let them cook on low for good 5-7 minutes until soft.
While onions are cooking, throw all the ingredients of salsa verde in a high speed blender and blend until smooth. Transfer this sauce to a deep pot as it will spatter a lot and keep it on high flame. Cook for good 10-15 minutes until it starts to thicken a bit or reduces a bit.
Now once your onions are cooked, add chopped poblano chili, garlic to it and stir it around for a minute. To it add flour and cook it on medium-low until it turns slightly golden. To it add, water + bouillon cube or chicken/vegetable broth, 2 cups of salsa verde, chipotle sauce, oregano, cumin, salt, brown sugar. Stir it around and taste. At this point adjust the seasonings as per your taste.
Bring it to a boil and let it simmer for good 10-12 minutes. Meanwhile prepare your rice according to package directions.
To the chili, now add the cooked beans and chicken and let it simmer for 5 more minutes so that the chicken gets cooked fully.
Now turn off the gas. Stir sour cream and serve over rice and garnish with green onions and tomatoes.
Notes
Chili freezes well too. Freeze in an air tight container.
It tends to get thick on sitting, so before serving you can add some water and adjust seasonings and heat up.
Recipe adapted from Cheesecake Factory Website.
More Chicken Recipes:
https://www.naivecookcooks.com/baked-skinny-buffalo-chicken-wings/