Soft Savory Chickpea Pancakes made with 11 basic ingredients, low carb, high protein and full of veggie goodness! Great for any meal of the day & super filling.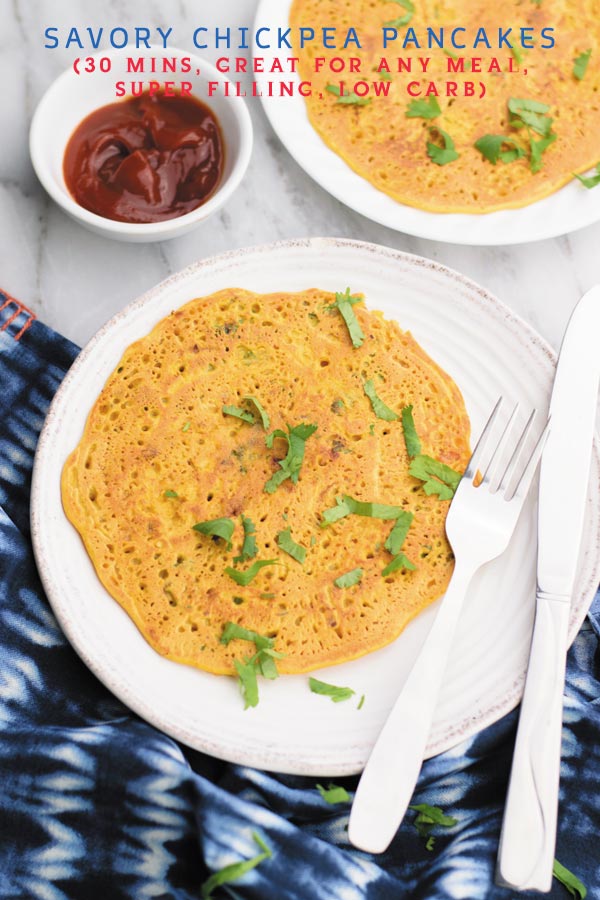 Lately I am trying to be more conscious of what we eat and most days it's breakfast time that becomes a challenge as I can't eat same breakfast every single day so oatmeal (which is not really my favorite)  for breakfast and eggs get out of the option very soon. Yesterday while brainstorming, I realised how growing up my Mom would make us a lot of these savory chickpea pancakes ( called CHILA as chee-laa in hindi) a lot. It's super healthy as all you are using here is chickpea flour (which is actually used a lot in Indian cooking and it's actually a staple in an Indian pantry), lots of freshly chopped veggies (I like sticking with basics like tomatoes, onions, cilantro) and simple spices. It's made into a batter using water and then each chila or savory pancake is cooked on medium heat with little oil. Soft pancakes served with ketchup and hot cup of tea or coffee taste so good.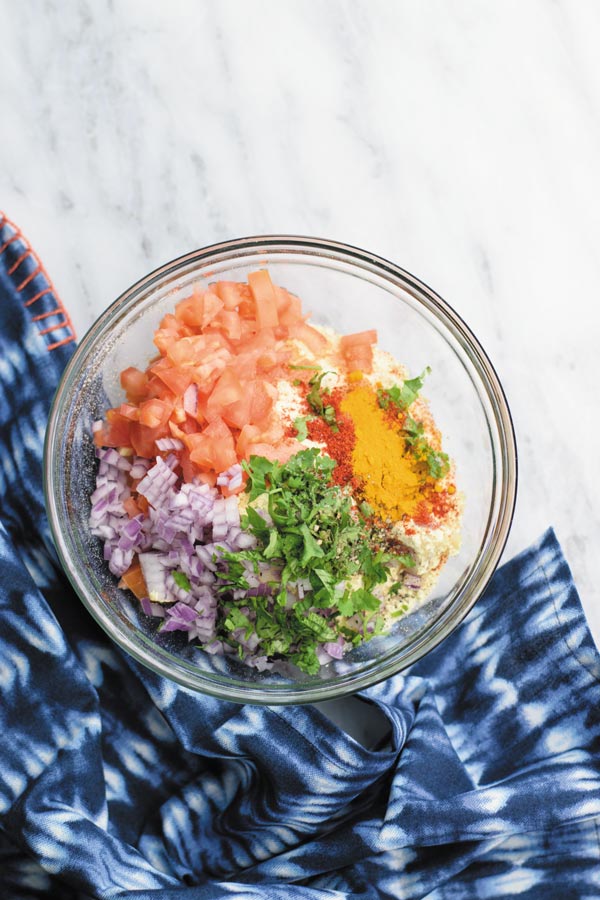 We often eat them not just for breakfast but also for lunch and dinner. These are super filling which is always a plus in my book. No BAKING POWDER, no BAKING SODA and no YEAST is needed. Just simple wholesome ingredients turned into delicious pancakes.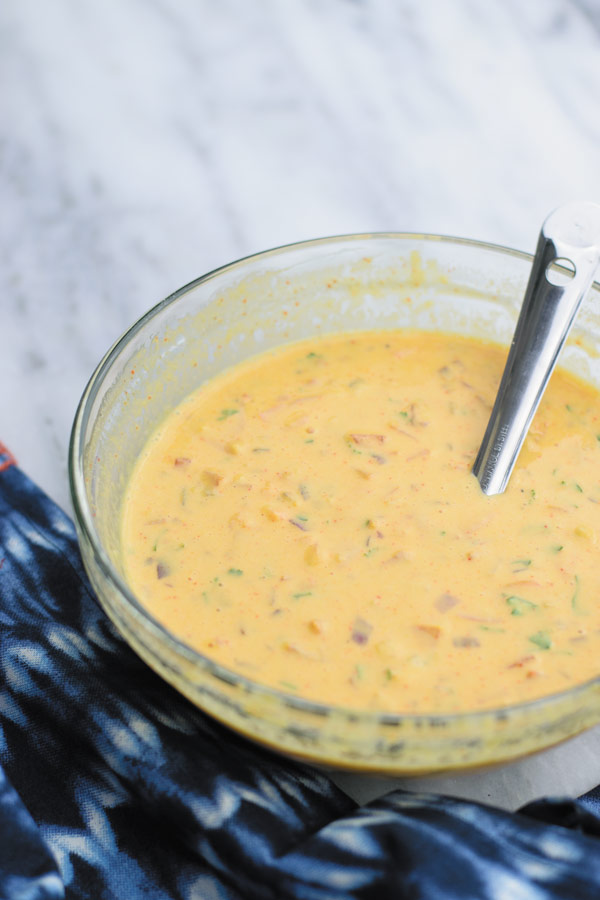 If you are looking for a healthy after work meal that takes 30 mins or less, then these my friend will be amazing! If you are cooking quite a few, I like to use a big pancake griddle or two pans so the cooking gets done quickly. And these taste great even if you make them ahead of time. Just pop them in microwave for few seconds and they are great.
SIMPLE ONE BOWL meal at it's best!! Go and make these! You will love them 🙂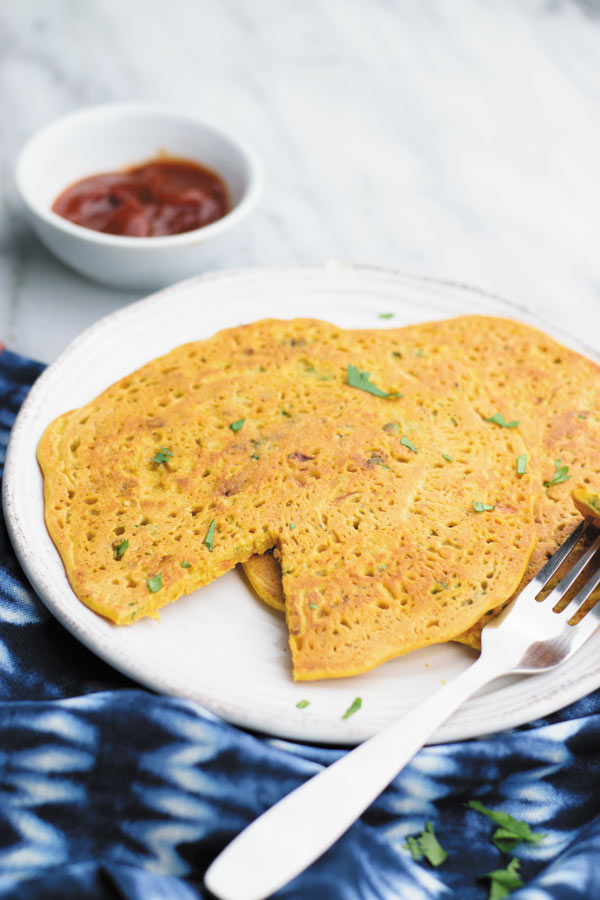 So go ahead and give this a try! If you make these or any other recipe from our blog, do tag us by using#naivecookcooks on social media channels.
If you enjoyed this recipe, don't forget to FOLLOW me on INSTAGRAM||FACEBOOK||PINTEREST||TWITTER ||GOOGLE+ || BLOGLOVIN || YouTube

Savory Chickpea Pancakes
Ingredients
Savory Chickpea Pancakes:
1 cup chickpea flour (besan)
1 tomato, finely chopped
⅓ cup red onion, finely chopped
Handful finely chopped fresh cilantro
Salt to taste
1 tsp red chili powder
½ tsp turmeric powder
¼ tsp black pepper powder
½ tsp ginger paste
¾ cup water
Few tsps oil for cooking
Instructions
Savory Chickpea Pancakes:
In a bowl mix first 10 ingredients.
Heat a pancake griddle or a flat non stick pan. Add few drops of oil and pour ½ cup batter in the center. Using back of a spoon spread it as much as you can. Let it cook on medium low heat. When you see bubbles appearing on top, add few drops of oil on top of pancake and flip. Cook and apply little bit oil on the now top surface. Flip after few minutes and cook. Once it's nicely cooked and golden on both sides, serve with ketchup or your favorite hot sauce.
Some more HEALTHY ideas ->>