Crispy Coconut & Jam Heart Cookies perfect for Valentines day for your loved ones or after school treat!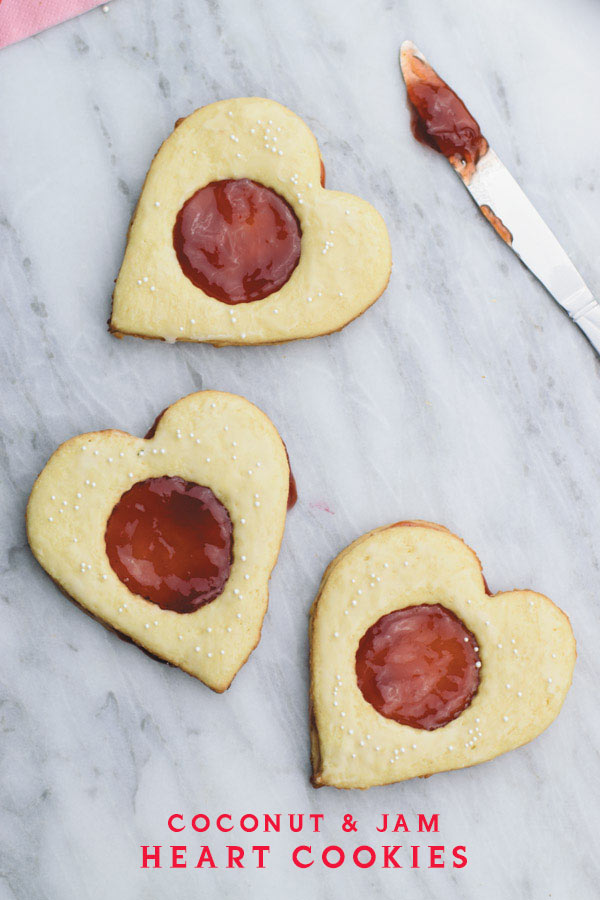 Already a week into February. I feel like 2017 just started and now we are already done with January. On the bright side, Valentine's day is here and that means making cute heart shaped cookies. Two years back I made these heart shaped conversation sugar cookies which were so delicious that we finished them before valentine's day lol. This year I decided to go with sandwich cookies as I have been wanting to make them for a long time.
These are crispy coconut scented cookies where the dough consist of coconut, sugar, flour, butter, egg and vanilla extract. The top and bottom parts of cookies are not sweet by itself but once the top is glazed and jam is sandwiched in between two cookies, they have perfect sweetness.
Another thing I found while making these cookies is that, they don't stay crispy for super long. After a thin layer of jam is applied, they start to get soft. I kept them in airtight container and they are now like nice soft cookies where each bite melts in your mouth. So yummy that it's hard to stop at one. As you might notice, I made them into giant heart shapes but you can totally make them into small hearts if you have normal size heart shape cookie cutter or just cut them in any shape you like. They are going to taste great either way.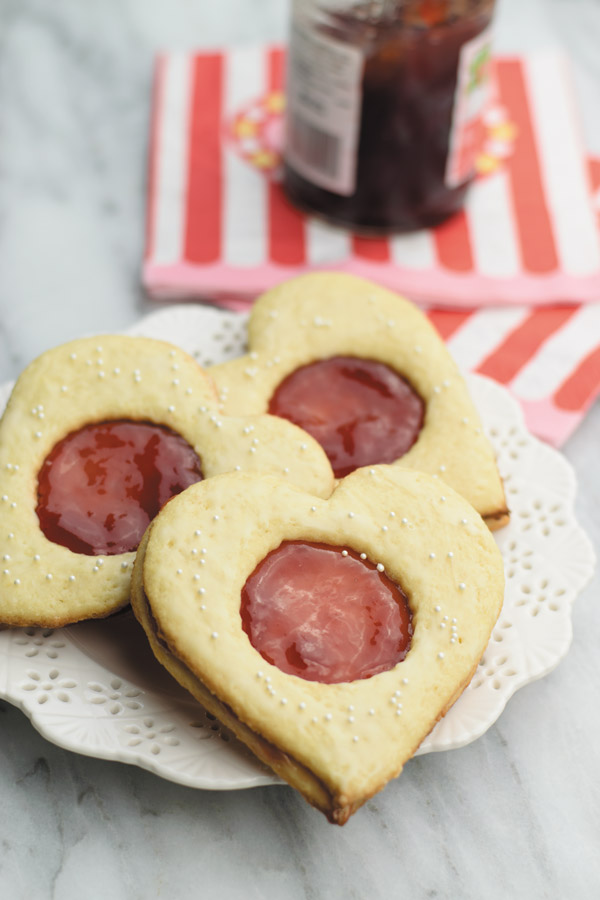 I would suggest to also make sure that the cookies are completely cooled before you sandwich them with jam. These are great eaten on their own just glazed with icing too along with tea/coffee but jam makes them extra delicious so I would suggest not to skip that part.
Now onto the fun part you are probably waiting for! GIVEAWAY!! Yes I got a wonderful opportunity to try and review Hamilton Beach® Professional 14 Cup Dicing Food Processor and they were kind enough to offer one LUCKY WINNER this amazing 14 cup professional food processor.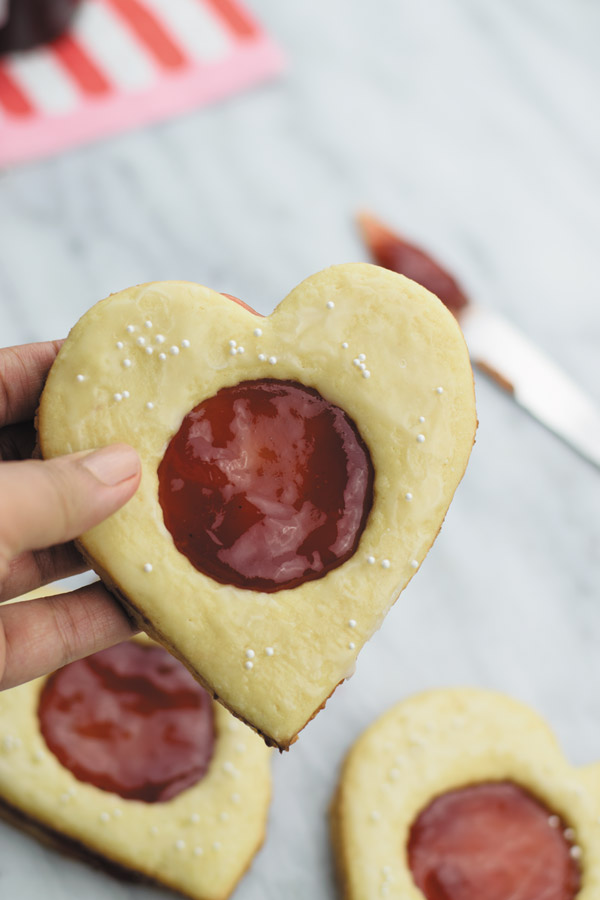 Ok so now let's see the pros and cons. So a year ago Ronak got me Kitchen aid food processor for Christmas but I wasn't happy with it and ended up returning it. Now when I got Hamilton food processor, I loved how it makes dicing, chopping, shredding so quick and so much easier. The only thing which I wasn't impressed about was that it leaves some pieces whole which I then have to pick up by hand and chop/dice/shred as necessary. But this said it saves me ton of time and I absolutely love it! I am still trying to find a permanent space for it on my kitchen shelves as I already have so many gadgets that I am always short of kitchen space! 😉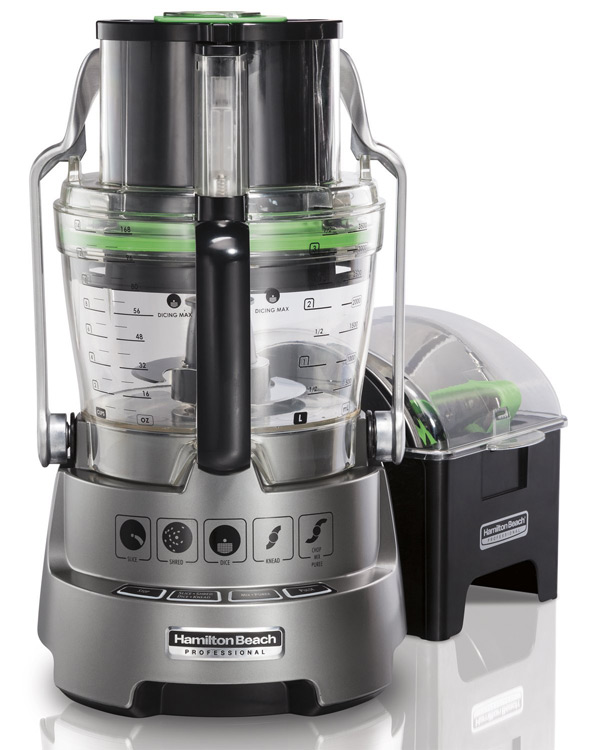 ***OK so now for a chance to WIN this ->> LEAVE A COMMENT & tell me what are you planning this valentines day for your loved ones?!***
THE LAST DAY TO ENTER IS 14TH FEBRUARY 2017, SO HURRY!
So go ahead and give this a try! If you make these or any other recipe from our blog, do tag us by using#naivecookcooks on social media channels.
If you enjoyed this recipe, don't forget to FOLLOW me on INSTAGRAM||FACEBOOK||PINTEREST||TWITTER ||GOOGLE+ || BLOGLOVIN || YouTube

Coconut & Jam Heart Cookies + $200 Hamilton Food Processor Giveaway
Serves:
Depends on cookie cutter size used
Ingredients
Coconut & Jam Heart Cookies:
¼ cup shredded coconut, unsweetened (~20 gm)
¼ cup granulated sugar (~54 gm)
3 tbsp cold unsalted butter
(1/2 cup + 1 tbsp) all purpose flour (~80 gm)
1 large egg, beaten (** We will be using only half of this egg)
½ tsp vanilla extract
Glaze:
¼ cup powdered sugar
1 tsp water ( more or less as needed)
¼ tsp vanilla extract
Strawberry jam or your favorite jam
Instructions
Coconut & Jam Heart Cookies:
In your food processor, add coconut and sugar and process until smooth. Keep it aside.
In a bowl, grate cold butter into flour and using your hands mix until you get a crumbly texture. Add this coconut + sugar mix and stir. Add ½ of the egg and vanilla and turn it into dough.
Preheat oven to 375F.
Turn the dough onto floured surface and roll it into ⅛" thickness. Using your favorite cookie cutter, cut shapes. I used a large heart shaped cookie cutter so I ended up with 4 total cookies (in all large 8 pieces).
Then using a smaller cookie cutter, cut the center of half of the cookies. This will make the top part.
Now transfer them gently to a parchment paper lined baking sheet and bake for about 8-9 minutes until edges turn golden. Let it cool on a cooling rack.
Meanwhile make glaze. Just mix first 3 ingredients of glaze in a bowl and stir until smooth.
Add glaze onto warm cookies. Now if you want, you can decorate them with some sprinkles if you want.
Once the cookies are completely cool, add a thin layer of jam on the full cookies that do not have a cut out in center. Then place the cookie with center cut out on top and enjoy.
Notes
Ami says:
MAKE SURE TO READ BEFORE THE RECIPE AS I HAVE GIVEN MANY POINTS.
Once completely cool, store cookies in airtight container.
They get soft as they sit but they taste great!
Some more delicious recipes for Valentine's day ->>