Quick 15 minute pasta in a creamy spicy avocado sauce. Dinner ready in no time!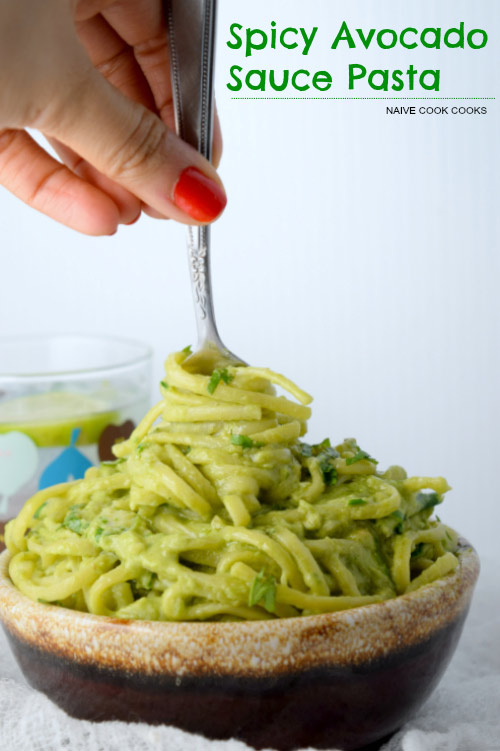 These last few days away from home, I was craving my kitchen badly. All I wanted to do was come back and make something light refreshing and mainly something I have never tried before. If you know me, you know that I despise cooking the same meals over and over and even though this job gives me the perks of getting to learn tons of new stuff on a daily basis but there are days when everything turns horrible and poor Jerry still eats those half undone meals and most of the times either we run out to eat or cereal it is for dinner! Yes don't be surprised. Being in a field where you cook all day long sometimes leaves you with simply no intention to keep foot in the kitchen no matter what!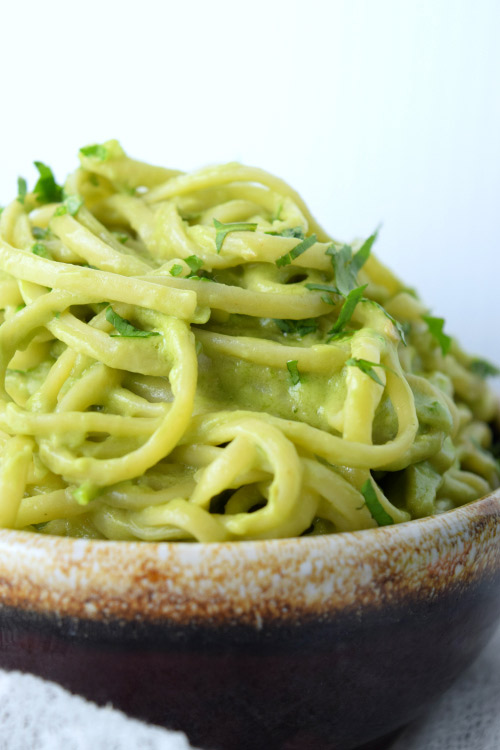 You might know by now that Jerry is not too big on eating his greens even though I make him drink his greens in the form of smoothie or juice. But when I am experimenting with meals like these, I keep in mind that I will be the main person eating the entire meal and well I do it happily!
So you might have seen lots of different variations on this avocado sauce all around the internet but this was my FIRST time trying it. I know what kind of world do I live in?! Well finally I did make my own avocado sauce with whatever I had on my hand in my almost empty refrigerator and I must say I loved it. Super simple, start to finish max 15 minutes and a delicious healthy and creamy pasta dish ready which is so good for you too.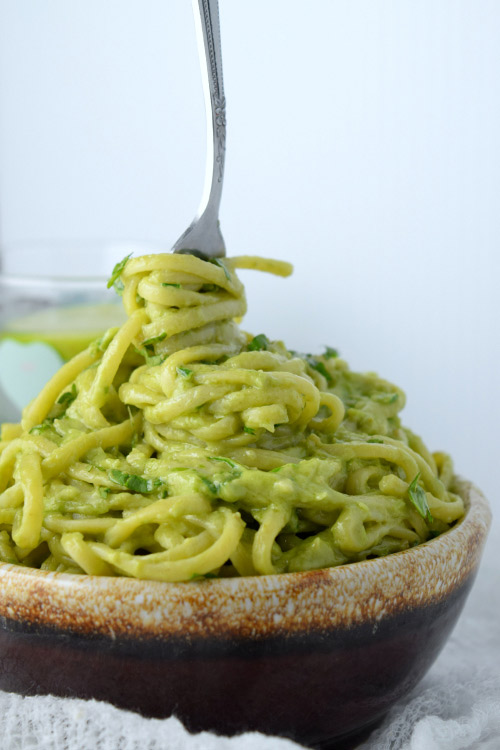 I suggest you give it a try soon and come back to let me know how you liked this or better tell me what's your version of avocado sauce! Cause this pasta is the BOMB you guys!!
Sharing is Caring, remember those wise words?!! 
Follow along for lot more delicious treats and life happenings on INSTAGRAM || FACEBOOK || PINTEREST 

Spicy Avocado Sauce Pasta
Quick 15 minute pasta in a creamy spicy avocado sauce. Dinner ready in no time!
Ingredients
2-3 ounces your pasta shape, cooked as per instructions on package
1 avocado
1 garlic clove
1 tbsp olive oil
Juice of ½ lime or as per taste
Salt & Black Pepper to taste
½ jalapeno
2 green onions
Instructions
Cook the pasta as per package instructions. Drain the water saving few tbsps for the sauce.
In a blender, add avocado, garlic, olive oil, salt, pepper, lime juice, jalapeno, green onions and 2 tbsp pasta water. Blend until smooth. Adjust salt, pepper, lime juice as per taste. If you want little more thinner sauce, add little more pasta water.
To this sauce add the pasta and mix until well coated.
Serve.
More Pasta Recipes: