A delicious blend of banana, apple, raw beets, parsley, berries, cinnamon, chia seeds and almond milk makes this smoothie My Favorite PICKY EATER APPROVED breakfast smoothie! It's sweet with no funny aftertaste and is packed with so much goodness!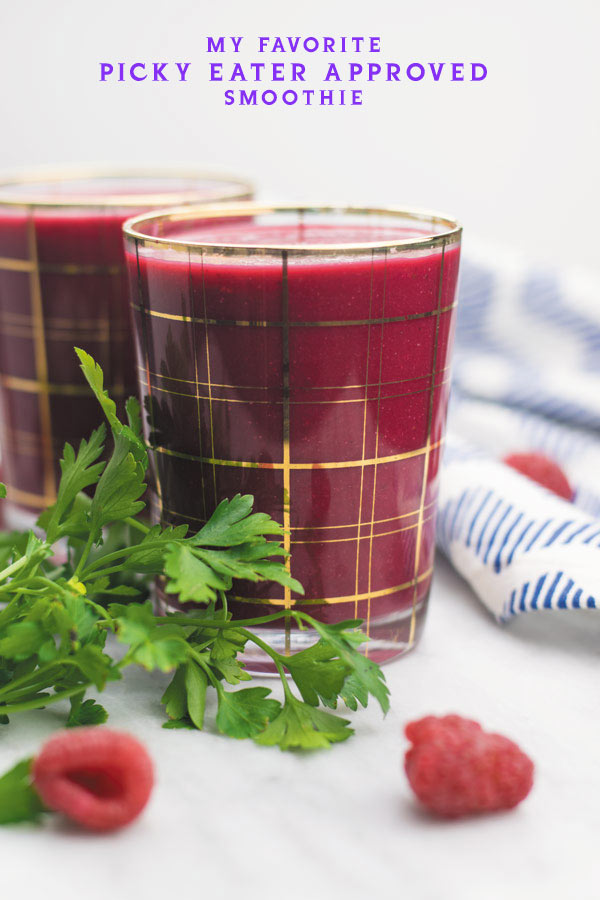 Happy MONDAY friends!! Hope you had a relaxing weekend. Last few days Ronak was travelling and so instead of getting more work done as I had initially planned, I ended up being a couch potato, doing just the bare minimum and finishing up back to back Indiana Jones movies and then getting myself hooked up on Grace & Frankie ! I also made Ina Garten's Palmiers as I had a sudden craving for them and as weird as it may sound but none of the stores seem to carry Palmiers!! I had the best Palmiers at Jean Philippe Patisserie in Vegas this Christmas and since then I have been looking for them everywhere.
This weekend when I couldnn't find them even in the bakery section of my grocery store, I knew I just had to make them myself. But apart from all this, I have been drinking so many breakfast smoothies. Lately I am on 2 smoothies a day kick and on a serious citrus fruit diet. I have never in my life eaten so many fruits and vegetables but I must say I am completely enjoying this! 😛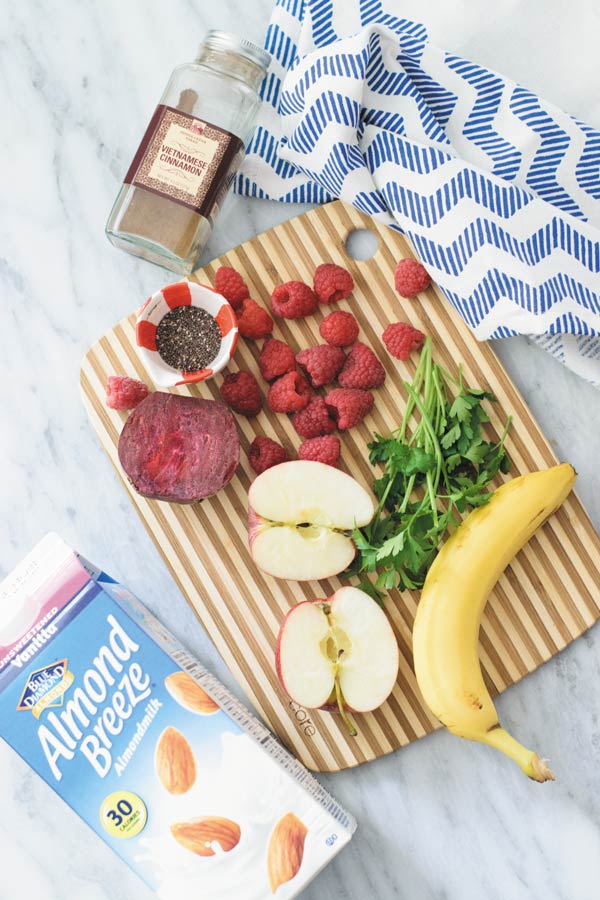 Keep your eyes on this space as soon I will be announcing something really happy. So back to this smoothie – I named this my favorite picky eater approved breakfast smoothie because on one hand where I am all about all sorts of crazy smoothie combinations, it's not the same case for Ronak all the time. But this smoothie surprised me as he loved it and we have been drinking this combination for almost a week now. I keep switching the berries but other than that I have kept most of the ingredients same and he actually loves this one! 😛
Even though we are adding raw beet in here, this smoothie is on the sweeter side with no bitter taste. Frozen bananas and crushed ice makes it extra thick.
I kept it simple with few commonly found ingredients :
Bananas
Apple
Berries ( My favorite here is blueberry but I also like raspberry or strawberry)
Handful of fresh parsley leaves
Raw beets
Cinnamon powder
Chia seeds
Almond milk or regular milk or yogurt
Lots of crushed ice
Each of these ingredients has great health benefits and when turned into a yummy fruit smoothie, this will seriously keep you full and going until lunch time!
P.S Usually I don't like bringing or even discussing politics or worldly matters here but with so many recent changes happening, I am not sure where we stand as humans. But food brings people closer so hoping to spread peace with one dish at a time.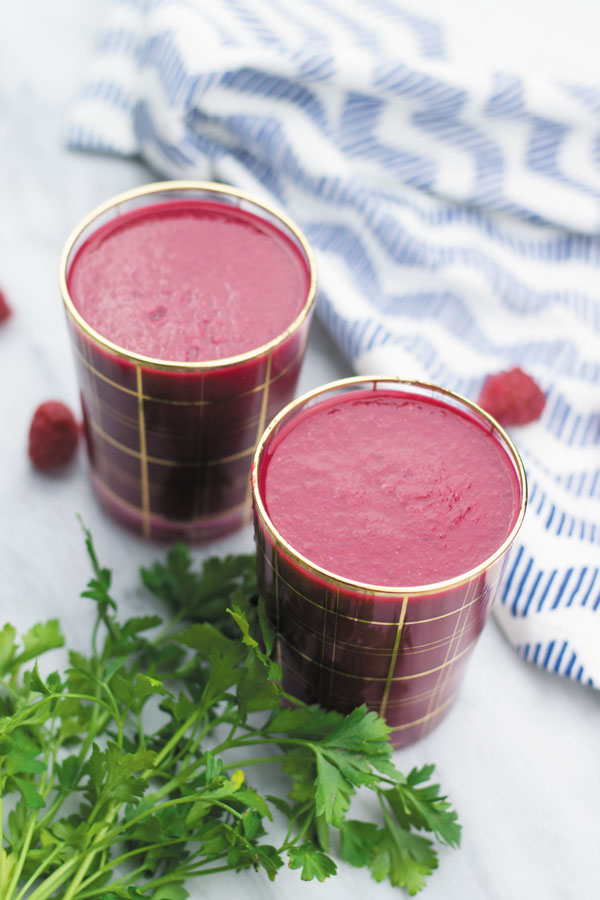 So go ahead and give this a try! If you make this or any other recipes from our blog, do tag us by using #naivecookcooks on social media channels.
If you enjoyed this recipe, don't forget to FOLLOW me on INSTAGRAM||FACEBOOK||PINTEREST ||TWITTER ||GOOGLE+ || BLOGLOVIN || YouTube

My Favorite Picky Eater Approved Breakfast Smoothie
Ingredients
My Favorite Picky Eater Approved Breakfast Smoothie:
1 banana, frozen or fresh (Frozen preferred), cut in pieces
1 apple, cut in pieces
½ medium size raw beet, peeled, cleaned and cut in pieces
½ cup berries of yor choice (I switch between blueberries, raspeberry or strawberry)
1 tbsp chopped fresh parsley
1 tbsp chia seeds, soaked in 2 tbsp water for 5-10 minutes
1 tsp cinnamon powder
¾ cup almond milk or regular milk or ½ cup yogurt
Lots of crushed ice
Water if needed
Instructions
My Favorite Picky Eater Approved Breakfast Smoothie:
Add all the ingredients into a high speed blender. I have been using this amazing Blendtec for almost 4 years now!
Blend until smooth.
Enjoy immediately.
Some of my favorite BREAKFAST recipes ->>