Lightened up version of your favorite Potato Soup made in slow cooker! Crockpot Skinny Potato Soup Recipe with less calories than the traditional version but still the same taste & creaminess!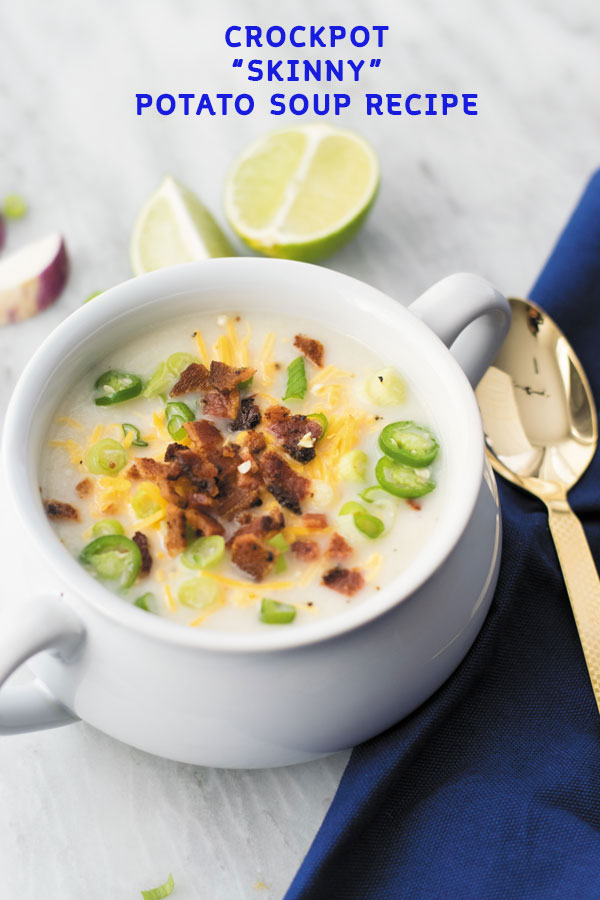 Soups have always been my favorite! Everytime I go to a restaurant, getting a soup for an appetizer or as a main course is always high on my list. Ronak on the other hand is not much of a soup person. For him soups are usually meant for a light lunch and there are only very few soups he really likes, few of them have made to the blog such as this delicious Turmeric Broth Chicken Noodle Soup, Tomato Soup With Grilled Cheese Croutons, Homemade Creamy Mushroom Soup and then there are lots of other my favorite soup recipes on the blog.
Potato soup is both of our favorite but it's always packed with calories which makes it not so much of my favorite. Few months back I tried a potato soup version with some cauliflower sneaked in place of some potato and I must we both couldn't tell that there was anything different apart from eating way fewer calories ha! So I started cooking it in slow cooker and since it has become one of our favorite soups, I knew it had to be shared!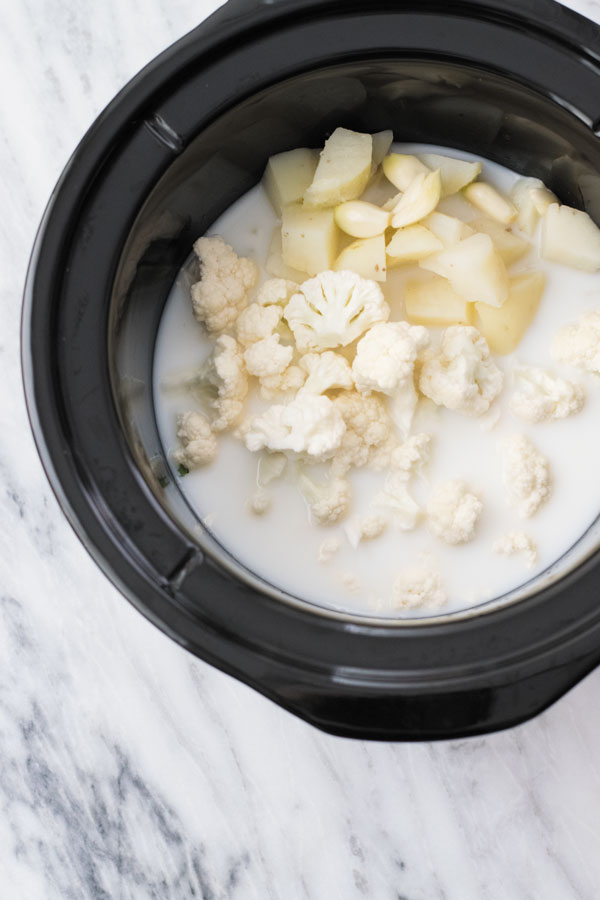 I like to make this soup ahead and then use it the same day for a light lunch and keep leftovers to use in a few days during the week. Before serving I like to garnish the soup with lots of chopped green onions, bacon if you want, shredded cheddar cheese and a dollop of fat free sour cream.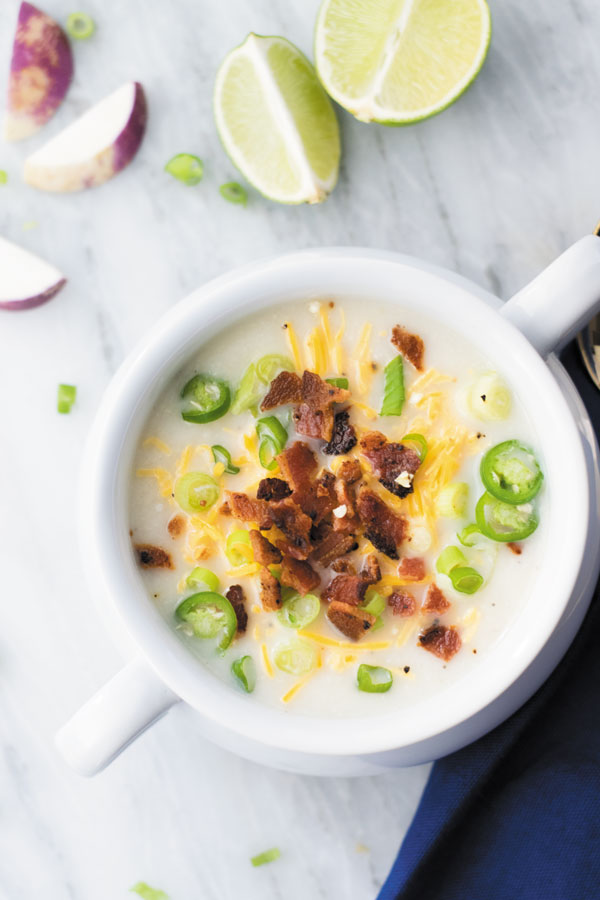 If  you enjoyed this recipe, don't forget to FOLLOW me on  INSTAGRAM ||FACEBOOK||PINTEREST ||TWITTER ||GOOGLE+ || BLOGLOVIN || YouTube
Crockpot Skinny Potato Soup Recipe
Ingredients
Soup:
3 russet potatoes, scrubbed,cleaned and boiled (~ 1 pound 5 ounes)(~600 gms)
Cauliflower, broken in pieces (~12 ounces)(~325 gms)
5 garlic cloves (If garlic pieces are very small, then use 7-8 garlic cloves), peeled
1 cup milk (~8 ounces)
1.5 cups water (~12 ounces)
1.5 tsp salt or to taste
½ tsp black pepper powder
Garnish:
Chopped green onions, chopped cooked bacon, shredded cheddar cheese, chopped green chilies, sour cream
Instructions
Soup:
After boiling the potatoes, once cool enough to handle, peel and chop them in big pieces.
In your slow cooker, add all the soup ingredients except garnish.
Cook on high for 2 hours. Once cooked for 2 hours, using a hand blender, blend the soup.
Serve hot with desired garnishings.
In case of NO SLOW COOKER, cook in a pot. Once it comes to a boil, simmer for about an hour. If it starts to get too thick, add some water.
 Some more SOUP recipes ->>