Roasted Veggies Tater Tots Mac and Cheese! One meal you can't say no to!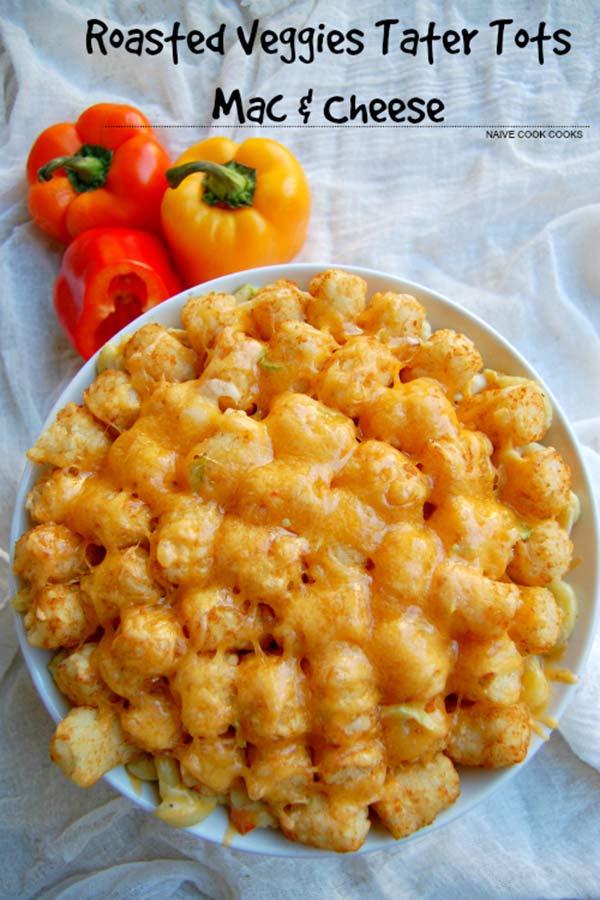 This mac & cheese! Roasted veggies! Tater tots!Yes you heard it right. Tater tots are the star here and make this normal roasted veggie mac & cheese a hit. This is my new favorite mac and cheese and it is semi-healthy too if you count all those large bell peppers and brussel sprouts inside and yes, I always always make a milk and cheese based sauce that seriously helps to reduce down the calories by a whooping large number.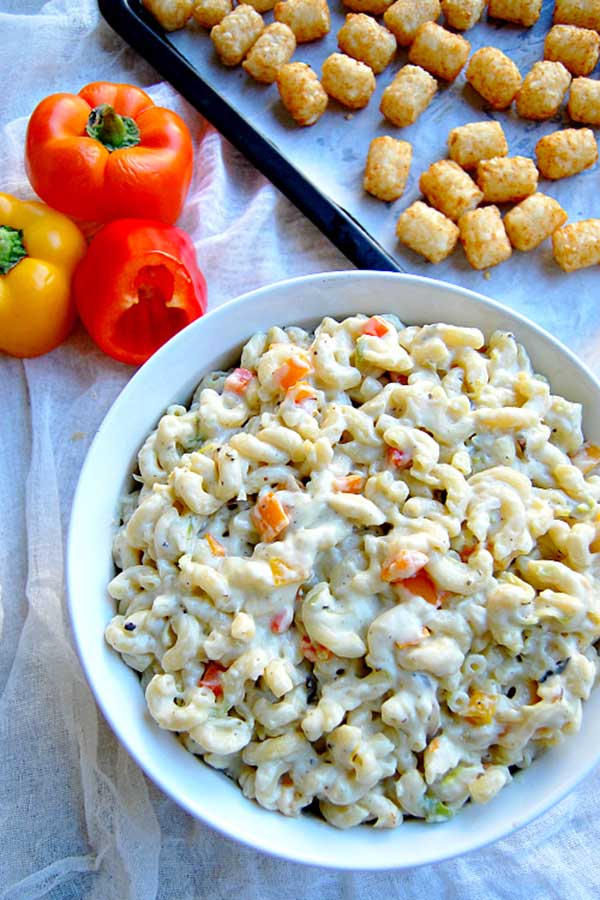 Though I believe mac and cheese tastes the best if served right once it is done but I often cook most of my dishes few hours in advance before everyone hits the dinner table! Shorter days call for me wrapping up the shoots by max 4pm as it starts to get all dark and leaves a weird blueish tint in the pictures! I am  learning so I can start taking pictures at night but I won't lie if I say that I love shooting in natural light!
So yes if possible, try and get everything ready but just an hour before dinner, mix everything and pop it in the oven for a creamy delicious mouth watering experience!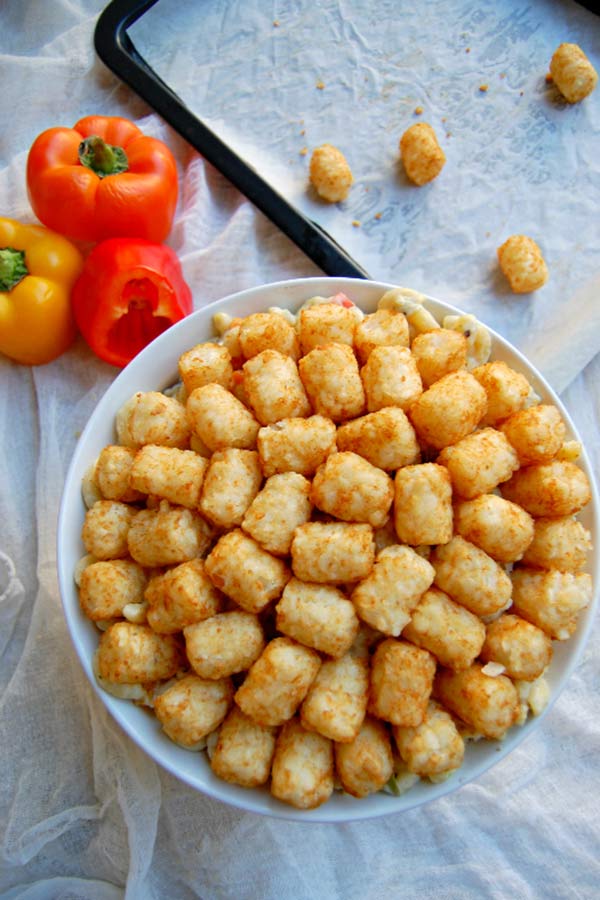 Now since I have been making mac & cheese quite often, it doesn't take much time for me to put it all together. I was almost done with the whole dish in less or more than two hours. Its semi healthy and that makes me want more and more of it!
  I got leftovers so all I can think of its ways to zing it up and make another meal out of it!! Suggestions welcome.
 Bring on the stretchy pants, it's the season! Talking of holiday season, I am all over "House of Cards" Now!! So freaking good.
 Ohh and it's a perfect thanksgiving side too!
Roasted Veggies Tater Tots Mac & Cheese
Delicious creamy mac & cheese with roasted veggies & Tater Tots! You can't say no to this!
Ingredients
I pound elbow pasta
2 tbsp butter
1 tbsp olive oil
¼ cup all purpose flour
3-4 garlic cloves, chopped
3.5 cups milk (I used 2%)
1.5 cups water
½-1 tsp rosemary
2 cups cheddar cheese, shredded
2 slices of provolone cheese, shredded
3 slices of swiss cheese, shredded
1 red bell pepper, chopped
1 yellow bell pepper, chopped
1 orange bell pepper, chopped
8-10 brussel sprouts, sliced thin
1 red onion, sliced thin
1 tsp olive oil
salt to taste
Black pepper to taste
Frozen tater tots
Instructions
Boil pasta as package directions.
Preheat oven to 400F. Add bell peppers (all 3 kind), brussel sprouts and onions on a baking sheet and drizzle with 1tsp olive oil, salt and black pepper. Bake for 10-15 minutes or until soft.
In a deep pot, add 2 tbsp butter and 1 tbsp olive oil. Once melted, add garlic and saute until fragrant.
Add flour and stir it around until cooked through. Add milk and water and keep stirring until it starts to get thick. Add rosemary,salt and black pepper.Add all the cheese to the sauce and stir until it gets melted.
Mix roasted veggies to the pasta.Add that mix to the cheese sauce and transfer it to a baking dish. Taste and adjust the seasonings. Arrange the pre-heated tater tots on the mac & cheese and bake at 400 for good 25-30 minutes or until heated through.
Serve with lots of garlic bread!
Notes
I realised that it's better to cook it in a narow dish rather than a deep dish (yes, learnt by experience) as it cooks way better!
Sometimes if you feel it's little dry to your taste, I make some extra cheese sauce like the way we did above and serve it on the side.
More Mac & Cheese Recipes: