This cake boasts of all the holiday flavors – fresh cranberries, sweet potatoes and lots of bourbon whiskey! Made with only olive oil, it sure keeps a check on your waistline too!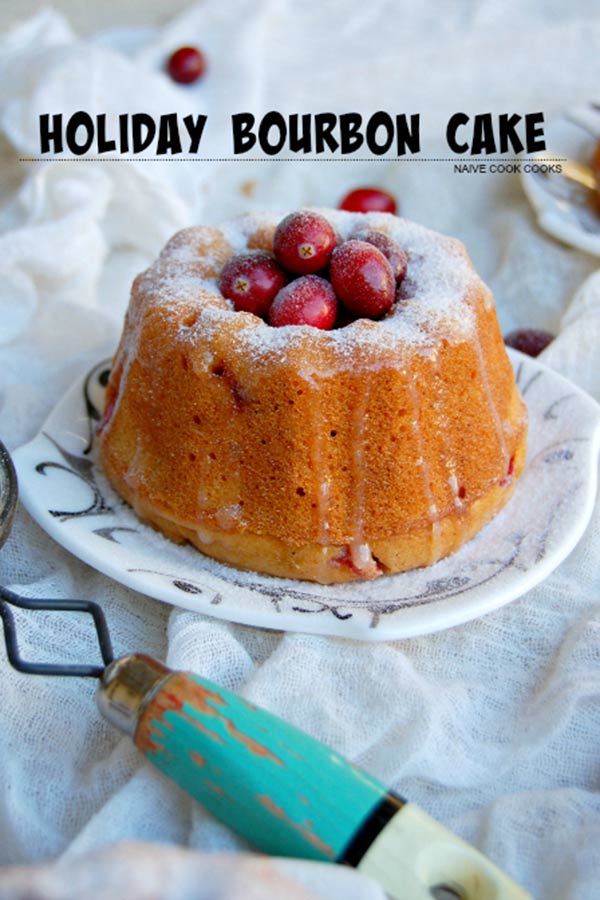 We are officially into holidays. I say that because thanksgiving is only 7 days away! Can you even believe that we are almost done with 2014?! So muchhas happened this year and I am looking forward to great exciting opportunities in the future. Recently someone told me that its 9 months (is it really???) until we hit the bikini season so we can eat our hearts out and that made me very happy. But seriously don't you feel it gets hard to melt those pounds away which we gain so easily during the holiday season?! Sure does for me, so this holiday season I am planning on indulging but with a conscious mind. Choosing healthier treats, cutting fat wherever possible but not at the sake of taste!! I promise.
This holiday bourbon cake was inspired from this orange bread I made a while back. I realised how moist this bread was and all it took was yogurt and milk to give it that amazing softness. So in this sweet potato – cranberry cake recipe, I used only 1/4 cup of olive oil and replaced the rest of the fat with yogurt. It was a winner. So moist with perfect sweetness, it's a perfect accompaniment to evening tea or coffee.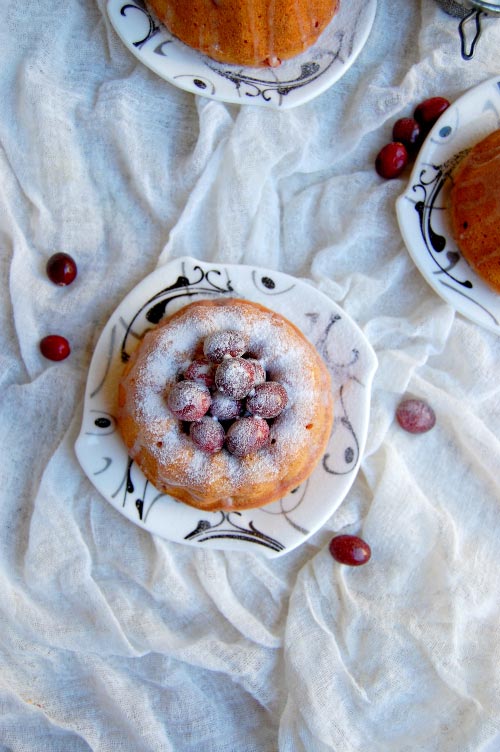 Look at these gorgeous cranberries. My love affair with cranberry continues and you may see more recipes in the future too. I seriously can't get enough of this as all we see fresh cranberries is for 1-2 months max and every time I go grocery shopping, I pack my cart with these beauties.
It was so much fun shooting these little cakes as these are so gorgeous in themselves that it was so much more fun to make them look more gorgeous. Have you ever photographed sandwiches?! Telling you they are a pain to photograph. Recently for a client, I had to photograph grilled cheese and I ended up remaking and re shooting the recipe twice. So not easy!
Do you have any other foods you feel super hard to photograph? Ohh on that note if you trying to learn photography, this ebook by Lindsay is by far my favorite! You will see ebook ad running in the sidebars (it's an affiliate link) and let me tell you that till now these are the best $19 I have spent ever on an ebook. It is packed with so much knowledge and it teaches you food photography in a very simple non-techie language! May be it can be your  pre Christmas gift to yourself!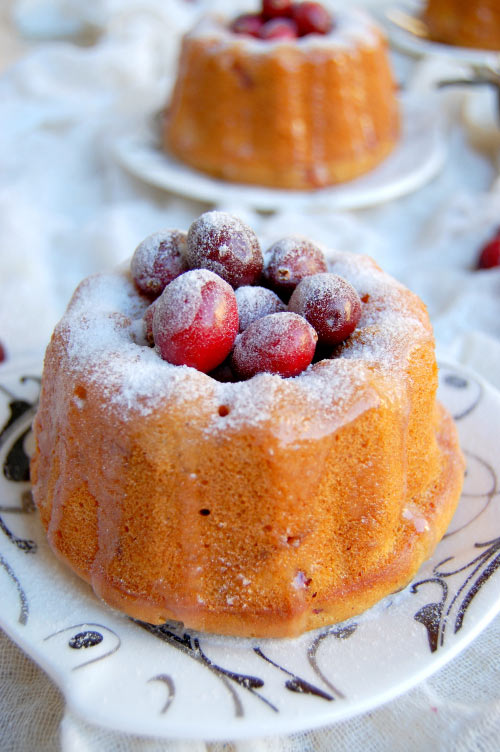 This cake can be perfect on your thanksgiving table or even for your Christmas dinner! Super soft, spongy and filled with fresh cranberries and sweet potato it's basically a healthy cake!! No need to feel guilty while gulping down an entire mini bundt cake by yourself with a glass of cold milk! So worth every bite!
  Who is going to wait until thanksgiving?? Just make it today!
Holiday Bourbon Cake
Packed with all the holiday flavors - fresh cranberries, sweet potato and lots of bourbon whiskey sauce, this is the perfect holiday cake!
Ingredients
1.5 cups all purpose flour
2 tsp baking powder
¾ tsp cinnamon powder
¼ tsp salt
1 cup sweet potato puree, boiled and pureed (I used around 1.5 medium sized sweet potato)
2 eggs
⅝ cups whole milk (You can use any fat content milk)
1 cup sugar (I used cane sugar)
¼ cup olive oil
⅜ cups full fat yogurt
½ tsp vanilla extract
½ cup fresh cranberries ,chopped
Powdered sugar for garnishing
Bourbon Sauce
1 tbsp butter
3 tbsp your favorite bourbon
½ cup powdered sugar
Instructions
Pre heat oven to 350F. Spray the inside of bundt pans with oil or butter and keep aside.
In a bowl mix flour, baking powder, cinnamon and salt. In another bowl, add sweet potato puree, eggs, milk, sugar, oil, yogurt, vanilla extract. Stir until mixed. Add the dry ingredients to the wet ingredients and mix until evenly mixed. Fold in the cranberries.
Transfer to the bundt pans and bake for around 45-50 minutes or until a toothpick comes out clean.
Bourbon Sauce
In a pot, add butter and bourbon. Once butter is melted, take it off heat and stir sugar. Add the sauce over the cooked cooled cakes. Garnish with powdered sugar and serve.
Notes
The recipe makes 4 small bundt cakes.
Recipe is heavily inspired by "Sweet Potato Bundt Cake with Spiced Buttered Rum Glaze" by Food Network and "Orange Chocolate Chip Bread" by yours truly. (Search bread recipe in archives)
More Holiday Dessert Recipes: