3 Cheese Jalapeno Mac & Cheese – Creamy Macaroni & cheese made with "from scratch" cheese sauce made with 3 kinds of cheeses and fresh jalapenos. Super comforting meal.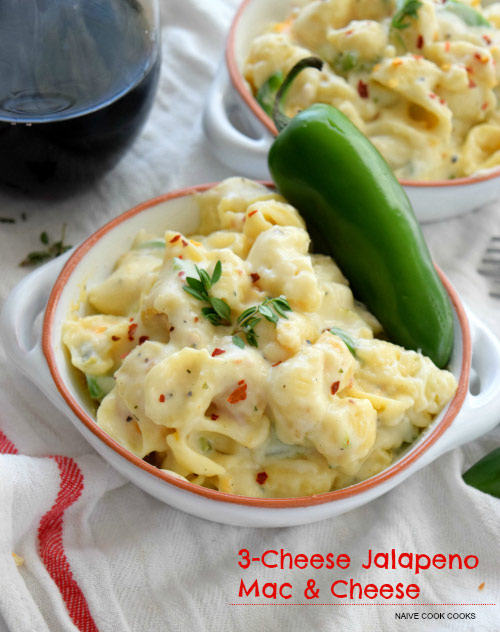 How are you coming along with your valentines day preparation? Or you are one of those who don't believe in all this and feel it's utter nonsense and waste of time and money. Well whichever case you are, this is one meal you should be so making! Valentines or no valentines, this super rich cheesy comfort food is what every one needs to indulge in once in a while. And what better excuse than this valentines day.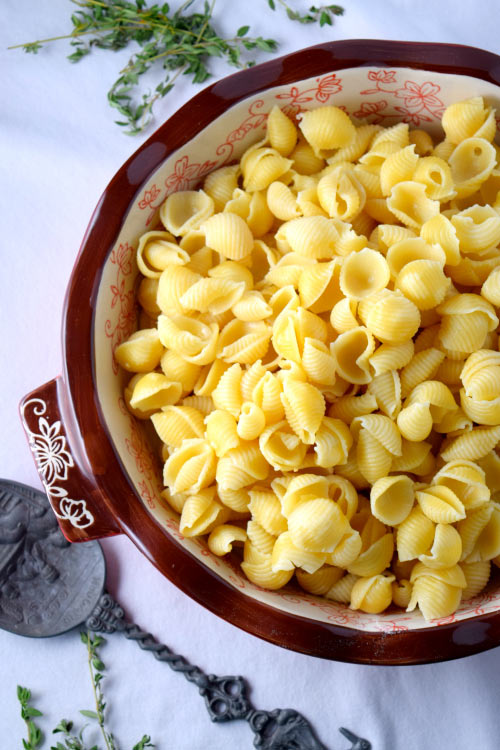 I have noticed everywhere around the internet and food blogs, it's all about sweet stuff. I myself have a big sweet tooth but hey I thought we can't just survive on sweets alone, can we? So here if you are still planning on making something special for your family or simply for yourself, this is a good start.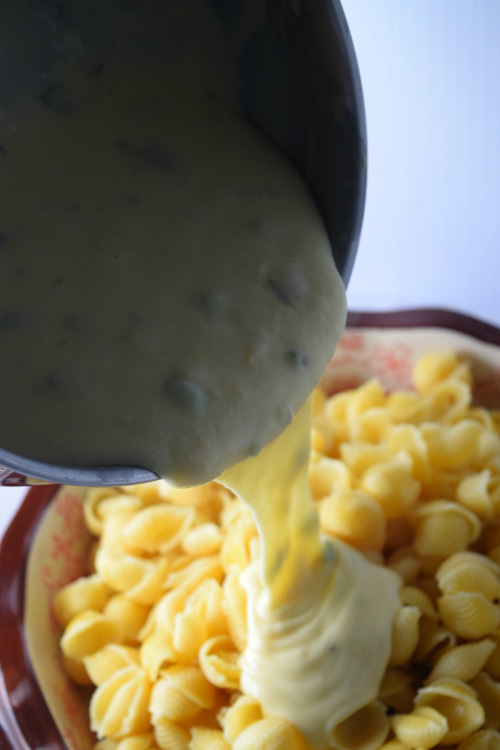 By now, you must be aware of how much we can get sucked into these networking tools. One such tool is instagram which I have been hooked up to lately and with so much delicious food there, It gets hard to stay firm on your plans. That's what happened to me. I was supposed to be making you guys a delicious bean & beet burgers (which are ohh so DELICIOUS! Will be posting #soon) but I saw some sort of super cheesy mac & cheese and since it was all gloomy and cold that day, I just couldn't stop myself from cancelling my burger plans and switching up things. See, told you!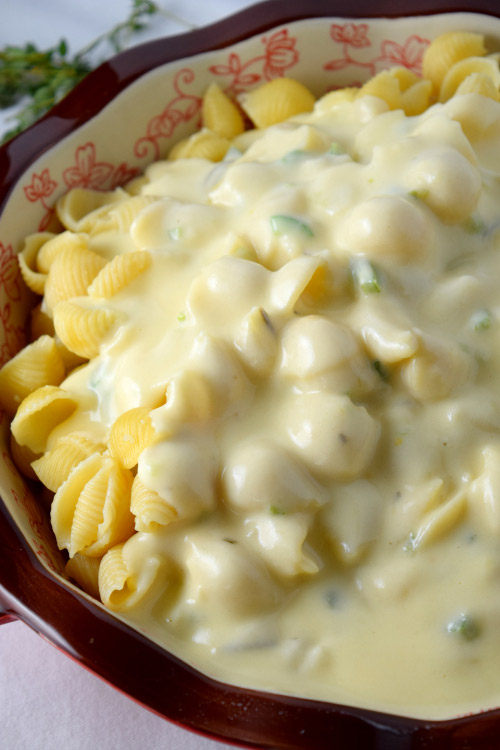 But this pasta! I mean I have made tons of different sorts of mac & cheeses in these last few years but I think this was the best one yet. Super creamy sauce and do make sure you use good quality cheeses. Just don't even think of using the packaged shredded kinds. And chopped up fresh jalapenos for that slight kick.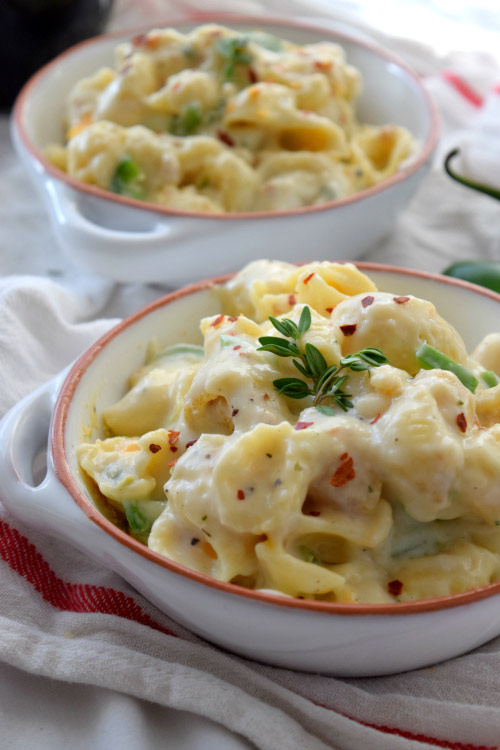 The best part? It comes together in under an hour! May be 30 minutes if you have everything ready. Seriously and it's one meal you can make for a crowd with very little preparation.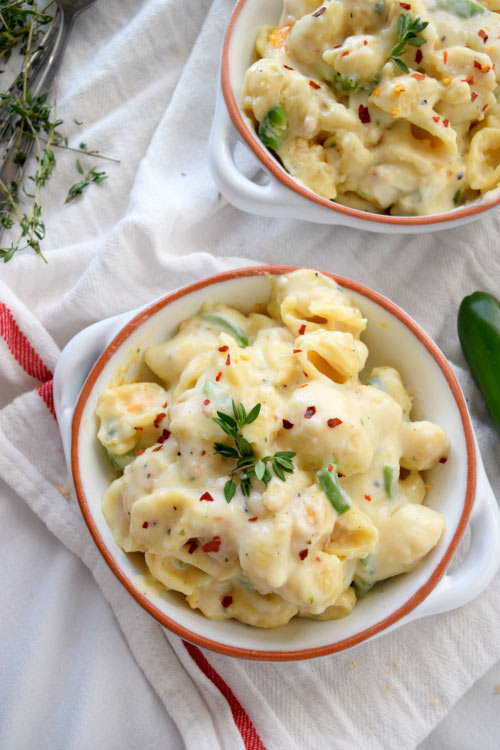 I mean just look at that cheesy goodness. How can even resist it? I am already dreaming about it. I think I went little over the board with pictures but I just couldn't pick which ones not to post! See, power of cheese!!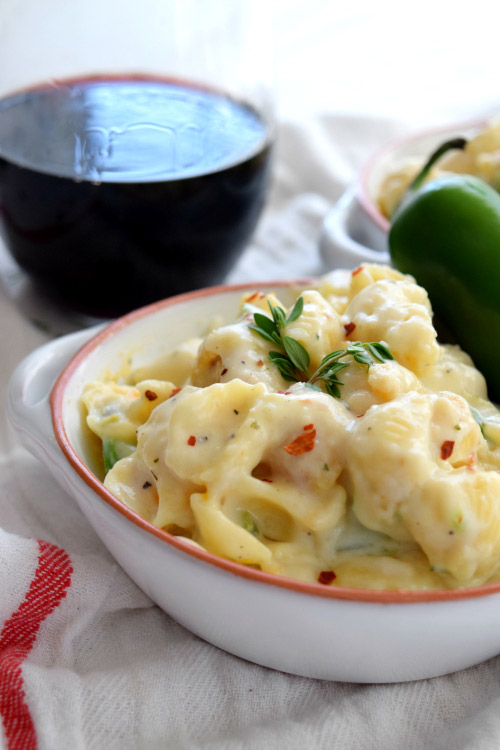 I hope you make it and share it with your loved ones!
So go ahead and make this 3 Cheese Jalapeno Mac & Cheese.  If you make this, remember to tag us on social media by using #naivecookcooks . We will feature your pics on our SOCIAL MEDIA CHANNELS!
If you enjoyed this recipe, don't forget to FOLLOW me on INSTAGRAM ||FACEBOOK||PINTEREST||TWITTER ||GOOGLE+ || BLOGLOVIN || YouTube

3 Cheese Jalapeno Mac & Cheese
3 Cheese Jalapeno Mac & Cheese Author: Naive Cook Cooks
Ingredients
8 oz pasta (1/2 pound) (I used shell shape)
1 tbsp olive oil plus ½ Tbsp butter
2-3 garlic cloves, minced into paste ( about ½ Tbsp garlic paste)
1.5 Tbsp all purpose flour
½ cup Heavy Cream
1.5 cups whole milk or any fat content milk
½ cup water
Salt to taste
Black pepper to taste
½ tsp rosemary
1-2 fresh jalapenos, chopped (adjust as per taste) (For spicier version, use serranos)
½ cup gruyere, shredded
½ cup sharp cheddar, shredded
1 cup pepper jack
½ cup pasta water
Instructions
Bring a big pot of water to a boil. Once it starts to come to a boil, add good amount of salt. Add pasta and cook as per package instructions. If no instructions, cook until al dente.Rinse and Add a bit of oil so that they don't stick while sitting. Keep aside.
Meanwhile, heat olive oil & butter in a deep pot or pan. Add garlic and saute until fragrant. Add flour and cook stirring until lightly golden in color. Add heavy cream and using a whisk mix well until no lumps remain.
Add milk and water and keep stirring. Bring it to a boil and then on medium flame until cook while stirring until it's smooth and it starts to thicken.
Add salt, black pepper, rosemary and jalapenos. Add cheeses one at a time, making sure to stir so it's dissolved smoothly. Once you have a creamy cheesy sauce ready, add your cooked pasta along with reserved pasta water.
Add this point you can even store this sauce for future sauce. THOUGH SAUCE IS GOING TO THICKEN UP THE LONGER IT SITS, SO ALWAYS TO LOOSEN THE SAUCE ADD SPLASH OR TWO OF MILK AND COOK. MAKE SURE TO TASTE FOR SALT.
Stir it all together and taste. Adjust seasoning if needed.
More Pasta Recipes: