One Pot cooked on stove top, this easy cheesy mac & cheese is packed with shredded zucchini which even picky eaters won't mind!Great way to eat your greens!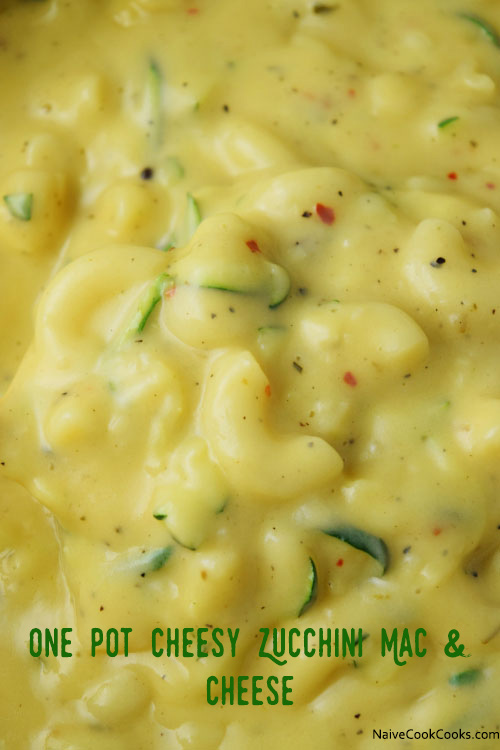 Greens + Cheese!!
I think this says it all. Even if you are a zucchini hater, you won't mind it in here. I personally don't enjoy zucchini texture too much but when mixed with cheesy sauces like these, I don't mind at all. And it's shredded because well these days shredding is the boss! We got zucchini noddles all over the internet but I can still not make myself like them. I tried them once and they were seriously like meh!! Though I finished my entire plate of zucchini mess because I thought at least it will do some good for my body and well to be honest I was just showing off Jerry how much I love greens! Lol.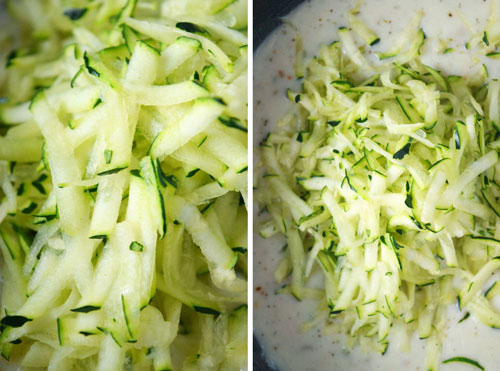 But this recipe changes it all. Creamy cheese sauce coated thin shredded zucchini along with cute little pasta shells makes for the most amazing extremely tired weekday dinner! Trust me that's how I felt last night eating this when I had a giant load of dished sitting on the sink because of all the recipe testings, the house being a huge mess. Last night I was listening to Sally's podcast on FBP and I was so relieved when Sally & Bjork made the point that how hard us food bloggers work behind the scenes. To people outside this food scene if I may call that, it looks all fun. They think how much time does it take to make a recipe, click pictures and post it on blog! Well to be honest just one recipe takes easily 8-9 hours and then working on your blog business behind the scenes, working with other companies and monetizing and networking and and it simply never ends!!But the best part of it all is the satisfaction you get to do something (atleast in my case) you absolutely love to do day in and day out and even with only few hours of sleep, it feels fun!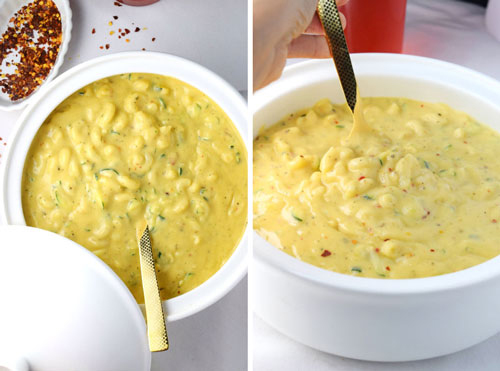 Now back to how dreamy this whole cheese situation is here! Firstly I love meals where everything gets cooked in one pot because well LESS DISHES TO WASH! Like my other 3-cheese mac & cheese, this is on the simpler side. Just very basic ingredients, only one kind of but good quality extra sharp cheddar cheese is all it takes to make this luxuriously creamy cheesy mac & cheese and then you sneak in some shredded zucchini just so you can eat your heart out and you know you are having greens for the day!! Totally counts.
Today sounds to be a good day to make this ONE POT CHEESY ZUCCHINI MAC & CHEESE!!
Help in spreading the word!
Follow along for a lot more delicious treats and life happenings on INSTAGRAM || FACEBOOK ||PINTEREST ||TWITTER ||GOOGLE+

One Pot Cheesy Zucchini Mac & Cheese
Ingredients
1 medium zucchini, shredded (about 1.5 cups)
3 garlic cloves, chopped fine
1 tbsp olive oil
1 tbsp unsalted butter
½ cup all purpose flour
¾ cup milk (I used 2% fat but you can any: whole milk, non fat)
1.25 cups water
Salt to taste
½ tsp black pepper or to taste
½ tsp oregano
½-1 tsp chili flakes
2.5 cups shredded extra-sharp cheddar cheese
2.5 cups boiled small elbow pasta
Instructions
In a pot, bring water to boil. Add some salt along with pasta and cook until al-dente that is it's cooked but still has a bite. We don't want overly cooked pasta. Drain and rinse pasta with hot water and then with cold water. Add few drops of oil and toss it around so it doesn't stick till you prepare your sauce.
Now use the same pot and add olive oil & butter. Once its hot, add garlic and saute for a min or two. Add flour on medium heat and stir it around it starts to get very very light golden brown or basically it starts to get cooked. To it very very slowly add milk while whisking continuously and then add water in the same fashion. Keep stirring it continuously on medium flame. To it add salt, black pepper, oregano, chili flakes and stir. Once it starts to get thicker, add shredded zucchini and stir. Now add the cheese and on low gas, keep stirring until all the cheese melts. Taste and adjust the seasonings.
Now add cooked pasta and stir until every pasta is coated with this dreamy cheese sauce. Taste one more time and adjust spices if needed. Serve!
Some other recipes where I enjoyed Zucchini:
https://www.naivecookcooks.com/zucchini-and-goat-cheese-breakfast-wraps/