Roasted Veggies Tater Tots Mac & Cheese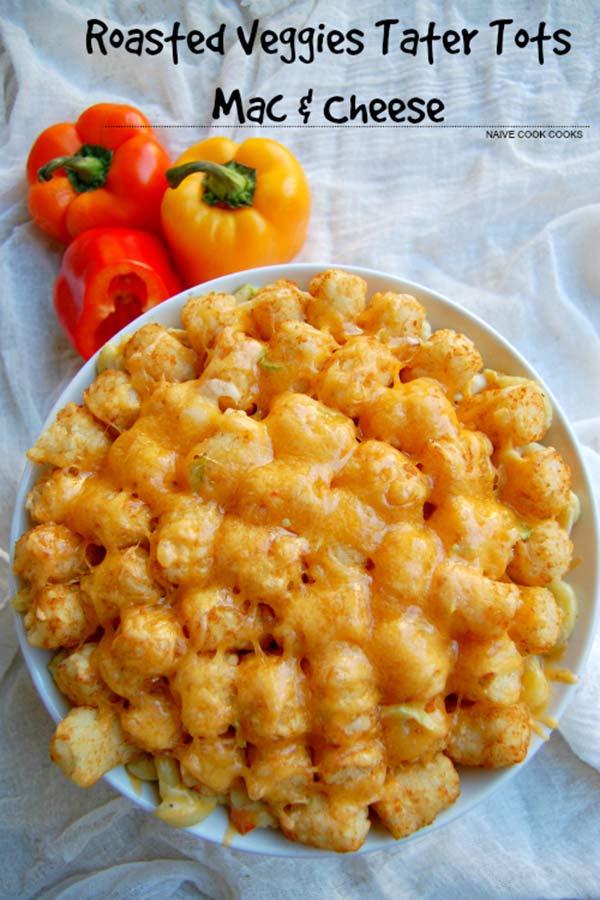 I pound elbow pasta
2 tbsp butter
1 tbsp olive oil
¼ cup all purpose flour
3-4 garlic cloves, chopped
3.5 cups milk (I used 2%)
1.5 cups water
½-1 tsp rosemary
2 cups cheddar cheese, shredded
2 slices of provolone cheese, shredded
3 slices of swiss cheese, shredded
1 red bell pepper, chopped
1 yellow bell pepper, chopped
1 orange bell pepper, chopped
8-10 brussel sprouts, sliced thin
1 red onion, sliced thin
1 tsp olive oil
salt to taste
Black pepper to taste
Frozen tater tots
Boil pasta as package directions.
Preheat oven to 400F. Add bell peppers (all 3 kind), brussel sprouts and onions on a baking sheet and drizzle with 1tsp olive oil, salt and black pepper. Bake for 10-15 minutes or until soft.
In a deep pot, add 2 tbsp butter and 1 tbsp olive oil. Once melted, add garlic and saute until fragrant.
Add flour and stir it around until cooked through. Add milk and water and keep stirring until it starts to get thick. Add rosemary,salt and black pepper.Add all the cheese to the sauce and stir until it gets melted.
Mix roasted veggies to the pasta.Add that mix to the cheese sauce and transfer it to a baking dish. Taste and adjust the seasonings. Arrange the pre-heated tater tots on the mac & cheese and bake at 400 for good 25-30 minutes or until heated through.
Serve with lots of garlic bread!
I realised that it's better to cook it in a narow dish rather than a deep dish (yes, learnt by experience) as it cooks way better!
Sometimes if you feel it's little dry to your taste, I make some extra cheese sauce like the way we did above and serve it on the side.
Recipe by
Naive Cook Cooks
at https://www.naivecookcooks.com/roasted-veggies-tater-tot-mac-and-cheese-casserole/