A delicious cheesy enchilada rice casserole ready in no time. This cheesy enchilada rice dinner is loved by everyone!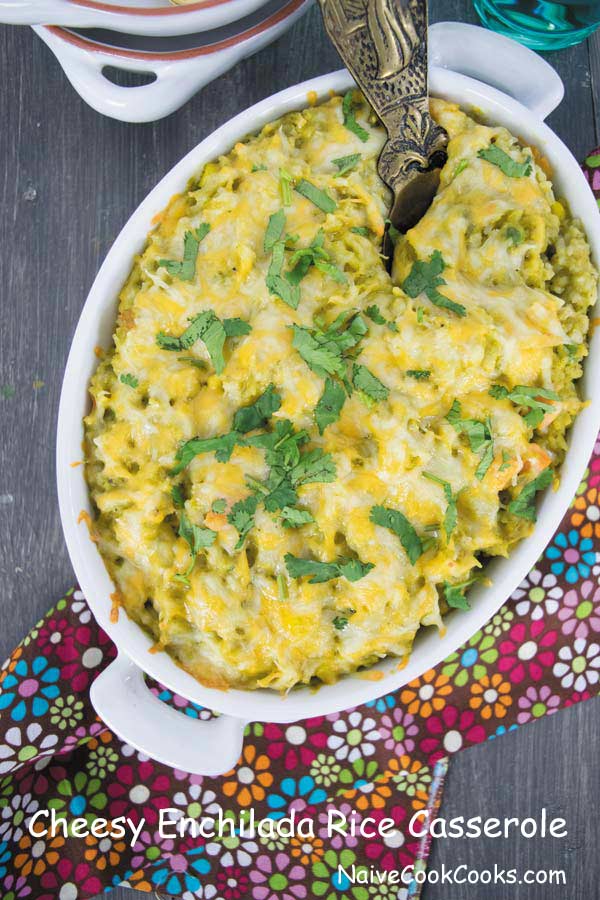 I love simple dinners and especially those dinners which are husband approved always make me feel great! Though there are days like today when all I wanted was just roasted vegetables but I knew somebody won't even touch them! So we both got what we wanted. I got a plate full of seasoned roasted vegetables and he got this cheesy casserole though I will admit I might have stolen few bites from his plate!
If you love simple dinners then this cheesy casserole you must must make and that too soon. All you need is your trusty enchilada sauce ( I use my all time favorite homemade sauce that takes just 15 mins to make from start to finish) , some cooked rice , vegetables and protein of your choice and lots & lots of cheese!
This is my favorite enchilada sauce to make and I always make a double batch and I freeze one batch for later use! And for those nights where you just don't know what to eat/make, this sauce comes so handy!
I use this sauce to make enchiladas, chimichangas but this time I decided to make something in under 30 mins and that too a one pot meal! It turned out really good and it's totally customizable too!
You can use any vegetables you like and for protein tofu, chicken, shrimp will be great here.
Follow along for a lot more delicious treats and life happenings on INSTAGRAM ||FACEBOOK||PINTEREST ||TWITTER ||GOOGLE+ || BLOGLOVIN || YouTube
Cheesy Enchilada Rice Casserole
Ingredients
1.5 - 2 cups of your favorite enchilada sauce ( HOMEMADE or store bought)
1 tbsp oil
2 garlic chopped
½ cup chopped onion
½ cup mixed vegetable chopped ( I used a mix of corn, green beans, carrots and green peas)
Salt to taste
1 cup shredded cooked chicken (optional)
½ cup uncooked rice
1 tsp butter
1- 1.5 cups shredded cheese ( Use either cheddar or mexican style or your favorite cheese)
Black pepper to taste
Instructions
Cook ½ cup rice by first rinsing in a sieve under running water until water turns clear. Then cook with about 1.5 cups of water, 1 tsp butter and salt to taste. Once cooked keep it aside.
Meanwhile get everything else ready.
In a deep pot or skillet, add oil and to it chopped garlic. Once it starts to cook, add onion along with vegetables and cook until softened.
To it add sauce, cooked rice and chicken if using. Mix everything together and taste and adjust salt or black pepper as needed.
Transfer it to a oven safe baking dish and cover with shredded cheese. Bake in a preheated 350F oven for 20-30 mins until cheese is all melted. Enjoy!
 Some more easy dinner recipes- >>