Easy & flavor packed 30 Mins Skillet Honey Garlic Chicken is great for a quick weekday dinner! This chicken dinner is ready in no time and everyone will be happy at your dinner table!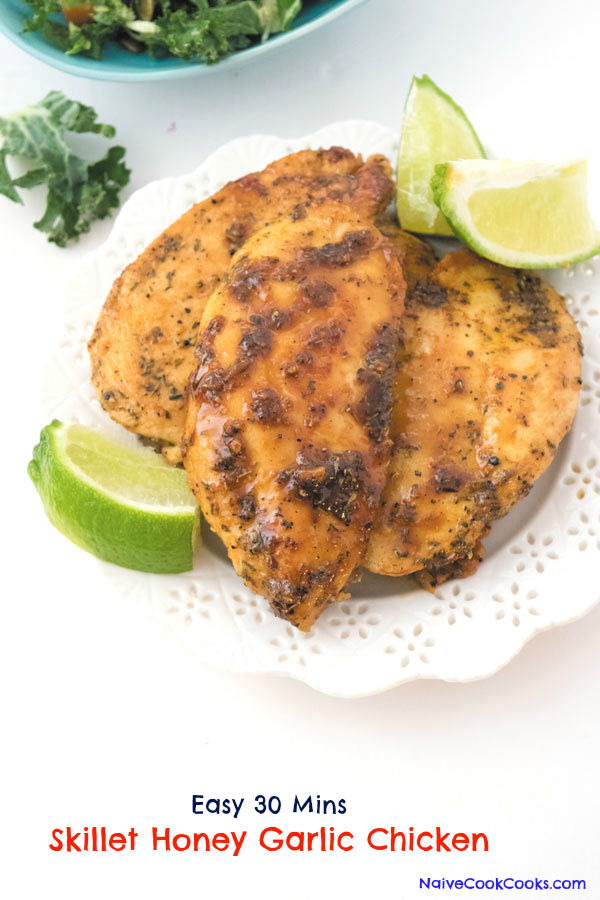 Weekend finally and I got you guys another easy & quick dinner recipe for the weekday my friends! These days I am all about making quick & easy meals for us that are just not healthy but delicious too and what better when they take start to finish just 30 mins! Now since we have been trying to eat healthier, these days our lunch is always a big salad along with some leftovers.
Recently I was sent 7 different kinds of Eat Smart Gourmet Vegetable Salad Kits to taste test and they lasted us almost a month! Yes I was surprised as they stayed fresh in our refrigerator and even our parents who were visiting us at the time, loved them!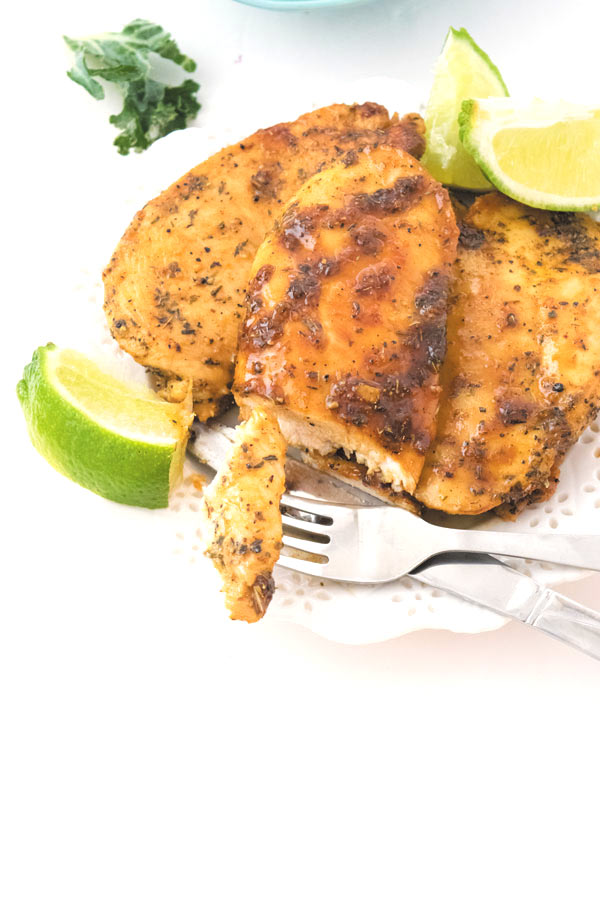 These Eat Smart Gourmet Vegetable Salad Kits come in 7 different flavors ->>
Eat Smart Sweet Kale Salad Kit
Eat Smart Wild Greens and Quinoa Salad Kit
Eat Smart Beets and Greens Salad Kit
Eat Smart Roasted Yam Salad Kit
Eat Smart Ginger Bok Choy Salad Kit
New! Eat Smart Asian Sesame Vegetable Salad kit
Eat Smart Southwest Salad Kit
Out of these I loved the Sweet kale, wild greens & quinoa, beets & greens, roasted yam and southwest salad kits the most. In some of them to make them more filling & hearty I even added a handful of fresh blueberries, chopped apples. So good! I was eating almost the half salad kit all by myself.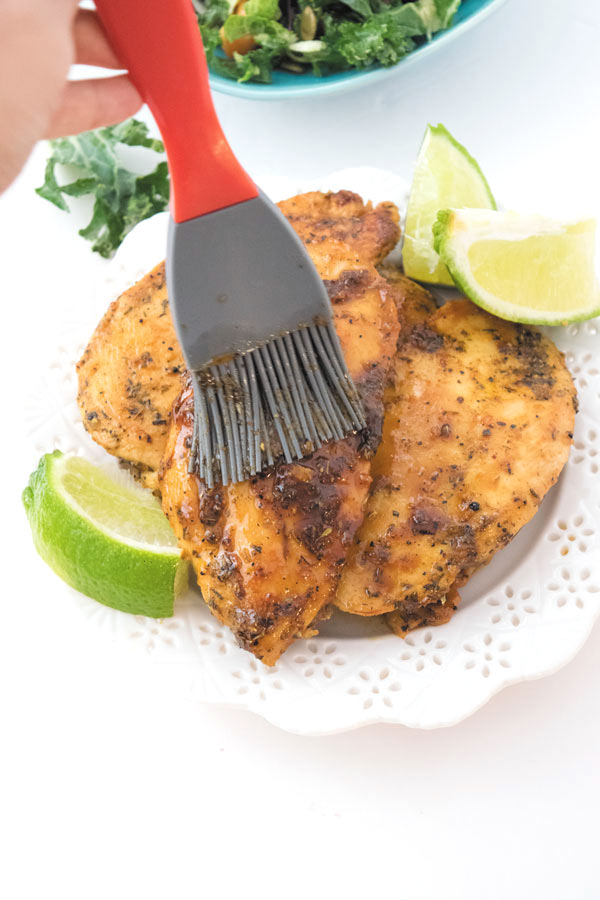 But days when I know we will need something more than just salad, I have been cooking this really easy Honey Garlic Chicken in skillet and serving it with some rice and a big salad. It fills us up and I know it's all good for us real food we are eating.
I even took a picture of all of my favorite Eat Smart Gourmet Vegetable Salad Kits and whenever I go grocery shopping, I make sure to look for these! We have been doing a little extra step since we don't really our salad with big pieces. So we chop our vegetables from Eat Smart Gourmet Vegetable Salad Kits real fine and then toss it with dressing and other add-ins. Even Ronak doesn't mind eating these salads that much!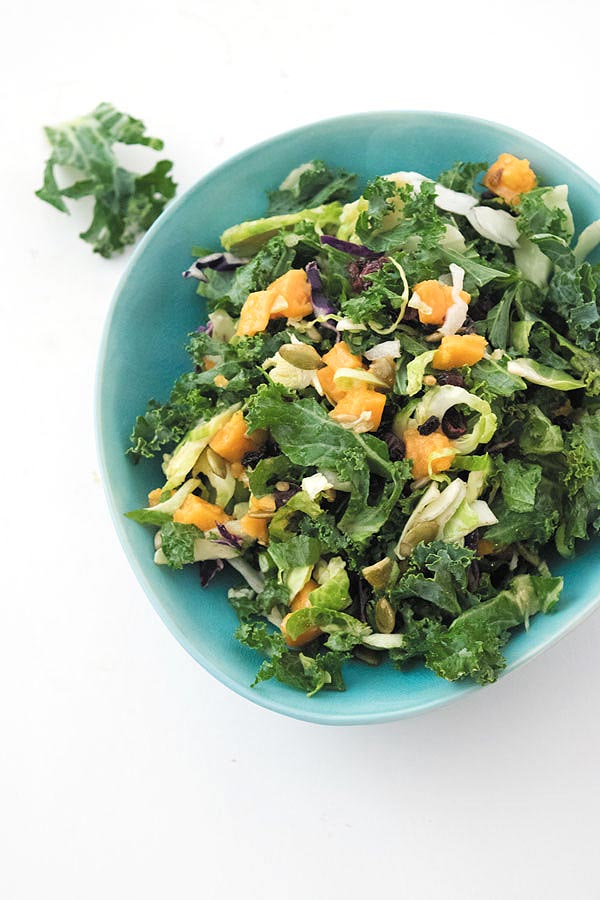 If you can find these Eat Smart Gourmet Vegetable Salad Kits at a grocery store nearby, I would suggest do give these a try!
You can sign up to get all the latest news from Eat Smart Gourmet Vegetable Salad Kits. And they are on Facebook too!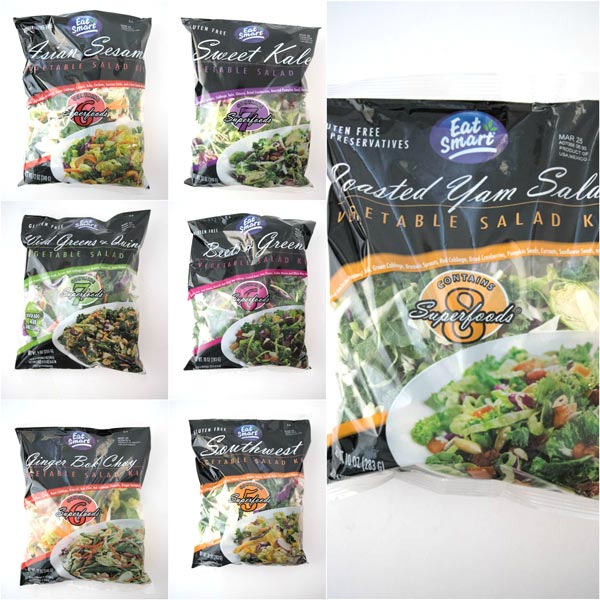 Follow along for a lot more delicious treats and life happenings on INSTAGRAM ||FACEBOOK||PINTEREST ||TWITTER ||GOOGLE+ || BLOGLOVIN || YouTube
Easy 30 mins Skillet Honey Garlic Chicken
Ingredients
2 chicken breasts each sliced in half
Marinade for chicken :
1 tsp salt
¾ tsp black pepper
1.5 tsp paprika
¾ tsp thyme
1 tsp parsley
1.5 tsp garlic paste
3 tbsp oil
3 tbsp honey
Instructions
Mix all the marinade ingredients in a bowl and mix. Coat the cleaned and sliced chicken breasts with marinade. Heat a skillet with little more oil and lay the coated chicken pieces. Make sure not to overlap them. Cook them on medium-high heat and flip. Cook the same way on the other side too. Cook making sure there is no pink by cutting a small piece from cooking chicken. Serve with a big salad and rice.
I was selected for this opportunity as a member of Clever Girls and the content and opinions expressed here are all my own.
Some more delicious easy DINNER recipes ->>