Cheesy Enchilada Rice Casserole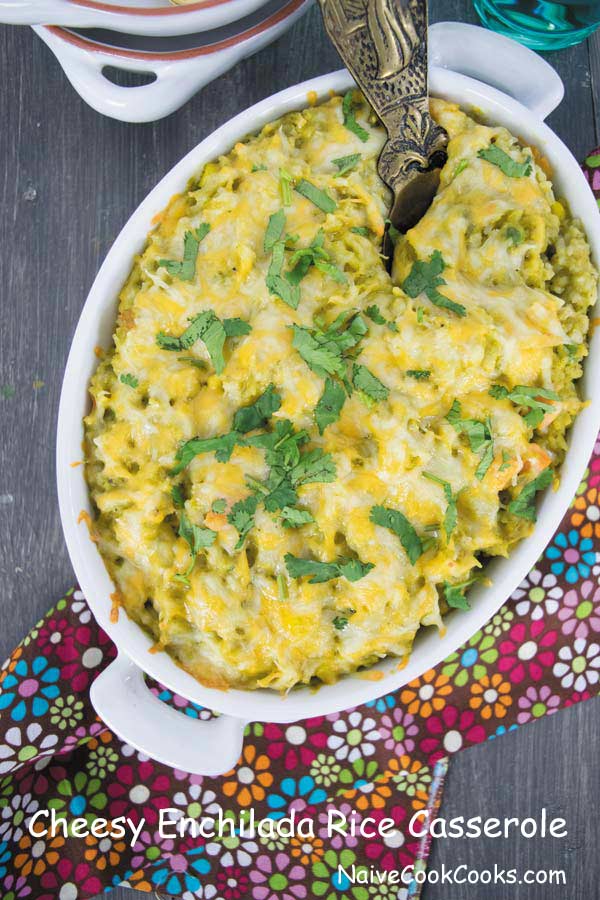 1.5 - 2 cups of your favorite enchilada sauce ( HOMEMADE or store bought)
1 tbsp oil
2 garlic chopped
½ cup chopped onion
½ cup mixed vegetable chopped ( I used a mix of corn, green beans, carrots and green peas)
Salt to taste
1 cup shredded cooked chicken (optional)
½ cup uncooked rice
1 tsp butter
1- 1.5 cups shredded cheese ( Use either cheddar or mexican style or your favorite cheese)
Black pepper to taste
Cook ½ cup rice by first rinsing in a sieve under running water until water turns clear. Then cook with about 1.5 cups of water, 1 tsp butter and salt to taste. Once cooked keep it aside.
Meanwhile get everything else ready.
In a deep pot or skillet, add oil and to it chopped garlic. Once it starts to cook, add onion along with vegetables and cook until softened.
To it add sauce, cooked rice and chicken if using. Mix everything together and taste and adjust salt or black pepper as needed.
Transfer it to a oven safe baking dish and cover with shredded cheese. Bake in a preheated 350F oven for 20-30 mins until cheese is all melted. Enjoy!
Recipe by
Naive Cook Cooks
at https://www.naivecookcooks.com/quick-cheesy-enchilada-rice-casserole/