These Spinach Calzones are packed inside a soft pizza dough and baked until golden crisp! One bite & you will be amazed. These are perfect for dinner with salad or as a snack! Can also be frozen for later!
The information & products were provided by General Mills through Linqia.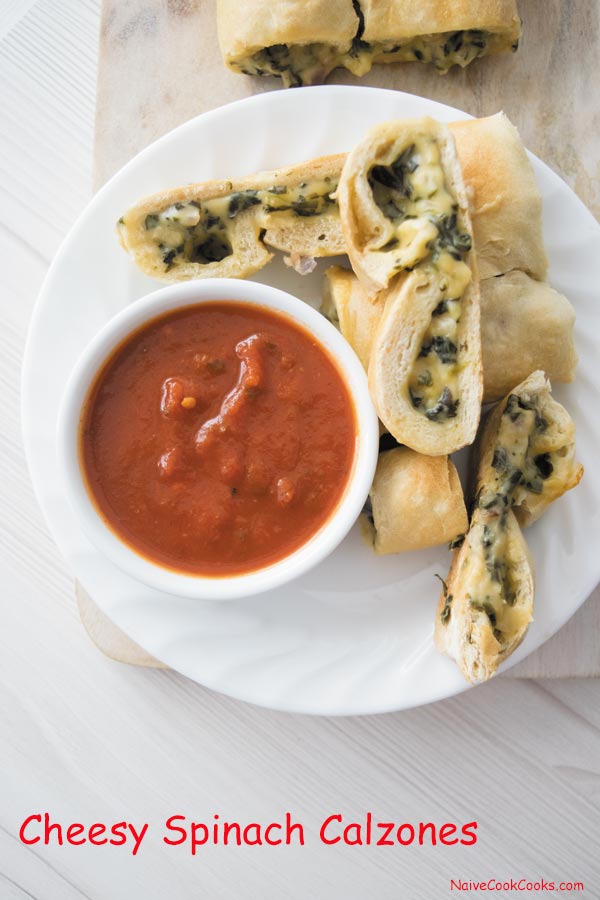 This Calzone ->> is everything I crave when I have skipped lunch and once I realise it's dinner time & nothing to eat! Come these CHEESY calzones packed with a creamy spinach mixture and baked under golden brown. Then may be (may be not!) a salad on the side and a glass of wine makes it a meal which you deserve after starving for 10 hours!
And good amount of marinara sauce– always!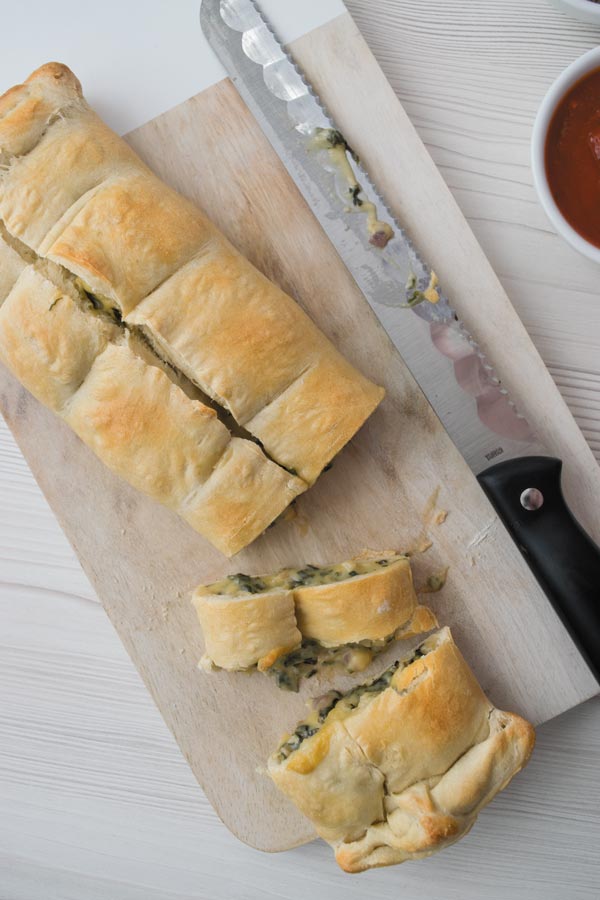 Calzone is simple terms is a folded pizza. Instead of pilling your toppings all over the dough, you keep toppings on one side and then cover with the remaining dough and bake just the way you would bake a pizza! I find these better since they are portable (yes perfect for lunches!) and these freeze beautifully.
**I was given the task of creating a delicious Italian recipe since Publix is holding a huge Viva Italia sale, so if you have access to Publix make sure you check it out since you can get tons of items at a really good price right now.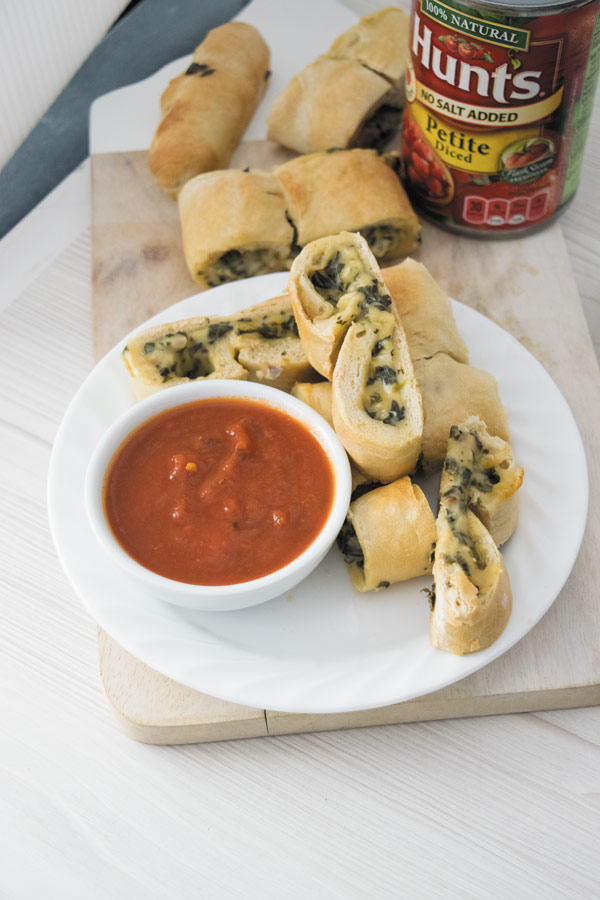 Coming back to these calzones, we both love Italian food and atleast once a week we find ourselves ordering pizza. The charm of eating pizza on weekends while watching reruns of your favorite shows! So this week instead of ordering pizza, we decided to make our own folden pizza or calzon. For the filling I was inspired by my spinach dip  and it worked out perfectly inside soft pillowy pizza dough.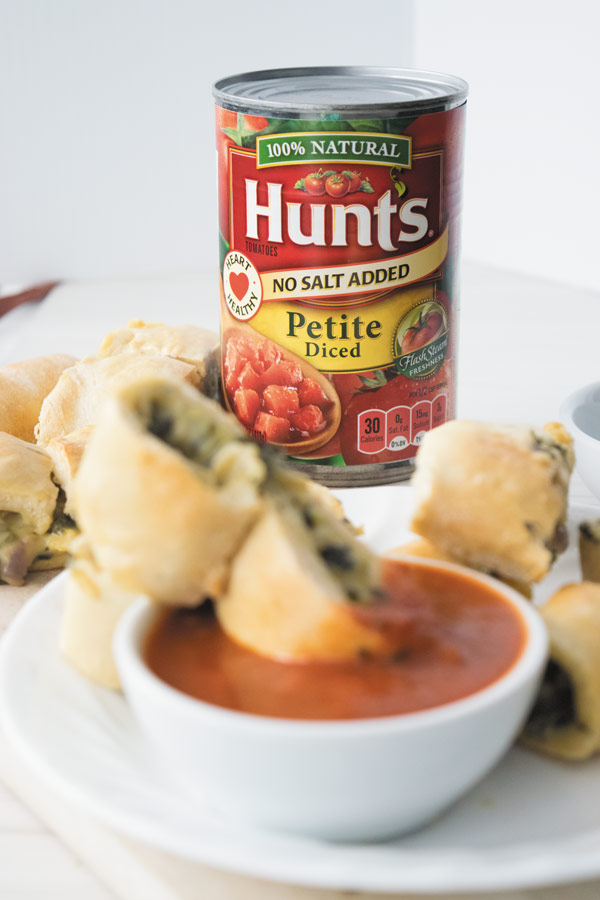 I even made fresh marinara sauce to go with these calzones and I made a ton more calzones and froze them for those nights when I am starving but I don't want to cook!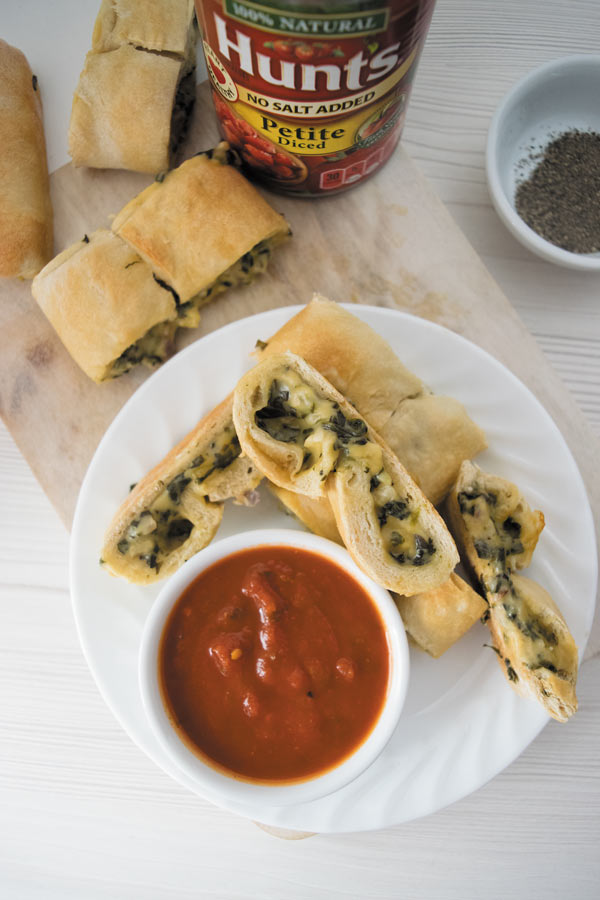 And if you check, you might already have all the ingredients with you!
Follow along for a lot more delicious treats and life happenings on INSTAGRAM ||FACEBOOK||PINTEREST ||TWITTER ||GOOGLE+ || BLOGLOVIN
Cheesy Spinach Calzones
Ingredients
Pizza Dough (Recipe inspired by Mario Batali's Basic Pizza Dough recipe)
10 Tbsp Warm Water
1 tbsp Active Dry Yeast
½ teaspoons Sugar
1 + ¾ cups all purpose flour
½ tablespoons Salt
2 tbsp Extra Virgin Olive Oil
Spinach Filling
2 cups spinach, chop finely
1 tbsp butter (14 gm)
3 garlic cloves, minced or chopped fine
½ cup finely chopped red onion
¼ cup all purpose flour
1 cup milk (any fat content)
½ cup water
Pinch of sugar
Salt to taste
2 tbsp yogurt
1 tsp lime juice
1 cup shredded sharp cheddar cheese
1-2 tsp Green chili paste (optional but add if you want spicy)
Marinara Sauce (Buy almost all the ingredients here)
1 tbsp olive oil
¼ cup finely chopped onion
3 garlic cloves, chopped fine
1Hunt's diced tomato can (14.5 oz)
1 tsp oregano
½ tsp parsley
Salt to taste
½ tsp black pepper
6 fresh basil leaves, chopped fine
Instructions
In a bowl ,add warm water, sugar and yeast and let it sit for 10-12 minutes until it gets foamy. If you feel yeast is still not activated, I would suggest throwing this and making a fresh one.
Now in another bowl, take flour and salt. To it add this yeast mixture and olive oil and mix until evenly mixed. It might be a bit sticky. Now knead this dough on a lightly floured surface until smooth and supple.
Cover it in a bowl and let it rise in a warm place for 2 hours or until doubled.
Meanwhile get the filling ready.
In a skillet add butter. Melt and add garlic and onion. Cook for few minutes until soft and raw smell is gone. Now to it add flour and cook the flour until lightly golden. Add milk and water and stir continuously until it starts to thicken. To it add sugar, salt, yogurt, lime juice,spinach and cheddar cheese. Keep stirring and cooking on medium heat until it is reduced to half or very thick. Taste and adjust the seasonings.
Let it cool.
Now once the dough has doubled, punch it down and divide it into 2 balls. At this stage you can make the conventional calzone shape : that is make small balls, roll them in circle shape, place some filling on one side and fold the other side over. It will look like a stuffed semi circle or you can do the easy way like I did.
Roll one of the ball to almost 13" long and 8" wide rectangle. Place half of the filling in center and cover from all the four sides. Make sure you do not over fill or filling will ooze out while baking.
Using a knife make few slits on top.
Brush with egg white or milk with some sugar and bake on parchment paper lined baking sheet for 22-25 minutes.
Serve with marinara sauce.
Marinara Sauce :
Heat oil in a pot. Add onions and saute until soft. Add garlic and saute until fragrant. Add tomatoes from the can, mushing them using the back of spatula. Add salt, black pepper, oregano and parsley. Bring to a boil and then let it simmer on med-low for 12-15 minutes or until thick and tomatoes get broken down. Taste and adjust seasoning. Add freshly chopped basil. Serve or once cold, store in an airtight container in refrigerator.
Notes
Ami says:
Once I roll out the dough in rectangle shape, I like to transfer it to a parchemnt paper and then do the filling part as it makes it easy to transfer it to the baking sheet once it is filled with filling.
 Also try these out ->>