Easy 4 ingredient Banana Milkshake with Caramel syrup! This is an easy milkshake recipe which is super creamy and takes just 5 mins to make!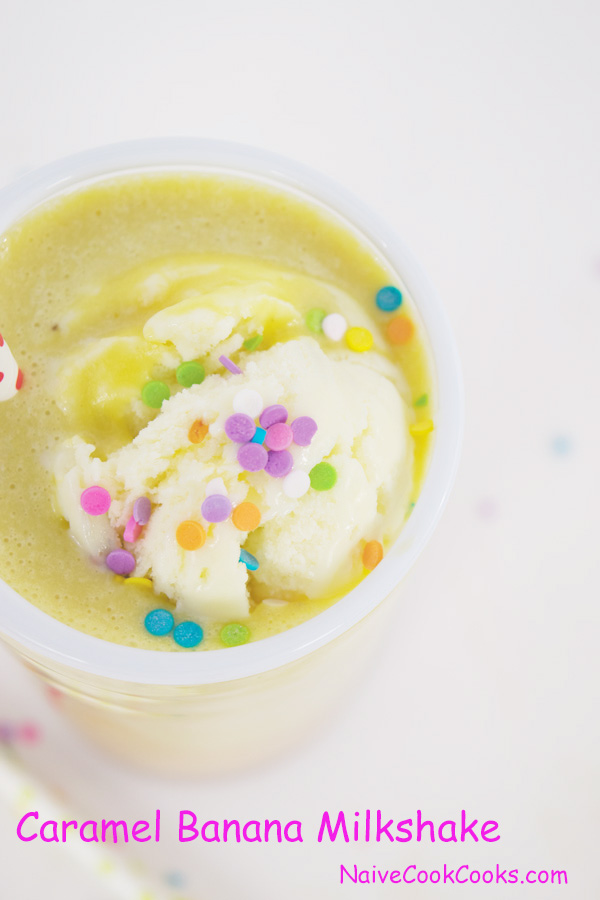 Happy Holi friends! Hoping you all are having a great time wherever you are 🙂
It's Holi delicacies everywhere so I decided to make something a little different but something that's perfect for entertaining on a short notice and just not kids but even adults go crazy for this! Since Holi is all about colors, I just couldn't stop myself from adding my favorite sprinkles!
It's spring but it snowed here like crazy and it's the most beautiful sight. I can literally sit all day and look at falling snow. But this milkshake makes me dream of warm summer days. Just 4 Ingredients is all you need – frozen bananas , milk, ice cream and caramel and all goes into my favorite blender. That's it actually and then this is served with a giant scoop of ice cream because well everyone deserves a little fun!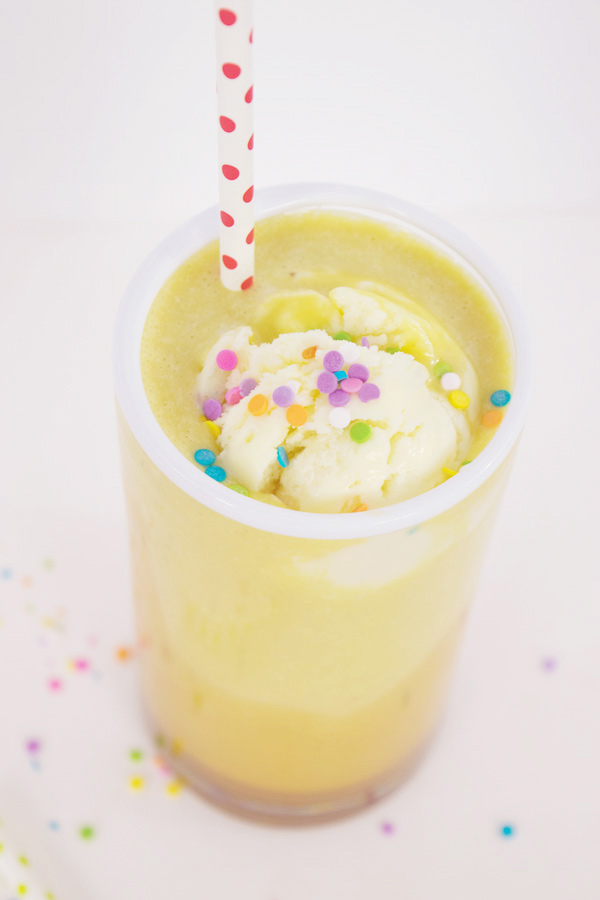 I feel this is even great for Easter since Easter also reminds me of pastel colors and this will be a fun treat for your little kidos for brunch! This will make them drink milk in no time! I still remember while growing up my mom would give me a glass of milk first thing with my favorite cookie and then I would finish it off while watching my favorite cartoons! My husband thinks I was too pampered 😉 because who gets milk & cookies for breakfast! I still love milk and cookies and there are lots of nights, when after finishing work late at night all I crave is a glass of chilled milk & cookies!
If you make this, don't forget to tag your pictures with #naivecookcooks
Follow along for a lot more delicious treats and life happenings on INSTAGRAM ||FACEBOOK||PINTEREST ||TWITTER ||GOOGLE+ || BLOGLOVIN || YouTube
Caramel Banana Milkshake Recipe
Ingredients
1.5 banana ( fresh or frozen but frozen preferred)
1 cup milk
½ cup ice cream ( vanilla or banana flavor)
2 tbsp caramel sauce
Few drops of yellow food color ( optional. I just used to make it stand out!)
Instructions
In a tall glass, pour caramel sauce and move it around so it coats the glass bottom and little bit of the sides. If caramel is too thick, warm it for 5-10 seconds in microwave. Chill this glass in fridge until you make the milkshake.
In blender, add banana pieces, milk and ice cream and color if using and blend on high until smooth and creamy.
Pour this milkshake into your chilled glass. Serve immediately!
 ** This Blendtec Blender is my favorite blender of all times. As I mentioned earlier, I use it all the time and no matter what everyday for smoothies which makes smoothies really creamy! It's a one time investment but lasts for years.
Some more delicious drink recipes- >>