These seasoned roasted vegetables are drenched in an addictive balsamic vinegar & olive oil herb dressing & they pair well with every meal!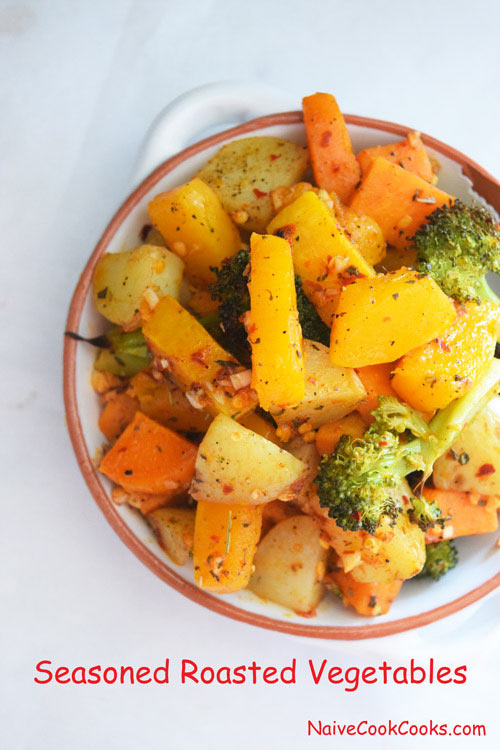 Are you back on healthy eating bandwagon or still waiting for the right moment to start eating healthy! If you belong to the latter category, no worries because I got the perfect recipe for you!
These SEASONED ROASTED VEGETABLES are the bomb! ? ?
I, to be honest, apart from eating roasted potatoes never really enjoyed eating any other vegetable in roasted form because most of the time they were way too bland for my taste BUT not anymore!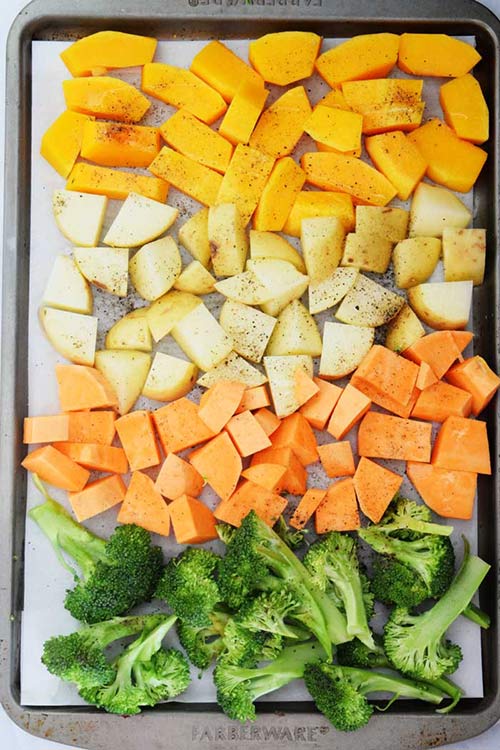 But before we jump on to this delicious recipe, I would like to introduce you guys to Jerry aka my husband. Well you might think that you already know him since I keep mentioning him here from time to time but you might or might not remember that when the first time I mentioned him here, I used his nick name. But since we have come a long way, I thought it was time for you all to meet him again. So from now I will be mentioning him here with his real name aka Ronak.
So as I was telling, the DRESSING here which makes this recipe soooo soooo good is his creation and it is so addicting! This dressing he made without following any recipe and he told me not to add anything on roasted vegetables as he was making a dressing to go on top of them. I loved it so much that I had leftovers the next day for breakfast and begged him to make it again so I could write the measurements and share here with you guys!
These Seasoned Roasted Vegetables will change your life, for good! I like to serve them with roasted chicken and mashed potatoes. You can also serve them along with soup and sandwich or basically almost anything.
Follow along for a lot more delicious treats and life happenings on INSTAGRAM || FACEBOOK ||PINTEREST ||TWITTER ||GOOGLE+

Seasoned Roasted Vegetables
Ingredients
Vegetables : ** You can use any kind of vegetables you like but roast the vegetables that take longer to cook in same tray and the ones that cook faster in another**
2 large potatoes,chopped
1 sweet potato, chopped
15-20 brussel sprouts, chopped or 1 head broccoli, chopped
1 cup chopped butternut squash
1 tbsp oil
Salt to taste
Dressing : ** This makes extra dressing which you can easily store covered in refrigerator for a good time**
1 tsp red chili powder or paprika
¼ tsp black pepper powder
½ tsp basil powder
3 cloves garlic, minced
¼ tsp rosemary
¼ tsp oregano
1 tsp chili flakes or as per taste
½ tsp salt
¼ cup extra virgin olive oil
2.5 Tbsp balsamic vinegar or more as per taste
Instructions
Clean and chop your veggies. Pre heat oven to 400F.
Place them on a baking tray without them over lapping each other. Season with a little salt and oil.
Bake in oven for 20 mins. Stir and bake for another 10 minutes and test to make sure they are cooked all the way.
Mix all the ingredients of dressing in a bowl and once vegetables are roasted add few tbsps of dressing and roasted vegetables in a large bowl and stir until evenly coated. Taste and add more dressing accordingly.
Some more easy recipes ->>
https://www.naivecookcooks.com/one-pot-veggie-lentils-and-rice/