Hibiscus Raspberry Cooler Drink made with chilled green tea!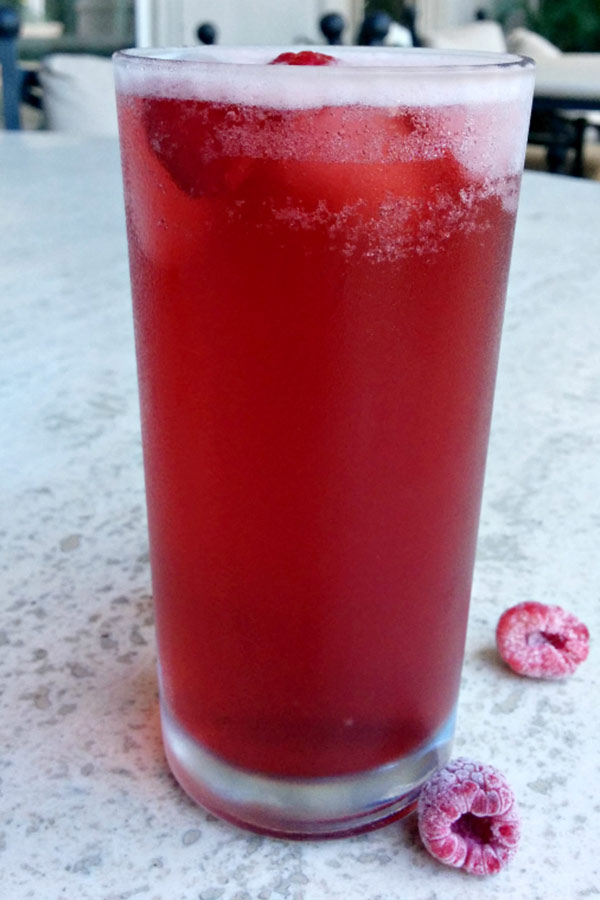 Drinks like these are what makes summers bearable and enjoyable. With 4th of july only a week away, all I can think of  is summer drinks and lots & lots of food. Lately I have been on a roll with my crazy drinks and I almost every weekend end up whipping some crazy mocktail or cocktail.  Remember that spicy jalapeno-watermelon lemonade or that refreshing pineapple agua-fresca!
This is my new favorite and I believe it will be yours too. Long time back I had something similar at starbucks. It was very refreshing but I wasn't too impressed as it was kind of way too sweet for my taste. So here is my version. Don't compare it with the version starbucks sells as it is a lot different. It is all you want your summer drink to be – tangy from freshly made hibiscus syrup with dried hibiscus flowers, earthy from freshly steeped green tea and with a little bite with frozen raspberries.
You just can't stop at one. Believe me!
Hibiscus Raspberry Cooler Drink
Ingredients
Hibiscus syrup:
2 cups water
1 cup white granulated sugar
½ cup loosely packed hibiscus flowers, dried
Green tea:
4 green tea sachets (any good quality green tea. I used bigelow)
2 cups water
Assembling for 2-3 servings:
3 cups ice cubes
½ cup hibiscus syrup or to taste
1 cup green tea
10-12 frozen or fresh raspberries
Instructions
Hibiscus syrup:
In a pot, add water and sugar and bring it to boil. Once boiling and with all sugar dissolved, take it off the gas and add hibiscus flowers. Cover and let it sit for like 20 minutes. Strain and throw the used flowers. Keep it in a covered container and chill.
Green tea:
Bring water to boil in a pot and turn off the gas. Add green tea. Let it sit covered. Strain and keep it in a covered container and chill.
Assembling for 2-3 servings:
In a jar, add all the ingredients and put the lid on. Shake it for a good one minute. Serve chilled.
More Summer Drink Recipes: