Poblano crepe Enchiladas served with zesty guilt free 'cashew-poblano' sauce!! Summer meal at its best!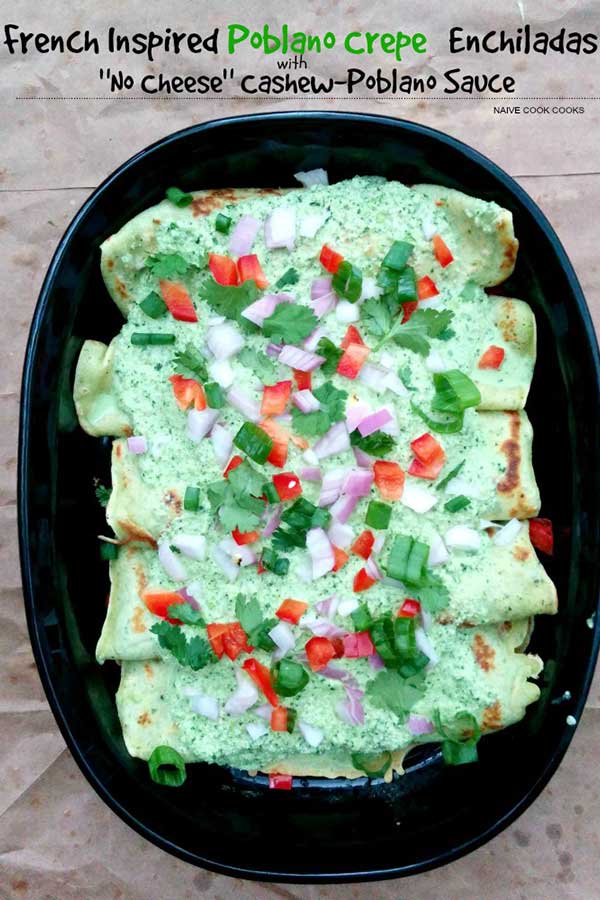 These enchiladas!! I still can't believe that these turned out so good that my family labelled them to be another of their favorite enchilada recipes cooked by me. This enchilada meal was completely unplanned. I developed this whole dish in steps with one thought giving way to another. It took me a total of two hours from start to finish and I can say it was all worth the effort.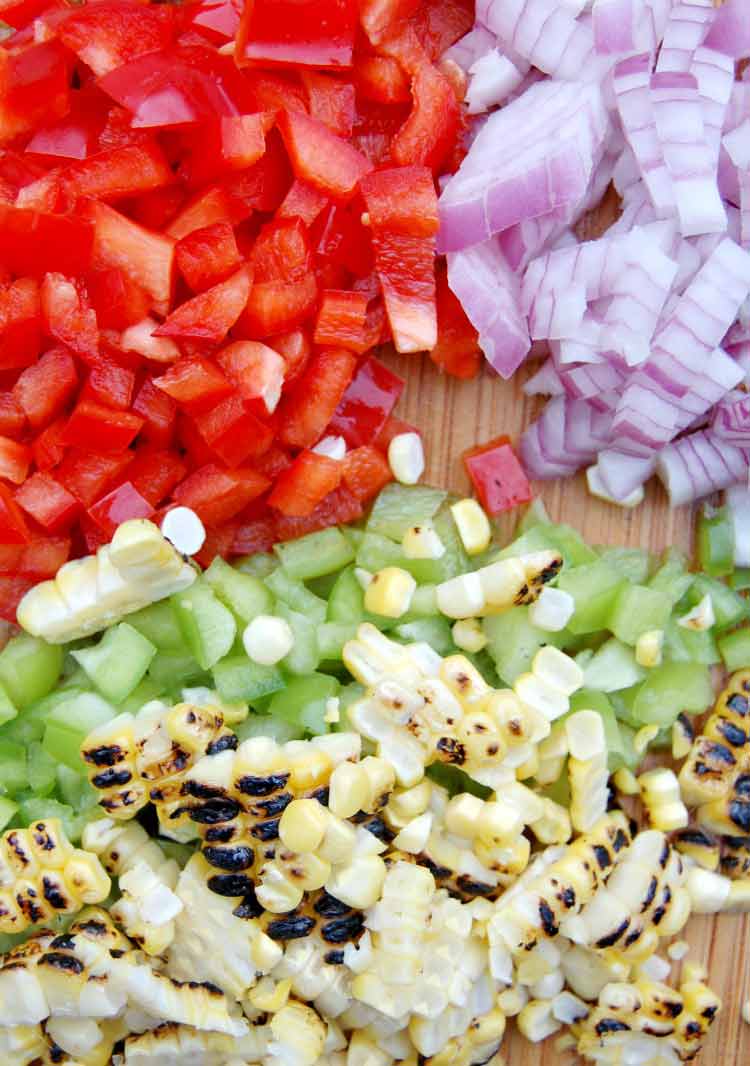 There is a poblano crepe recipe in this book which I have been reading lately and I can say that I am head over heels in love with the book and almost every page has been bookmarked as I want to try all the recipes. The book is written by the super talented chef Ivy Stark from Dos Caminos restaurants. When I saw poblano crepes, all I wanted to do was make them at the very moment and yes after a bit of google search, I wanted to be in New York at thus restaurant!
I mean, seriously such a Mexican+French twist! I decided that I am going to use these in some sort of enchilada dish because well, poblanos + crepes = Feast!!
Once I had the crepes ready, I started working on the filling. I wanted to keep it simple yet full of Mexican flavours as at the end it is a French twist on Mexican dish or may be the other way round. Uh ho doesn't really matter, assume either way!!
For filling I used roasted corn, red and green bell pepper and red onion cooked slowly with taco seasoning and few other spices. So aromatic and delicious.
Now I was in no mood to give away the charm of this unique dish by using a simple sauce. So I decided on my favorite 'no-cheese' cashew-poblano sauce.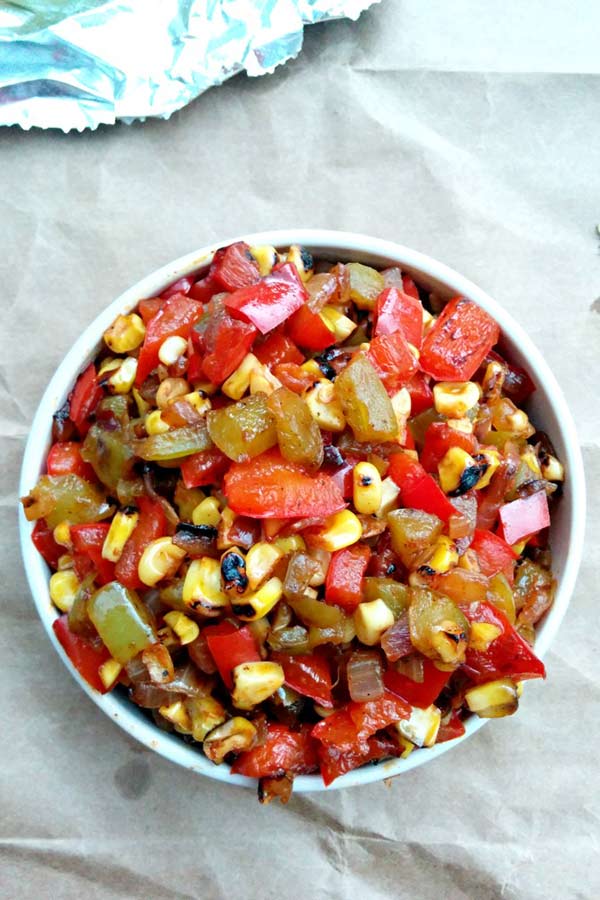 I won't lie as I was initially little hesitant serving this for dinner but I decided to give my luck a go and voila everyone loved it!! No kidding! They were simply amazed by the uniqueness of this dish, by the use of poblano crepes in enchilada, a no cheese sauce. They said all the flavors married so well together that they think this dish was restaurant worthy.
The best part for me was that this dish doesn't demand too many unique items. Apart from poblano and corn, you might find almost everything else in your pantry or crisper. A full delicious summer meal which can be made way ahead of time. You can make this over the weekend and serve it for dinner on busy week nights.
For filling, you can just go crazy. I am thinking of shredded chicken, mushrooms, spinach, pulled pork or almost anything you love filling your enchiladas with. I usually add way more sauce in enchiladas but if you are left with extra sauce, you can refrigerate it and use it over tacos, in Mexican casseroles.
Best enchiladas ever!
Poblano Crepe Enchiladas
Ingredients
Poblano crepes:
1 cup all purpose flour
2 large eggs
½ cup milk
⅜ cup cold water
¼ tsp salt
1 Tbsp olive oil
1 poblano chile, roasted, peeled and pureed
Filling
⅔ cup chopped green bell pepper
⅔ cup chopped red bell pepper
½ cup chopped red onion
Corn kernels from 1 fresh corn roasted on stove top or grill
1 Tbsp canola oil
salt to taste
1 tsp red chili powder
1 Tbsp Taco Bell seasoning
'No-cheese' cashew-poblano sauce:
1 cup plain unsalted and unflavored cashews soaked in hot water for 15-20 mins
4 cloves of garlic
big handful of fresh cilantro
2 green onions
1-2 jalapeños as per desired heat you want
1 roasted poblano
salt to taste
1.5 cups water
juice of 1.5 lime or to taste
Instructions
Poblano crepes:
For roasting poblano, place a poblano over stove top at high flame. Let it sit for like 30 seconds and keep flipping using tongs until it gets charred on all sides. Once charred, place it in a bowl and cover tightly so it steams up inside. Uncover after few mins and peel off the skin using hands. Cut in big pieces and throw in the blender. Blend until a smooth paste forms. in a big bowl, whisk together the flour and eggs. Gradually add milk and water and stir to combine. Add salt and olive oil and stir until smooth. Fold in the poblano purée. Warm a flat skillet and spray with little oil. Once hot, add ¼ cup of batter and swirl the pan around or using a flat spatula so it gets thin and in kind of a circular shape. Let it cook for few mins. Flip and cook on the other side. Repeat and stack them on an aluminum foil.
Filling
Add oil in a deep skillet. Once hot, add the veggies along with seasoning. Stir to mix it all together and cook on med-high flame for good 15-20 mins until it starts to smell wonderful and veggies get softened up. Keep aside.
'No-cheese' cashew-poblano sauce:
Roast and peel the poblano the same way as mentioned above in poblano crepe recipe. In a blender, add all the ingredients and blend until smooth. Taste and adjust seasoning.
To assemble
In a baking dish, add some sauce at the bottom to evenly coat. Take one poblano crepe and add filling good 1-2 Tbsp or more in the centre lengthways. Roll it tightly and place seam side down on the baking dish. Repeat with the rest. Add more sauce on top. Add fresh red onions, green and red bell peppers and green onions on top.At this top, you can refrigerate it covered for later use. Bake in a pre heated 350F oven for 12-17 mins or until warmed through. Serve immediately.
Notes
Poblano crepe recipe adapted from 'Dos Caminos Mexican Street Food'.
More Healthy Recipes: