Pineapple agua fresca – fruity, crowd pleasing non alcoholic drink! Perfect for enjoying warm weather!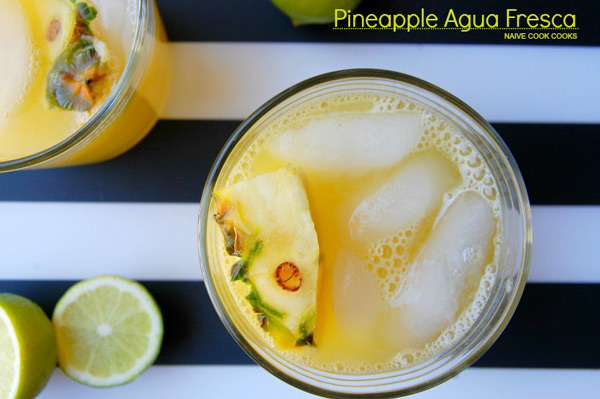 I have been waiting for this week to get over soon. It's been a long and hectic week and I have a big list of things to do for this weekend, the top contender being sleeping and that too lots and lots of it. What were you thinking?! You thought for a while that she is crazy enough to make things to do list for the weekend too. Actually I do but for now the only thing on my mind is sleep and this drink.
While  typing this, there is a  huge bowl of pizza dough rising in the microwave and a big jug filled with pineapple agua fresca chilling for dinner. Pizza + fruity drink = perfect dinner in my world.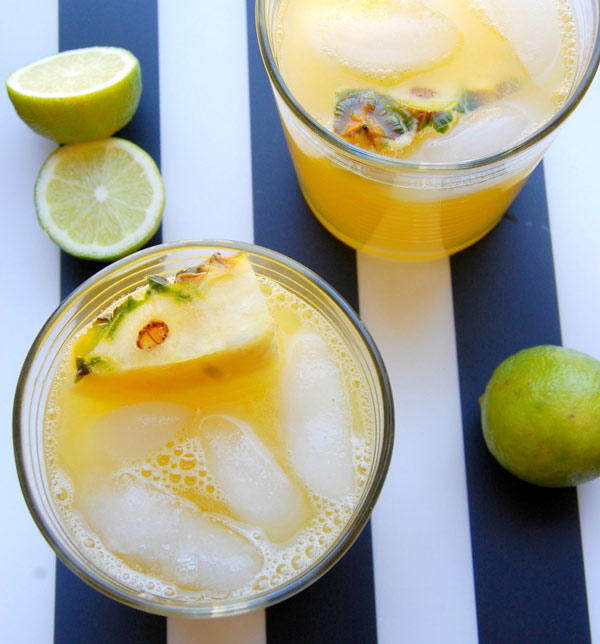 This drink! Surprisingly I have had lots of agua frescas in my lifetime but until this I never knew what they really were. Lol.
When I came across this recipe while reading a magazine, I was intrigued and surprised as it seemed so simple. I was little hesitant about the flavours but thought what could possible go wrong by mixing pineapple, water, sugar and lime.
I knew for sure that fruits & tons of lime make every drink taste better.So finally I made this and I wonder why I waited for so long?!
Run and buy yourself a pineapple and make this! Trust me it will make your Friday dinner more enjoyable!
On another note, I saw lots of people talking about Kentucky Derby and wondered how many of you are either going or doing stuff around those dates?! I have never been to one or celebrated one, so kind of interested in knowing. If you are spending time with friends or throwing a party or just for quick get togethers, you should seriously make these! Its like fruit heaven in a glass!
Pineapple Agua Fresca
Ingredients
1 medium pineapple ( ~ 5 cups chopped)
6 cups water, cold
7 Tbsp sugar or honey or any other sweetener to taste ( I used fine white cane sugar)
Juice of 4 limes
Instructions
In a high power blender add pineapple chunks and water and blend on high until smooth. I did it in two batches. You can do in as many batches as you want depending on the capacity of your blender. Strain the blended mix in a big jug. To it add sugar or any sweetener using and lime juice.
Stir it and taste. Add more sugar or lime juice per taste.
Chill for at least 5-6 hours or overnight.
More Drink Recipes: