Spicy and low fat flatbread topped with Indian style potato cauliflower stir fry!!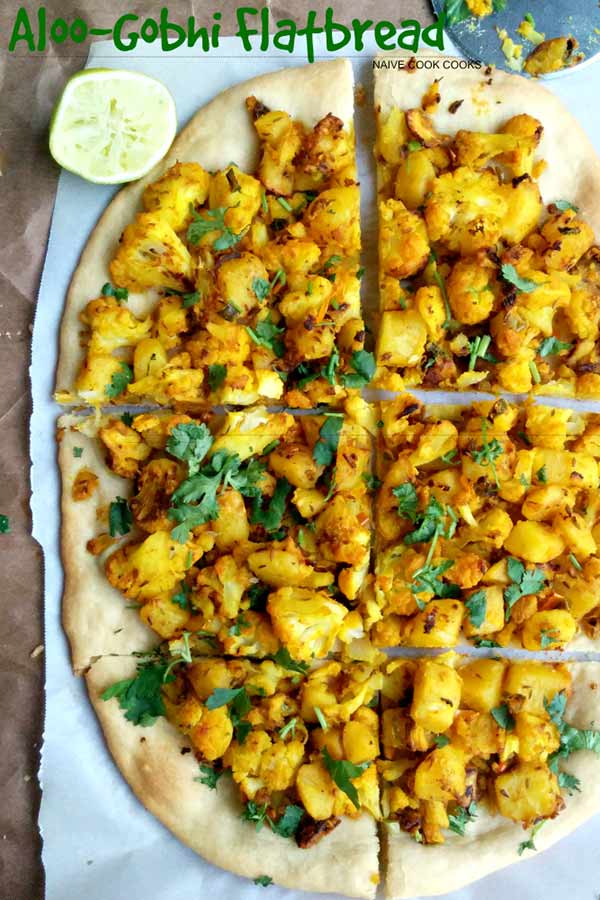 To me flat breads are not seasonal like heirloom tomatoes, peaches, plums or my favorite juicy strawberries. To me flat breads signifies spending time with family gathered around the table while talking and enjoying good food. This flatbread inspiration came from my beloved Indian style stir fry which I grew up eating and which till date my mom makes the best. The smell of fresh ginger and blend of spices makes every bite exotic and a worthy experience in itself.
I grew up enjoying it with Indian chapati or parantha but I wanted to give it a twist, make it essentially a snack which you can just enjoy while mingling with people and which can be served all at once and everybody can enjoy a slice while relaxing and spending quality time.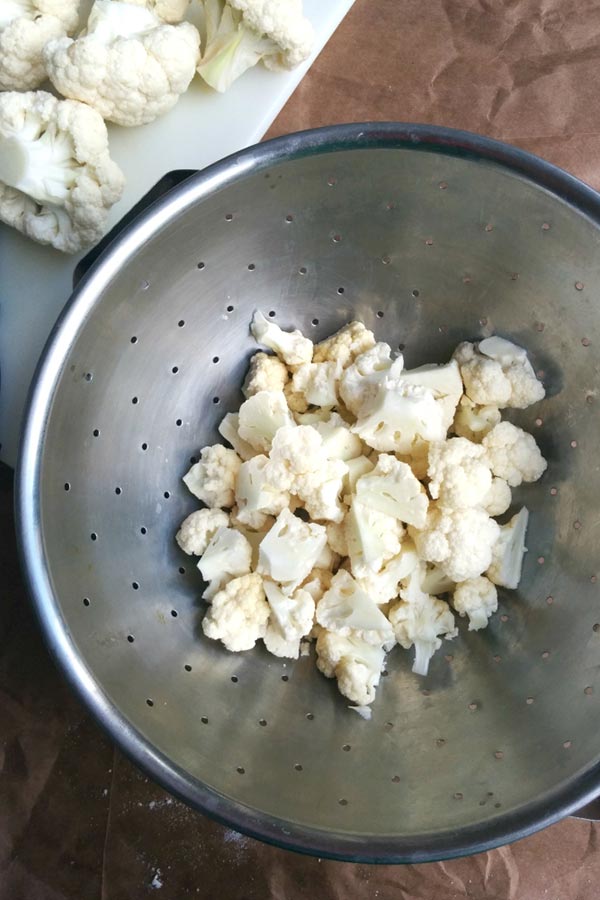 We enjoyed the leftovers next day for snacks with my new favorite drink. It tasted much better than previous day, slightly warmed up in toaster oven. It reminded me of my favorite snack samosa!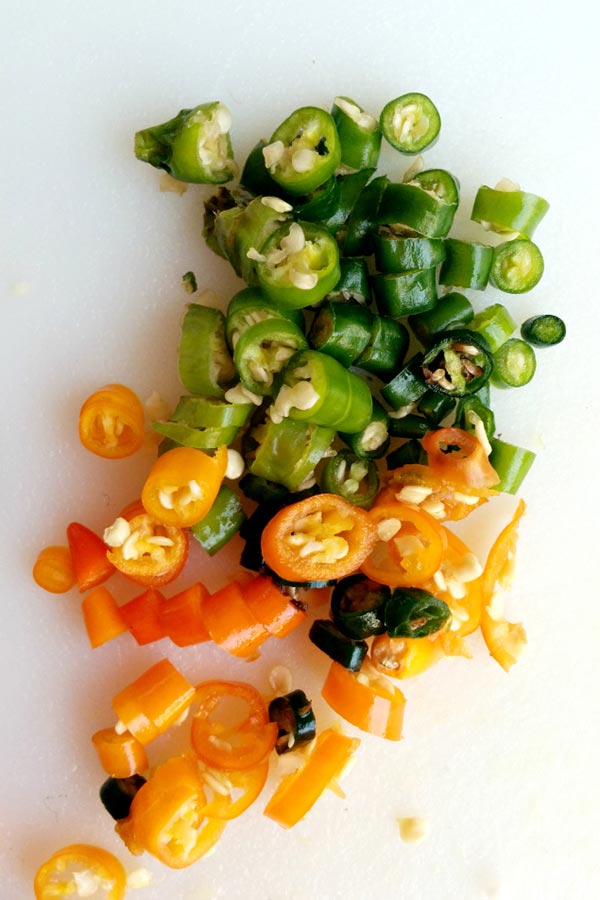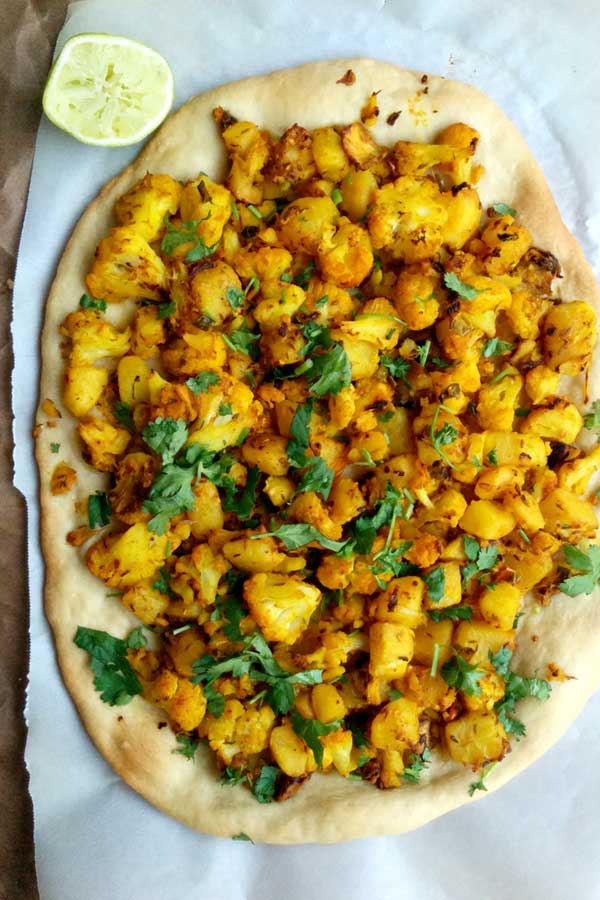 This is perfect for weekends or if you want to celebrate 4th of July with some fusion food!!

Aloo Gobhi Flatbread - Potato Cauliflower Flatbread
Ingredients
For flatbread:
3 cups unbleached all purpose flour
1 cup warm water
1 tsp sugar
2.5 tsp active dry yeast
1 tsp salt
4 Tbsp olive oil
Toppings:
1 whole cauliflower, cleaned, rinsed and cut in florets
2 medium size potatoes, cleaned, peeled and chopped in pieces
Salt to taste
2 tsp oil, any good cooking oil
1 Tbsp ginger, chopped
2tsp cumin seeds
Pinch of asafoetida
2 tsp turmeric powder
5-6 green chilies, chopped
2 tsp red chili powder
1 Tbsp dry coriander powder
1 Tbsp mango powder
Instructions
For Flatbread
In a bowl, add warm water. To it add sugar and yeast and stir slightly. Let it sit for around 10-15 mins until it starts bubbling. In another bowl, combine flour, salt and oil and mix. Add yeast water to the dry mix and knead into a smooth dough for around 3-5 mins. Keep it in a well oiled bowl, covered, for around an hour until doubled. Knead again and let it rise for another hour.
Pre heat oven to 420F.
For Toppings
In a deep skillet, add oil. Once hot, add cumin seeds, asafoetida and green chilies. Once the cumin seeds stop to sizzle, add cauliflower florets and chopped potatoes. Stir it all together and to it add salt, turmeric powder, red chili powder, coriander powder and mango powder. Stir it all around. Cover the pot with a lid and lower the flame. Let it cook until the florets and potatoes get fully cooked. Keep checking and stirring in between to prevent it from sticking to the pot.
Once done, keep it aside.
Assembling:
Divide the dough into three parts and make into balls. Roll out one ball and transfer it to a parchment paper lined baking sheet. Put half of the topping on top distributing it evenly. Bake it in a pre heated oven for good 15-17 mins.
Garnish with freshly chopped cilantro. Enjoy!!
More Flatbread Recipes:
https://www.naivecookcooks.com/peach-caramelised-onion-goat-cheese-flat-bread/