Tomatillos and Jalapeno Vodka Bloody Mary. Don't forget to coat glass rims with super tasty cilantro salt!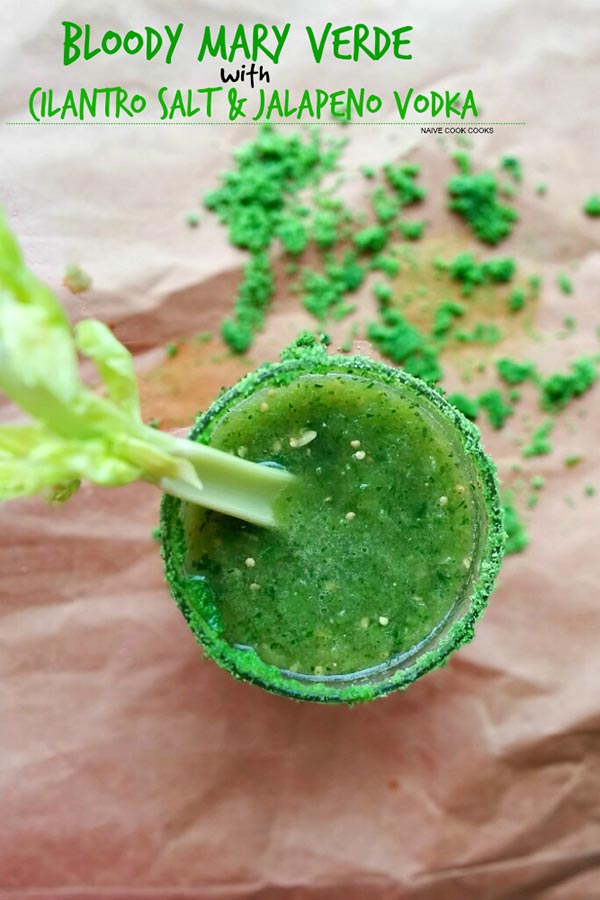 I have never really enjoyed bloody mary before or let me say it correctly, I have never enjoyed the classic bloody mary they sell in restaurants which is more than often made using tomato juice which comes in bottles. If you have been reading, you know I have a certain aversion to canned food items and whenever possible I try to use fresh ingredients. Though I will totally admit that there are days when I give in to the comfort of canned ready made sauces and meals. It does makes life easier on those crazy days but I am not into them usually!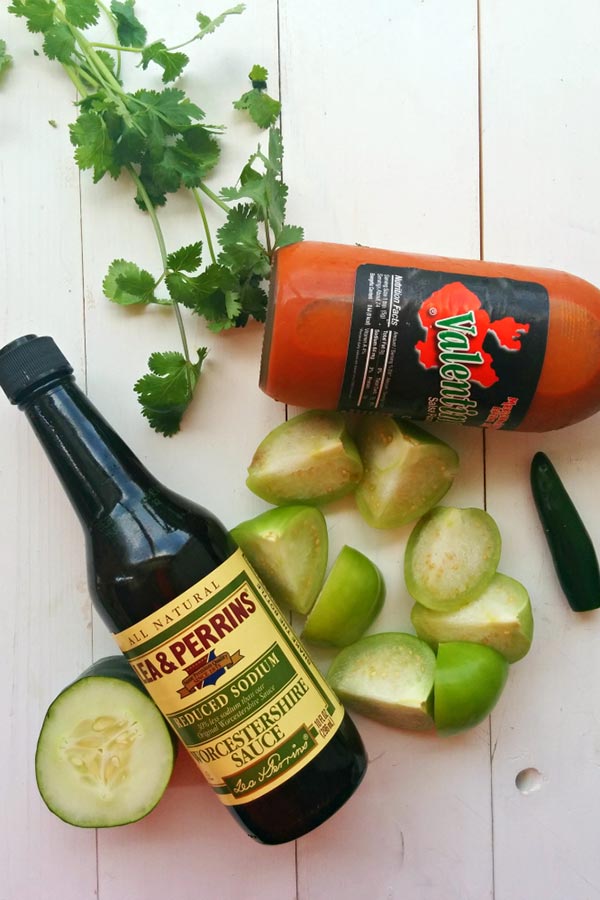 The first time in my life I tasted bloody mary was in Seattle, dining in the Seattle needle restaurant and I tasted it and I thought, what its just tomato juice with lots of alcohol?!! Second time I was reluctant to give it a try  again  in the hope of making it my favorite, I ordered it while vacationing in Goa with my work colleagues. It was just horrible. It's been almost 3 years from that day and I can say in all honestly that I have not even felt the slightest urge  to give this a try.
But something happened. Recently going through mexican cookbooks I saw a green bloody mary recipe and I was intrigued. Imagine tangy tomatillos replacing usual red tomatoes. It tasted good in my imagination. I ran my creative juices and came up with cilantro salt thinking plain salt to be too boring for glass rims! And this jalapeno vodka, it's the best. Seriously I have been drinking it with lots of other crazy combinations and I love it as you can make it at home using just 2 ingredients! Good quality vodka and jalapeno!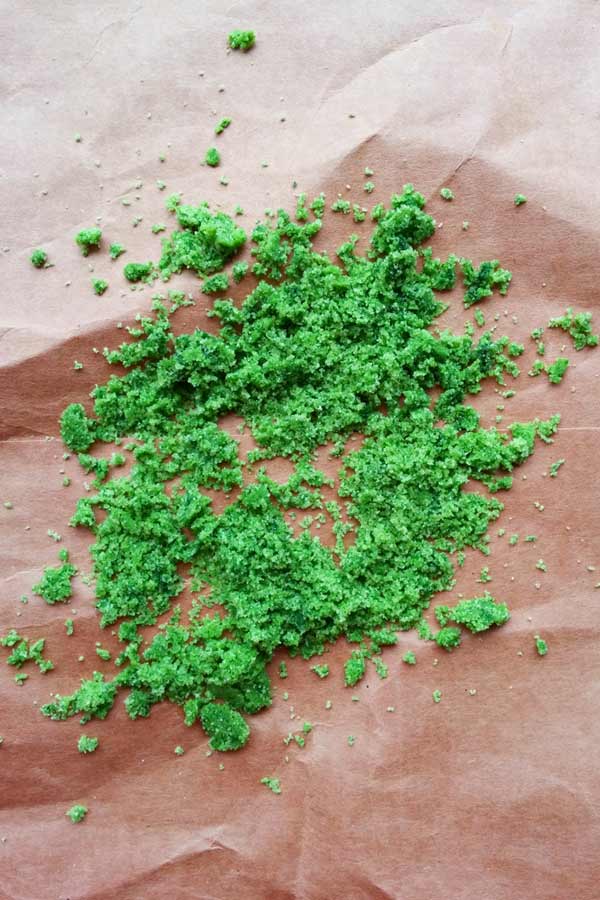 It's Friday today and this drink is perfect for relaxing with friends, family or simply good to be enjoyed alone while watching re runs of your favorite shows or reading a good book! My idea of perfect evening. So what are you waiting for?! Start making jalapeno vodka today so you can enjoy it on Saturday night, the more you let it sit, the stronger it gets!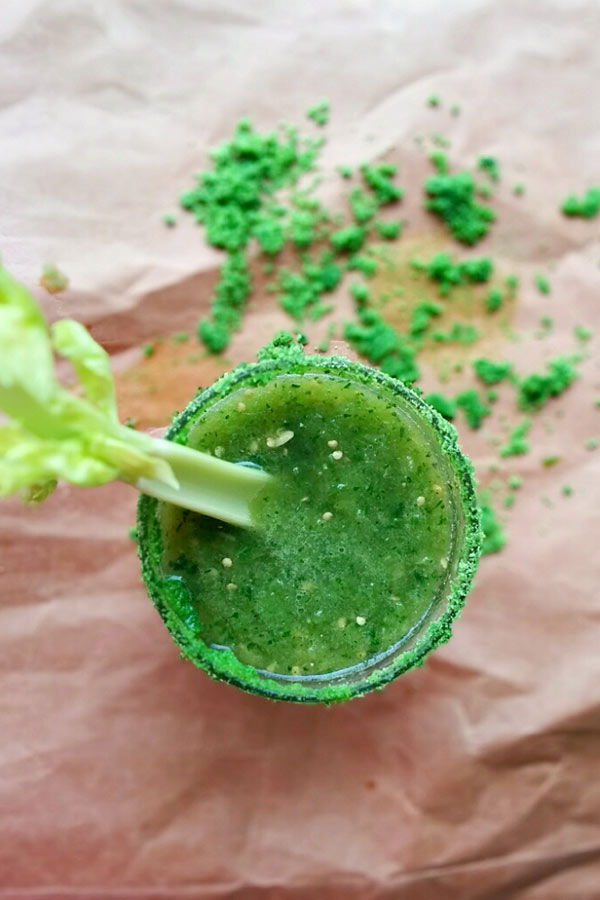 Do it, seriously! Who wants a regular Bloody Mary… Now a Bloody Mary Verde that sounds perfect!
Bloody Mary Verde
Tomatillo & jalapeno vodka Mary with cilantro salt is soon going to be your new favorite cocktail!
Ingredients
2 small-medium size tomatillos, husked, washed clean and chopped
1 small cucumber
½ serrano chili
3-4 sprigs of cilantro
½ tsp hot sauce
½ tsp worcestershire sauce (optional)
Salt to taste
Black pepper to taste
Juice of ½ lime
2-4 Tbsp jalapeno Vodka (recipe below)
Cilantro salt for glass rims (recipe below)
Instructions
Jalapeno Vodka
You can either buy ready made or if making your own, in an air tight jar, add ¼ cup good quality vodka and 1 jalapeno cut in half. Keep refrigerated for 2-3 days.
Use as needed.
Cilantro Salt
In a blender, add 2Tbsp chopped cilantro and 1 Tbsp salt. Blend until smooth.
Making the drink
In a blender, add all the ingredients except jalapeno vodka and cilantro salt. Blend until smooth. Taste and adjust if needed.
Put cilantro salt in a plate. Invert your glass and coat the rims with cilantro salt.
Add ice in glass. Add vodka and drink mix from blender.
More Alcoholic Drinks: