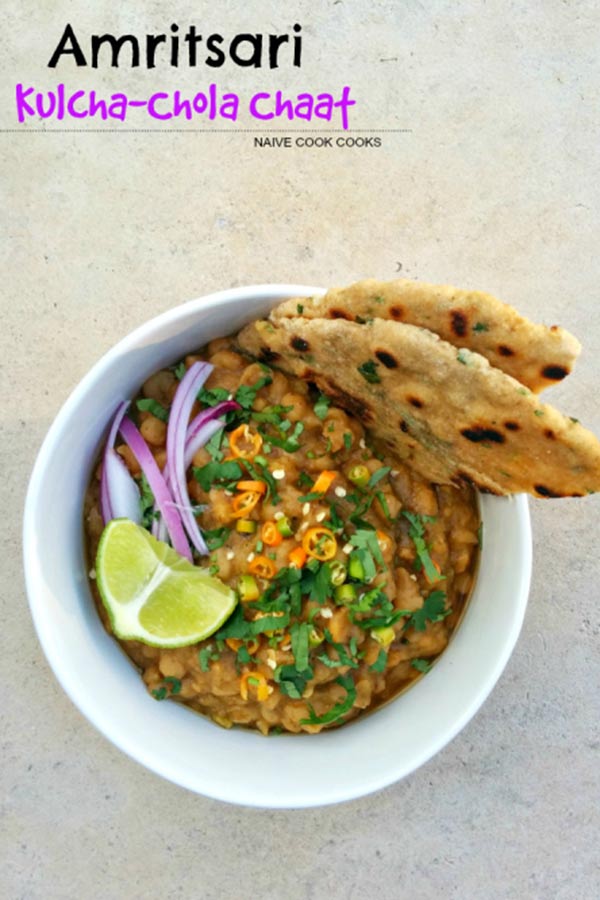 This meal.
Indian street food – that is not only super easy and quick to make but super healthy too! What else can you ask in a street food recipe?! Usually street foods are the best a country or place could offer, often having a significance of their own.
Amritsar is a city in North-Western part of India in a state called Punjab. Kulcha, a kind of indian flat bread originated from this city and hence the name Amritsari Kulcha. It is similar to naan, the only difference being baking powder & baking soda replace yeast in this recipe. Often cooked in a clay oven tandoor, at home it can be easily cooked on stove top. You will find street vendors selling freshly prepared kulchas served with spicy chola chaat. It is a complete meal in itself and super healthy too!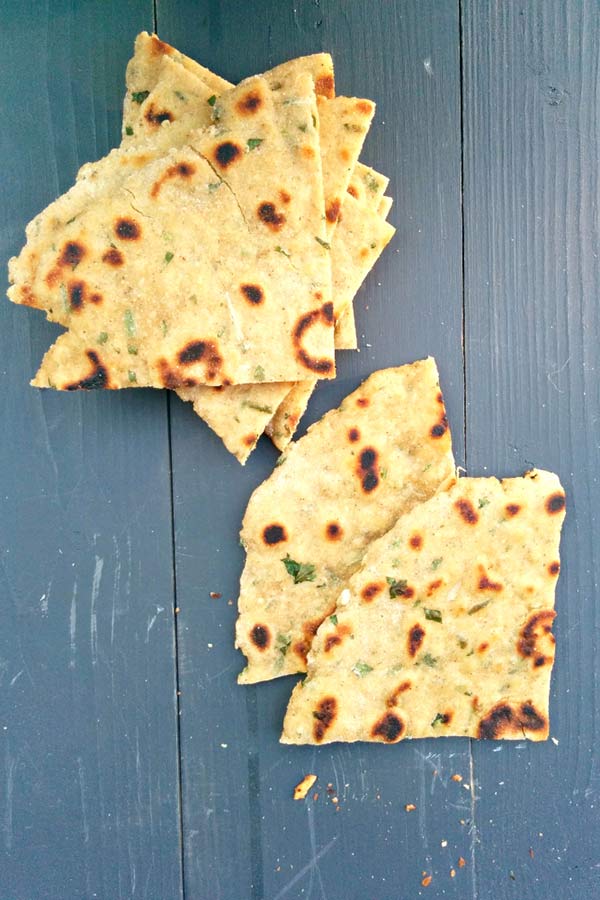 So it's Tuesday and I am sure you all are looking for new and easy dinner ideas. I suggest you make this! Seriously indian cooking at its easiest. And if you are a good planner ( which btw I am not!), I suggest you to soak these dried peas overnight. It is seriously a cake walk after this. For the chola recipe, it all takes place in a pressure cooker or a pot if you are using that.
You boil these peas and then dump all the spices right in the same pot and voila you have a delicious flavor packed meal ready in minutes. For the kulcha dough, we let it rise for an hour or two and then roll the dough and finish by cooking on stove top with some homemade ghee or butter.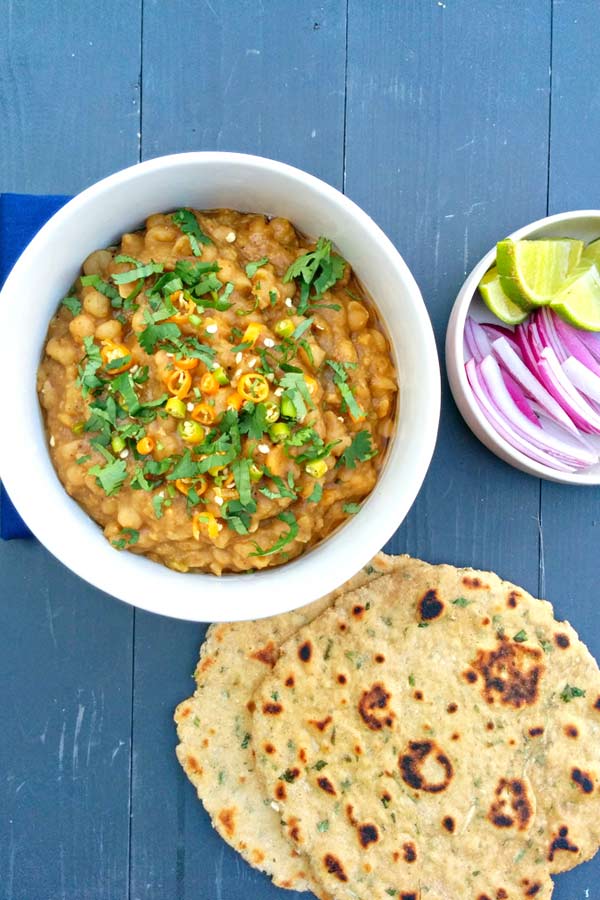 Don't you forget to serve with those tangy lemony red onions! What are you waiting for then??! Start making Amritsari kulcha-chola chaat it will be delicious.

Amritsari Chola Kulcha Chaat
Delicious & Healthy Indian Street Food! Super easy & quick to make!
Ingredients
Chola recipe
1 cup dried white peas ( you can easily find them in any indian store. They are also known as matar dried, matara or Vatana)
2 Tbsp fresh ginger, chopped
2 Tbsp fresh green chillies, chopped
Salt to taste
1 tsp tamarind paste
1-2 tsp sugar
1 tsp lime juice
½ tsp black pepper
1 Tbsp roasted coriander powder
1 Tbsp roasted cumin powder
Kulcha recipe
3 cups whole wheat flour
¾ tsp baking powder
¼ tsp baking soda
3 Tbsp garlic paste
1 Tbsp sugar
2 Tbsp olive oil
½ cup fat free yogurt
¼ cup chopped fresh cilantro
Salt to taste
Red onions
1 red onion, sliced in half moon shape
Salt to taste
Juice of ½ lime
Instructions
Chola recipe
Soak peas overnight (optional but preferred). Place the peas in a pressure cooking and add 2-2.5 cups water to it. Add 1tbsp chopped ginger, 1 Tbsp chopped green chili and salt to it. Cook it for around 12-15 minutes if peas were soaked overnight or you might need to pressure cook for 30 minutes or until cooked. Make sure it doesn't get dry. If you feel, after 15 minutes turn off the heat. Once the steam escapes, open the lid and add more water. Continue again until cooked.
To the cooked peas, add salt to taste, lime juice, tamarind paste, sugar, green chilies, ginger and black pepper. Taste and adjust seasoning,
Kulcha Recipe
Add all the dry ingredients in a bowl. To it add all the wet ingredients. Knead the dough in a floured surface until smooth. Cover and let it rest for an hour or more.
Break into small balls. Roll one ball at a time. Place a little oil on a hot skillet. Lay the rolled out kulcha and let it cook on medium-high for few minutes. Coat the top side with some oil and flip. Cook for another few minutes. Serve hot with chola and red onions.
Red Onions
In a bowl, add sliced red onions, juice of ½ a lime and salt.
More Indian Chaat Recipes: