Ripe Juicy summer fruits turned into fruit salad with lime pepper dressing! You won't be able to stop eating this!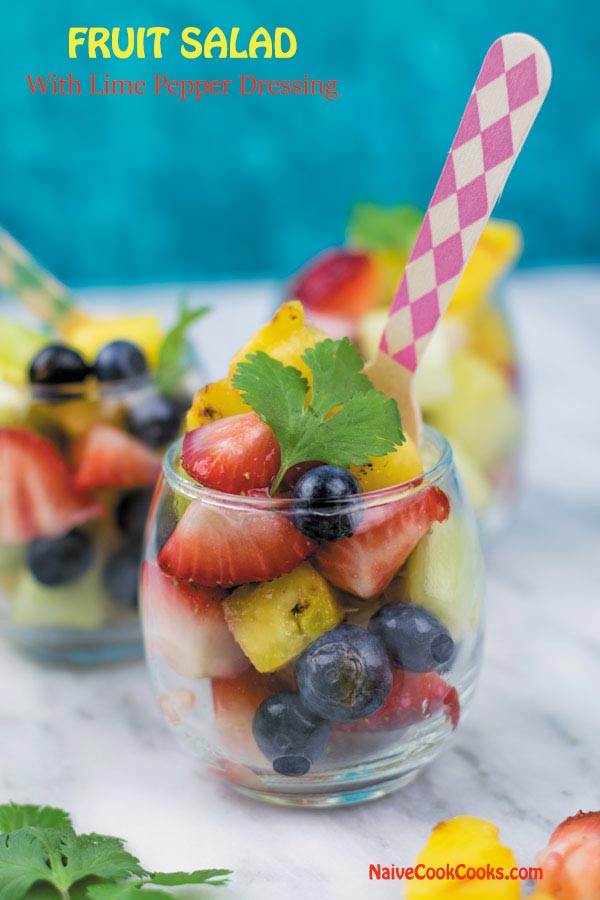 Hello From Los Angeles friends. Today is our last day here and we are going to drive to San Fransisco via the so called famous scenic route 1. On my facebook page I asked for suggestions and thanks to all of you for your wonderful food suggestions! We were able to try few different restaurants and food trucks!! I am always crazy about food trucks and when we saw bunch of them parked by Walt Disney we had to try them! And while we were waiting for our order to arrive, we saw Jay Leno walk by and order his usual! He seemed to be the most down to earth public figure ever!
Of all the food I tried my personal favorite was eating at Seco  and if you go there you must try their Kale Salad! The BEST. Finely chopped kale, cilantro, green onions and the most exotic sweet and salty dressing ever!
I still have to do a post on our 10 day Yellow Stone National Park & Mt.Rushmore trip and after that one on this current trip! I know I know it's been a week already since I promised but once I am back home, I will get to it! I promise! 🙂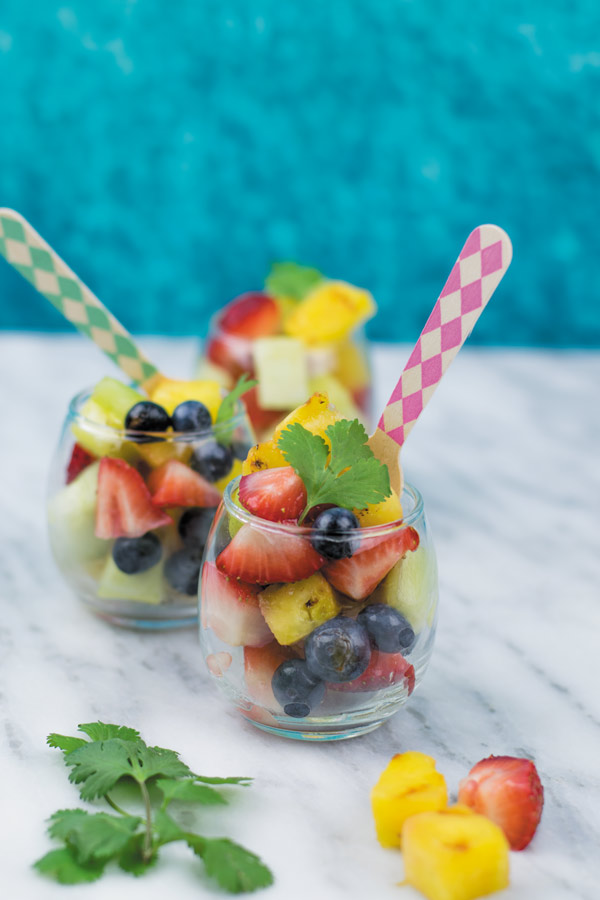 Now let's talk about this gorgeous summer salad which I was eating before we left for this trip! Summer fruits are usually what I like the best about summer and usually my lunches these days involve big bowls of my favorite fruits. This salad I just made one night when I had no intention of eating a proper dinner.Now I am lazy and I had no intention to make myself a proper dressing so I just added few things directly to the chopped fruits and it was the best Easiest fruit salad ever!!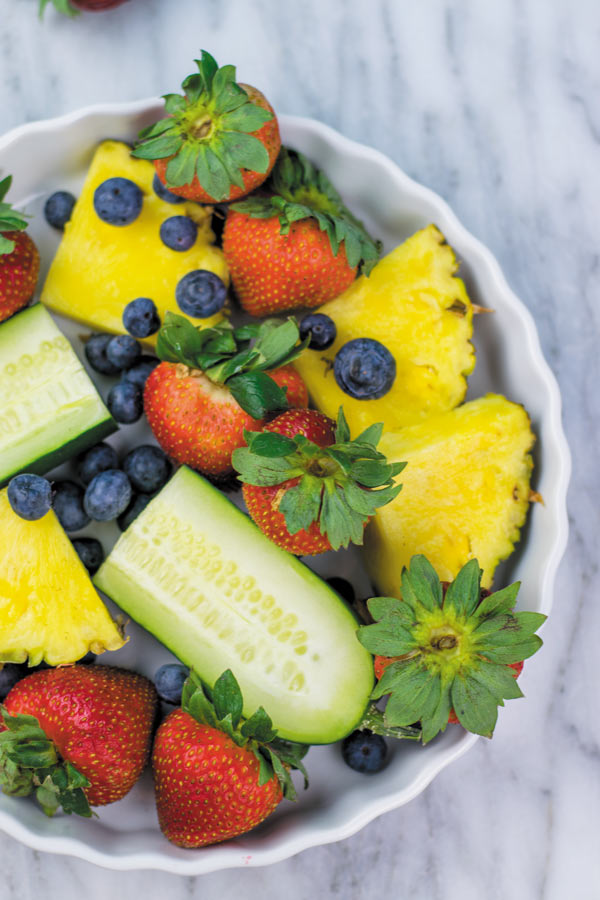 I like to grill pineapple with some butter as it increases the sweetness and makes it just perfectly soft to eat. Have you tried it? Try it as you won't go back to eating it any other way! So for this salad just take bunch of your favorite sweet fruits and chop them.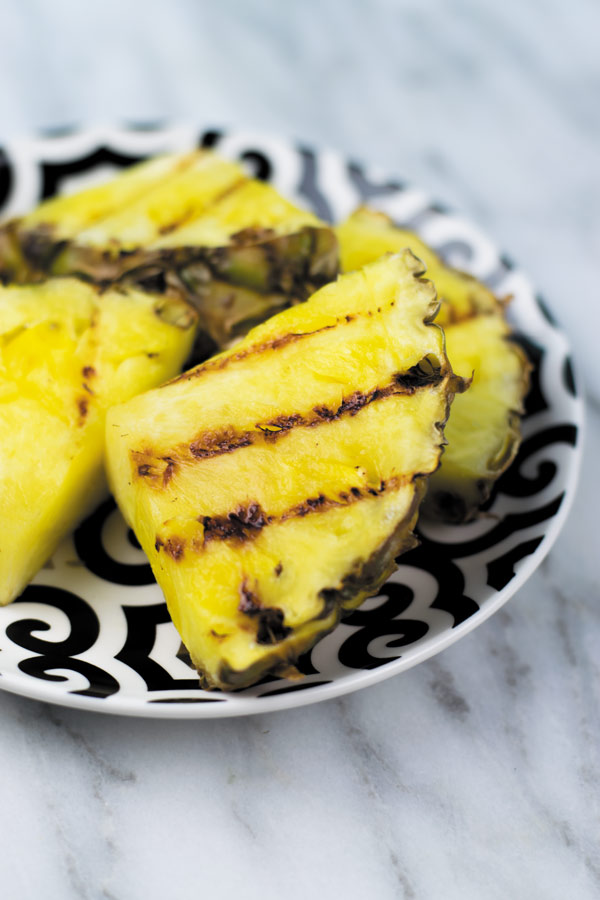 For this salad I took a grill pan and rubbed it with some butter. Then I laid pineapple pieces and cooked on both sides.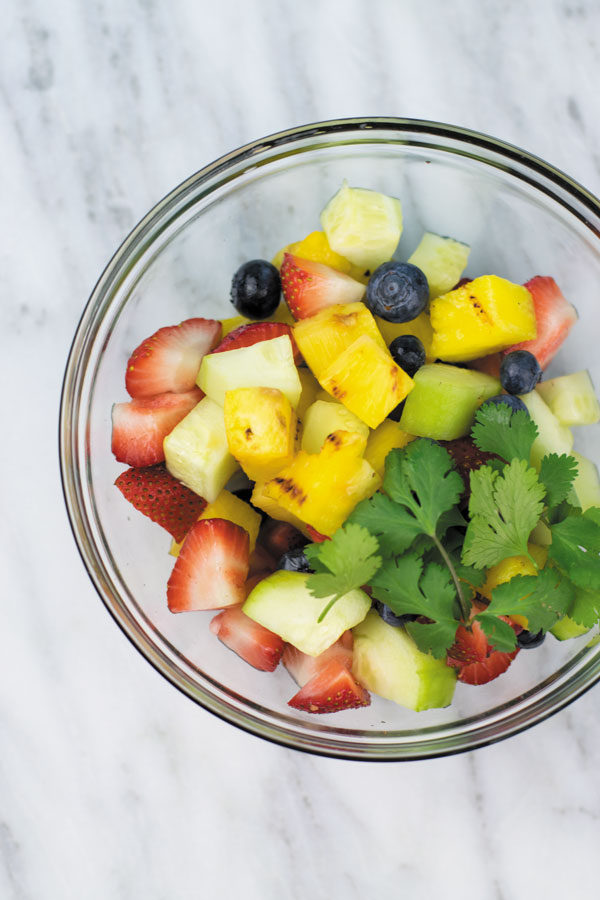 Then in a bowl add all the chopped fruit along with chopped grilled pineapple and throw in the ingredients for dressing. Stir everything gently and let it chill in fridge for 30 mins to an hour!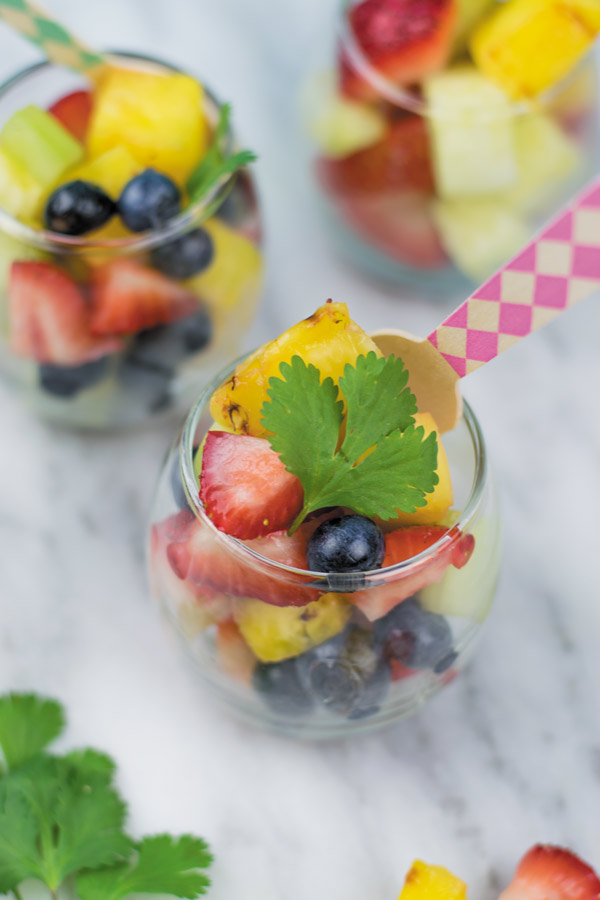 Serve ! It's perfect to serve for summer bbq's or even alongside a light summer dinner!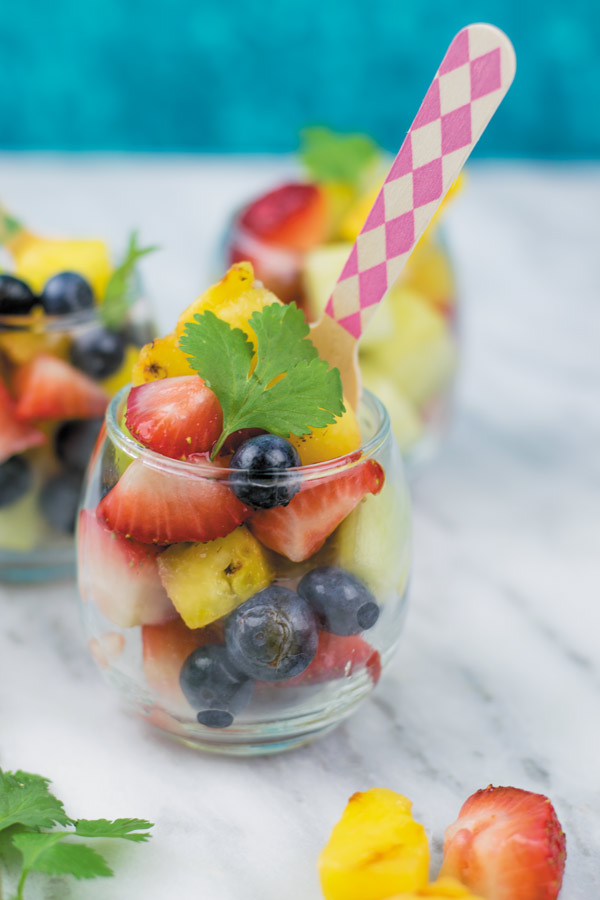 If you enjoyed this recipe, don't forget to FOLLOW me on  INSTAGRAM ||FACEBOOK||PINTEREST ||TWITTER ||GOOGLE+ || BLOGLOVIN || YouTube 
Fruit Salad With Lime Pepper Dressing
Ingredients
This salad is totally customizable, use whatever fresh fruits you have on hand.
4 large pineapple pieces
Handful blueberries
3-4 strawberries
½ large cucumber
1 tsp butter
Dressing:
1 tsp lime juice or more/less as per taste
Salt & black pepper to taste
Honey or maple syrup if you want some extra sweetness (optional)
Instructions
Heat your grill pan and apply butter. Place pineapple pieces on hot grill pan and cook for 4-5 minutes on each side or until they are nicely caramelized.
Pull them out on a plate and let them cool. Meanwhile chop cucumber, strawberries and place them in a bowl. Add blueberries and chop cooled pineapple. Mix.
In a bowl add lime juice, salt, black pepper & honey if using and mix. Add to the fruits and adjust as per taste and add whatever you need more.
Chill for 1-3 hours and chill.
 Some more SUMMER recipes ->>