Easy No bake Strawberry Jello Parfaits. 15 minutes total prep time and yet makes for an elegant dessert loved by almost all.
Talking about quick dessert ideas.
Only 6 days away from valentines day and still not sure what to make for your valentine. These jello parfaits are your answer. Jello is something loved by kids and elders alike and a fancy jello dessert – a win win for everyone! This is one of the most simple desserts I know so far. No baking, no cooking, all you need is one pot and a stirrer. Just stir together the ingredients and you have a wonderful dessert that can pass in for any occasion – be it your summer potlucks, valentines day (as just look at the gorgeous color!), add in one layer of blueberry or grape jello and you have these ready for 4th of july.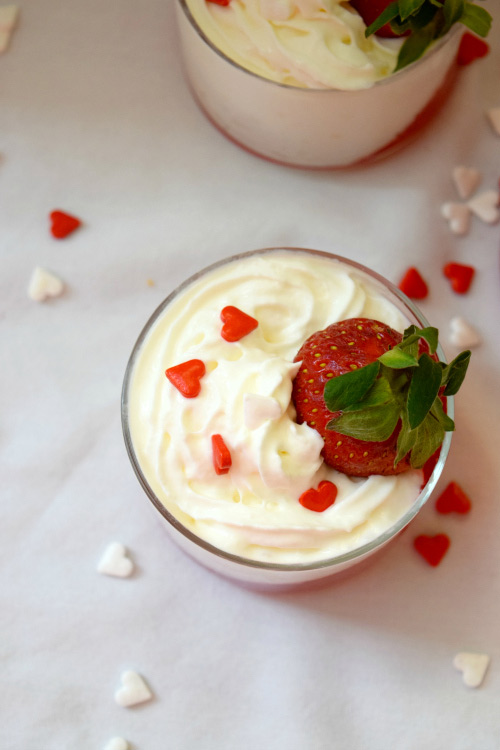 I am myself not much into jello or for that matter, stuff that has jelly kind of consistency. On the other hand, Jerry is big on these. After making these , you might end up with some extra jello. You can discard it or do as I did. I filled them up in my heart shaped cookie pan and I had some cute heart shaped jellos for snacking.
I love the convenience of no bake desserts. As much as I love cooking and baking, sometimes when running short on time, enjoy the luxury of being able to make something even though being tight on time. These are just that sort of dessert. And if you are still not sure how will you like these, just think about strawberries and whipped cream. Yes, everyone's favorite way to eat those juicy strawberries.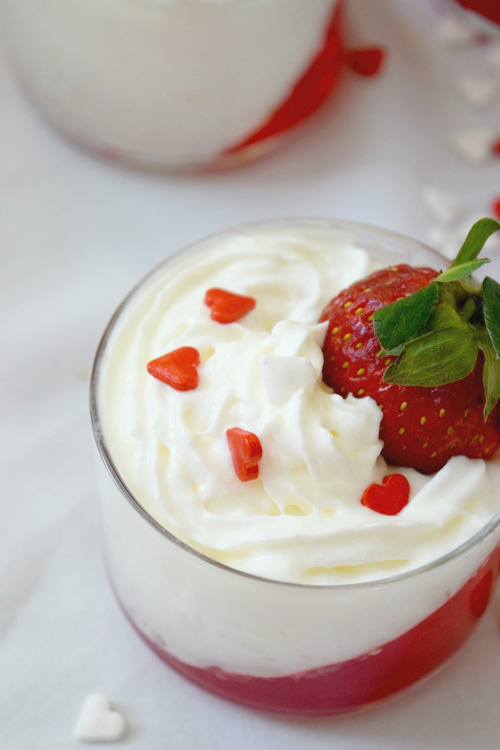 All over the internet it's just valentines day treats, meal ideas, snack, appetizers and I won't lie if I say that I am finding myself getting a bit sick from all of this. I mean it's fun and all but please, bring on the normal food! #tiredofvalentinesday Are you with me or are you still enjoying the fun?!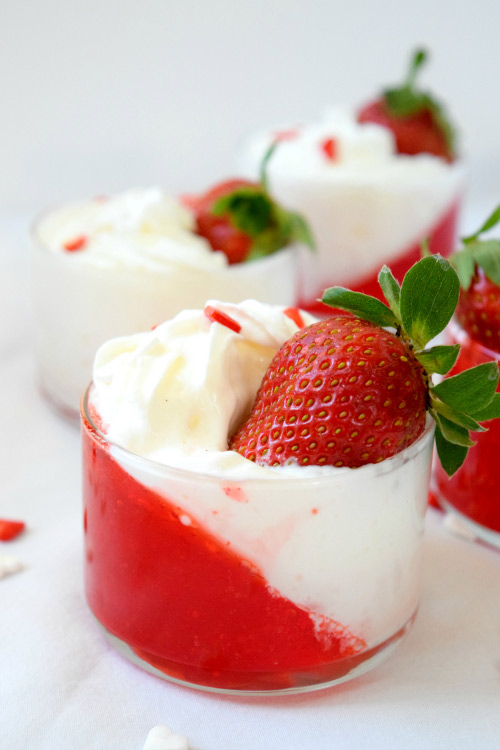 But seriously You should be making these, RIGHT NOW!
Easy No bake Strawberry Jello Parfaits
Easy No bake strawbeery jello parfait is the perfect no cook dessert to please your valentine!
Author:
How to Make Oven Baked Fries
Ingredients
1 pack jello, strawberry flavored, gelatin dessert
1 cup boiling hot water
2 cups ice cubes
Whipped cream
Fresh strawberries
Instructions
In a bowl, add contents of the packet of jello. To it add boiling hot water and stir until dissolved. To it add ice cubes, and continue to stir until it starts to thicken a bit. Discard the unmelted ice cubes.
If you are going for making them as shown in picture above, take small shot glasses or dessert glasses ( the simpler the shape, the better) and tilt them in your muffin cups.Fill them upto the brim. Carefully transfer the muffin tray to refrigerator and chill (around 2-4 hours). Now once chilled, make them stand straight. You will see that jelly has set so it will stay in it's place. Just before serving, fill the half empty side with whipped cream and top it off with fresh strawberries.
Notes
If you want you can just layer them horizontal in glasses instead of going like these. You can use any flavor jello you want. Go crazy with the amount of layers you want.
More Dessert Recipes: