Make your favorite restaurant style Peach Iced Tea at home with just 4 Ingredients! So satisfying in hot weather.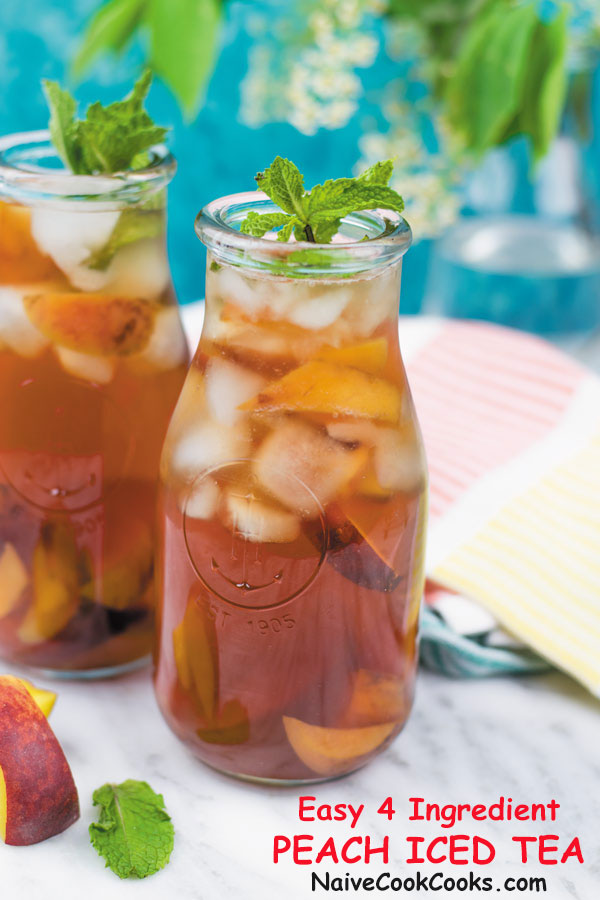 I got you perfect hot weather treat today. And you don't even need tons of ingredients to make this ridiculously easy & delicious Peach Iced Tea at home. Come summers and I need something to sip on almost every other hour. Even though my beverage of choice stays hot coffee (yes my coffee love has no limits :P) but there are days when it's so hot that all I crave is some iced drinks. I try to avoid sugar packed fruit drinks from store so lately I have been making my own iced tea recipes. I have been playing around with whatever fruit I have on hand such as last week I made pineapple iced tea before that it was this peach iced tea and now soon it's going to be mango iced tea! But THIS Peach Iced Tea is my all time favorite!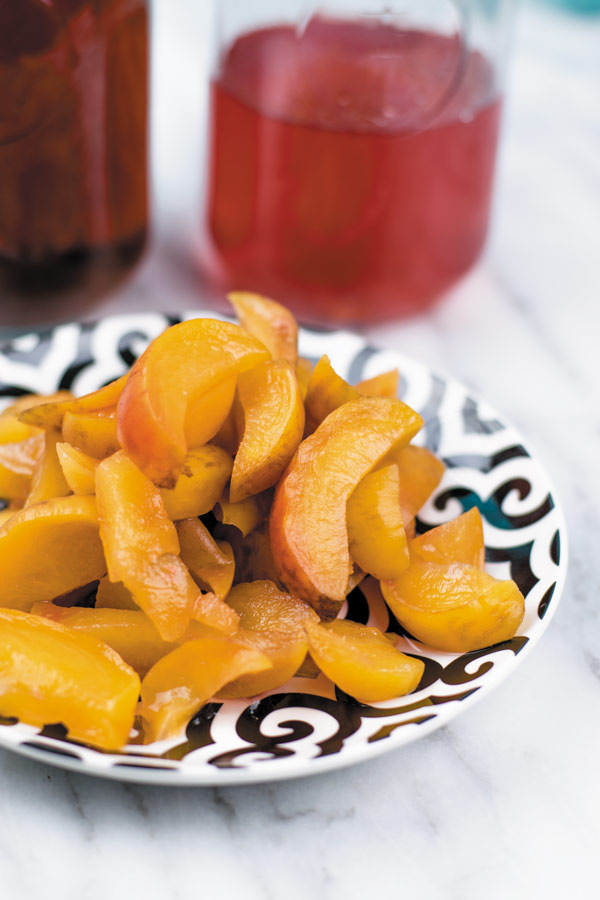 The process to make this tea is really simple. You first add chopped peaches, water and sugar in a pot and bring it to a boil. Then let it simmer for 20-25 minutes. After that take it off heat and cover so the flavor gets more intense. Then you can either blend the peaches with the sugared water syrup if you want or do as I did, take out the peaches and then use them when serving.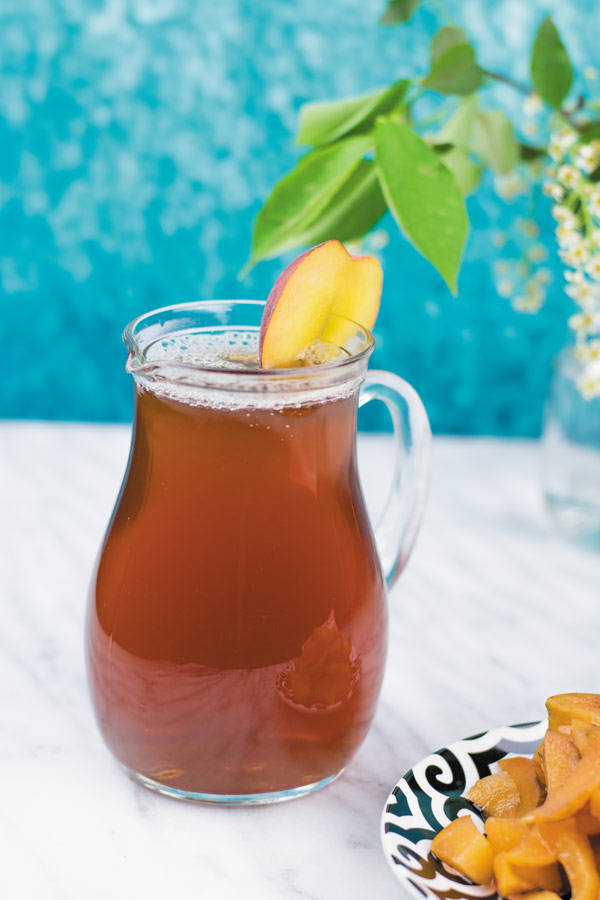 Keep this concentrated peach syrup on the side. Now in another jug fill up hot water and add few black tea bags. And let it sit for 15-20 minutes. Then remove the tea bags and mix both iced tea and peach syrup together and chill for good few hours until thoroughly chilled. Serve over lots of ice and add some of those softened peaches!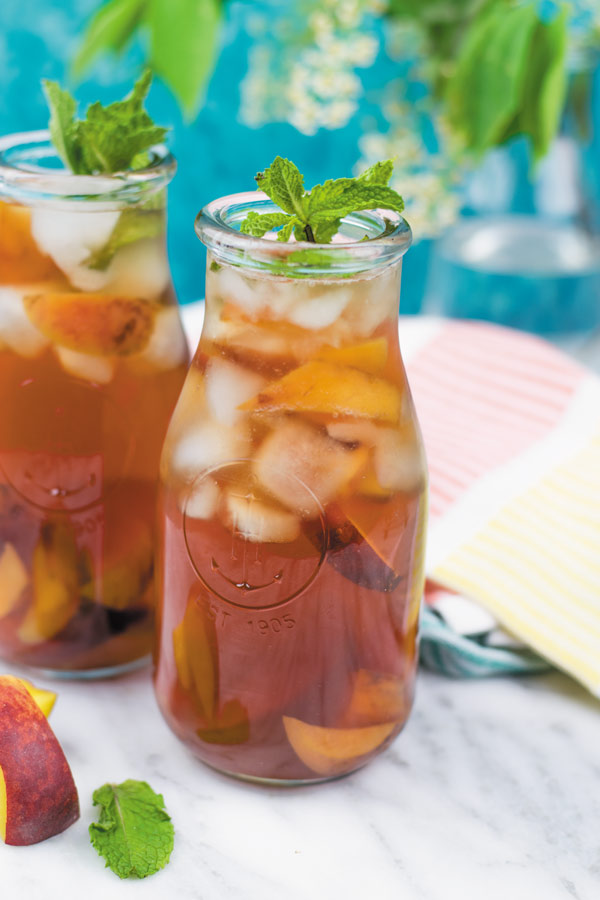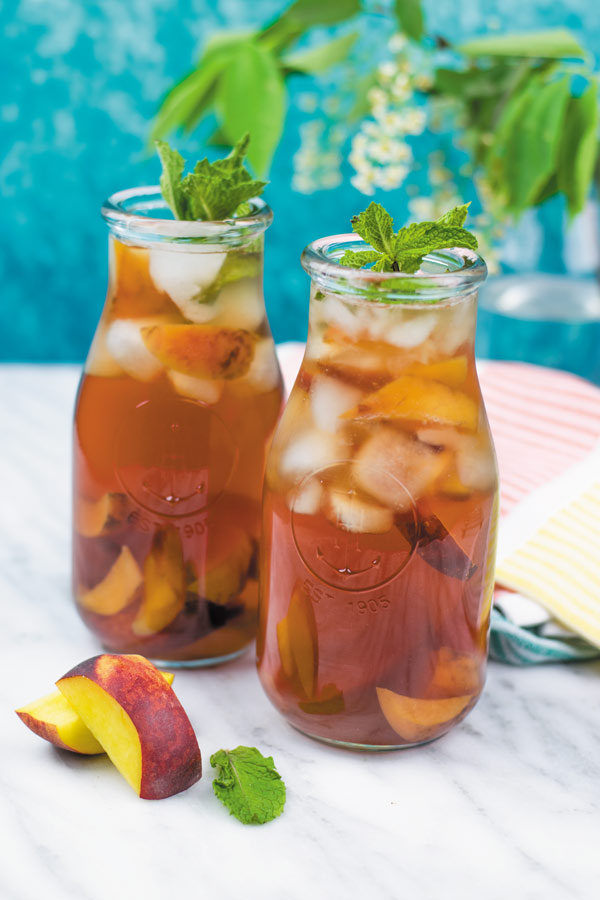 If you enjoyed this recipe, don't forget to FOLLOW me on  INSTAGRAM ||FACEBOOK||PINTEREST ||TWITTER ||GOOGLE+ || BLOGLOVIN || YouTube 
Easy 4 Ingredient Peach Iced Tea
Ingredients
Peach syrup :
2 peaches
½ cup sugar (This makes moderately sweet tea but if you want more sweet, you can add increase sugar to ¾ cup)
1 cup water
Black tea :
2 cups hot water
3 black tea bags (Add more tea bags if you want more tea intense flavor!)
Instructions
In a pot, add chopped peaches, water and sugar. Bring it to a boil and let it simmer for 20-25 minutes. Take it off heat and cover and let it sit covered for 20 mins.
Meanwhile boil 2 cups water. In a pot add 2 cups hot water and 3 black tea bags. Let it steep for 15-20 minutes but not too much or it will taste bitter.
Now either you can blend the peaches with the sugar syrup. If you are planning on blending then blend it and after blending pass it through a sieve.
If not then just take out the peaches from sugar syrup.
Also remove tea bags.
Now in a jug mix peach infused sugar syrup and black tea. Stir and chill it covered in fridge for good 4-6 hours.
Serve with lots of ice and add few pieces of preserved peaches.
 Some more summer drinks ->>
https://www.naivecookcooks.com/bloody-mary-verde/