Baked Caprese Chicken dinner in just 30 mins from oven to table! This makes for a protein rich meal that is also lip smacking delicious!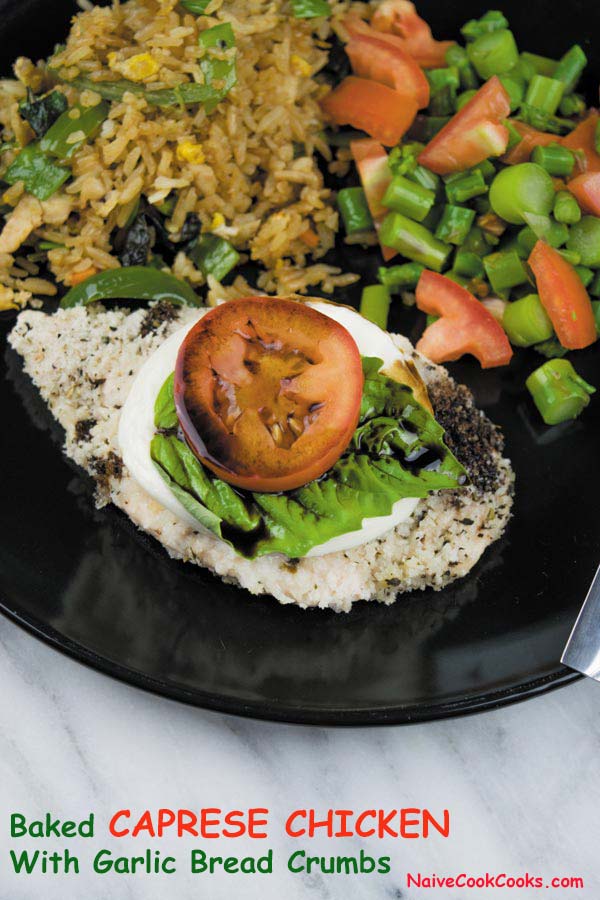 Hump day and that's when I pull out my simplest recipes! Recipes where all it takes is 30 mins from start to finish, recipes which are still healthy and most importantly taste delicious. I love garlic in almost everything so it was destined to be here too. I made some garlic oil and rubbed it on the chicken breast. Then I dipped chicken breast with panko bread crumbs and then baked until cooked. Then cooked crispy chicken breasts were topped with a thick slice of mozzarella, fresh tomato, basil and balsamic glaze.This chicken caprese friends is delicious on it's own or served with a big salad!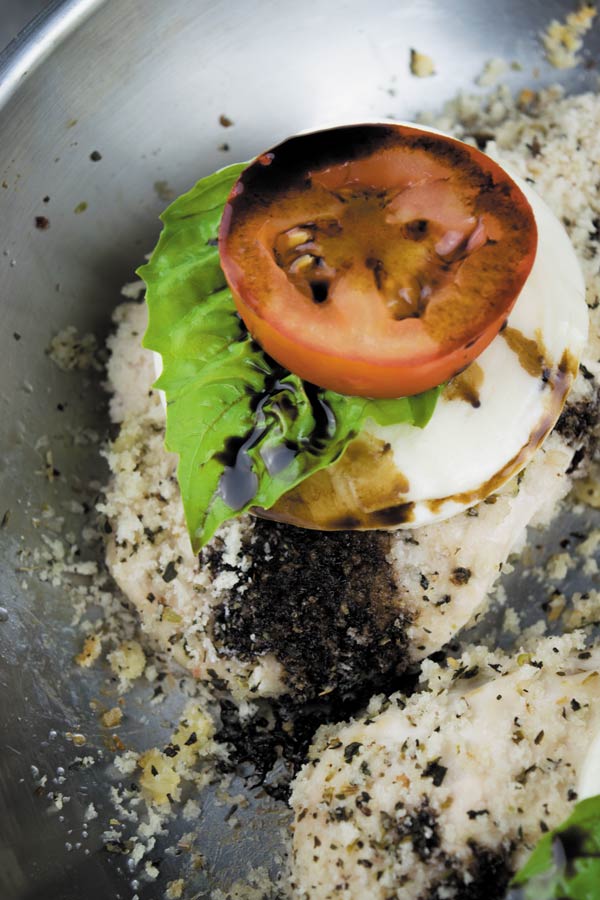 This meal guys – even you non cooks out there, you can even make this for a quick dinner! So skip take out & make a simple nourishing & super delicious meal at home! This meal I served with asparagus & tomato salad from Cooking classy and some rice 🙂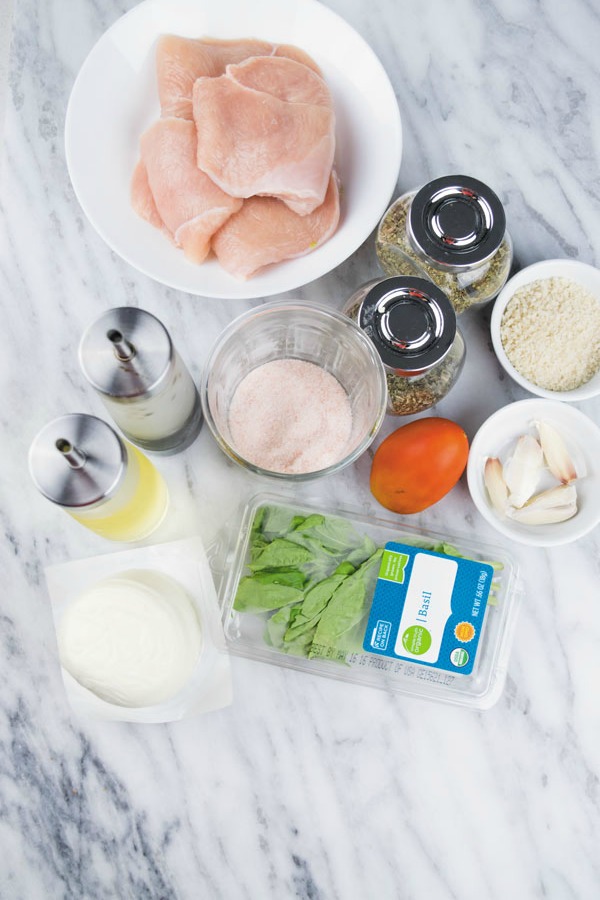 Just basic ingredient -> chicken breasts, panko crumbs, salt, oregano, basil, salt, black pepper, garlic, oil, balsamic vinegar, sugar, tomato, mozzarella and basil.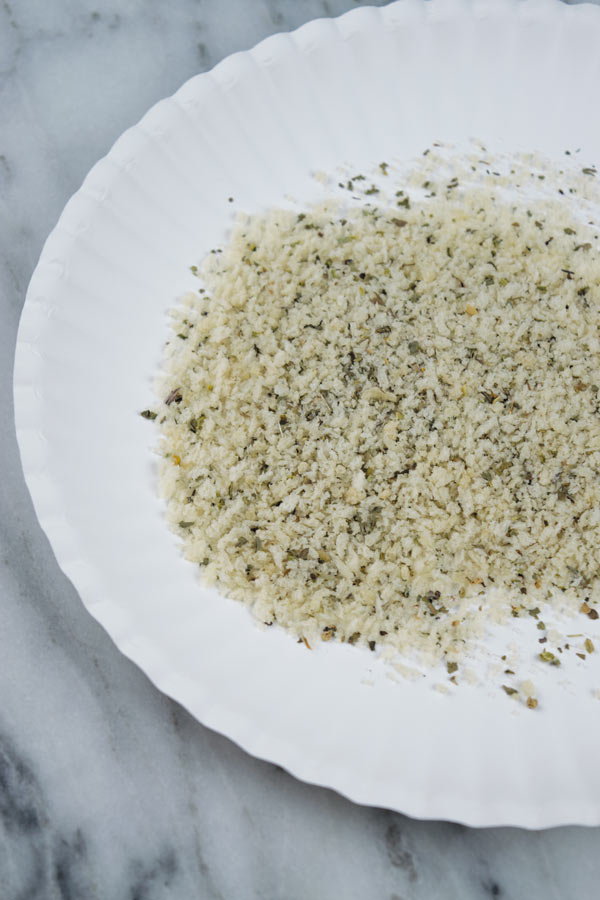 Mix panko crumbs with salt, pepper, oregano and basil and make sure to taste test. While also saute chopped/minced garlic in oil.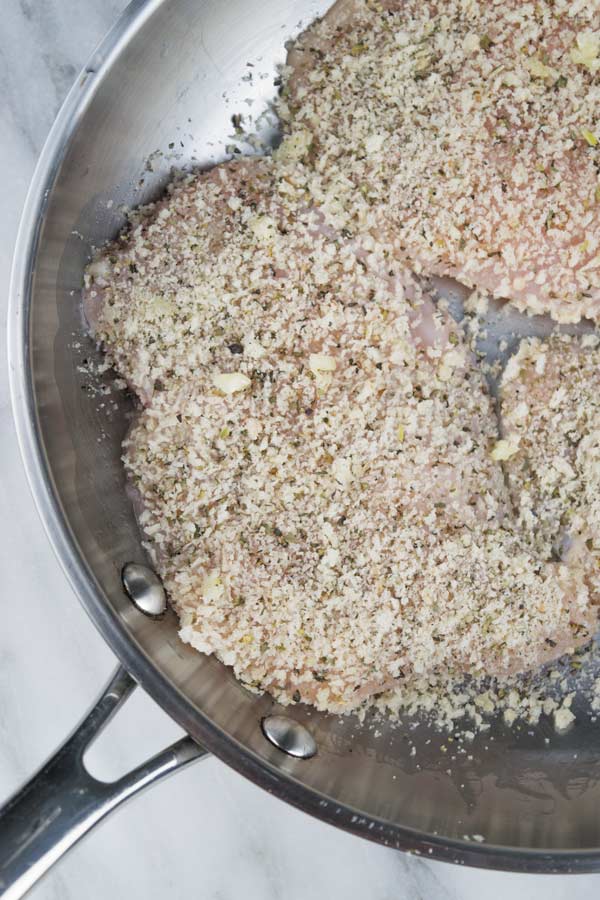 Brush that garlic oil on both the sides of chicken breasts. Make sure to cut chicken breasts in half. Then coat them in seasoned crumbs and place them on an hot oiled oven safe skillet. Cook for 2 mins on both sides on skillet on gas and then place the whole skillet in a pre heated 350F oven for 16-20 minutes or until chicken is fully cooked through.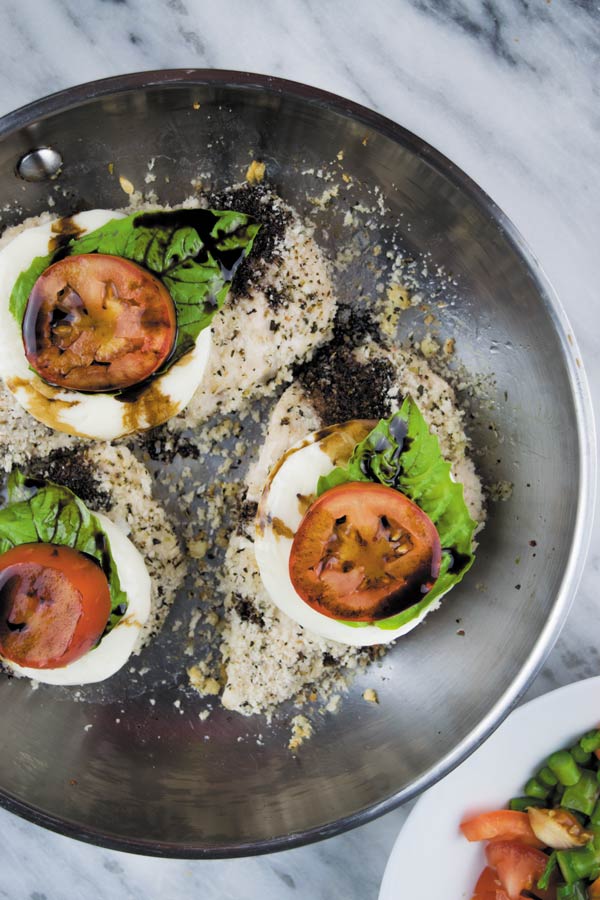 Place a thick slice of mozzarella on each baked chicken and return to oven for another 3-5 minutes. Serve while still hot by placing tomato slice and basil and drizzling generously with balsamic glaze. There you have your delicious chicken caprese ready 🙂
If you enjoyed this recipe, don't forget to FOLLOW me on  INSTAGRAM ||FACEBOOK||PINTEREST ||TWITTER ||GOOGLE+ || BLOGLOVIN || YouTube 
Baked Caprese Chicken With Garlic Bread Crumbs
Serves:
4 chicken breasts
Ingredients
2 chicken breasts (each breast sliced in half and cleaned)
½ cup panko bread crumbs
4 garlic cloves, minced or chopped fine
2 tbsp oil
Salt to taste
½ tsp basil
½ tsp oregano
Black pepper to taste
4 Thick slices of mozzarella
4 thick slices of tomato
Basil leaves
Few tsps of oil for coating skillet
Balsamic glaze:
½ cup balsamic vinegar
3 Tbsp brown sugar
Instructions
Clean chicken and cut each breast into 2 halves. Keep it aside.
In a pot heat oil and to it add garlic. Saute until fragrant & golden.
Meanwhile preheat oven to 350 F and in another pot add balsamic glaze and sugar and reduce it to almost half.
Brush this garlic oil on both sides on chicken breasts. Place seasoned panko crumbs in a plate and coat one side of chicken generously.
*If you want to coat both sides with panko crumbs them double the recipe for seasoned panko crumbs!
Place them on a hot oiled oven safe skillet and cook on each side for 2 minutes on the gas. Then transfer the whole thing to oven and cook for 16-20 minutes flipping midway until chicken is fully cooked through.
At about 15 minutes place thick slices of mozzarella on each chicken and return to oven to cook until chicken finishes cooking that is 4-6 minutes more.
Serve with a thick slice of tomato, fresh basil leaf and lots of balsamic glaze!
Some more delicious easy DINNERS ->>