A simple homemade Avocado Face Mask made using ingredients you already have on hand! Way cheaper & more effective than store bought face treatments!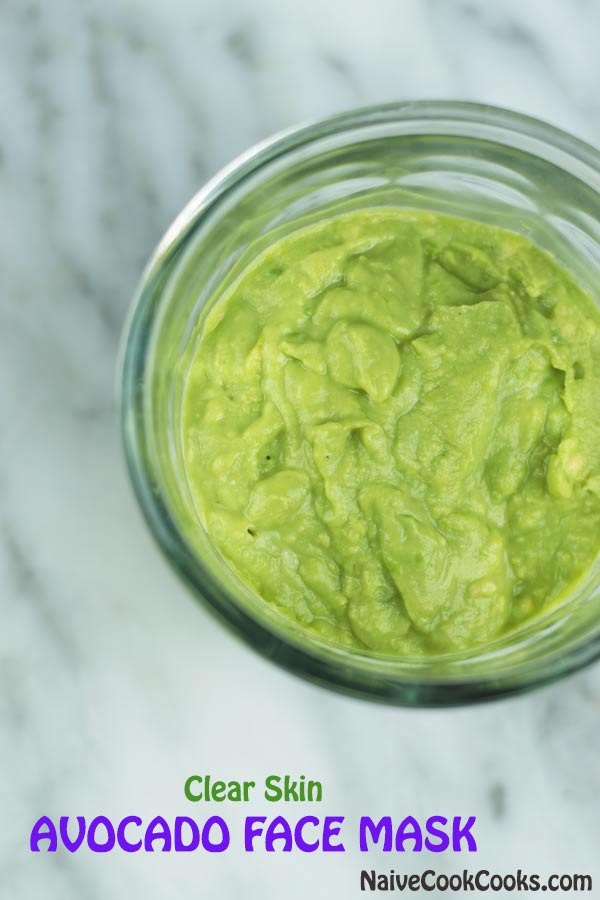 Today instead of doing recipes or how to's , I decided to share something I have been making quite a lot and it's food based but you don't eat it! Instead it's for your face and believe me this avocado face mask recipe, it does wonders for your face. Since I cook a lot there are days I end up getting heat rashes on my skin. Few months back I learnt this from my mother &  I have been making it quite often these days 🙂
It's just basic ingredients you can easily find in your kitchen – avocado, lemon juice, yogurt and turmeric. Each ingredient has it's own benefits and together it makes one power-pack. No more spending tons of money on those beauty products friends!
Avocado has tons of benefits such as – helps reduce/prevent wrinkles, give a natural glow and days when I feel my skin is looking way too tired because of stress or over work, I simply make this and apply it and voila my face feels so much fresher.
Yogurt reduces dark spots while also nourishes skin. Some days when in rush I like to apply cold yogurt on my face. Yogurt is also great for summer as it helps in healing sun burns. Have you tried applying cold yogurt on your face?!
Lime juice helps as a skin lightening agent and since it's little harsh on skin, start by adding little and making sure if your skin can handle it or not.
Pinch of turmeric is great as turmeric has antiseptic properties. This pack is actually totally customizable – add or substract any ingredients which don't suit your skin. I have sometimes also added vitamin E oil  and extra virgin olive oil in it. Usually it depends on what I have on hand but usually these 4 ingredients are almost always present so they make a base which some days I add stuff to and somedays I use as is!
We are going on a 10 day road trip to Yellow Stone National Park and nearby areas starting today so don't forget to follow me on Facebook, I will be sharing pictures!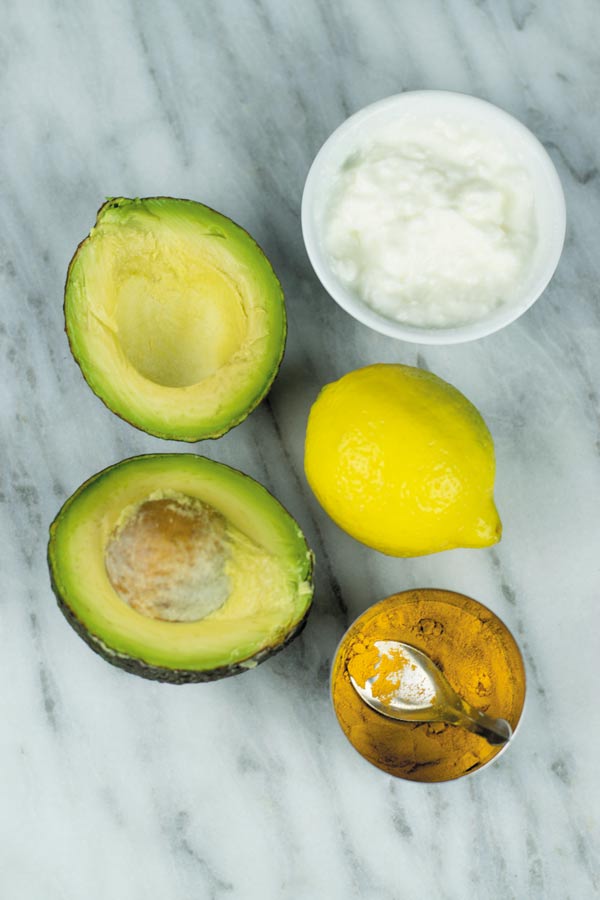 So gather your ingredients.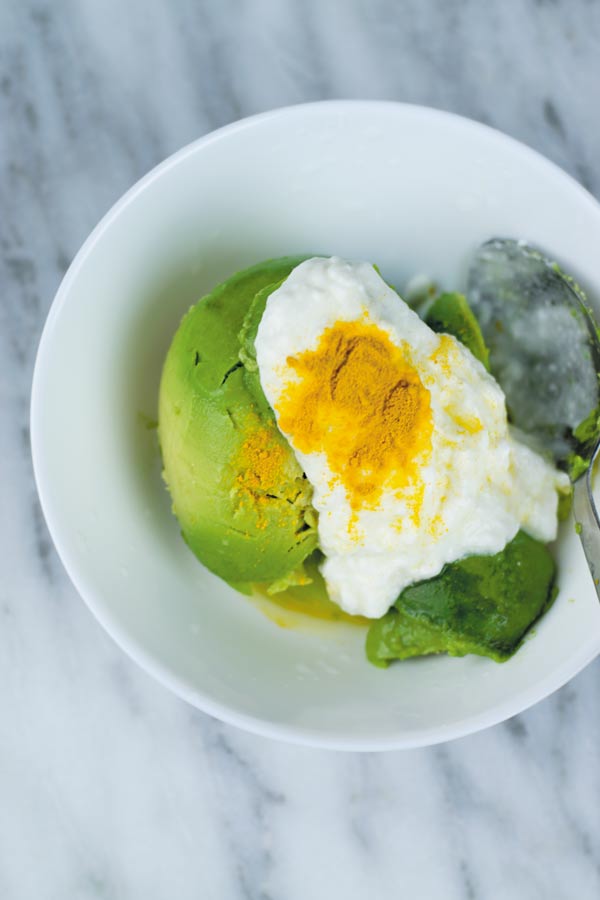 Add them to a bowl and using a fork mash the avocados. Mix everything until evenly mixed.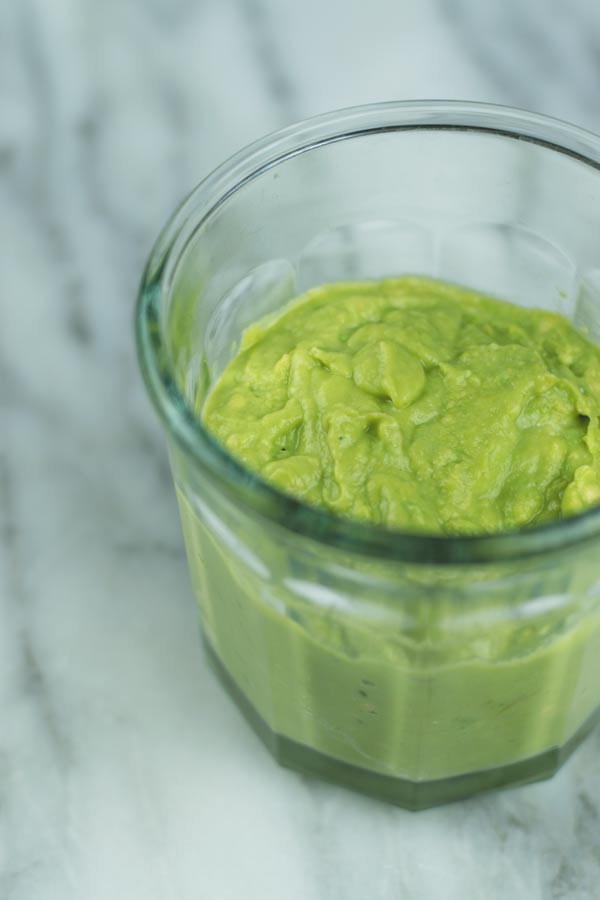 After you fill up the mask in a jar, squeeze some more lemon juice on top which will form a thin layer and prevent from over browning. Make sure the jar is airtight.
If you see the top of the mask starting to brown, don't worry just remove a thin layer and keep using! Usually this amount lasts me for 5-6 times so good enough for a week. If you want to make just the amount to use instantly use just 2 tbsp of avocado pulp and proceed.
NOTE -> Make sure before using this mask if you are sensitive to any of the ingredients used to make this mask.
If you enjoyed this recipe, don't forget to FOLLOW me on  INSTAGRAM ||FACEBOOK||PINTEREST ||TWITTER ||GOOGLE+ || BLOGLOVIN || YouTube 
Avocado Face Mask
Ingredients
1 ripe avocado, seed removed.
3-4 tbsp cold yogurt
2 tbsp lemon juice
Pinch of turmeric
Instructions
Mix all the ingredients in a bowl and using a fork make it into a smooth paste.
Apply a thick layer on face and leave it for good 30 minutes. Rinse gently with warm water and then cold water. Pat face dry with a clean towel.
Store extra face mask in an air tight container and squeeze some more lemon juice to make a thin film on top of pack which helps in preventing it from over browning.
 Some AVOCADO based recipes ->>