Fresh Basil Pesto coated chicken, crunchy crackers & tomato-onion salsa make for a quick & easy party appetizer!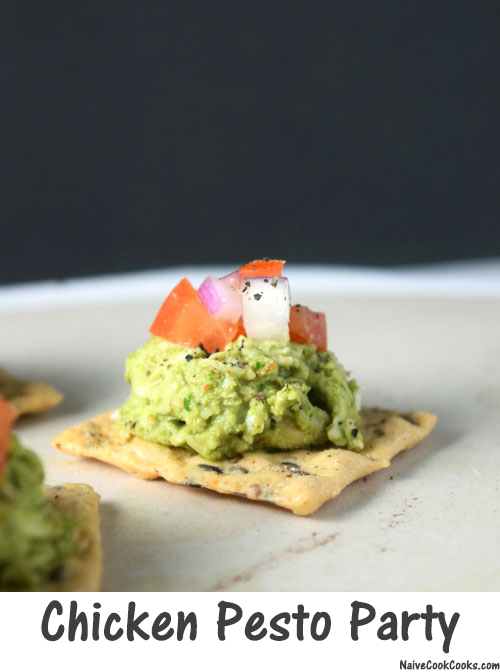 Remember last time when I talked about Nut Thins? Yes here they are! I have earlier created a recipe using the basic version of Nut crackers provided by Blue Diamond and they were a hit! This time I was able to try two new flavors which they launched recently: Flax Seed Artisan Nut Thins & Multi Seed Artisan Nut Thins and I must say they are are really good. I might be biased because I find these even better than the last ones. I made Jerry try these and he is in love with them! That's a surprise since he rejected the basic nut crackers earlier saying they taste way too healthy for his taste! Lol! But now he can eat a bunch of these and since these are so healthy, you don't feel guilty. We have been munching on these as our late night snack along with some extra sharp cheddar. So. Good!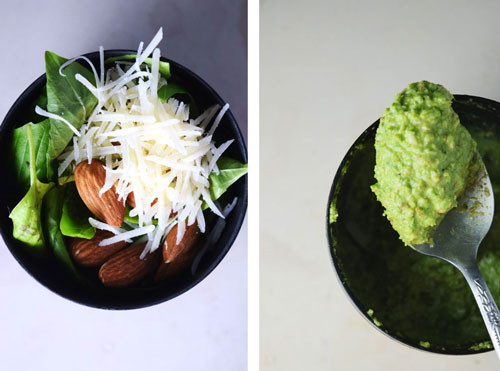 Since weather is so hot, we all want to entertain with minimum efforts & these CHICKEN PESTO PARTY BITES fit the bill perfectly! They are everything an easy appetizer should be. You make your pesto, shred the chicken and chop tomatoes & onions way ahead of time and just about serving time, you assemble. See told you, that they are really easy!
You can add some shredded mozzarella if you want but I like to keep them on the lighter side. Their is so much flavor from the pesto and then fresh salsa makes every bite juicy, bursting with fresh summer flavors! Remember to serve them with chilled beer.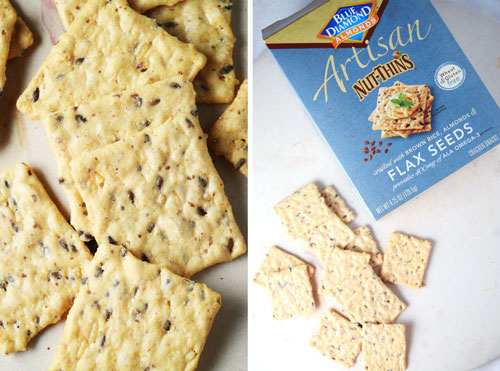 Have you been wondering too how we got only 4 months to Christmas? I feel it's crazy scary! I mean I am looking forward to weather getting cold n all but Christmas already?! Where did summer go?I mean it just came and we are already halfway. Few days back I received an email from some store telling about their Christmas shopping! Who plans Christmas in August??! And that resulted in me wasting 30 mins on YouTube watching Christmas recipes!
And that makes me realize that these party bites will rock your Christmas dinner (I know I sound like a broken record but just look at the colors and well it doesn't hurt planning a little(!!!!) bit in advance, right?)
Follow along for a lot more delicious treats and life happenings on INSTAGRAM || FACEBOOK ||PINTEREST ||TWITTER ||GOOGLE+

Chicken Pesto Party Bites
Ingredients
Almond Basil Pesto
2 cup loosely packed fresh basil leaves
2-3 garlic clove
1-2 tbsp olive oil
⅓ cup almonds
Salt & Black Pepper to taste
½ cup shredded parmesan cheese
Few drops of lime juice
Few tbsps water to thin it out
Assembly
10-15 Flaxseed artisan Nut Thins (These are by Blue Diamond but if you can't find them, use any cracker of your choice)
Pesto (recipe above)
½ cup shredded chicken
1 tomato, chopped finely
¼ red onion, chopped finely
Salt & Black Pepper to taste
Juice of ½ a lime
Instructions
Almond Basil Pesto
Add all the ingredients of pesto in a blender except water and blend until smooth. Taste and add few drops of water at a time to get the desired consistency.
In a bowl, add chopped tomato & onion. To it add salt, black pepper & lime juice to taste and mix.
Assemble by laying the crackers on a plate. In another bowl, mix shredded chicken with pesto. Place a tbsp of pesto chicken mix on each cracker and top them with onion-tomato mix. Serve immediately.
Notes
For shredding chicken at home, simply add chicken pieces in a pot and fill it with water. Bring it to a boil and let it simmer for good 10-12 mins or until chicken turns white and on poking there is no redness. Once cool, you can store shredded chicken in ziplock in freezer.
More recipe ideas: