Creamy cream cheese mixed with fresh tomatoes, celery & onions makes for a perfect spread when eaten over your favorite crackers! Super easy party appetizer!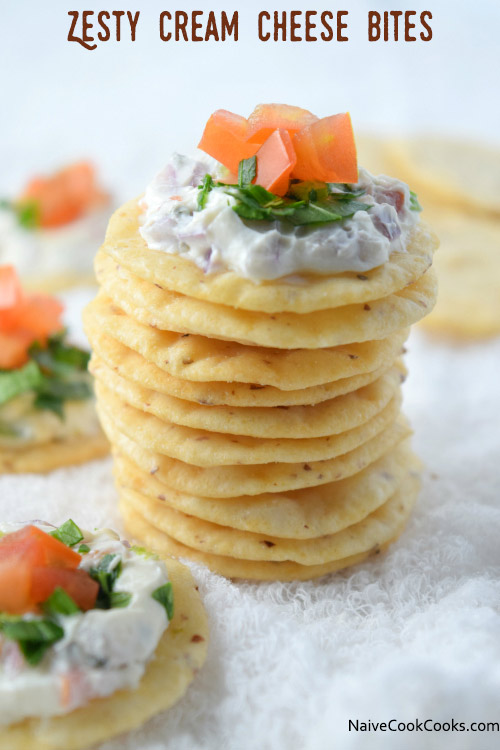 It's *almost*Friday friends. One more day and weekend will be here. Yesterday I seriously felt the wrath of wednesday and understood why it's in true sense a hump day. I was so tired and all I wanted was this week to end so I can sleep countless hours and be as lazy as possible. Well with that possibility still far away, I decided to make it feel like weekend by eating a dinner of cheese & crackers and wine. Yes that's totally acceptable if you are a grown up!
Recently Blue diamond sent me some samples of their new Nut Thin crackers. I have always loved their almonds especially  salt & vinegar flavored and I can finish a box in one sitting. Now these crackers are my new favorite snack. But let me be honest : The first time I tried them I wasn't impressed at all. They felt way too healthy but then I tried them again the next day and I was all over them.I have no clue what changed but I am going to stock up on these. I finished half a box last night . I am now in love with these crackers. Usually I am not much of a cracker person but these have changed me forever. I prefer them plain most of the time but to make it fancy, I do like this cream cheese spread.
And the best part : These are wheat & gluten free!! Made with real ingredients, you will be totally eating them without any guilt.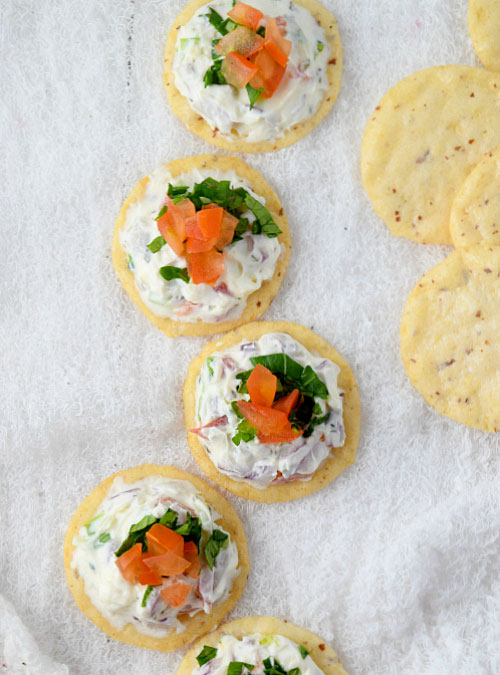 This coming week we will be in Atlanta for a super short trip and I would love to know some of your favorite food joints there? I am  hoping to atleast try few good places in this trip as I have heard so much good stuff about Atlanta food scene. Let me know!
Help in spreading the word!
Follow along for lot more delicious treats and life happenings on INSTAGRAM || FACEBOOK || PINTEREST 

Zesty Cream Cheese Bites
Ingredients
Around 30 crackers (Almond Blue Diamond "Nut Thins")
4 oz cream cheese ( full fat or low fat)
Salt to taste
1-2 tsp basil powder
¼ cup finely chopped onion
2 tbsp finely chopped celery
2 tbsp finely chopped tomato plus additional for topping
Few celery or cilantro leaves for topping
Instructions
Bring cream cheese to room temperature so it's easy to work with.
In a bowl, add cream cheese, salt, basil, tomatoes, onion and celery and mix. Taste and adjust as per your taste.
Now take one cracker at a time and spread decent amount of cream cheese spread and top it off with some cilantro or celery leaves and few finely chopped tomato pieces. Serve immediately.
More Appetizer Recipes: