Creamy 3 milk based rice pudding (Tres Leches Rice Pudding)  turned into the most amazing ice cream with a hint of rose water! Perfect summer ice cream recipe everyone needs to make!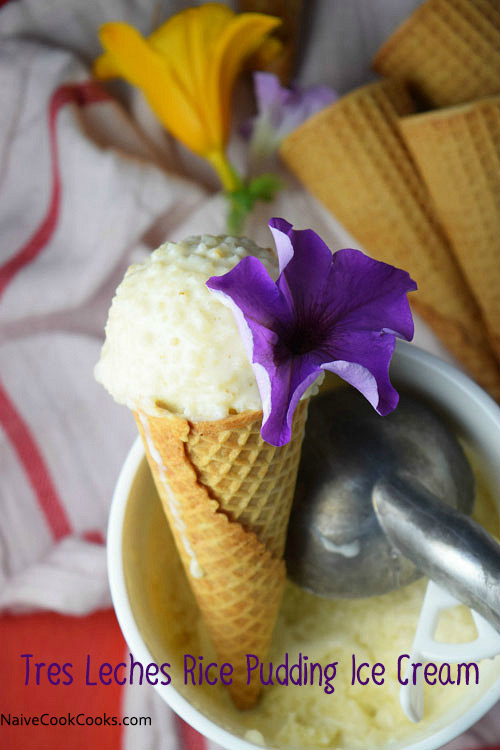 This ICE CREAM.
Remember when I made Coconut Tres Leches rice pudding and  I told you how I can't get enough of it. Now I went ahead and turned it into ice cream. I made sure that nothing could stop me from devouring tons and tons of this rice pudding and so for summer we have an ice cream version!
 I am telling you that there is nothing that beats homemade ice cream but this flavor is probably the best I have made till now! The creaminess along with little chewiness from rice makes it such an indulgent and refreshing treat for this warm weather that I have been eating it plain, stuffed in cones, with fruits. Recently we received our storage box and just in time for summer I recovered my ice cream maker from there too. Now I am all about making ice creams. So is there any flavor you recently tried somewhere and would like to see here?? Write it down in the comments! I would love to recreate some crazy delicious flavors this summer.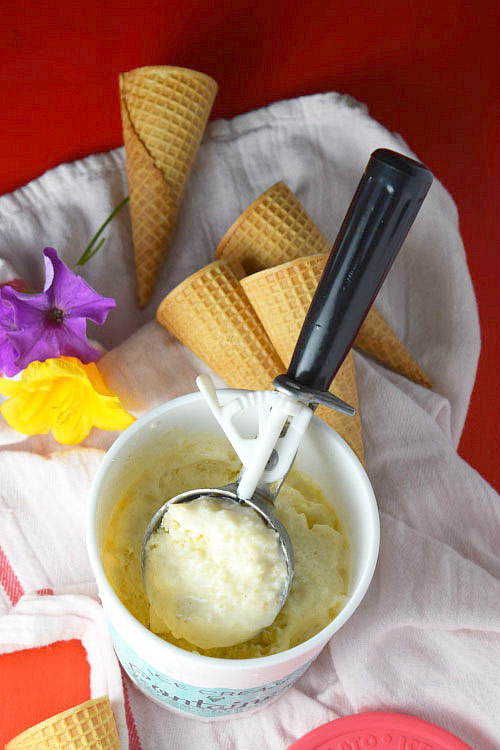 As for summer all my brothers & sisters are enjoying summer vacations and I can't be more jealous! On good note, my mom reached here yesterday from India and I am so excited to drive her around, take her to my favorite restaurants and learn from her my favorite recipes which I haven't eaten since so many years as she knows how to make them the best and everytime I tried them here, they never tasted the way they tasted way back home when she would make.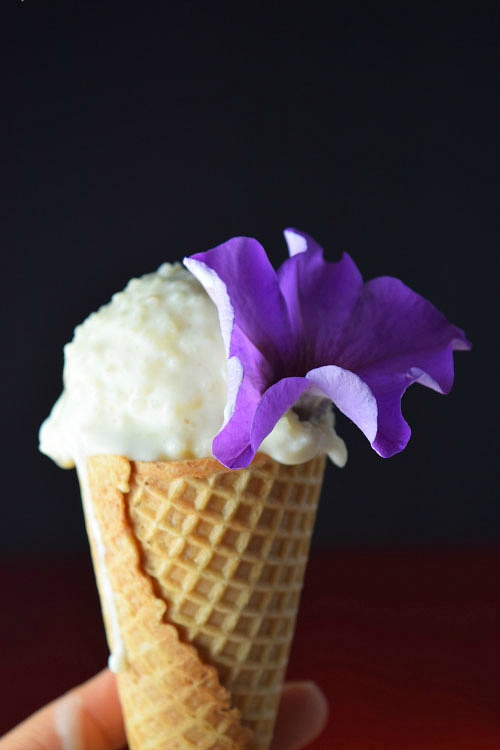 This ice cream is seriously so so simple and all you need is 30-45 mins and then remaining is left to your freezer and ice cream maker! Told you easy peasy!!
Adapted from my Coconut Tres Leches Rice Pudding recipe.
Help in spreading the word!
Follow along for a lot more delicious treats and life happenings on INSTAGRAM || FACEBOOK || PINTEREST || TWITTER

Tres Leches Rice Pudding Ice Cream
Ingredients
1 cup arborio rice or any other short grain rice
1 can sweet condensed milk (14 oz can)
1 can full fat coconut milk (13.5 oz can)
2 cups full fat milk
1 cinnamon stick
4 tbsp sugar
6 egg yolks
Few tbsp of rose water (optional but seriously delicious, STRONGLY SUGGESTED)
Instructions
In a pot, add arborio rice along with around 3 cups of water and cinnamon stick. Bring it to a boil and simmer on medium-high heat until the rice is cooked through. We want the rice to be soft and mushy.
Now once rice is cooked, if there is still water remaining strain or while cooking, if it starts to get dry add some more water. Discard the cinnamon stick.
Now transfer the cooked rice to a big pot and add sweet condensed milk and coconut milk. Cook it on medium-low heat for 15-20 minutes.
On other side, whisk egg yolks in a bowl. Warm up the full fat milk in a pot and once it 's warm add few tbsps of the warmed up milk into the bowl while whisking continuously so yolks don't curdle.Add the milk & egg mixture into the remaining warmed full fat milk and cook on slow whisking continously until it starts to get slightly thick. Now add this mixture to the rice mix and stir around and cook on low for another 10-15 minutes or more and you will notice that the rice pudding will start to become thick. Keep stirring it in between so it doesn't stick to the bottom.
Bring it to room temperature and then chill covered in refrigerator for good 1-2 hours or overnight.
Now add it to the already chilled bowl of ice cream maker and churn in ice cream maker as per your manual instructions. While churning add good big tbsps of rose water in the ice cream.
Transfer to an air tight container and freeze until ready to serve.
This makes around 1.5 quarts of ice cream. I had to do it in two batches in my ice cream maker.
Looking for similar Recipes?!
https://www.naivecookcooks.com/mint-chocolate-ice-cream/
https://www.naivecookcooks.com/chocolate-chip-cookie-ice-cream/