Bakery style scones bursting with fresh blueberries & smothered with vanilla & chocolate glaze to give you the ultimate breakfast scone experience!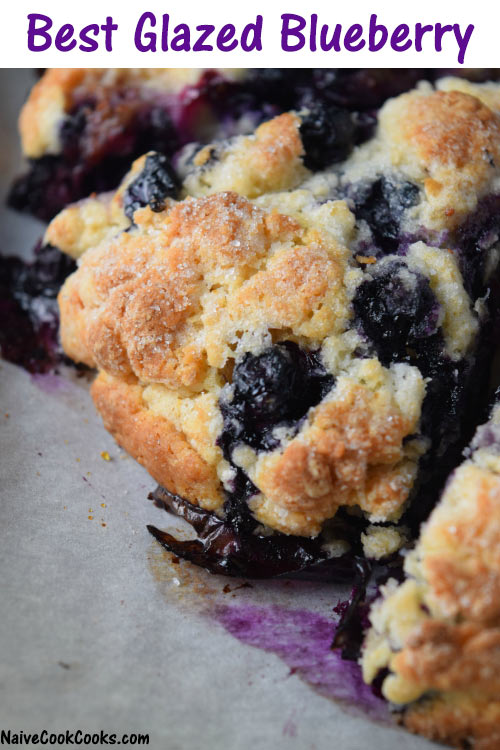 Yes it is scone time again here, finally! After eating our  share of salads lately you knew that this was coming. This weekend I cooked a storm for a little family get together and  we are still eating leftovers! Menu was a mix catering to both vegetarians & non vegetarians! Yes as expected I cooked a lot of food just because I love cooking and feeding people and what better opportunity than this!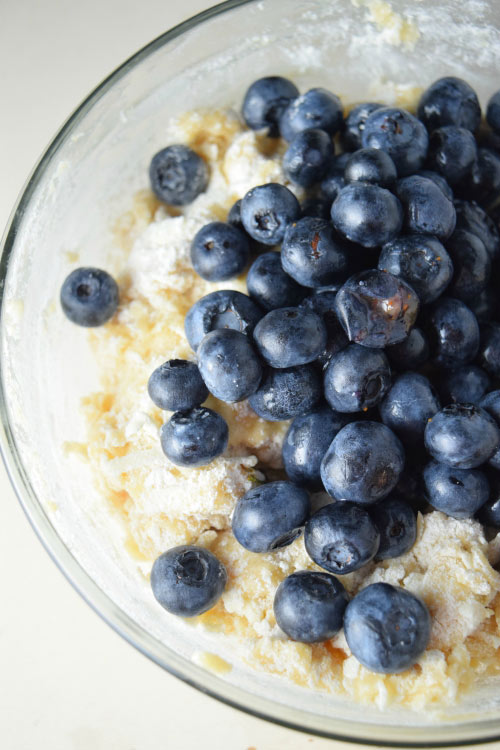 There were some new dishes I tried while some were good old staples!
Mozzarella sticks (I simply took low fat mozzarella sticks and rolled them inside egg roll wrappers. But something went wrong and all the cheese melted and came outside! They still tasted delicious and they were all finished in a matter of minutes but more work is needed until I can post this recipe!)
Creamy Mac & Cheese With Waffled Grill Cheese (So good & recipe coming soon)
Dal Makhani (oldie but still good everytime & this freezes beautifully!)
Saffron rice (Recipe here, so good! I left out the oil and onions. I simple rinsed the rice and then in a pot added rice, saffron mix along with water & salt and they were the best fluffiest fragrant rice ever!)
Rogan Josh (I was so worried that I messed up the meat and the gravy but it was a hit and everyone loved it!) (Recipe here)
Parmesan chicken (I have this super easy way to make these and they turn out delicious every single time. Just take thin chicken breast and coat them with little oil. In a plate mix breadcrumbs, parmesan cheese and lots of italian seasoning, salt, black pepper & chili flakes. Coat the chicken in this mix and lay it on an oiled parchment paper and spray with little oil and bake at 450F for good 22-25 mins!)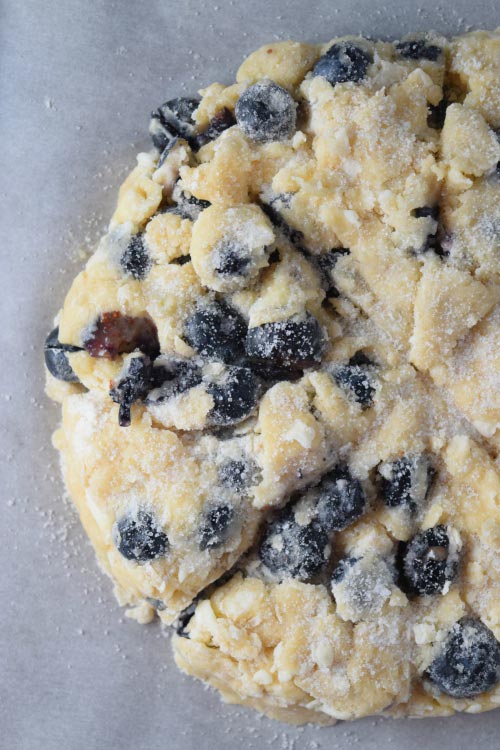 Now you might think that after eating such a feast we might relax but well not us! These scones were made on saturday for a warm delicious breakfast in bed and served along with butter & lots of coffee! These scones are not like your usual scones. Not bland, dry or overly sweet. I am not much of a scone person when eating out as they tend be either overly sweet or hard or sometimes they just don't taste right. But these. These are packed with fresh blueberries, they hold their shape and have a little crunchy crust on top but super soft when you bite into them. Then the glaze takes them over the top! Still thinking of excuses to not make them? And they take only under an hour to make from scratch start to finish! I think you are convinced now!!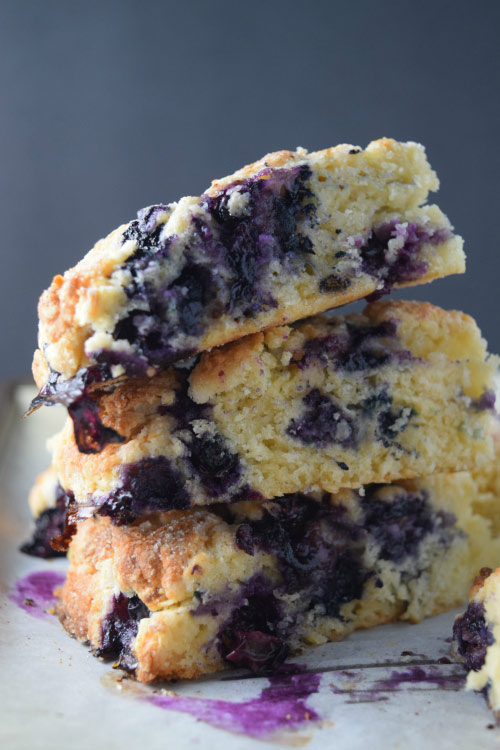 How was your weekend? These should be on your list!
Help in spreading the word!
Follow along for a lot more delicious treats and life happenings on INSTAGRAM || FACEBOOK ||PINTEREST ||TWITTER ||GOOGLE+

Best Glazed Blueberry Scones
Ingredients
1 cup all purpose flour
¼ cup granulated sugar (I used cane sugar)
1.25 tsp baking powder
¼ tsp salt
¼ Cup unsalted butter, frozen and grated on a grater (I used a box grater) (1/2 a stick of butter)
¼ cup full fat coconut milk or heavy cream (If you don't have any of these, make heavy cream by mixing 1 tbsp melted butter with 3 tbsp milk until thoroughly mixed)
½ large egg (Break egg in a bowl and stir. Use half of it and store the remaining for later)
1 tsp vanilla extract
¾ cup blueberries
Coarse sugar for sprinkling on top before baking
Vanilla Glaze
¼ cup powdered white sugar
1 tsp vanilla or more/less as per taste
1 tbsp milk or half-half (Start by adding 1 tsp and mix & proceed as your desired consistency)
Chocolate glaze
½ cup semi sweet chocolate
1-2 tsp milk
Instructions
Preheat oven to 400F.
Adjust baking rack to the middle position. Line a baking tray with parchment paper or silicone mat and keep aside.
In a bowl, add flour, sugar, baking powder and salt. Grate the frozen unsalted butter on a box grater and add it in the stirred flour mixture. Mix it using your hands or pastry cutter until it resembles a coarse meal. Set aside.
In another small bowl, add coconut milk or heavy cream, egg and vanilla extract. Stir it until it gets smooth. Add it to the flour mix and using a rubber spatula move it around very very gently until all the flour gets moist. Do not over work the dough or you will get hard scones!!
Slowly add blueberries and using spatula just bring it all together so they get evenly distributed but with minimum stirring of the dough. Transfer the dough mix to the lined baking sheet (Don't panic as it wont look like a proper dough as we are not mixing it too much). Using your hand pat it down into an 8" circle and using a sharp knife cut in 8 slices. If you feel knife is getting stuck, you can coat the knife with all purpose flour everytime you cut in the dough.
Sprinkle with coarse sugar.
Bake in a preheated oven for 22-25 minutes until it gets golden and inside gets cooked. Once out of the oven let it cool.
Glaze
For vanilla glaze, mix all the ingredients until the desired consistency.
For chocolate glaze, warm up the milk for 45seconds to a minutes in the microwave. Stir in the chocolate chips and stir virgorously until chocolate is all melted and you have a smooth mix.
Now drizzle front half of the scones with chocolate glaze and back half with vanilla glaze.
If you want to keep things simple, you can simple glaze some with chocolate and some with vanilla glaze.
Store them in an airtight container.
Similar recipes:
https://www.naivecookcooks.com/apple-scones/