Delicious shredded chicken sandwiches in alfredo sauce served inside garlic bread for an irresistible sandwich experience. Make weeknight dinner fun with these Chicken Alfredo Garlic Bread Sandwiches.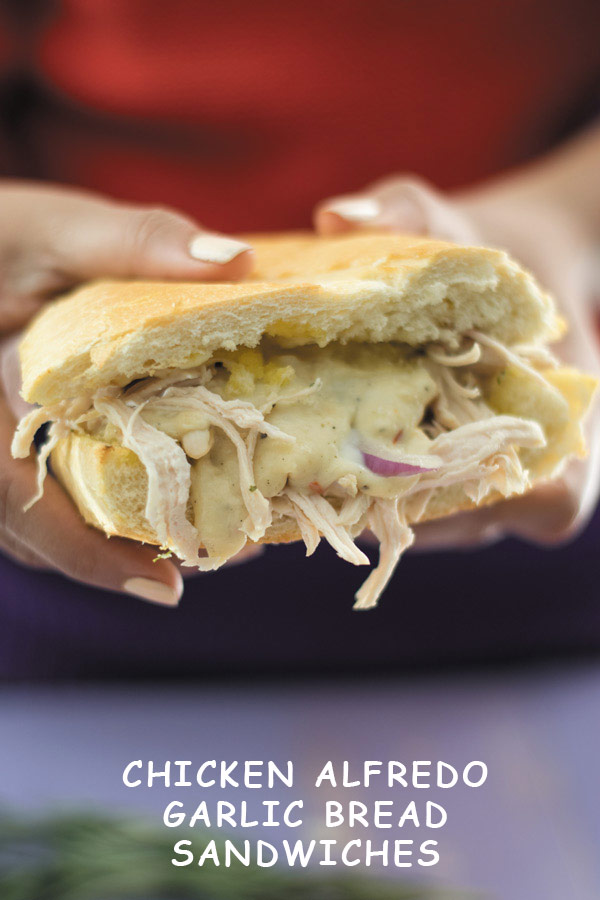 Love a good sandwich? Lately we have been on a sandwich kick and mostly all our lunches involve some kind of sandwich either storebought or homemade. I have always loved the versatility of sandwiches and how you could probably stuff anything you crave in between two slices of bread and call it a day. There are days when leftover sides from previous night's meal go into my sandwiches – a seriously addicting potato cauliflower sandwich made from stir fried potatoes & cauliflower stuffed inside bread and cooked until warm and crispy and served with lots of ketchup! I can eat this sandwich anytime of the day.
There are days when we get no time to cook dinner and after eating out for few days in a row, all I wanted was a simple satisfying home cooked meal.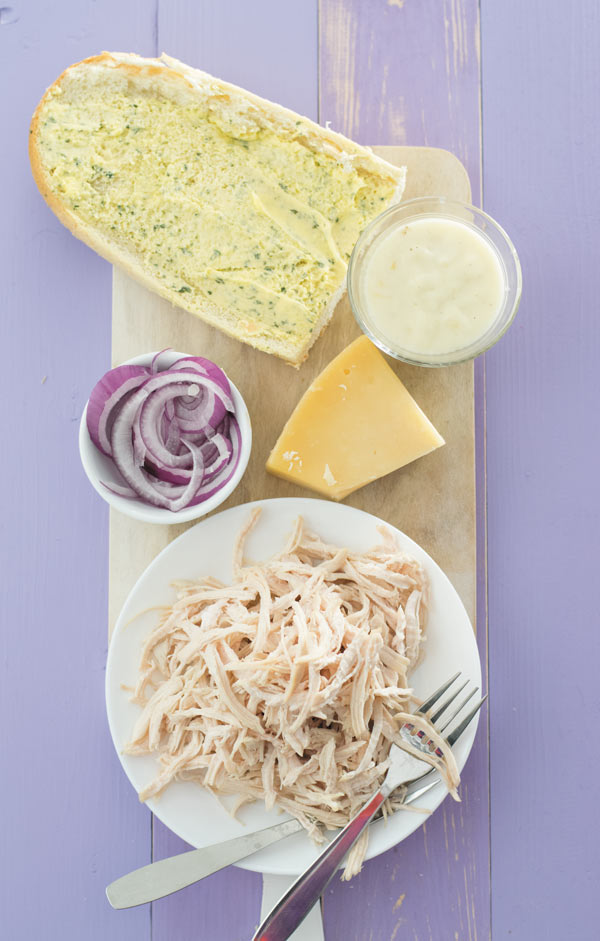 I had some leftover alfredo sauce and by the time I gathered my ingredients, I shredded some chicken. If you have not yet tried my method of making SHREDDED CHICKEN ON STOVETOP, do check it out! It's stupidly easy and yields perfectly cooked shredded chicken every single time.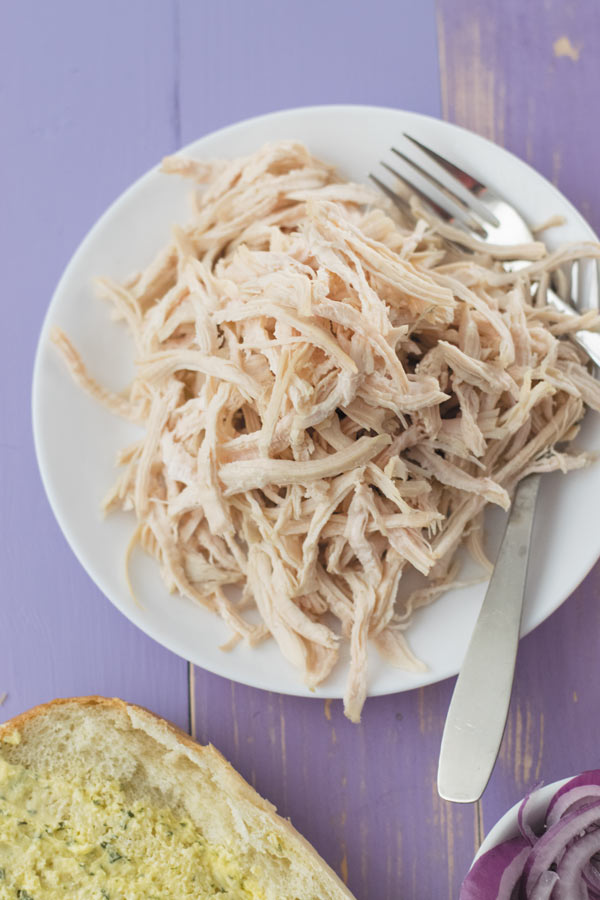 So moving on to sandwich here, shredded chicken is mixed with creamy alfredo sauce. For this sandwich I went with ready made garlic bread and I must insist you to use that. You can even make garlic bread at home by making a butter + garlic mixture and spreading generously on bread. To make the sandwich a bit healthier, I like pulling out the excess dough from the center of the bread so in place I can stuff it with more chicken. I then lay thick slices pf parmesan cheese on bread slices and toast the bread until cheese is melted. Then a generous heaping of alfredo chicken along with some onions is places on one toasted bread slice and covered with the other slice. If you like extra moistness, then add some alfredo sauce on top of chicken on bread slice. Enjoy!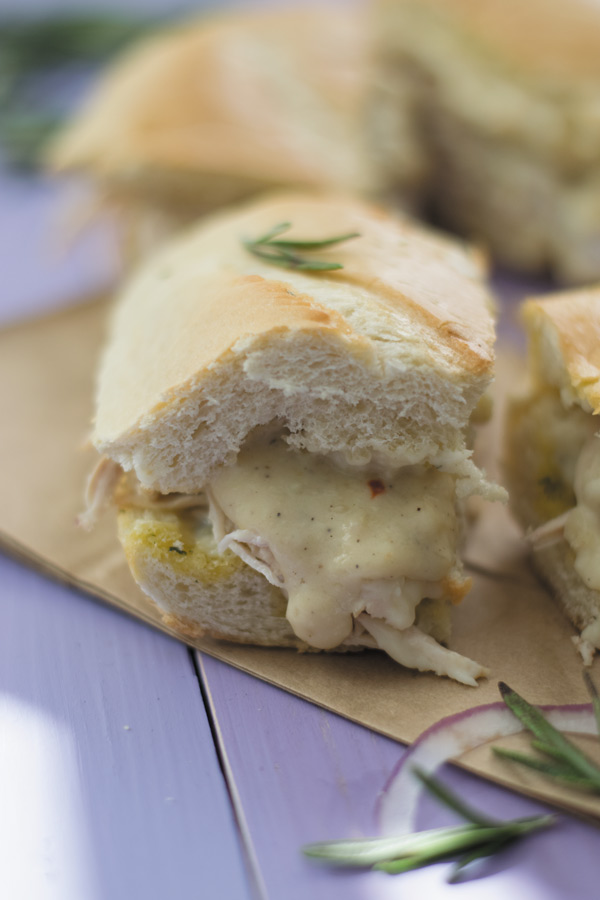 So go ahead and give this a try! If you make these or any other recipe from our blog, do tag us by using#naivecookcooks on social media channels.
If  you enjoyed this recipe, don't forget to FOLLOW me on  INSTAGRAM ||FACEBOOK||PINTEREST ||TWITTER ||GOOGLE+ || BLOGLOVIN || YouTube

Chicken Alfredo Garlic Bread Sandwiches
Ingredients
Chicken Alfredo Garlic Bread Sandwiches:
2 chicken breasts, shredded (CHECK OUT HERE how to shred chicken on stovetop)
2 cups Alfredo Sauce, homemade or storebought (recipe under if making at home)
1 large loaf of garlic bread
Parmesan cheese slices
Sliced onions (optional but good)
Alfredo Sauce:
4 tbsp butter
4 tsp garlic paste
4 tbsp all purpose flour
½ cup milk
¾ cup heavy cream
1 cup water
¾ cup shredded parmesan cheese
Salt & pepper to taste
Instructions
Chicken Alfredo Garlic Bread Sandwiches:
Once you have all ingredients ready, assemble. Place parmesan cheese slices on both garlic breads. Transfer it to toaster oven and toast until cheese is melted.
Take it out.
In a bowl mix shredded chicken with alfredo sauce and make sure to keep some sauce aside for pouring on top.
Add alfredo chicken on one cheesy garlic bread covering each and every corner.
Place some red onions on top and then cover with the other piece of cheesy garlic bread. At this point, you can cut and enjoy the sandwich as is or place it in toaster and warm it up or place it inside panini press and cook.
Serve with extra sauce on the side or add extra sauce on top of alfredo chicken in bread.
Alfredo Sauce:
In a deep pot, melt butter. To it add garlic until raw smell is gone. To it add flour and cook until flour is cooked and slightly golden. Now add milk, heavy cream and water. Stir by bringing it to a boil. Let it simmer and as the sauce starts to thicken add parmesan cheese, salt and pepper. Mix and once it reaches desired consistency, turn off the gas.
Do not make the sauce too thick as it will continue to thicken as it sits.
Some more easy ideas ->>