Your usual Egg & Cheese Sandwich in a new avatar! Introducing The ADDICTING Nacho Chips Breakfast Sandwich – just 4 ingredients and less than 15 minutes!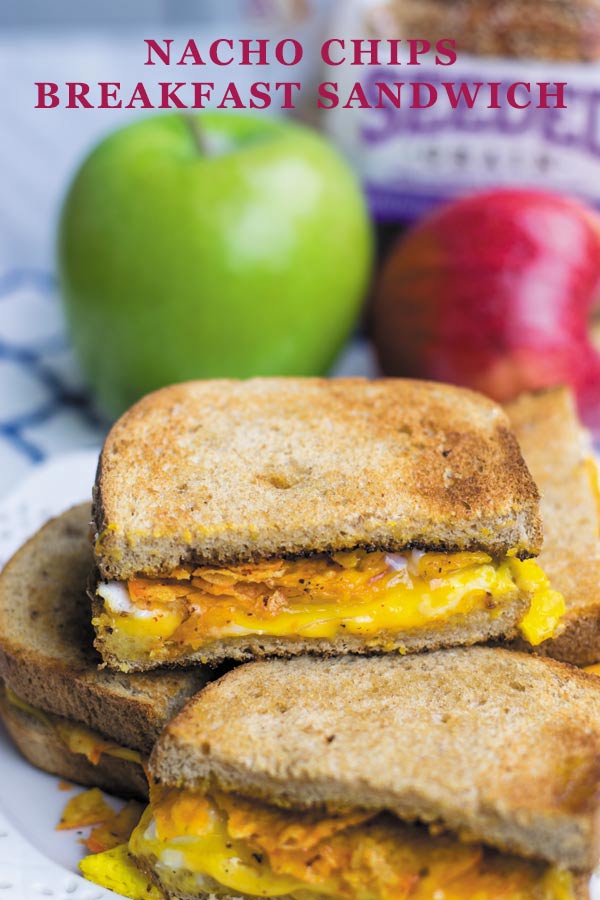 How about a good breakfast sandwich?! I am a person who needs her breakfast. I get cranky without breakfast and I believe in having a big nourishing breakfast. Usually after an hour of workout, I love having eggs, toast and a big glass of smoothie. But then there are times I get tired of same egg and toast situation but since I don't feel like spending more than 15 minutes on breakfast, I end up with the same breakfast almost every single day! 🙁
Recently when we were flying back home, we had a super early flight and I noticed Ronak enjoying a simple egg & cheese bagel with lots of crushed cheesy nacho chips inside. First I wasn't really sure how it tasted but one bite and I declared it to be my new go to favorite breakfast sandwiches. I feel that adding some crushed nacho chips makes it a little decadent and hey, breakfast is supposed to be the biggest meal of the day so it's perfectly normal to stuff your face with these addicting sandwiches once in a while!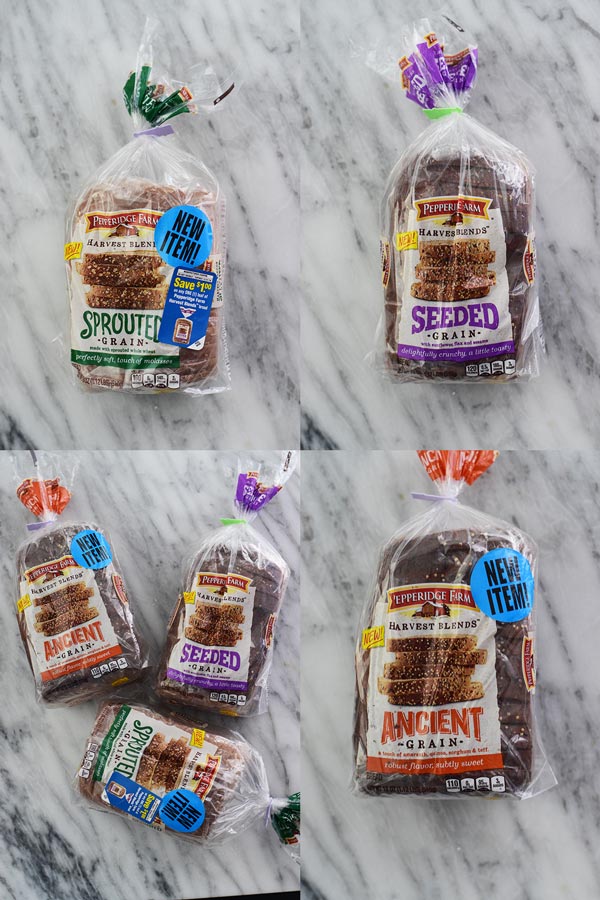 Recently I had a chance to sample the latest Pepperidge Farm Harvest BlendsTM bread. I was sent samples of the newly launched :
Pepperidge Farm® Ancient Grain
Pepperidge Farm® Seeded Grain
Pepperidge Farm® Sprouted Grain
And I must say they are all equally good. We love eating good quality fresh bread and usually I try to bake bread at home but since getting introduced to these, I have been relying on these! These are soft, hearty with 3 different varieties to choose from, taste as fresh as the one you pick from a bakery. I don't really care much for the bread found in bread aisle but these ones are exceptionally good and I am not saying that for the sake of this being a sponsored post.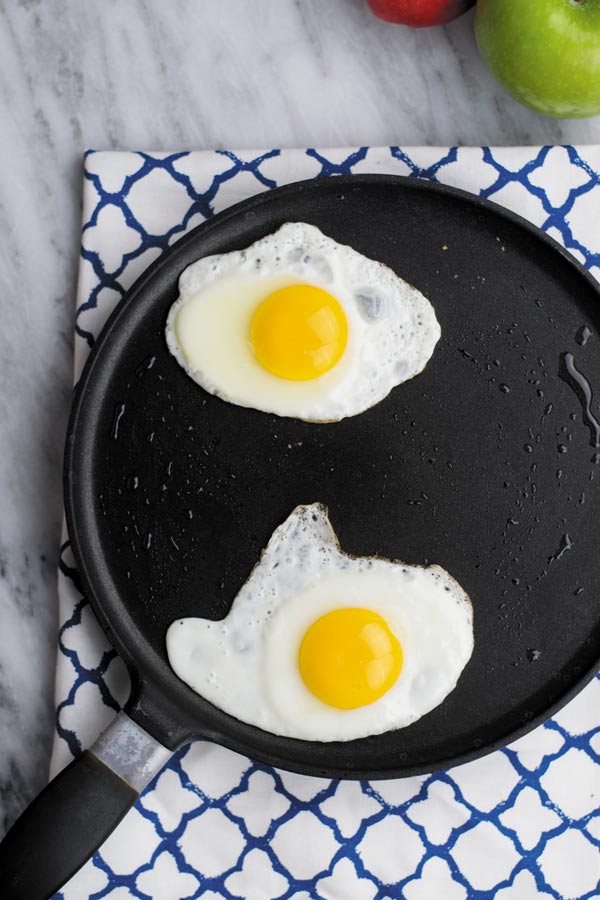 On weekends this has been our go to breakfast recipe – simple but with so many flavors. Toasted bread, a good quality cheese slice, sunny side up egg and crushed up cheese nacho chips! So good. It all took me 15 minutes to make these 2 sandwiches start to finish.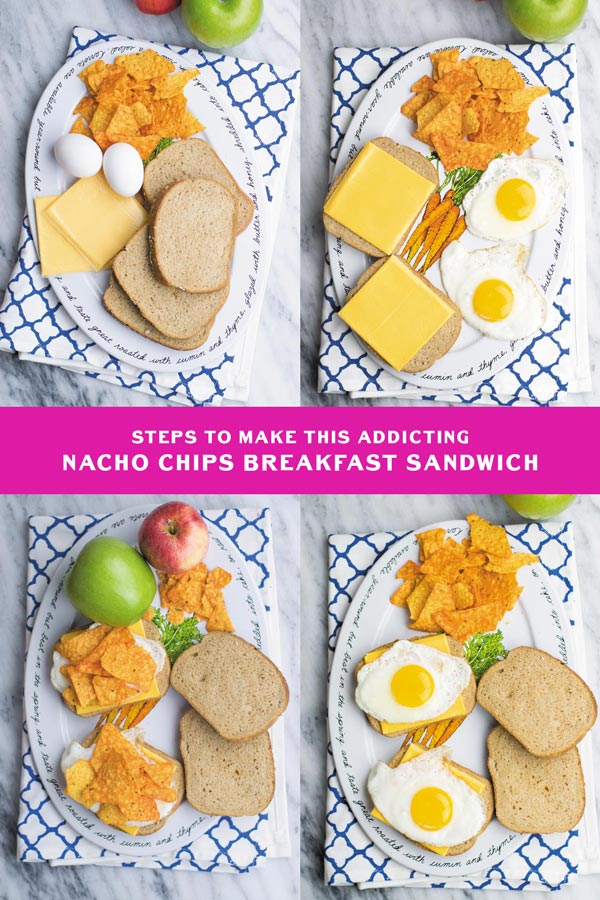 I can so go for one of these sandwiches, right now!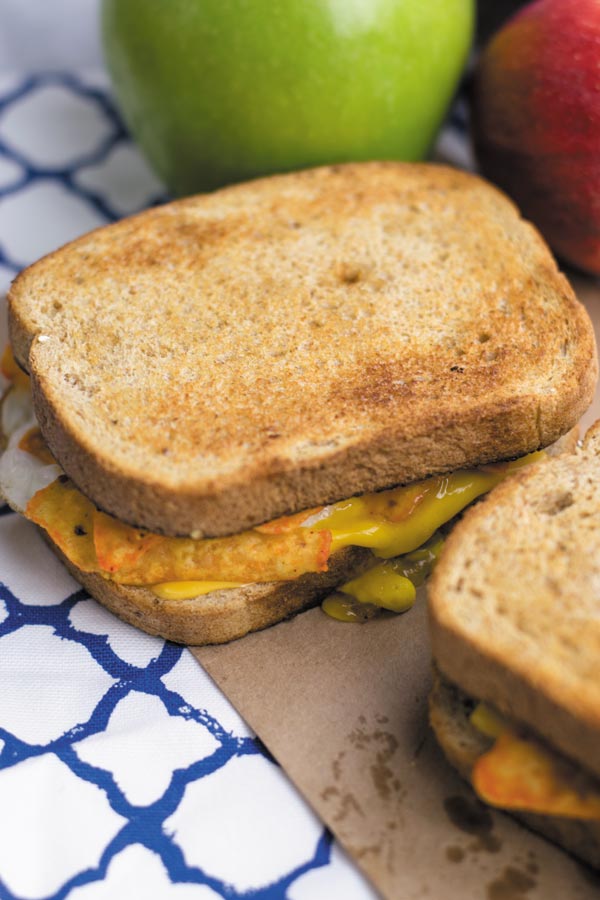 This is a sponsored post written by me on behalf of Pepperidge Farm. All opinions are 100% mine. #HarvestBlends
So go ahead and give this a try! If you make these or any other recipe from our blog, do tag us by using#naivecookcooks on social media channels.
If  you enjoyed this recipe, don't forget to FOLLOW me on  INSTAGRAM ||FACEBOOK||PINTEREST ||TWITTER ||GOOGLE+ || BLOGLOVIN || YouTube

Nacho Chips Breakfast Sandwich
Ingredients
Nacho Chips Breakfast Sandwich:
4 slices of Pepperidge Farm Harvest BlendsTM bread
2 good quality cheese slices
1 tbsp oil
2 eggs
Salt & pepper to taste
Handful of cheese nacho chips ( any flavor you prefer)
Instructions
Nacho Chips Breakfast Sandwich:
Add oil on a skillet. Once warm, break both the eggs gently so the yolk stays intact. Let the sunny side up egg cook on medium low heat.
Once eggs are cooked to your desired level, sprinkle salt and pepper and keep them aside. On the same skillet, place four bread slices and let them get warm and crispy.
While they are getting warm and crispy, place 2 cheese slices on 2 breads, one slice on one bread. Place the cooked eggs on top, one egg on top of the bread with cheese slice. Now add crushed up nacho chips and cover with the remaining bread slice. Press the sandwiches down gently and let then cheese melt.
If you want, you can cover the skillet with sandwiches which will make melting cheese faster.
Once done, cut and serve immediately.
Some delicious BREAKFAST treats ->>