Chicken Alfredo Garlic Bread Sandwiches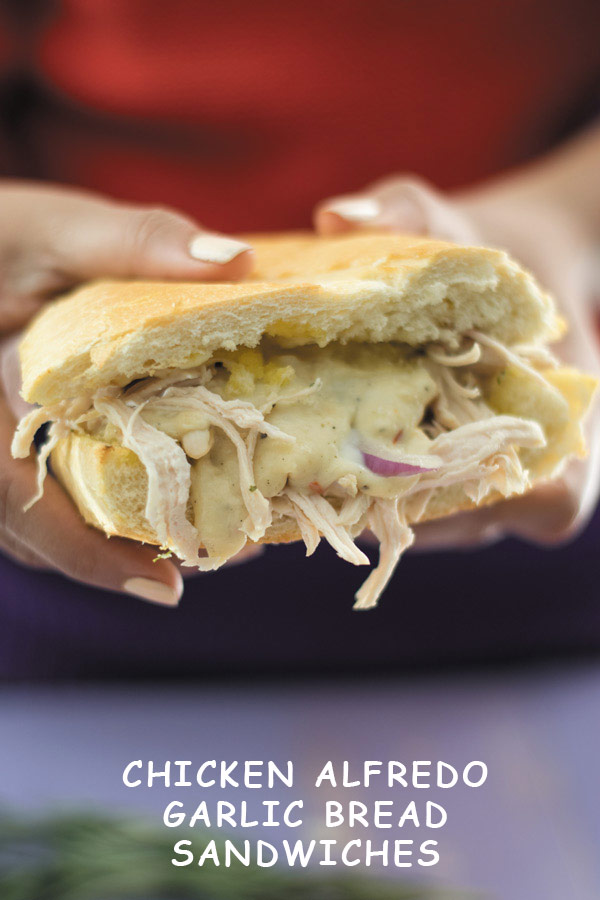 2 chicken breasts, shredded (CHECK OUT HERE how to shred chicken on stovetop)
2 cups Alfredo Sauce, homemade or storebought (recipe under if making at home)
1 large loaf of garlic bread
Parmesan cheese slices
Sliced onions (optional but good)
4 tbsp butter
4 tsp garlic paste
4 tbsp all purpose flour
½ cup milk
¾ cup heavy cream
1 cup water
¾ cup shredded parmesan cheese
Salt & pepper to taste
Once you have all ingredients ready, assemble. Place parmesan cheese slices on both garlic breads. Transfer it to toaster oven and toast until cheese is melted.
Take it out.
In a bowl mix shredded chicken with alfredo sauce and make sure to keep some sauce aside for pouring on top.
Add alfredo chicken on one cheesy garlic bread covering each and every corner.
Place some red onions on top and then cover with the other piece of cheesy garlic bread. At this point, you can cut and enjoy the sandwich as is or place it in toaster and warm it up or place it inside panini press and cook.
Serve with extra sauce on the side or add extra sauce on top of alfredo chicken in bread.
In a deep pot, melt butter. To it add garlic until raw smell is gone. To it add flour and cook until flour is cooked and slightly golden. Now add milk, heavy cream and water. Stir by bringing it to a boil. Let it simmer and as the sauce starts to thicken add parmesan cheese, salt and pepper. Mix and once it reaches desired consistency, turn off the gas.
Do not make the sauce too thick as it will continue to thicken as it sits.
Recipe by
Naive Cook Cooks
at https://www.naivecookcooks.com/chicken-alfredo-garlic-bread-sandwiches/