Super easy stove top method to make shredded chicken at home in only few minutes.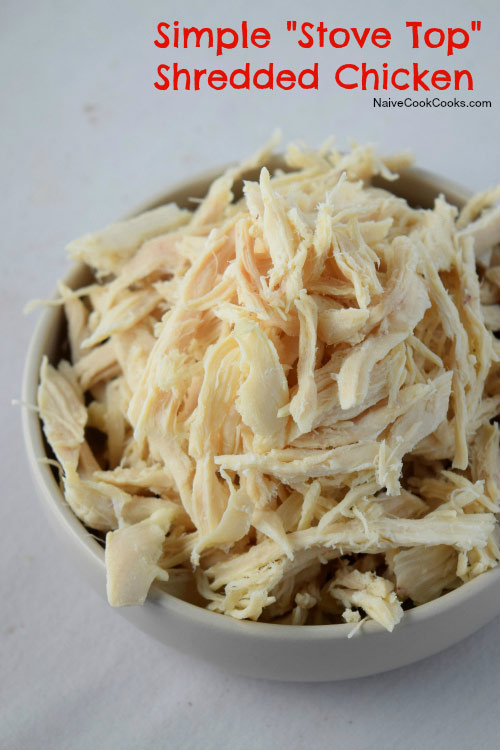 Today is not about any particular dish but a technique or rather a simple method to cook chicken to turn it into shredded chicken in only few minutes. I like to keep chicken on hand most of the time but there are days we end of eating no chicken for almost a week and so I like to freeze it. But I have realised frozen chicken breasts are always required to be thawed before I use them in any meal so I find keeping frozen shredded chicken a wonderful time saver as I can add it directly to soups, enchilada fillings and what not.
Possibilities are endless. I know there are lot of ways to make shredded chicken more flavorful by cooking it slowly over a period of few hours in slow cooker or oven and I have done it myself with wonderful results. But this methos to cook it in a pot with water or your favorite broth on stove top in straight 5-10 minutes or until fully cooked beats every method! So easy and is a lifesaver when you are short on time but still trying to make a comforting home cooked meal.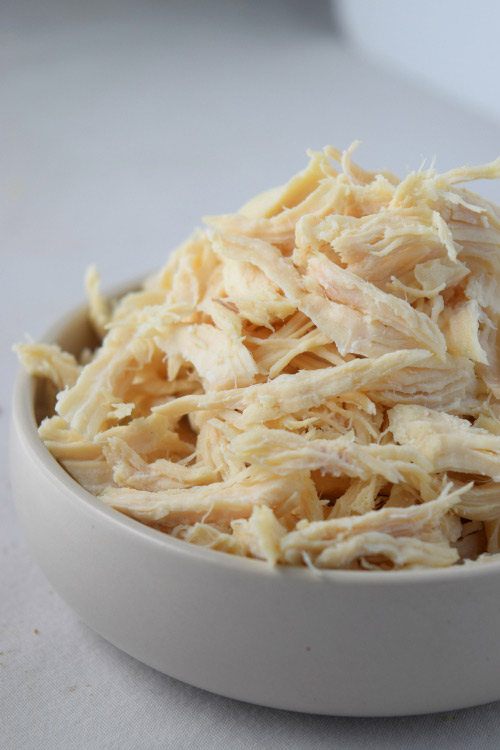 Help in spreading the word!
Follow along for lot more delicious treats and life happenings on INSTAGRAM || FACEBOOK || PINTEREST 

Simple Stove Top Shredded Chicken
Simple way to shredded chicken in few minutes on stove top.
Ingredients
1 pound chicken (I usually like using chicken breast but you can use thighs or whole chicken)
Water or broth, enough to cover the chicken
Pinch of salt if using water
Instructions
In a pot, heat water or broth. Add chicken pieces and make sure they get submerged under water or broth.
Bring it to a boil and let it simmer for 5-10 minutes or until chicken turns pale white inside and out.
That means it;s fully cooked but you don't want to overdo the simmering part too or it will leave you with chewy chicken.
Take it out. Strain and using two forks shred the meat.
Store once cooled in ziplock bags or airtight containers.
I like to write the date on top as well so I know when I made it.
It lasts for 2-3 days in refrigerator and upto 1-2 months in freezer.
Looking for some ideas to use shredded chicken you just made?