Comfort food at it's BEST. Cheeselicious Buffalo Chicken Hashbrown Casserole makes for a perfect meal to feed a crowd & it's one meal everyone will go crazy for!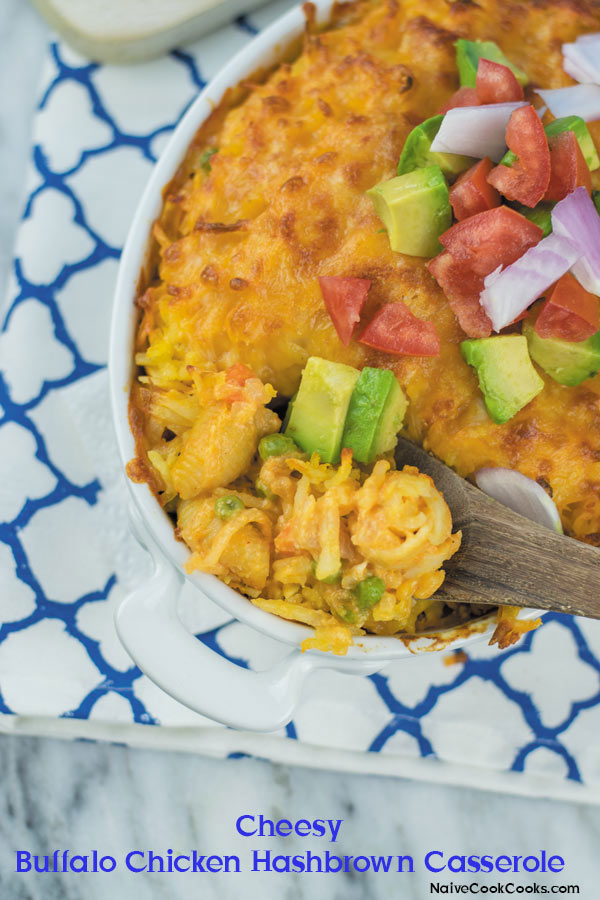 Today I got you some thing that I have been eating all throughout the last 2 weeks and seems that I can't get enough of this meal. I mean how can I or for that matter anyone because all those crispy cheesy hashbrowns piled high over a cheesy buffalo chicken pasta casserole. It's a meal I don't mind making because it always makes a ton which leaves me with leftovers for the next day which are always great!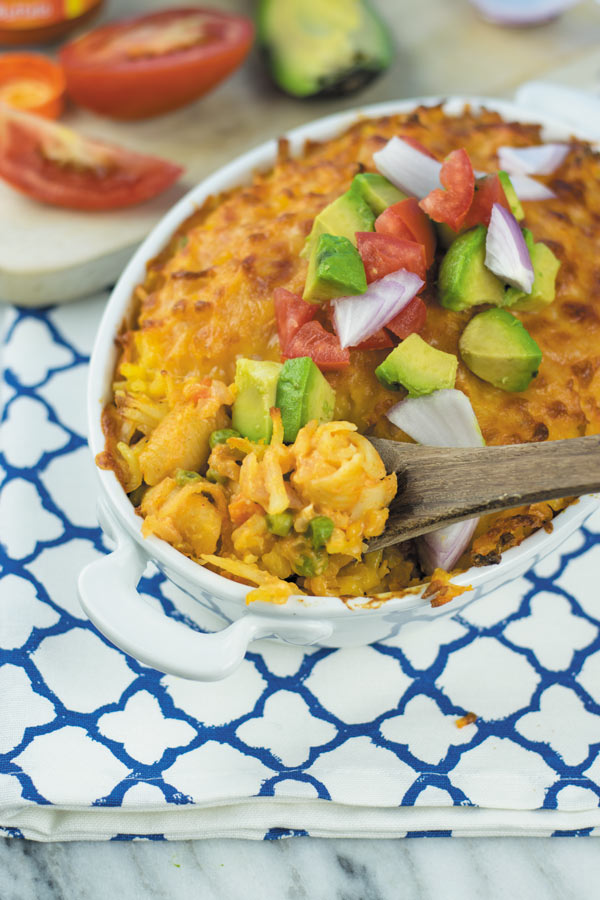 This meal to me represents real American flavors – meat, potatoes, cheese and vegetables all cooked until everything is bubbling hot and even though taking a bite straight from the pan might mean taking a risk at loosing my tongue but who cares when the food is good! This casserole has intoxicating powers & I mean it as every time I pull it out of the oven. the melted cheese, the crusty potatoes make me week in my knees. I know that does say a lot about a meal! And it's really really simple to throw together – just cook your hash browns as per package directions and then for few minutes in the oven & while all this cooks, you make your cheese sauce with vegetables and then add meat & pasta and then everything is cooked along with hash browns and loads of cheese!! Yes that is a must here!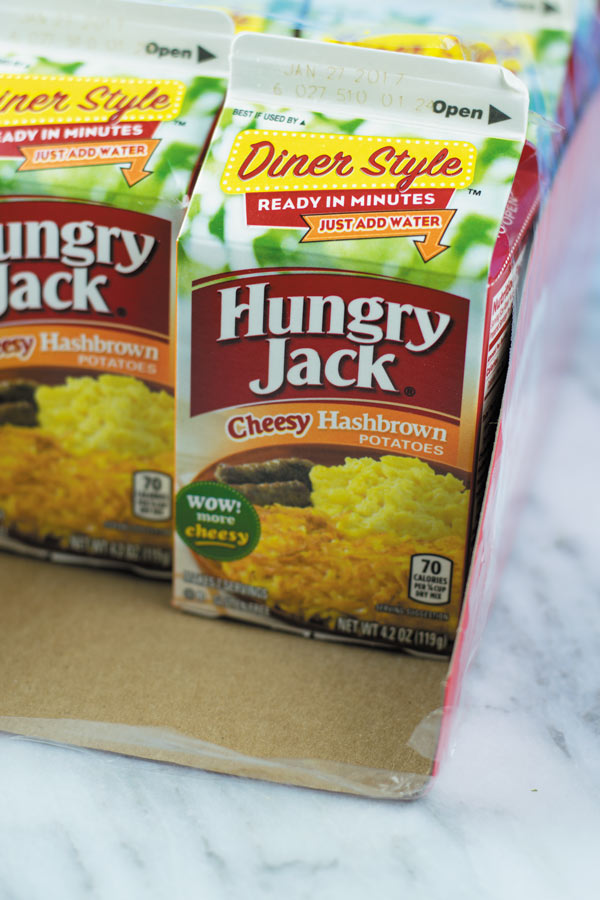 You can either make your own hashbrowns from scratch or take a shortcut & use these dangerously addicting Hungry Jack Cheesy Hashbrowns! If you are wondering where you can these, then HERE is a store locator!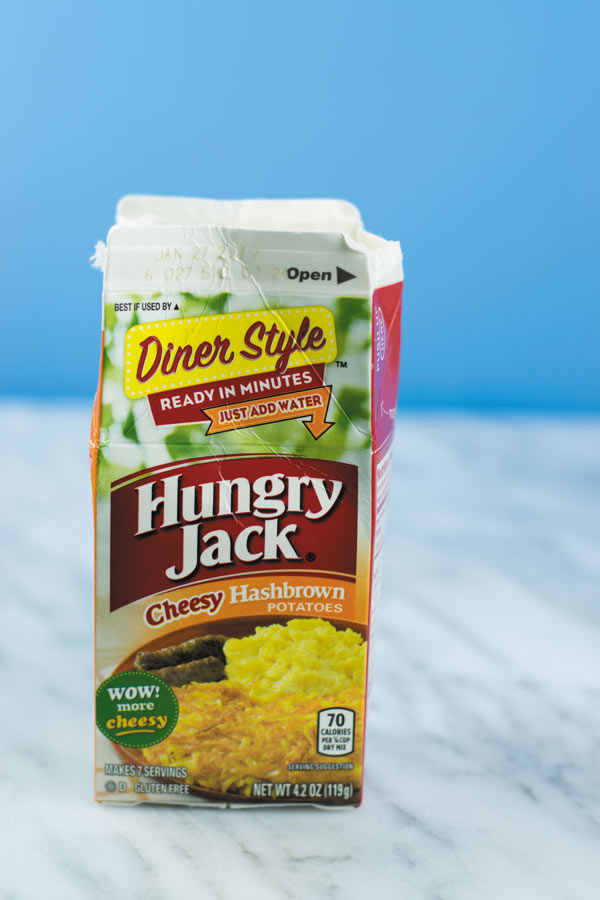 These are cooked upto step 2 as written on the box or if you are making your own, make sure that after you grate your potatoes, you squeeze out all the water. Then hashbrowns are mixed with spices and then cooked in oven for good 30 minutes or so depending on what kind of hashbrowns you are using. If you are not into cheesy hashbrowns and like a little kick, then try their black pepper & onion flavor too!
While hashbrowns cook, you make your cheese sauce. In little oil, add carrots, onions or any vegetables.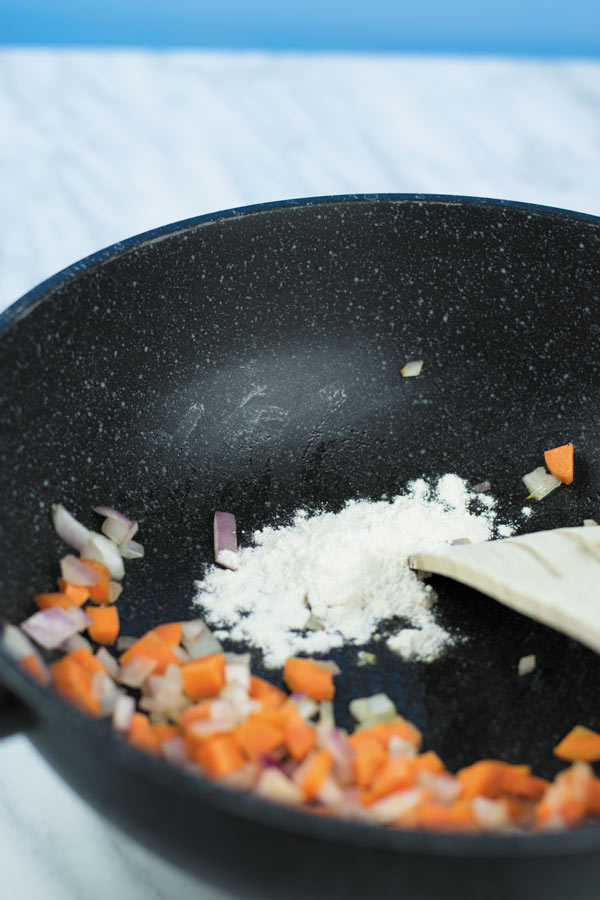 Saute and add flour.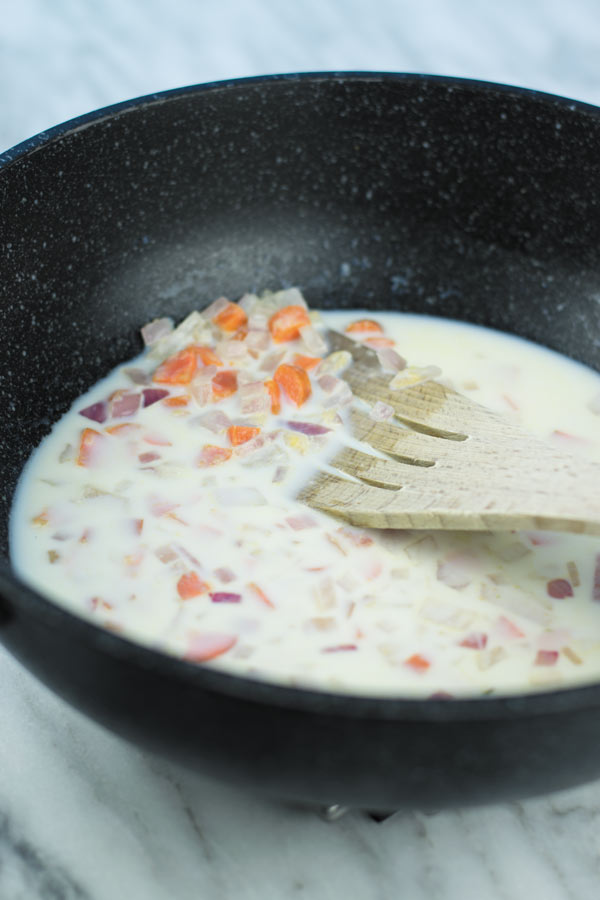 Once flour is cooked, then add milk.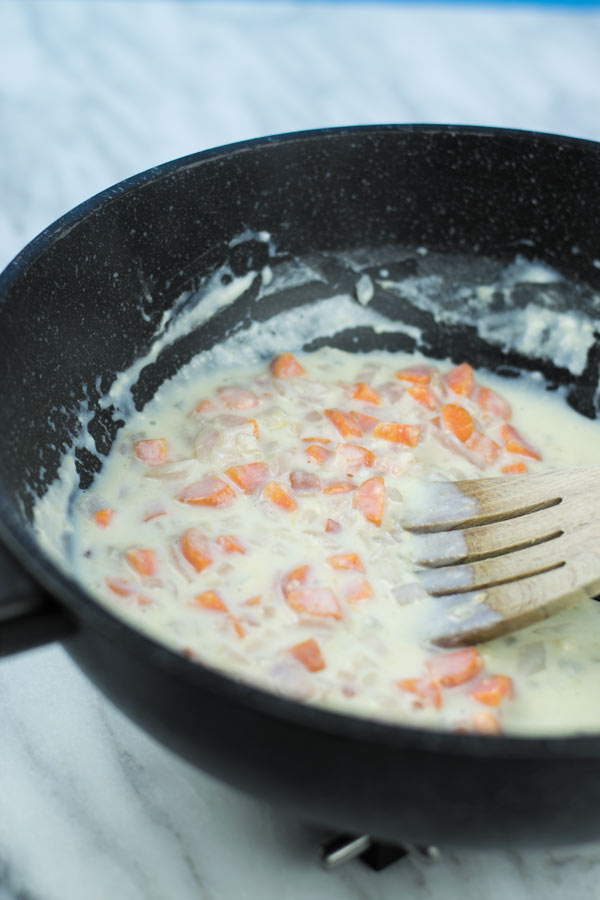 Thicken this milk and add salt, pepper and garlic powder.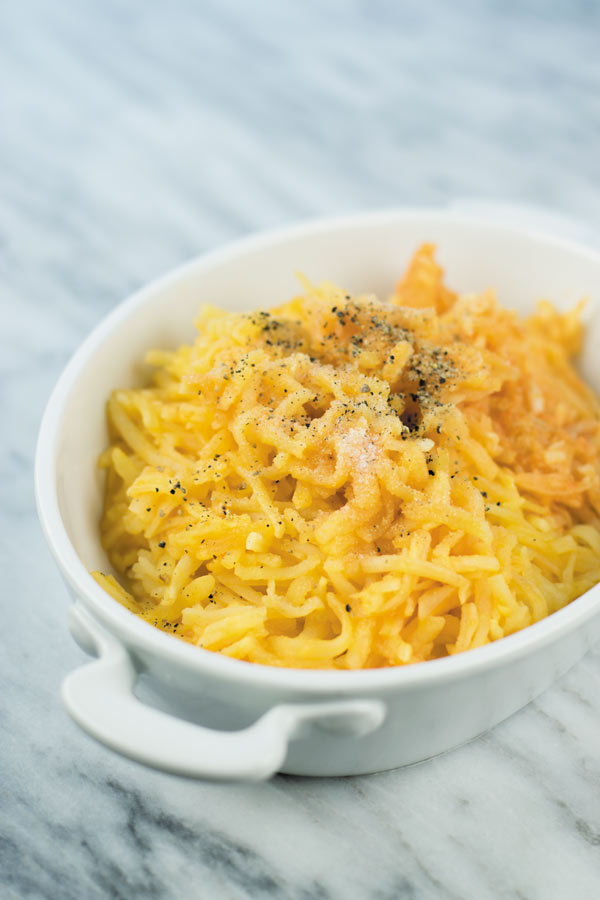 Meanwhile your hashbrowns should be cooked but if you are using fresh from scratch hashbrowns, I would suggest to make sure that the potatoes are soft throughout.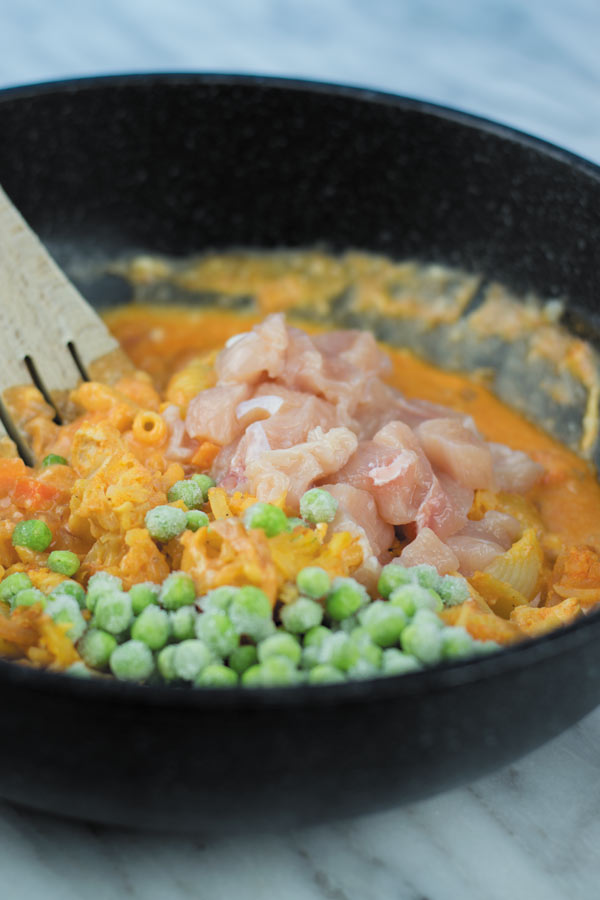 Turn off the gas and to the sauce, add chopped chicken, peas (fresh or frozen), buffalo sauce, cheese and pasta and stir everything together. Then I scoop out more than half of the hash browns from the pan onto a plate. Make a layer with hash browns and then top them off with this cheesy mixture. Then cover it with the remaining hash browns. Bake for good 17 minutes. Then add a thick layer of cheese and broil for 5-6 minutes until cheese is fully melted & bubbling hot!
Serve as it is or along with some blue cheese dressing, avocado, tomato & onions!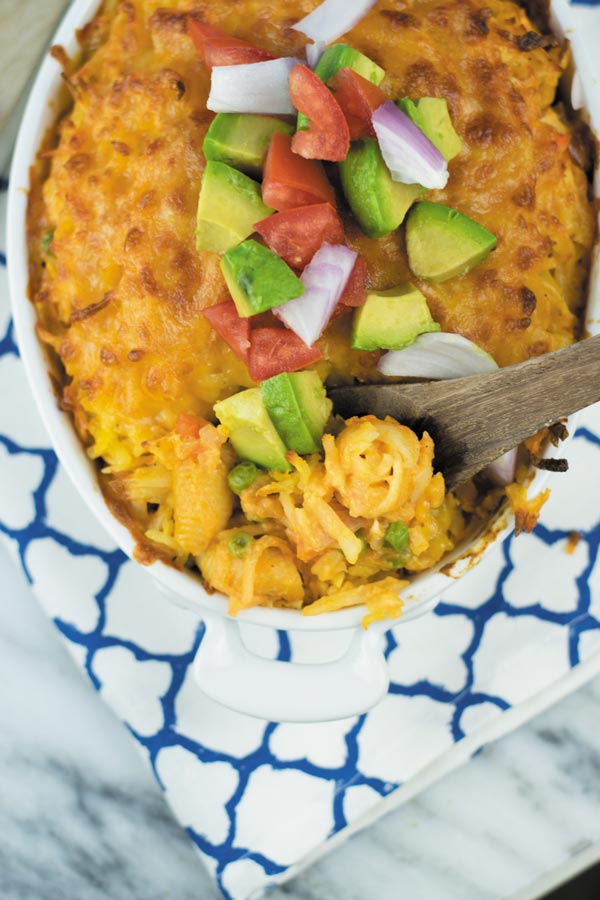 If you enjoyed this recipe, don't forget to FOLLOW me on  INSTAGRAM ||FACEBOOK||PINTEREST ||TWITTER ||GOOGLE+ || BLOGLOVIN || YouTube
** I would really really appreciate if you can go HERE & vote for this recipe! It will enter you into a contest where you might end up winning tickets for Nascar Race! This contest runs from May 9th to June 19th!
Cheeselicious Buffalo Chicken Hashbrown Casserole
Ingredients
1 box of Hungry Jack Cheesy Hashbrowns (4.2 oz) **
Salt & Pepper to taste
1 Chicken Breast, chopped into small pieces
1 carrot, chopped
½ cup onion, chopped into small pieces
1 tbsp oil
1 tbsp flour
1.5 cups milk
Salt & pepper to taste
3-4 tbsp Buffalo Wings Hot Sauce
¼ cup shredded cheddar cheese
½ cup peas
1 cup cooked pasta
2 cups shredded cheddar cheese
Instructions
Cook pasta as per package directions and keep aside once cooked!
If using Hungry Jack Hashbrowns, fill the box with hot water upto the level mentioned on the box. Let it sit for 15 minutes. Then make sure there is no excess water left. Heat oven to 400F and add oil in a baking dish. Transfer hashbrowns mixed with salt & pepper onto it and cook for 30 mins in oven.
** If using from scratch homemade hashbrowns, grate your potatoes and squeeze out all the water.
Mix with some shredded cheese, salt & pepper. Transfer these onto an oiled baking dish and bake for 30-45 minutes or until potatoes are cooked through.
While hashbrowns are getting ready, get the sauce ready.
In a skillet, add oil. To it add chopped carrots & onions along with a pinch of salt. Cook until softened. Add flour and stir until raw smell of flour is gone. To it add milk while continuously stirring.
Add salt and pepper. Keep cooking until it gets thick.
Turn of the gas and add buffalo sauce & cheese and mix. Taste for seasonings. Now fold in chopped chicken, peas, cooked pasta and mix.
Once the hashbrowns are done, pull them out of the oven. Scoop out hashbrowns just leaving enough to make a base or a bed for the cheesy mixture in the pan. Top the bed of hashbrowns with this mixture and then cover with the remaining hashbrowns.
Cook at 350F for 15 - 17 minutes. Top the hashbrowns with 2 cups shredded cheese and turn the oven to broiler setting.
Broil the dish until cheese is bubbling & melty. By this time chicken should be cooked throughout too. I cut my chicken pieces really small so it helps in cooking faster too.
Serve just as it is with a salad or drizzled with blue cheese dressing!
 Some MORE delicious & Easy DINNER recipes ->>
I was selected for this opportunity as a member of Clever Girls and the content and opinions expressed here are all my own.