One pan, almond & Parmesan crusted chicken with mustard sauce is the perfect easy doable weeknight meal!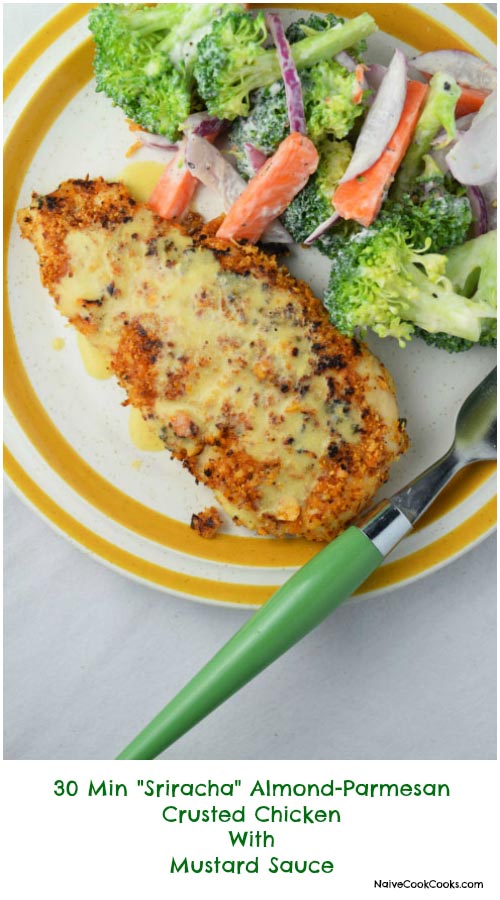 Monday yet again?!!
Let's change things a bit here, shall we? I know we all struggle and try hard to keep Mondays meatless but in my opinion, when the food is this simple and healthy and good and comes together from kitchen to table in flat 30 mins, why go for meatless Monday?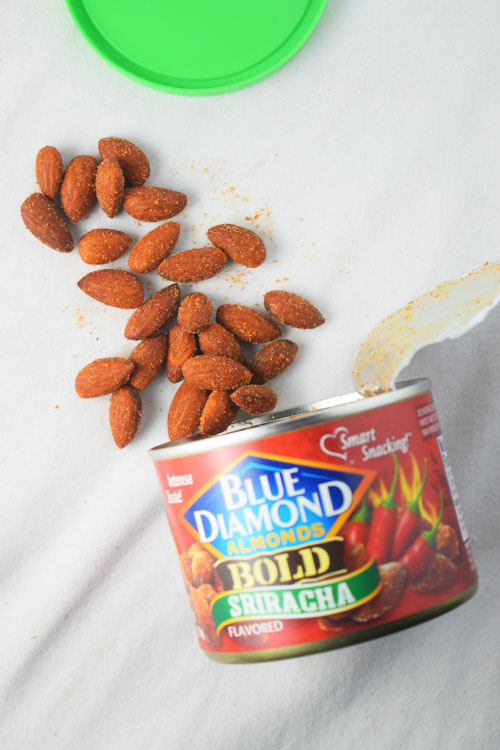 Lately when ever I am running short on time, I like throwing together Parmesan chicken as it's so delicious, cooks easily , is pretty healthy if you keep the amount of Parmesan you add in check. So last night, I decided to change things a bit by adding my *CURRENT FAVORITE SNACK* Blue diamond sriracha almonds and let me tell you that it's our new favorite weeknight dinner. Its packed with flavor , the chicken cooks into this really soft thin breast with tons of sriracha almonds & Parmesan flavor and then you dip it in this gorgeous mustard sauce. BEST THING EVER!
START to FINISH = 30 MINS!! Yes you can do it!
Follow along for a lot more delicious treats and life happenings on INSTAGRAM || FACEBOOK || PINTEREST || TWITTER

Sriracha Almond Parmesan Crusted Chicken
Ingredients
2 chicken breasts, each sliced in half so each yields 2 thinner breasts
½ cup Blue Diamond Sriracha Almonds
¼ cup shredded parmesan
1 tsp garlic powder
Salt to taste
1 tbsp butter
Black pepper to taste
1 tbsp + 1 tsp olive oil
1 tbsp dijon mustard
Juice of ½ lime
¼ cup water
Instructions
Clean the chicken and slice in half. After slicing the chicken, rub each breast with olive oil on both the sides. Add almonds in a food processor and process until they turn into sort of bread crumbs.
Transfer them to a plate and add shredded parmesan, salt, black pepper & garlic powder and mix. Taste ?& adjust seasoning if needed.
Coat both the sides of the olive oil coated chicken with this mix and keep them aside.
Heat oil in a non stick pan and transfer the chicken breasts. Let them cook on low for good 5-7 minutes, flip and repeat until it's all cooked through and there is no pink left.
Serve immediately with salad of your choice.
Notes
I served these chicken breasts with a simple salad by mixing broccoli, carrots, red onion, salt, black pepper, little mayo, apple cider vinegar and goat cheese and little sugar.
Similar Recipes:
https://www.naivecookcooks.com/chicken-fettucine-in-whiskey-gouda-sauce/