This simple yet stunning Summer Fruit Cake Trifle is perfect for entertaining. It's a no cook recipe that takes just few minutes to assemble! Who can say no to jello with buttery cake pieces covered in vanilla whipped cream and tons of fresh summer fruits!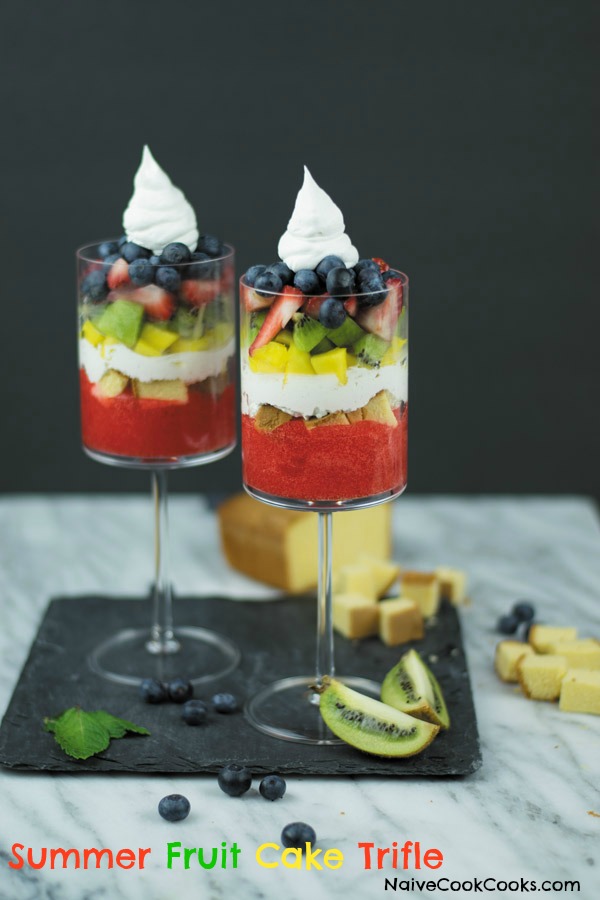 So I have a confession to make. I have never before eaten Sara Lee's Pound Cake – the one found in freezer section and the one that almost always seems to be sold out most of the time! Soo Ronak used to tell me how much he enjoyed eating this pound cake and how this is possibly the best pound cake ever! But I always ignored him thinking how can a frozen pound cake match the taste & freshness of a real freshly baked pound cake. WRONG I was!
Recently when I got a chance to work with this pound cake, I realized how  wrong I was & how addicting this cake is! Bad thing as I am trying hard to fit in my swimming clothes! When I was working on this recipe I kept on sneaking pieces of cake as they are so so good. If I can do justice – then I would say it's light as a feather, it basically melts in your mouth & it tastes way better than fresh! There I said it, even though I am picky about making most of my recipes from scratch, this is one of those recipes I would suggest you not to mess up! Just go this route & glory will be yours!! 😉
This is one cake that will make your mother feel loved!! A perfect easy-peasy Mother's Day treat for special mothers in your life! 🙂 I have the world's best 2 mothers in my life & I can't thank my stars enough for having such wonderful mothers! Love you both moms!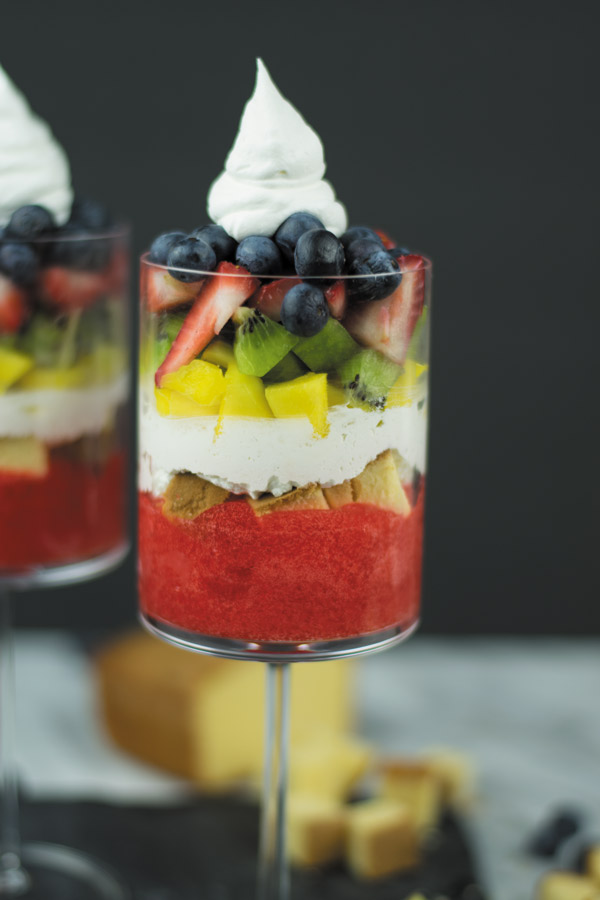 Trifles can be made in gazillion of ways but I kept it pretty simple as it's time to enjoy outdoors, have pool parties and not really be in kitchen! So all you do is layer your favorite jello in indivisual serving glasses or you can do it in a giant trifle bowl. Once jello sets, layer with cake cubes then chilled vanilla whipped cream or your favorite pudding, lots of fresh summer fruits (they should be ripe – no tangy fruits please!) and then just before serving another big dollop of chilled whipped cream! It's my favorite summer dessert after THESE.
All you need is lots of fresh fruits, cool whip, pound cake, your favorite jello flavor! You can usually find both pound cake & cool whip in freezer section in Kroger.And I realised that keeping a Sara Lee dessert and Cool Whip Whipped Topping in your freezer is the perfect way to be prepared for easy entertaining or snacking at any time. Seriously!!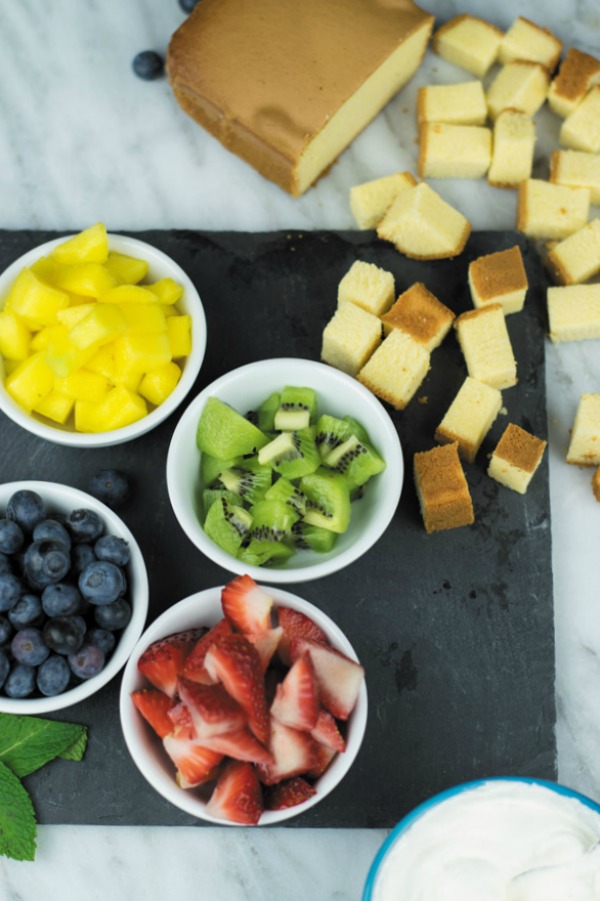 You make jello and let it set. Meanwhile everything is chopped up and sugar & vanilla is added to cool whip.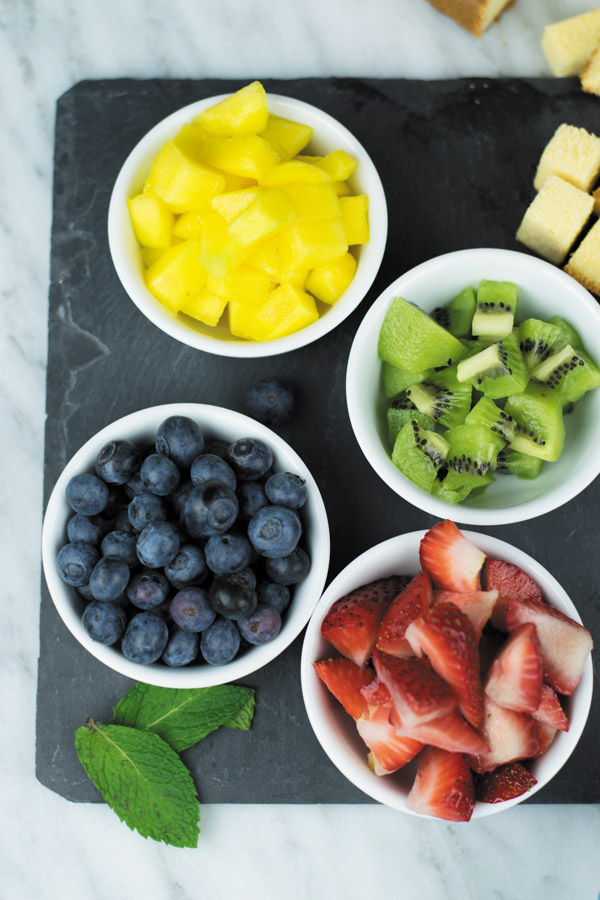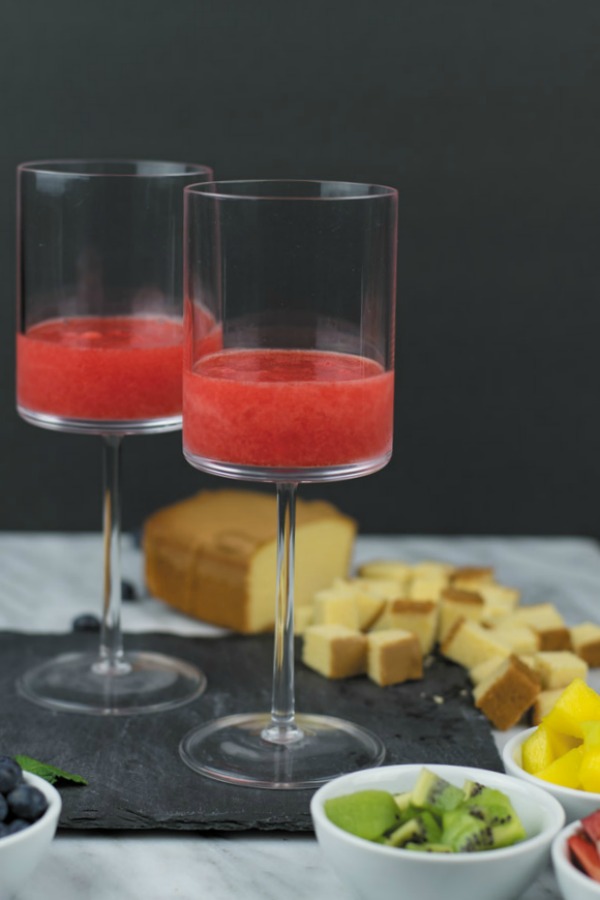 I make jello as per package directions and layer some amount in individual servings and let it chill.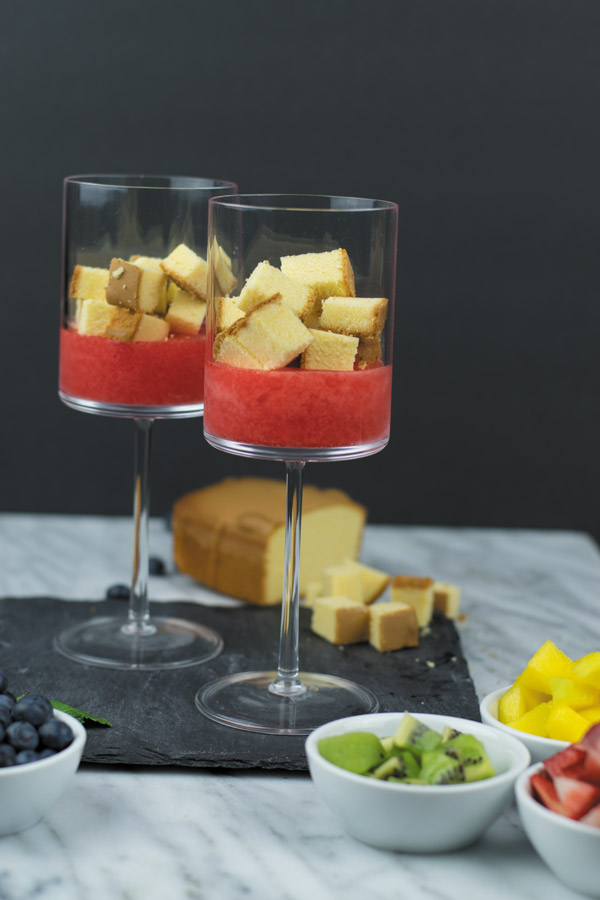 Once jello is set, I layer it with cubed pound cake.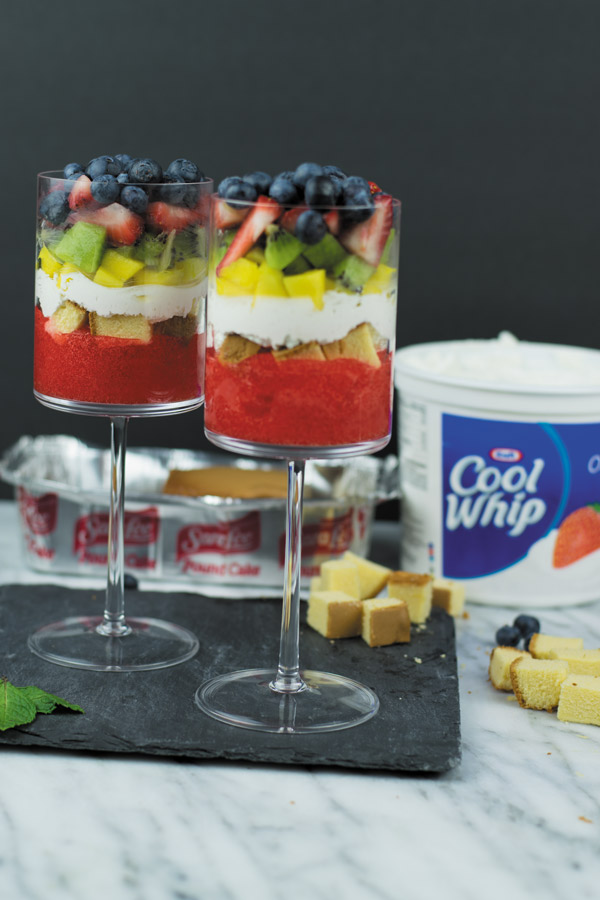 Then I add chilled cool whip and fruits. You can even add pudding instead of cool whip or along with cool whip!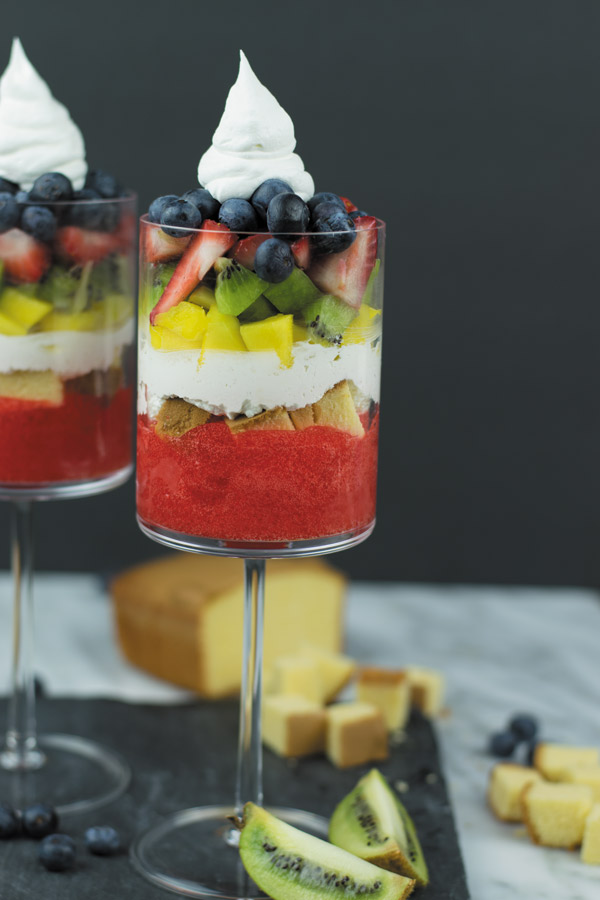 Just before serving a big dollop of cool whip!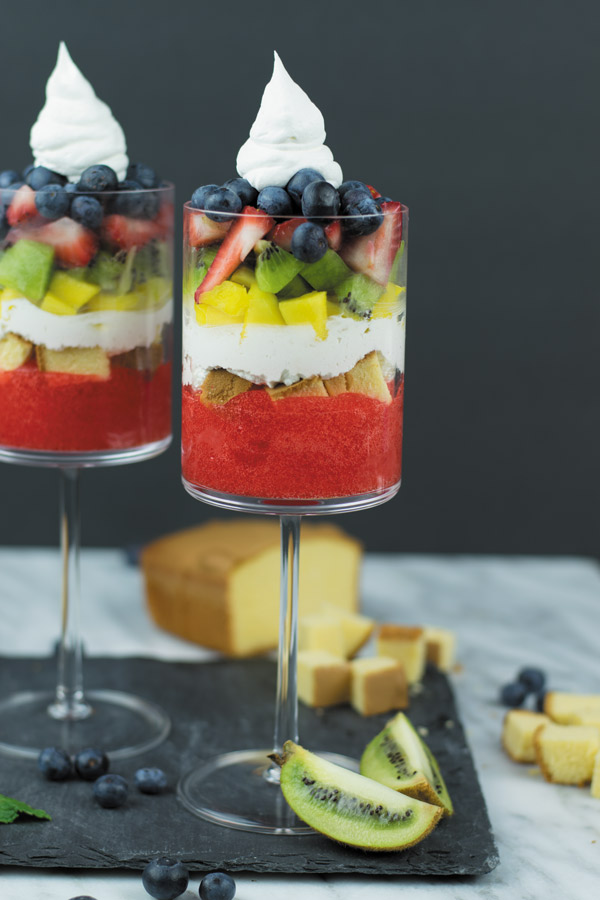 If you enjoyed this recipe, don't forget to FOLLOW me on  INSTAGRAM ||FACEBOOK||PINTEREST ||TWITTER ||GOOGLE+ || BLOGLOVIN || YouTube
Summer Fruit Cake Trifle
Ingredients
1 packet of Sara Lee Pound Cake
1 tub of cool whip
Lots of fresh fruits (Make sure the fruits you use are really ripe & sweet) (My preferred fruits - strawberries, mango, raspberries, blackberries, peaches)
1 packet of your favorite Jello
Sugar as per taste
Vanilla extract as per taste
Instructions
Make jello as per package directions. Fill it in your serving bowl or individual glasses if that's what you are using and let it sit in fridge.
Thaw your pound cake if it's frozen.
Chop pound cake in small cubes. Chop your fruits.
To the chilled cool whip mix sugar & vanilla as per taste.
Once jello is set, fill it up with a layer of pound cake. Then add cool whip and then cover with fresh fruits.
Instead of cool whip you can also use pudding if you want!
Chill for few hours before serving. Serve with more vanilla whipped cream!
Notes
Ami says :
If you can't find Sara Lee Pound Cake, use your favorite pound cake or any other good cake that holds up its shape.
For Indian readers,
Brittania fruit cake
will be awesome!
 Some MORE fun summer desserts ->>
I was selected for this opportunity as a member of Clever Girls and the content and opinions expressed here are all my own.