Melting pepper jack cheese, sweet mango puree, spicy fresh jalapenos sandwiched in between two flour tortillas and crisped up in butter!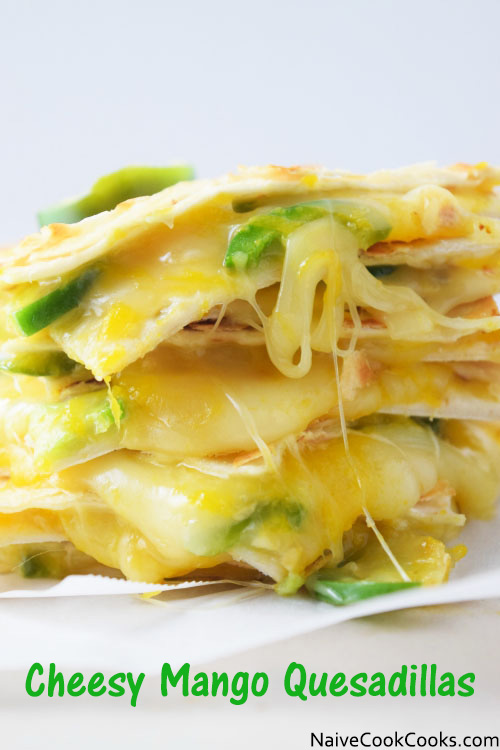 These Quesadillas!!!
Mango + Cheese + Jalapenos = Best Quesadilla combination and I am not saying that just because I am food blogger and it's my job to make everything I cook sound awesome because as you might remember I get my fair share of cooking disasters in the kitchen! These are my new favorite quesadillas even though I always always go back to THESE.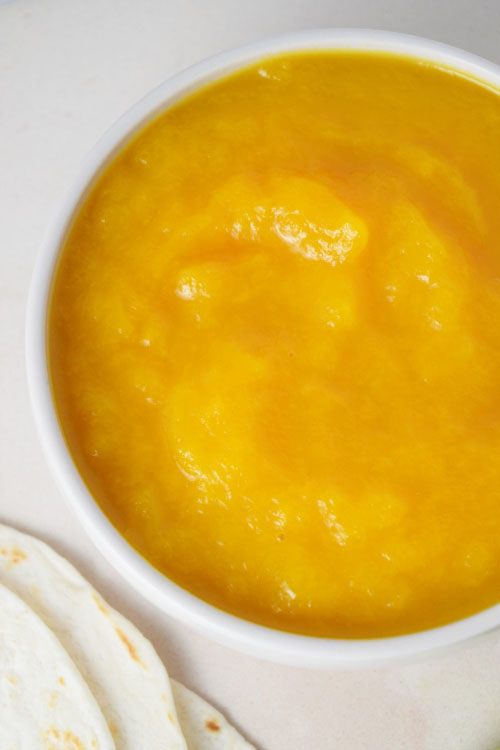 Mango is my favorite summer food and growing up I would love eating chilled mangoes with fresh chapatis (Indian bread). These quesadillas are as I like to call my refined take on those childhood quesadillas I used to eat all the time in summer. I dressed them up here with some cheese because well cheese makes everything better and jalapenos cause I love some heat in my food.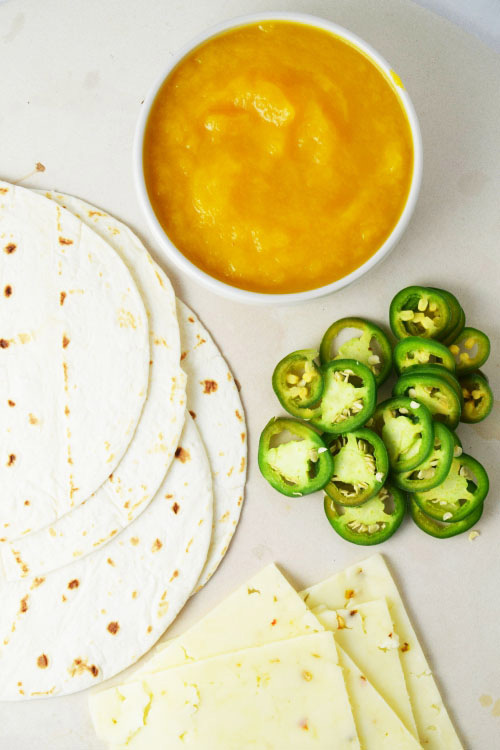 These are perfect for a quick dinner, lunch or even serve them cut up in small pieces at your next gathering as appetizers. If it's not mango season at your place or you don't want to go to the store to buy mangoes but have mango jelly or mango puree in your cupboard, then go ahead, they will still taste delicious. I am just partial to fresh fruits and vegetables so for me if I have the time and means, it's always from scratch fresh food. But that's just me.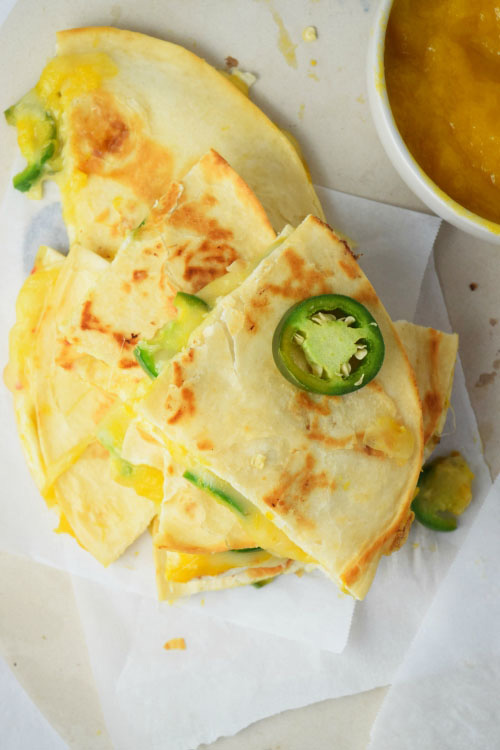 All THAT MELTED CHEESE !!
Help in spreading the word!
Follow along for a lot more delicious treats and life happenings on INSTAGRAM || FACEBOOK ||PINTEREST ||TWITTER ||GOOGLE+

Cheesy Mango Quesadilla
Ingredients
1 ripe mango, peeled and pureed
Pinch of salt
1 tbsp sugar or more/less as per taste
1-2 fresh jalapenos, chopped thin round slices
4-6 pepper jack slices
4 Flour tortillas
Butter for greasing the pan
Instructions
In a pot, add mango puree, salt & sugar and cook on low heat for 20-25 mins until it starts to get thicker. Make sure to stir it in between so it doesn't stick.
Keep it aside.
Grease a skillet with butter.
Take two flour tortillas and spread a good layer of mango puree on both of them. Now spread a layer of chopped jalapenos. Add as many or as less jalapenos depending on the amount of heat you like. Now add torn up cheese slices. Lay the other two tortillas, on on each one of them and transfer them to the greased pan. Cook on low-medium heat until they crisp up and cheese starts to melt. Flip and add little more butter on the sides and cook.
Enjoy immediately.
Some more recipe ideas: