Creamy comforting Butternut Squash, Sweet Potato & apple soup made in slow cooker! A perfect cold weather soup.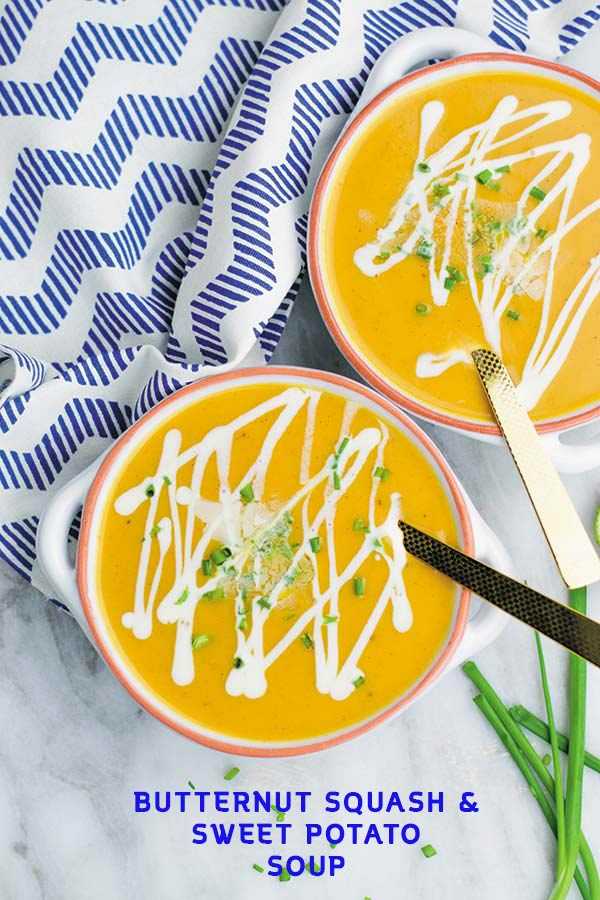 I can't get enough of thick, creamy soups in cold weather and so I am back with another of my newest favorite! I have already shared Thai butternut squash soup (slow cooker, just 8 ingredients!), butternut squash and poblano soup, spiced butternut squash soup with almonds soups here and it seems that I can't get enough of butternut squash.
I was inspired to create this soup from memories of a soup I had last winter at our friend's wedding. It was a beautiful wedding, weather was freezing and as soon as we were served a piping bowl of soup, all of us inhaled it in no time. The flavors were so spot on. It wasn't overly sweet, just subtle flavors of cinnamon along with creaminess from cream and butter. Every sip tasted so good. I was shy of asking for more but how I wished I had few more bowls of that wonderful soup.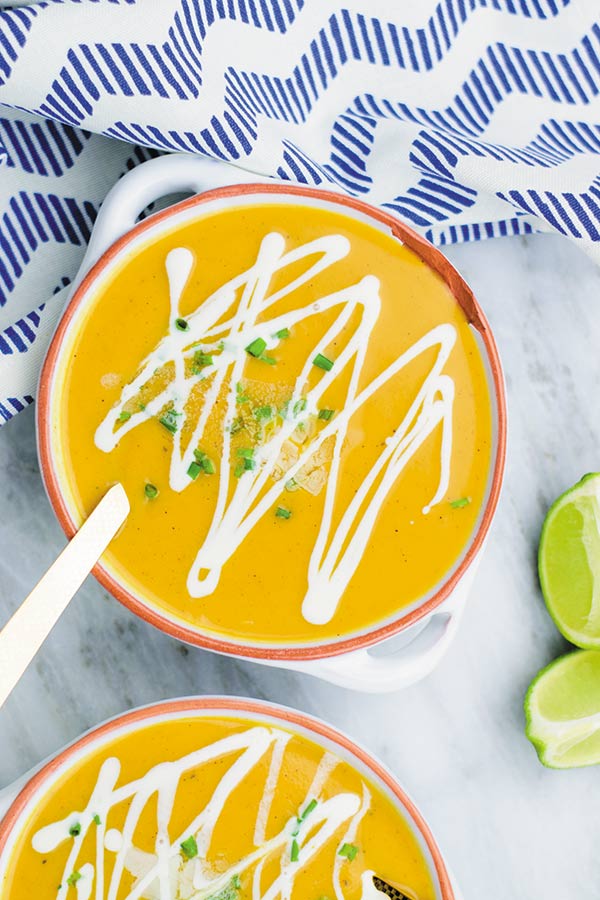 Today's recipe was perfected with combined efforts of both of us and I was so happy when we were able to get the same flavors! This is a must try soup. First of all – it gets cooked in slow cooker, so you can just throw everything in slow cooker before leaving for work and then once back, just puree the soup and add spices, cream and butter. Serve it piping hot with crusty bread.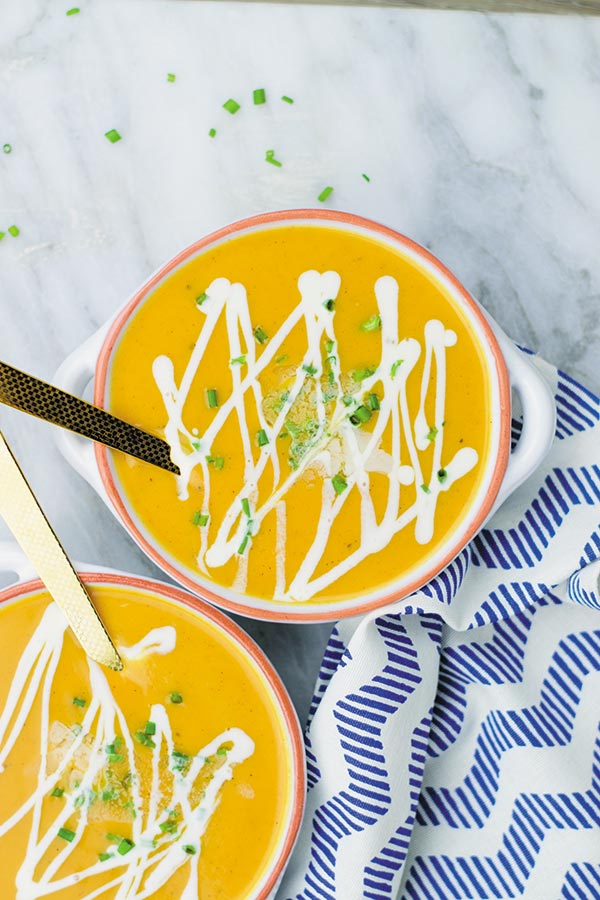 We still have leftovers and can't wait for tomorrow's lunch.
So go ahead and give this a try! If you make these or any other recipe from our blog, do tag us by using#naivecookcooks on social media channels.
If you enjoyed this recipe, don't forget to FOLLOW me on INSTAGRAM||FACEBOOK||PINTEREST||TWITTER ||GOOGLE+ || BLOGLOVIN || YouTube

Butternut Squash & Sweet Potato Soup
Ingredients
Butternut Squash & Sweet Potato Soup:
8.4 oz sweet potato, peeled and chopped (You can also substitute yams for sweet potatoes)
6.5 oz butternut squash, peeled and chopped
(2 oz ) ½ apple, peeled and chopped
1 tbsp coconut oil
1.4 oz onion, chopped
Salt to taste
1.5 cup water
Salt to taste
⅛ tsp black pepper powder
¼ tsp cinnamon powder
⅛ tsp nutmeg powder
⅜ cup heavy cream
1 tbsp butter
Instructions
Butternut Squash & Sweet Potato Soup:
In a slow cooker, add chopped sweet potatoes, chopped butternut squash and chopped apple.
In a small pot heat coconut oil. Once hot, add onions and saute until softened.
Add sauteed onions to the slow cooker. Add 1.5 cups water and cover.
Cook on high for 3 hours or low for 6-7 hours.
Once softened, puree. Transfer it to a pot and add around ½-1 cup water to thin out the soup. Add salt, black pepper, cinnamon, nutmeg, heavy cream and butter. Mix, bring it to a boil. Taste and adjust seasonings as per taste.
Serve hot.
Some more delicious SOUP recipes ->>