Butternut Squash & Sweet Potato Soup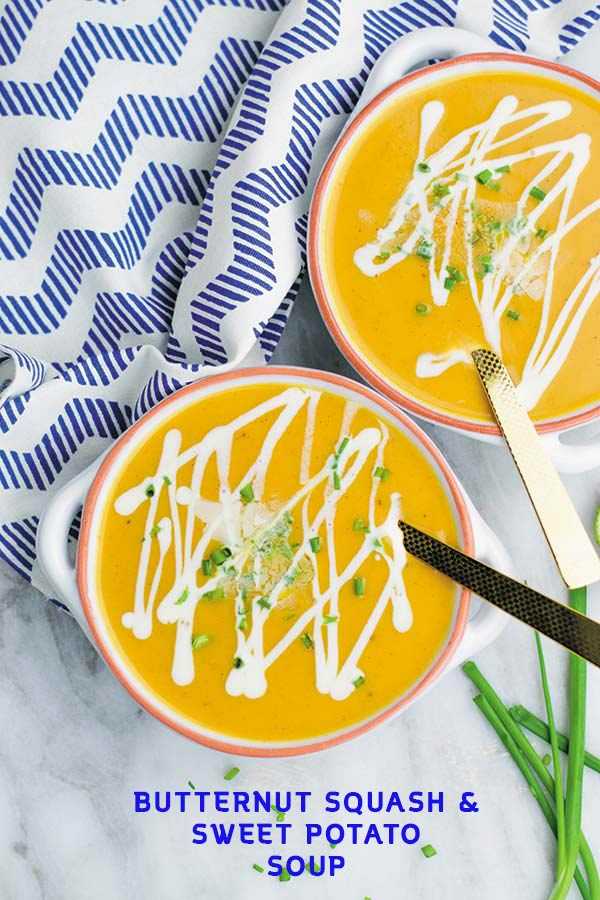 8.4 oz sweet potato, peeled and chopped (You can also substitute yams for sweet potatoes)
6.5 oz butternut squash, peeled and chopped
(2 oz ) ½ apple, peeled and chopped
1 tbsp coconut oil
1.4 oz onion, chopped
Salt to taste
1.5 cup water
Salt to taste
⅛ tsp black pepper powder
¼ tsp cinnamon powder
⅛ tsp nutmeg powder
⅜ cup heavy cream
1 tbsp butter
In a slow cooker, add chopped sweet potatoes, chopped butternut squash and chopped apple.
In a small pot heat coconut oil. Once hot, add onions and saute until softened.
Add sauteed onions to the slow cooker. Add 1.5 cups water and cover.
Cook on high for 3 hours or low for 6-7 hours.
Once softened, puree. Transfer it to a pot and add around ½-1 cup water to thin out the soup. Add salt, black pepper, cinnamon, nutmeg, heavy cream and butter. Mix, bring it to a boil. Taste and adjust seasonings as per taste.
Serve hot.
Recipe by
Naive Cook Cooks
at https://www.naivecookcooks.com/butternut-squash-sweet-potato-soup/