Spiced Butternut Squash soup with Smokehouse almonds  for an easy comforting meal!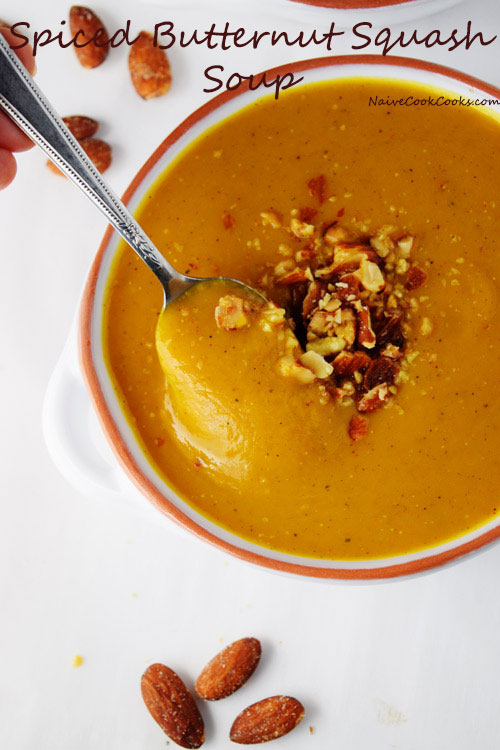 "This post is sponsored by Blue Diamond Almonds. Ditch the chips and grab some Game Changing Flavors this football season! Enter for a chance to win the Ultimate Football Party Prize Pack, get great savings and ideas for delicious snack hacks at GameChangingFlavors.com."
What are you guys eating and making for game nights?! I am not much into games but I do love eating all the yummy spread our friends prepare. So this time I decided to contribute with something different. I realised we all are usually starving while watching game so why not have a delicious make-ahead cozy weather worthy soup?! Yes I know great idea! My friends said the same thing so here it is Spiced Butternut Squash Soup for the win!!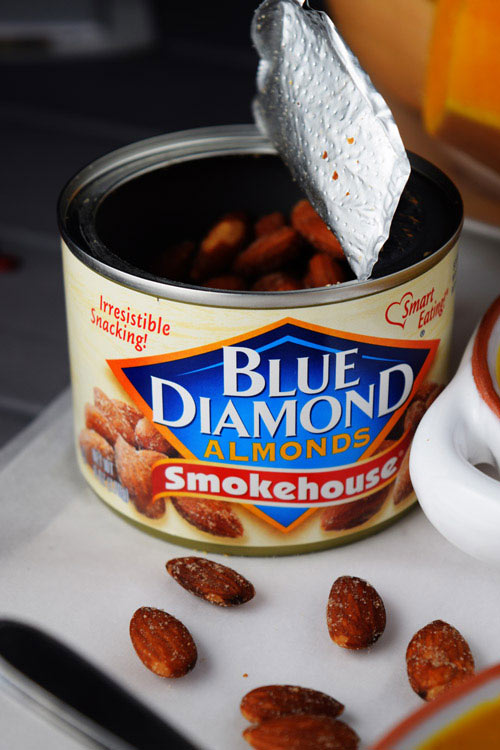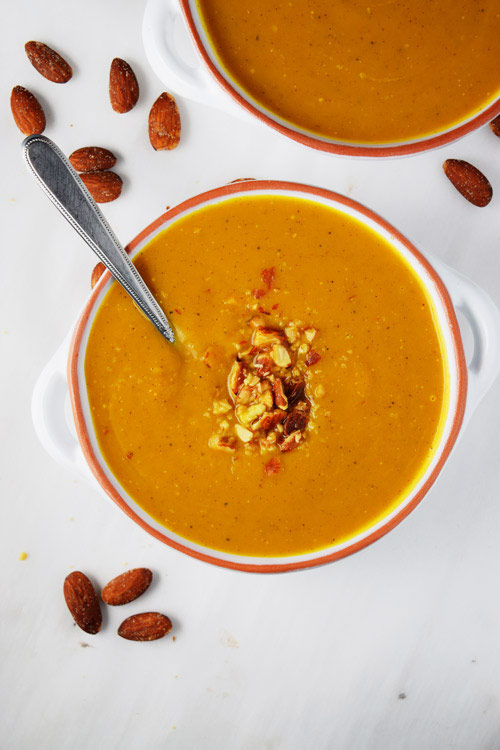 I crushed my recent find Blue Diamond Smokehouse Almonds on top and it was just like you get in fancy restaurants! I know, crazy delicious!! I am off to eat some more of it  and leaving you with this!! Go make this!
Spiced Butternut Squash Soup
Ingredients
1 tsp olive oil
3-4 cups cubed butternut squash
Salt to taste
Black Pepper to taste
¾ cup chopped white/yellow onion
⅓ cup chopped carrots
2 cup hot water plus more
15 oz can of organic pumpkin puree ( NOT pumpkin pie puree)
1 cup fat free half & half or heavy cream
1.5 tsp cinnamon
3 tbsp honey
½ tsp turmeric
½ tsp cardamom
½ tsp ginger powder
3 Tbsp brown sugar
½ tsp cumin powder
Blue Diamond Smokehouse Almonds for garnishing
Instructions
In a pot add oil. To it add butternut squash, onions and carrots. Add a pinch of salt and cook until half done. To it add water and rest of the ingredients except half & half. Cook until soft. Puree in high spreed blender until smooth. Transfer back to the pot and add half ?& half and heat it. Taste and adjust seasonings.
Garnish with Blue Diamond Smokehouse Almonds and enjoy!
More Soup Recipes:
https://www.naivecookcooks.com/lentil-soup/